If you and your friends enjoy spending time in the great outdoors, Jackson Hole is an ideal spot to for a getaway. Located in Northwest Wyoming, the Jackson Hole valley is a rather secluded location that's not yet on the radar of many travelers from outside the area. Jackson Hole is considered to be one of the best skiing destinations in the United States, and with Grand Teton National Park directly to the north, the hiking opportunities are unbeatable.

Skiing at Jackson Hole
The area is home to beautiful, mountainous terrain, and winter is prime time for skiing. There are five ski resorts in the area, with Jackson Hole Mountain Resort being the most popular. Opened in 1965, this resort has steep terrain with a vertical rise of 4,139 feet. It also has more than 15 miles of cross-country skiing trails. Other popular resorts include Grand Targhee and Big Sky.
Celebrity Sightings
Jackson Hole isn't just popular with skiers seeking the extreme steeps, but has also become a winter-time Hollywood hangout. It isn't unusual to see stars hanging out at local bars and restaurants, so keep your eyes open, you never know who you might see!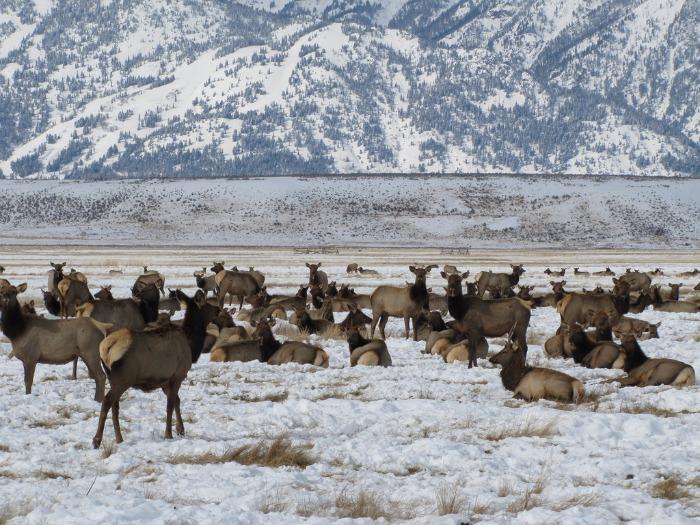 National Elk Refuge
Jackson Hole is also home to one of the largest elk herds in the country - approximately 6-7,000 elk during the the winter! Tickets for a winter sleigh ride to see the elk can be purchased from the Jackson Hole and Greater Yellowstone Visitor Center.
Snowmobiling
In an average winter, Jackson Hole sees more than 450 inches of snowfall. Snowmobiling can be a great way to explore the area and see local wildlife during these months. There are several companies that rent snowmobiles and provided guided tours along the trails. Snowshoeing is another popular activity for visitors. You can hire a guide or set off on your own to discover trails around Grand Teton.