While many people associate New Orleans with some of the best parties in the world, the other "Must Do" in New Orleans is brunch. While there is no shortage of great places where you can gorge on delicious traditional brunch foods, I would like to heartily recommend stopping by Court of Two Sisters.
Between the gorgeous courtyard, tons of great food (traditional breakfast as well as cajun and southern staples like crawfish, jambalaya, and collards), there is something for everyone! Plus they have some of the friendliest staff in town.
Court of Two Sisters also offers dinner, but on this visit we were focused on the Jazz Brunch Buffet (brunch menu), which is offered daily from 9 a.m.- 3 p.m. The Creole a la Carte Dinner (dinner menu) is offered Nightly from 5:30-10 p.m.
Court of Two sisters property was once the home of five governors, two state Supreme Court justices, a future U.S. Supreme Court Justice, and a Future President of the United States. It was also the home to Sieur Etienne de Perier, Royal Governor of colonial Louisiana between 1726 and 1733.
Today though, it is home to the only New Orleans restaurant offering brunch 7 days a week featuring a New Orleans jazz trio. That's pretty cool too!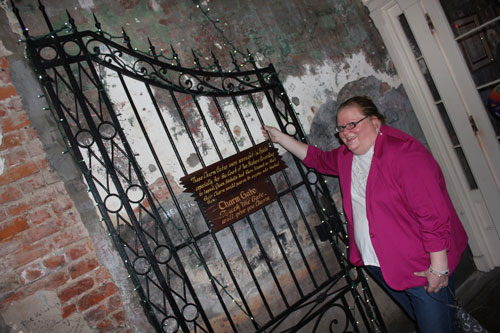 Before entering, guests are encouraged to touch the "Charm Gate" ... so we did :)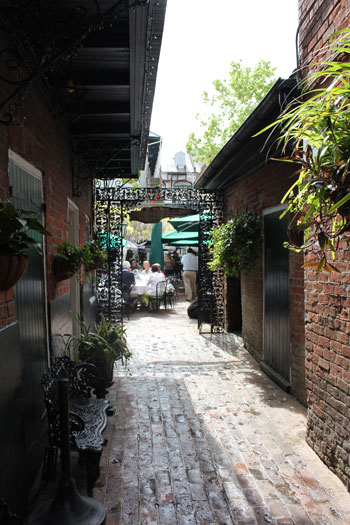 Like many New Orleans locations in the French Quarter, Court of Two Sisters features an otherwise hidden courtyard which is a fantasticlly romantic place to enjoy some fun jazz music while munching on delicious brunch food!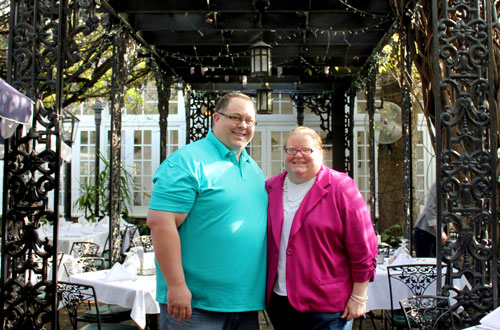 Heather and I couldn't resist taking a photo :)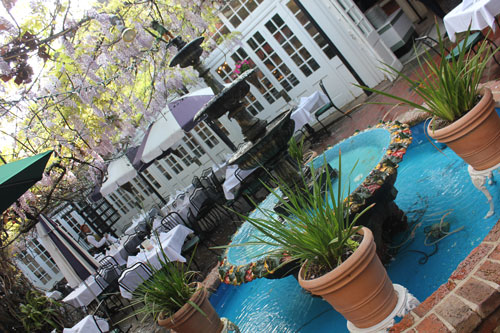 Price for brunch was reasonable (call for current pricing) for the amazing spread of food provided, but don't expect a cheap breakfast here.
The buffet features 80 some items and these range from made-to-order omelets and delicious eggs benedict to Zesty Cajun Pasta, Homemade Olive and Country Pates, carving station, Crawfish Louise, BBQ pork ribs, fresh peel and eat shrimp, crawfish and tons more.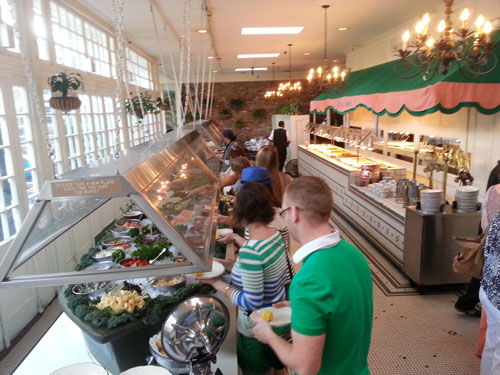 The salad bar also included delicious fresh fruit as well as southern "delicacies" like Ambrosia.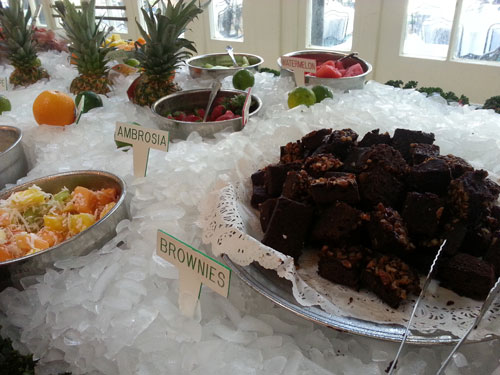 Of course, no New Orleans meal would be complete without piles of shrimp and crawfish!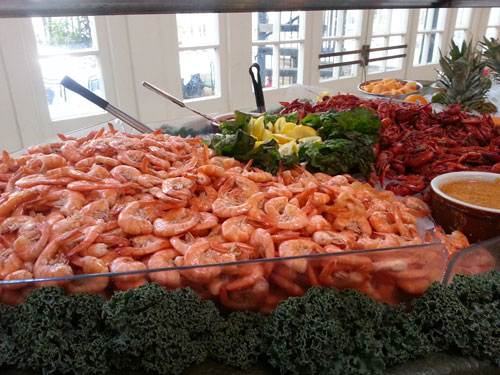 On the other side of the buffet area was the "hot" foods. These included Pecan Rice Pilaf, Steamed Broccoli, and Cajun Jambalaya.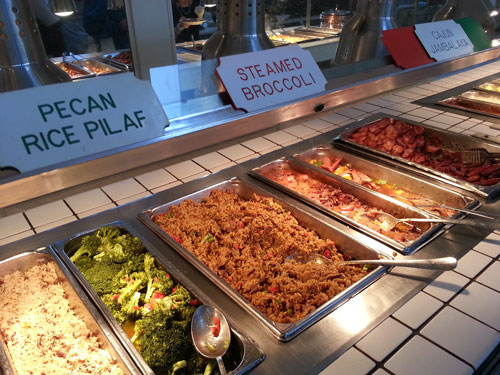 There was also no shortage of sweets - from homemade ice cream, cakes, brownies, Pecan Pie, Bananas Foster, Bread Pudding with Whiskey Sauce.
There was of course the New Orleans famous King Cake as well.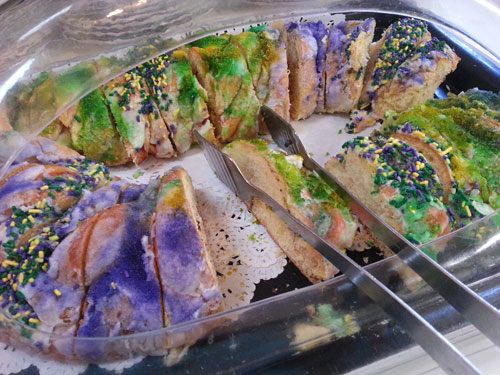 Coffee, tea, and juice is also included in the brunch price.
Court of Two Sisters is located at:
613 Royal St, New Orleans, Louisiana, 70130
Phone: 504-522-7261
or visit their website for reservations.