Bigger is always better ... right? Well not always. Sometimes simply making things better is better and that seems to be the direction that the designers at Norwegian Cruise Line and the builders at Fincantieri who have begun building the first of six new cruise ships for the line. You already know how much we loved the last few ships in the Breakaway and Breakaway Plus class because they brought "Mega Ship" features like race tracks and VR arenas to cruising. With the introduction of Norwegian Prima the direction is decidedly small, more refined, and more luxury focused. I'm sure there are tons of new features that we can't even imagine yet that they will be announcing before it begins sailing next year, but we're already pretty darn excited about what it represents.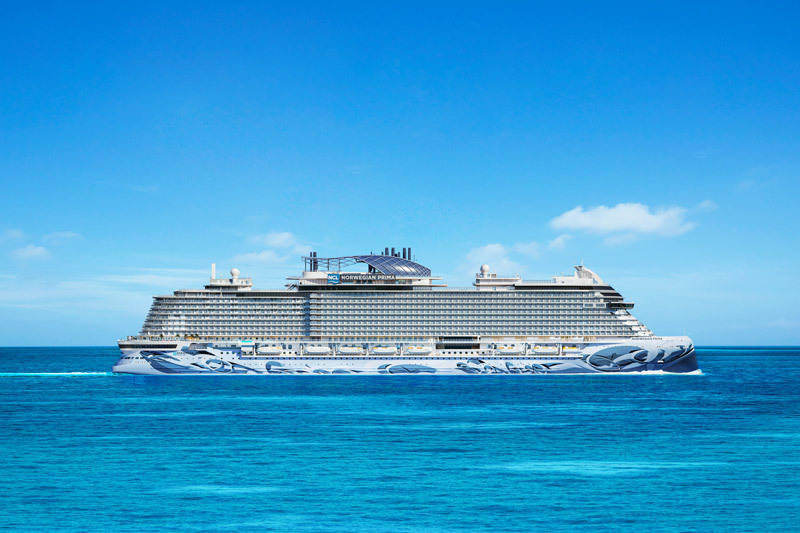 In many ways, it can be easier to innovate when you go bigger ... larger ships allow for more space to put crazy stuff that we've never imagined before. So far, to be completely honest we don't see that in Prima.
I don't think this class will represent that "Holy shit I can't believe you can do that at sea!" sort of cruising that you find on Royal Caribbean's Oasis or Quantum class ships, or even what you find on Prima's sisters such as Encore, Joy, and Bliss. Instead, it is clear that the design is focused on making the experience of cruising more enjoyable. In this case, better can be defined as more space to spread out and relax, more access to the ocean, more dining options, and more luxury accommodations - finally, fully realizing the promise of The Haven as a ship in a ship.
Undoubtedly there are numerous health and safety innovations that haven't yet been specified. As one of the first new class builds to be released post-pandemic, I would expect improvements in areas such as contactless service, air filtration, passenger flow to avoid bunching up, as well as continued attention to detail towards being more sustainable such as Prima being NCL's first LNG-powered cruise ship.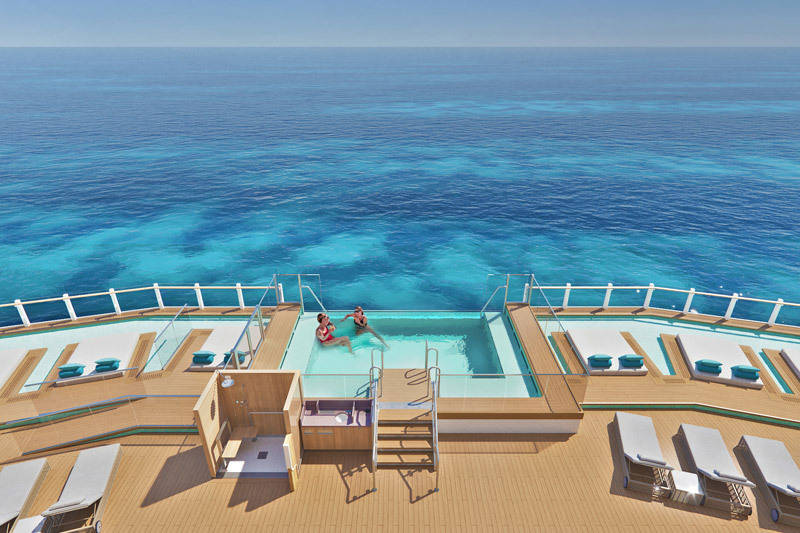 More Space To Relax On Your Vacation
While Norwegian Prima is smaller than Encore, it is still a massive cruise ship. At 965 feet long, weighing in at 142,500 gross tons, and able to accommodate 3,215 guests in double occupancy, this is still a huge ship. However, what's unique is that instead of packing people ever more densely as seems to be the trend with many other lines, Norwegian promises the highest staffing levels and space ratio of any new cruise ship in the contemporary and premium cruise categories.
They promise the largest variety of suite categories (13) as well as the largest three-bedroom suites of any new cruise ship. Don't worry though, if suites aren't in your budget, NCL promises that they have the largest-ever inside, oceanview, and balcony staterooms found on any Norwegian Cruise Line ship and that even goes for the bathrooms and showers too. As a big guy, that's a huge factor, so thank you NCL!
Additionally they promise more outdoor deck space of any new cruise ship and more total pool deck space than any other in NCL's fleet.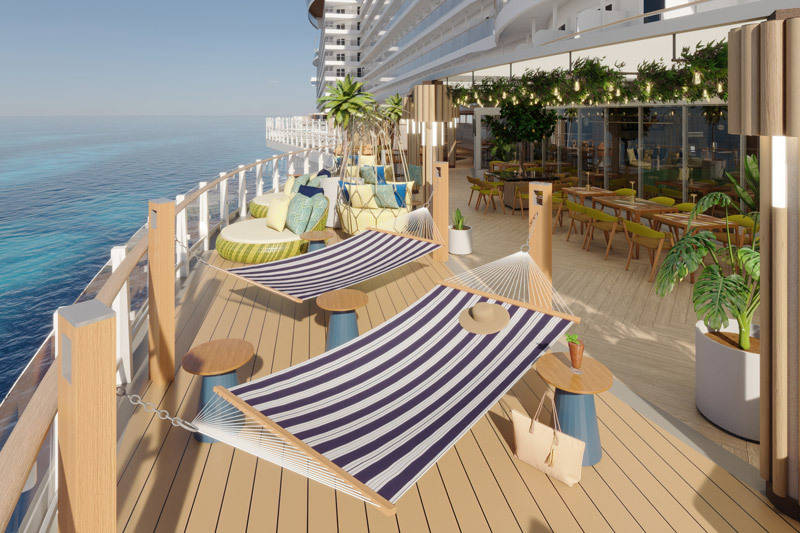 More Access To The Ocean
One of our favorite parts of sailing on the Breakaway Plus ships - Bliss, Joy, and Encore was the Waterfront. That class of ship was in large part defined by having bars and restaurants located at a relatively low deck level that operated as indoor-outdoor dining, bar, and entertainment space. With Prima, Norwegian has taken things to the next level. Ocean Boulevard spans 44,000 square feet and wraps around the entire deck eight area.
This includes indoor / outdoor dining at Onda by Scarpetta and Los Lobos as well as Indulge Food Hall, which includes 11 venues to enjoy.
We don't yet know much about the top decks, but I'm sure there's even more beyond Ocean Boulevard that will connect guests with the reason we love to cruise ... the ocean.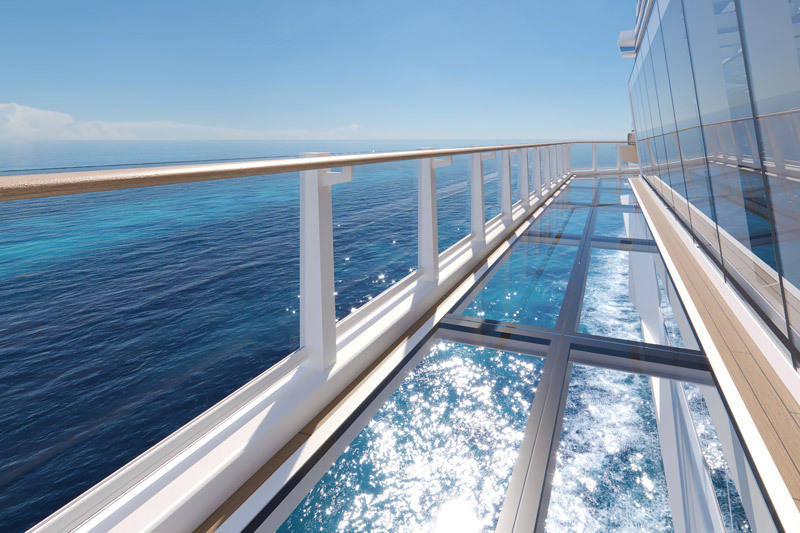 This outdoor space that connects guests with the ocean is more than just a simple walkway around the ship. It includes an outdoor sculpture garden on deck 8 that contains $2 million in art, hammocks, "fire" pits, cabanas, outdoor dining, outdoor music space, even a glass walkway for those that have no fear of heights.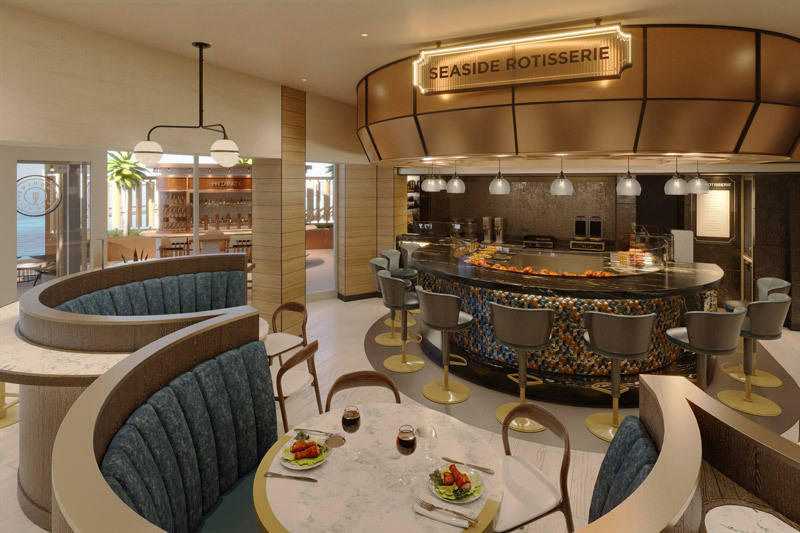 More Dining Options
Food and drinks have always been a HUGE reason why I love sailing with Norwegian Cruise Line. Not only do they have some of the best bartenders and mixologists at sea but the best chefs and culinary planners as well. Plus, most folks can find a deal that includes the premium bar package included as part of the cruise fare, so there's no feeling like you need to "drink your money's worth" like you do on other cruise lines where the beverage package is an insane amount of extra money.
One of the biggest fundamental changes to Norwegian Prima compared to almost every other cruise ship before it is their Indulge Food Hall. While there was a pre-pandemic trend to ditch the buffet as seen in ships like Virgin's Scarlett Lady and Carnival's Mardi Gras. These guys started the transition with more of a focus on "food stations" vs self-serve trays full of food. Prima completes the transition by offering dine-in service where you can sit at the counter and engage with the chefs as well as the option to take your food to other parts of the ship ... including outside where you could potentially lay back in a hammock while munching on wings if that's how you want to spend your day.
I'm especially interested to see how this works and how it compares to similar concepts out there later this year when we sail on Scarlet Lady and Mardi Gras.
Indulge Food Hall will include 11 food venues, including a mix of returning favorites and new additions ...
Coco's, serving artisan sweet treats
Q Texas Smokehouse, boasting delicious American Southern comfort food and barbecue
Seaside Rotisserie, offering a wide array of rotisserie-cooked dishes
Nudls, an emporium serving noodle dishes from around the world, from Italian to Thai cuisines
Tamara, preparing classic Indian dishes and multiple vegetarian food options
The Latin Quarter, serving classic Latin food with a twist
Tapas Food Truck, cooking elevated Spanish-inspired street food
Garden Kitchen, where guest can order customized salads with more than two dozen ingredients to choose from
Just Desserts, featuring classic dessert items such as pies and cakes
Just Ice Cream, serving all guest favorite ice cream flavors and over-the-top decadent creations
The Local Bar & Grill, receives a more upscale beach club vibe compared to what you will find on other ships and will showcase live music alongside classic American cuisine.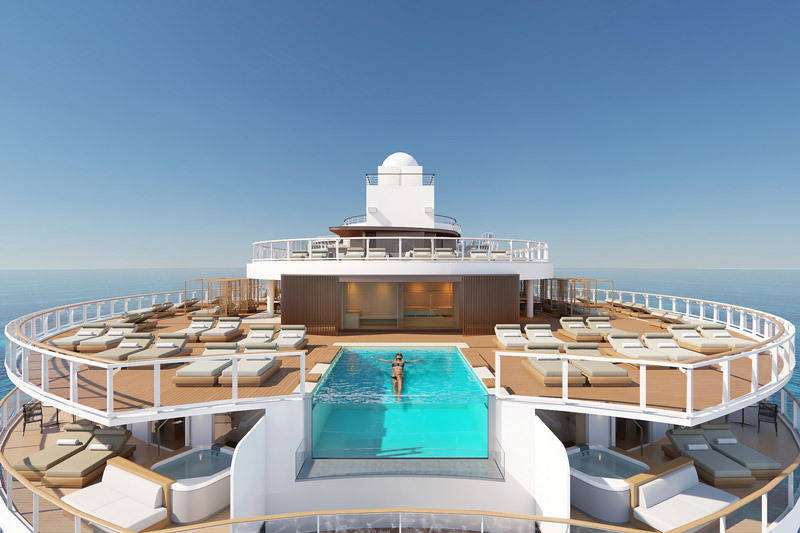 The Haven Is Fully Realized As A Ship In A Ship
One of the most exciting new features is that The Haven becomes fully realized as a complete ship in a ship concept. Previously, The Haven, an exclusive enclave of suites had their own private pool and restaurant tucked inside the front of the ship. However, across various different ships, it was missing that true "wow factor" (though it is already the best private suite concept at sea). With Prima, the entire 107 suite Haven complex has been consolidated into the aft of the ship across decks 10-15 and includes a private infinity pool area outdoor lounge area on decks 16 and 17.
Not only do The Haven guests have their own private sun deck with the best views on the ship, but the private elevators take you right down to deck six so you have easy access to shopping, dining, and entertainment without having to run all over the ship.
More To Come!
As a first look preview of Norwegian Prima, we couldn't possibly have asked for more information. However, the preview still leaves a lot of information to come. For instance, we know almost nothing about other specialty restaurants, bars, shopping, and entertainment innovations that are certainly in store for us to learn about between now and when Prima starts sailing in the summer of 2022.
More Photos of Norwegian Prima:
{lightgallery type=local path=images/stories/norwegian-prima-preview/ncl-prima-photos previewWidth=160}Preview Images Of Norwegian Prima Photo Gallery{/lightgallery}