Growing up, Panama City Beach was THE spring break destination and while those days are (sadly) in my rear view mirror, Panama City is still a great place for guys looking for adventure. From an absolutely beautiful white sandy beaches, fishing, bars, and other things that guys will love, this is a place that should absolutely be on your radar when planning your next guys weekend getaway.
How To Get To Panama City, Florida
Panama City Beach is located in the middle of the Florida Panhandle and is a quick drive from many cities in the South Eastern US including about 300 miles from Orlando, Atlanta, and New Orleans. For those flying to Panama City, there are daily flights from major hubs serviced by Delta, American, Southwest, and United.
Fishing
The Gulf of Mexico is one of America's best places to go fishing. This fertile area is relatively well protected from big waves, so it's also a great place for anyone who might get seasick. There are a lot of options for fishing charters here, but we hear good things about Kelley Girl Panama City fishing charters. They offer a variety of different options for different budgets and time available ranging from inshore fishing, freshwater fishing, and off-shore fishing where you head about 20 miles out, where you can find snapper, amberjack, triggerfish, grouper, and others.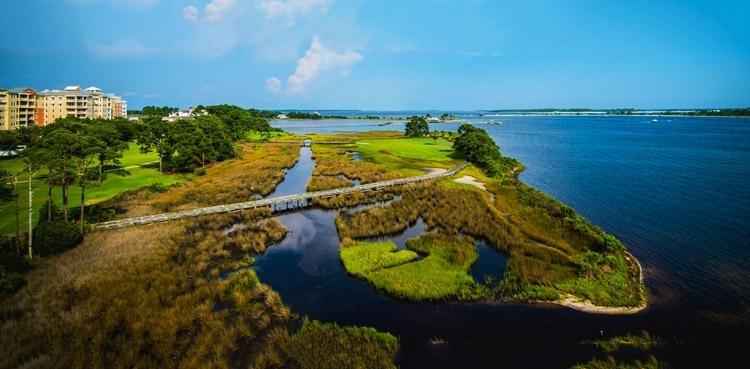 Golf
It wouldn't be a perfect guys getaway without golf and Panama City Beach has some of Florida's best golf courses. These include the Sheraton Panama City Beach Golf & Spa Resort, home one by Nicklaus Design that underwent a greens renovation and conversion in 2018. Other golf courses to check out, include Holiday Golf Club, Edgewater Beach Resort, and Sharks Tooth Golf Club with some stunning bayfront holes.
Bars and Restaurants
From beachfront bars like Runaway Island Beach Bar, Sharky's Beach Front Restaurant & Tiki Bar, to Barefoot on The Beach, or Pineapple Willy's you aren't going to ever be thirsty here. However, a man can't survive on drinks alone and so Panama Beach is a great place to enjoy fresh local seafood too. Make sure to stop by a fish market and get something pre-cooked or pick up supplies and bring it back to your rental (vacation rentals are a great idea here and many condos and hotels also have grilling areas). Some of our picks include Andersons Seafood Market, Buddy's, Sandbar Seafood, or Shrimp City Seafood Market for fresh local shrimp and fish. Check out other bar and restaurant suggestions on the Visit Panama City Beach website.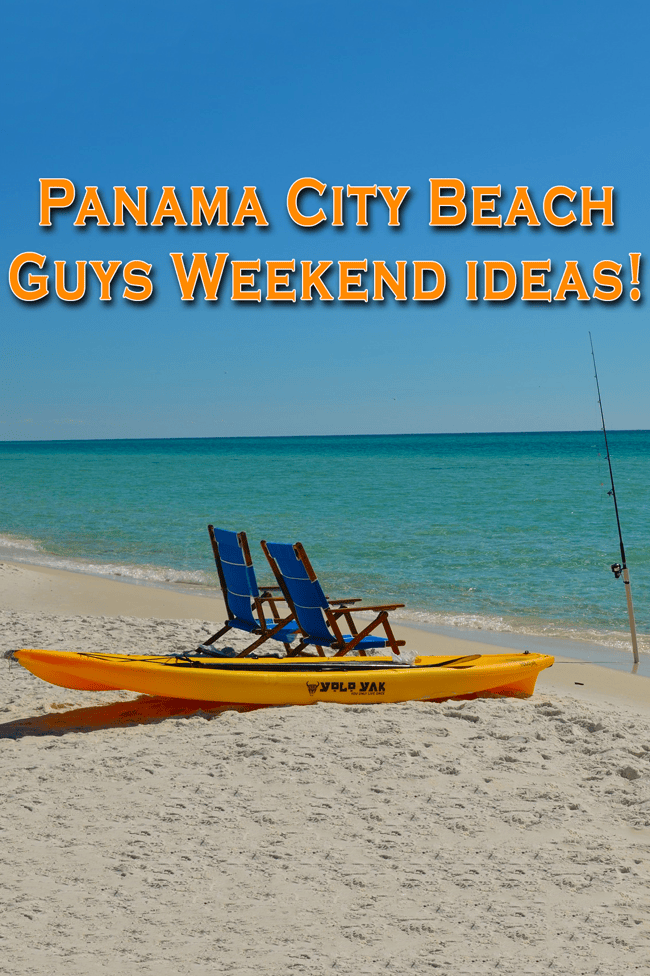 Relax on Panama City Beach
While you can save a bit of money by getting a rental off the beach, the prices here are generally pretty affordable compared to other vacation destinations in Florida. So we'd suggest considering a vacation rental right on the beach or one of the resort properties such as Edgewater Beach and Golf Resort where you can also have access to a fantastic pool area to relax in if the water is too cold. There are tons of other beachfront options too if you want a smaller property such as the Shores of Panama, Splash Resort, and the Holiday Inn Express. All of those options are right on the beach and even have a lazy river as well as heated pool.
Adrenaline and Adventure Ideas
Of course, there's more to a Panama City Beach guys getaway than just chilling at the beach with a cold beer in your hand. If you are looking for something a bit more adrenaline focused, here are some ideas:
Airboat Adventures: Explore the creeks and marshes as you fly over the water on an airboat and get up close and personal with a variety of wildlife including of course, alligators ... it is Florida after all!
Take Diving Lessons: That same crystal clear blue water that you had so much fun fishing on is also great for diving. Take a guided scuba tour that includes sunken ships and limestone reefs as well as fish and octopus. If you aren't already a certified diver, you can take lessons at the Dive Locker and get that certification in as little as 3 days so you can go exploring the deep before returning home. Of course, there are also other options including the $95 Discover Scuba course if you just want to try it out and see what it would be like to try scuba.
Ride The VOMATRON: Powered by six electric motors and based on the actual machine used by NASA astronauts in the 60's, the Vomatron rotates the 200-foot arm at speeds of more than 70mph into spins with up to 5gs of force on the rider. (don't do this after drinking!) Or if you want something less thrilling then try Go-Karts instead at the Indy Speedway.