Florida is one of my favorite places to visit and it is filled with hundreds of golf resorts, beautiful beaches, incredible food, and in the past few years a beer scene that has gained national recognition. When planning your Florida golf guys weekend though, it's important to pick the right places, so here's a few of our top picks.
The first step in planning your Florida golf getaway though is to figure out what part of Florida matches your style of play - as well as other activities you want to do. For instance, if you want to go snorkeling then you might want to look at the Keys but if you want to experience great beer and cigars then a trip to Tampa might be a better pick. Of course, there's always airboat rides and gator tours in the interior too. Finally, up by Destin, Panama City, and Fort Walton Beach you've got some of the best beaches in the state with crystal clear water and incredible white sand.
For this roundup, we're not necessarily looking for the "best golf course" but rather featuring resorts that feature a great mixture of activities for golfers of all abilities. To help filter through the hundreds of options, we decided to use ResortsandLodges.com to identify some of our favorite picks.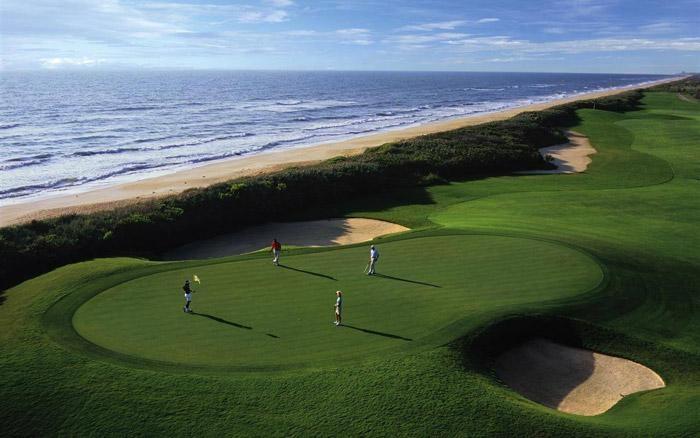 Hammock Beach Golf Resort
Hammock Beach is probably one of the most beautiful golf resorts in all of Florida, it is also one of the most luxurious. Located Palm Coast, about halfway between Daytona Beach and St. Augustine this resort has everything for the ultimate guys weekend. From an incredible golf course to bonfires on the beach, fishing charters, and a wide range of accommodations ranging from 700 square feet to more than 2,300 square feet. The resort's crown jewel is its Jack Nicklaus designd Ocean Course that has been completely restored and opens again on November, 2017. Last year, Golfweek named it to the #10 spot on their list of Best Golf Courses in Florida and it ends with a finale dubbed "The Bear Claw" featuring a collection of four holes along the coastline.
Hilton Sandestin Beach Golf Resort & Spa
Destin has a (well earned) reputation for being a great family destination but don't let that scare you away. When compared to some of the more exclusive areas of the state Destin offers great value both in terms of room rates as well as greens fees. For instance, while you may pay hundreds of dollars per round at other areas of the state, room rates at the Hilton Sandestin Beach Golf Resort & Spa start at only $109 and greens fees are under $100. That gives you plenty of money to spend on food and other activities.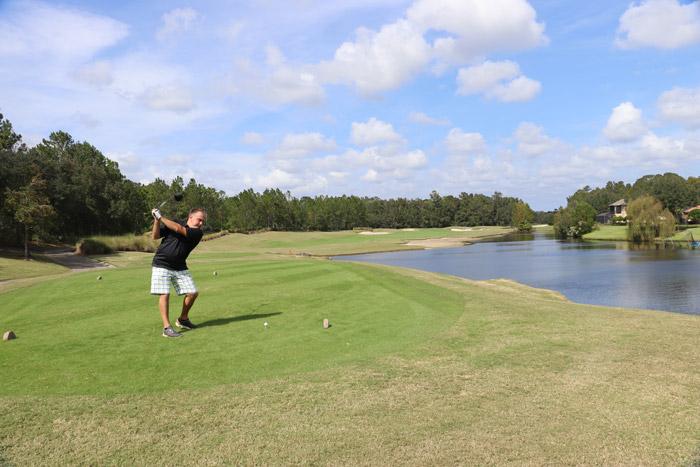 World Golf Village
The World Golf Village in St. Augustine Florida is a must visit for any guys getaway. The two courses here are fun to play for all skill levels but you also have the opportunity to visit the World Golf Hall of Fame and celebrate golf's heroes.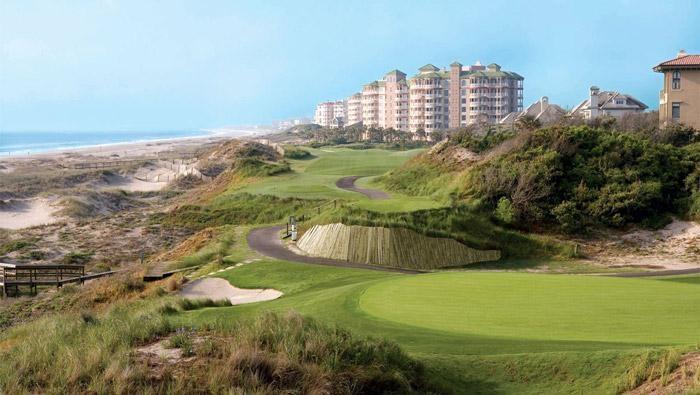 Omni Amelia Island Plantation
Named as one of the "Top 121 Golf Resorts in the World" by Condenast Traveler, the Omni Amelia Island is home to three championship courses as well as access to all the other incredible opportunities for relaxing available on Amelia Island.
Lake Jovita Golf Resort
Located just 30 minutes north east from Tampa, Lake Jovita Golf Resort is a great place to escape to if you are looking for something a little different than the typical coastal resorts and super flat Florida terrain. Prices are also great here so it won't break the bank either. They have a "Stay and Play Villas" with three bedrooms located right on the golf course overlooking the 18th and 9th greens. What makes this course unique is that there is an incredible (for Florida golf) 94' drop tee to green on the 11th hole of the South Course.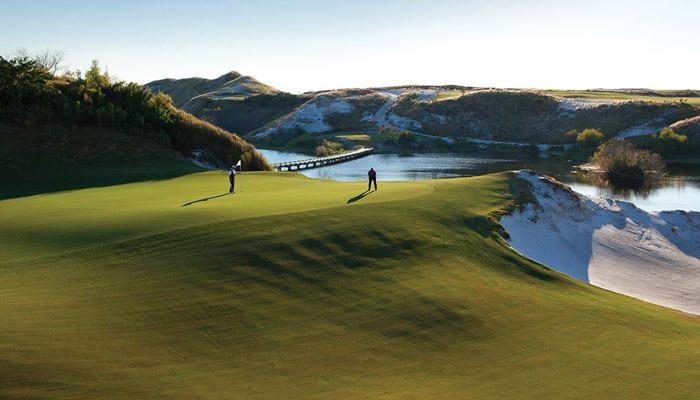 Streamsong Golf Resort
Streamsong Golf Resort is another area in Florida where you're going to find some elevation changes. While not as dramatic as the drop at Lake Jovita, Streamsong is built on 16,000 acres dunes created by sand discarded during phostphate mining operations. Today, that once barren landscape is now covered in beautiful grass and vegetation providing golfers with a taste of the rolling hills of Scottland. In addition to two incredible golf courses - Streamsong Red and Streamsong Blue, the resort also has guided bass fishing, sporting clays, and a spa.