America was built on hard work, sacrifice, and innovation - so let's celebrate that true spirit of America with some ideas for a fall RV road trip. These are places where products and brands that made America great were - and are still - being created. From bourbon whiskey to baseball and automobiles, it's time to pack up the RV and head out for some adventure.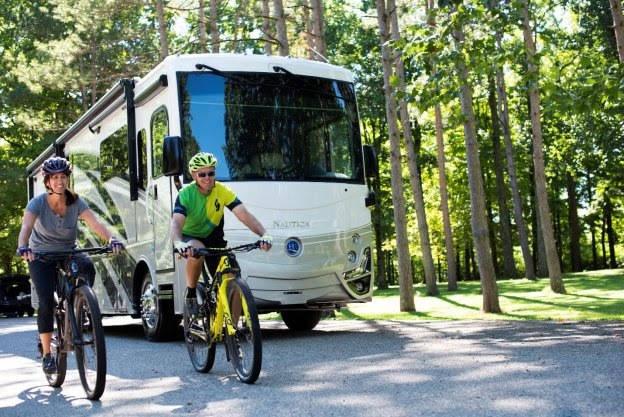 The folks at Holiday Rambler helped us put this list together since while they love having visitors tour their shop in Decatur, Indiana usually ... COVID has temporarily forced them to turn visitors away. We look forward to seeing them back open again but you can still see some Holiday Rambler Factory Tour videos and get a virtual experience till we're able to see them in person again!
With that being said, let's check out some other RV road trip sites across the country that celebrate American manufacturing.
Cranberry Bog Tour – Harwich, MA
The U.S. is the world's leading cranberry producer and MA is one of the leading cranberry growing states. Take a scenic drive to the largest organic cranberry bog on Cape Cod. During a 90-minute tour, learn about the 12-month operation of a bog. Before or after the tour, visit the farm stand for all things cranberry – fresh and dried cranberries, cranberry sauces, cranberry bog honey, and cranberry cookbooks.
Daily tours are offered throughout the spring, summer, and fall, reservations are required, and tickets are $15 each.
To experience the local culture, grab a bite to eat at Mooncusser's Tavern­­ or Brax Landing, which offers waterfront dining on the Saquatucket Harbor. RVers can stay overnight at Adventure Bound Camping Resorts.
UTZ Potato Chips – Hanover, PA
For snack lovers, the Utz Potato Chip Trip is a must. In 1921, William and Salie Utz began making potato chips in their summer kitchen. 100 years later, the company continues to be family managed and has expanded to make a number of other brands, including Bachman, Zapp's, Dirty, TGI Fridays Snacks, and Good Health.
This free, 30-45-minute self-guided tour lets visitors see (and smell) the process that starts with farm-fresh potatoes and ends with crispy Utz chips. An observation gallery, closed-circuit monitors, and audio program deliver interesting details about the production process. And, of course, the tour ends with a bag of Utz potato chips and a coupon to the factory outlet store – the perfect place to stock up on road-trip snacks.
The tour is open Monday – Thursday but call ahead to confirm the hours since the daily production schedule is subject to change.
Staub's Landing Restaurant and Pub is nearby and offers lunch and dinner options, including the area's best burgers and a selection of more than 60 craft beers. RVers can stay overnight at Gettysburg Farm RV Campground.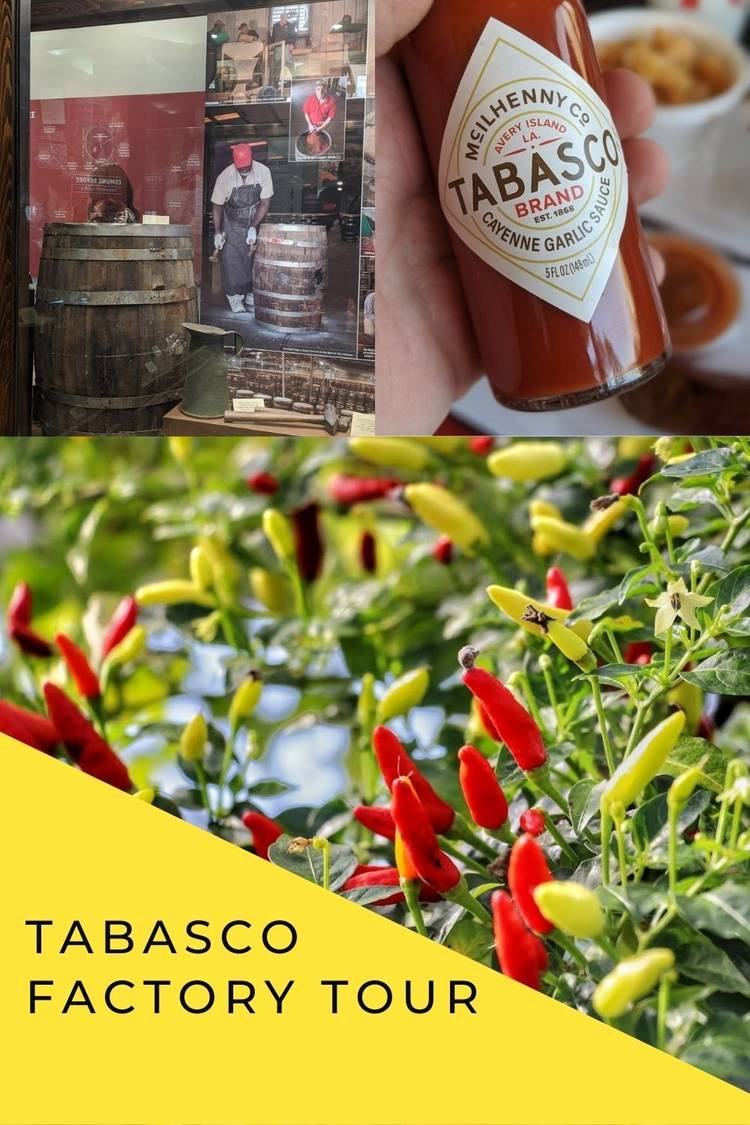 TABASCO Factory Tour & Museum - Avery Island, LA
Avery Island, the location where world-famous TABASCO is made, is unique just like the sauce. The island actually rises above the marshes found along coastal Louisiana and sits atop a deposit of solid rock salt that is believed to be deeper than Mount Everest is high.
The TABASCO tour is self guided and features nine stops including the TABASCO Museum, Pepper Greenhouse, Barrel Warehouse, and TABASCO Country Store (the bottling line stop is currently closed). The Country Store shouldn't be missed since visitors can taste a variety of TABASCO products, including Tabasco-flavored ice cream and "Original Red" that's sold in more than 195 countries and territories. The original recipe was created by Edmund McIlhenny in 1868 and has been used by the McIlhenny family for more than 150 years. Most visitors are surprised to learn that only three ingredients are used in the sauce – aged red peppers, salt, and distilled vinegar. Once the three ingredients are combined, the pepper mash is placed into oak barrels, topped with a layer of salt, stored in the Barrel Warehouse, and aged for three years.
Tickets range from $12.50 to free and the tour is open daily.
Check out the Tabasco Restaurant on Avery Island or venture to Landry's Cajun Seafood & Steakhouse 15 minutes away. RVers can spend the night at Frog City RV Park.
Maker's Mark Distillery - Loretto, KY
Visit one of the most picturesque production sites in the country to learn about the history of Maker's Mark bourbon whisky. Watch the fermentation process, see the charred oak barrels used to age whisky for five to seven years, and don't miss the bottling area where workers hand-dip the top of each bottle in Maker's Mark's signature red wax.
The origin story of Marker's Mark is relatively new, dating back to 1953. It began when Bill Samuels, Sr. purchased an existing distillery in Loretto, KY, and began making whisky based on his family's 170-year-old recipe. Maker's Mark is unusual because it uses red winter wheat in its mash bill instead of rye. And, instead of the American spelling of "whiskey," Samuels chose "whisky" to pay homage to his Scottish-Irish heritage.
All tours must be booked online in advance and all guests must be 21 years of age or older.
Visit LaGwen Drive In that's known for its home-made chili sauce, hamburgers, and hand-dipped cones. RVers can stay overnight at Elizabethtown Crossroads Camp.
Louisville Slugger Museum & Factory - Louisville, KY
Louisville Slugger got its start in 1844 when 17-year-old Bud Hillerich played hooky from work to take in a Louisville Eclipse baseball game. When the team's superstar hitter broke his bat, Hillerich offered to make him a new one. 177 years later and Louisville Slugger remains family owned and proudly produces 1.8 million wood and aluminum bats a year.
The fun begins outside with the world's largest baseball bat that stands 120 feet tall and is a replica of Babe Ruth's 34-inch Louisville Slugger. During the factory tour, walk through the production line to see a few of the 22 steps that turn raw wood into a sleek bat. Each visitor walks off with a better understanding of this iconic brand, along with their very own souvenir mini-bat. After the tour, check out the baseball museum that's dedicated to the game and some of its legends.
Tickets for the museum and factory tour range from $16 to free and reservations are required.
Afterwards, get a Southern fix of ribs, beef brisket or shrimp and grits at Hammerheads. RVers can stay overnight at Elizabethtown Crossroads Camp.
Ford Rouge Factory Tour - Dearborn, MI
The Ford Rouge Factory dates back to 1917 when Henry Ford first began developing the site. His vision was to achieve "a continuous, nonstop process from raw material to finished product." At its peak in the 1930s, more than 100,000 people worked at the expansive industrial complex, and one new car rolled off the line every 49 seconds. Today, the Rouge Factory is an example of engineering and modern manufacturing coming together to create one of the country's most popular trucks – the Ford F-150.
The self-guided tour includes two high-tech theater experiences. The Manufacturing Innovation Theater combines "floating" 3D laser projection mapping and exciting behind-the-wheel footage to take visitors from concept to highway. Top off the tour with a visit to the observation deck to see a remarkable display of industry in motion as Ford F-150s are assembled on the plant floor below.
Tickets to the Henry Ford Museum include the Rouge Factory Tour and are currently limited due to a reduced daily capacity. Tickets should be purchased in advance online.
To continue the "Ford experience," grab lunch at Ford's Garage that's designed to look like a 1920s service station with vintage Ford vehicles, gas pumps, and fixtures. RVers can stay overnight at Haas Lake Park RV Campground.
Wisconsin Foamation Cheesehead Factory – Milwaukee, WI
For a "cheesy" factory tour, look no further than Wisconsin. The tour begins with everyone taking a "Wedge of Allegiance" and continues from there with plenty of groan-inducing jokes. From start to finish, see how cheeseheads are made in a small production facility in Milwaukee. On the deluxe tour, everyone can make their own cheesehead or other style of cheese-inspired hat. FYI – cheesehead was originally coined by Chicagoans as a derogatory term to describe Wisconsinites.
Ralph Bruno started the cheesehead craze in 1987. While reupholstering his mother's couch, he took an extra piece of foam, cut it into a wedge, added holes, and made it the color of American cheese. He then wore it to a Milwaukee Brewers' baseball game and, based on the attention and interest from fans around him, began making and selling cheeseheads. Today, cheeseheads are known around the world and can be found in various styles – top hats, visors, sombreros, and more!
The tour that includes a cheesehead hat is 45-60 minutes and starts at $25.
Visit Sobelman's for a true Milwaukee bar/restaurant experience and be sure to take a look at their Bloody Mary offerings. RVers can stay overnight at Wisconsin State Fair RV Park or River Bend RV Resort.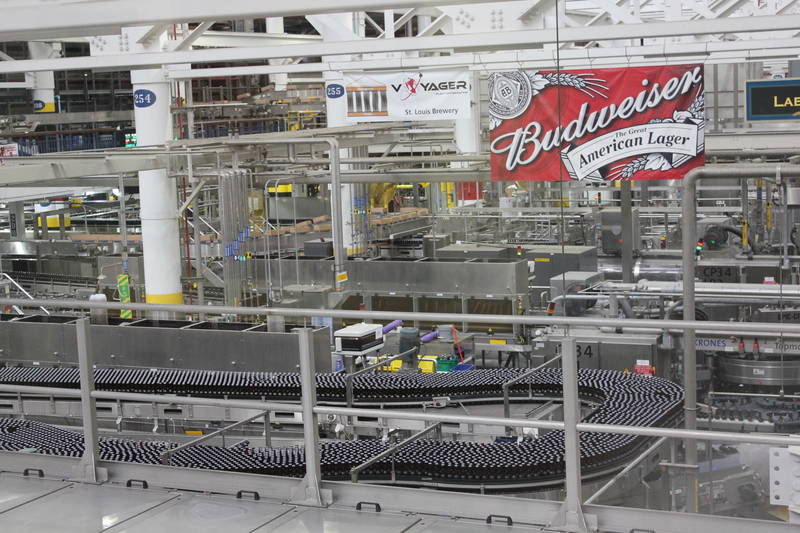 Budweiser Brewery Tour - St. Louis, MO
Adolphus Busch was a German immigrant and U.S. Civil War veteran who joined his father-in-law, Eberhard Anheuser, in the brewery business after serving in the Union Army. In 1876, thanks to Busch and a friend, the brewery introduced a light-colored beer called Budweiser that Americans loved. Before Budweiser, many were drinking heavy, dark ales so a palatable, crisp lager was appreciated. In 1879, the company's name was changed to Anheuser-Busch Brewing Association, and in 1880 Busch took over as president after Anheuser's passing. Busch pioneered the use of refrigerated railcars and pasteurization in the brewing industry as part of his efforts to create the first nationally selling beer in the U.S.
Visitors can choose from a number of different tours. The Beermaster Tour lasts approximately 120 minutes and visits exclusive locations on the Anheuser-Busch campus. The Clydesdale VIP Experience lasts approximately 45 minutes and includes a visit to the stables and time with a Clydesdale handler who will share in-depth information about their lifestyle, training regimens, and mannerisms.
Tour tickets range in price, depending on the experience selected. When booking online, note that some tours are for guests 12 years and older while others are open to all ages.
After the tour, combine Blue's music with a po boy or red beans and rice at Blue's City Deli. RVers can stay overnight at Pin Oak Creek RV Park.
Hammond's Candies – Denver, CO
10 million – that's how many candy canes Hammond's Candies in Denver hand makes each year. In addition to that signature cane-shaped candy, the company also produces chocolate bars, rainbow lollipops, and lemon drops. Take a free, 30-minute tour to see how this company that's one of the oldest candy manufacturers in the U.S. makes its sweet treats.
Hammond's Candies was founded by Carl T. Hammond, Sr. who quit high school in 1913 and got a job as a candy maker apprentice. After serving in World War I, Hammond returned to Denver and picked up where he left off in a candy factory. With several years of experience under his belt, he ventured out on his own. Early on, Hammond did everything. He developed the recipes, made the candy, sold it, and handled all the tasks required of a fledging business. Today, the company sells its handmade candies worldwide. In the U.S., its treats can be found in Whole Foods, Nordstrom's, Dean & Deluca, Cracker Barrel and specialty shops.
Tours run every 30 minutes and online reservations are required to ensure availability.
For a self-described "square meal, stiff drink and a fair price," visit Work & Class. RVers can spend the night at Dakota Ridge RV Park.
Tillamook Creamery – Tillamook, OR
Tillamook Creamery is the largest tourist attraction on the coast of Oregon and one of the most popular in the state. The creamery offers a free, self-guided tour that shares details about life on a dairy farm, allows visitors to watch milk being made into cheese, and, most importantly, provides complimentary samples. For those who would like to learn the secrets behind Tillamook's extra creamy ice cream, make a reservation for the small group Exclusive Ice Cream Experience. Get a hands-on look, and taste, of how extra creamy Tillamook Ice Cream goes from milk to market.
Tillamook County Creamery Association (TCCA) was founded in 1909 when several small creameries each contributed $10 to start the cooperative to ensure all cheeses made in the Tillamook Valley would be produced with the same high level of quality. Today, the TCCA is owned by almost 80 farming families, and is proud to make award-winning cheese, yogurt, sour cream, ice cream, and butter.
The creamery recommends visiting during the week to see employees working in the facility. Tickets to the Ice Cream Experience range from $15 – 20 for children and adults.
Just a few minutes away, visit Dutch Mill Café, a '50s diner with checkerboard flooring, old time booths, and the front clip of a 1957 Chevy. RVers can spend the night at Pleasant Valley RV Park.