There's no place quite like Waikiki. The bustling shopping district is filled with luxury shops, small boutiques, and a host of restaurants and hotels. Oh, and there's a beach, too.
While enormous hotels like the coral pink Royal Hawaiian wow families and tourists (we'll touch on their famous luau later), those looking for a tropical hideaway just steps from everything should consider a visit to the exquisite Ritz-Carlton Residences Waikiki Beach.
One of the things I like about the Ritz-Carlton is that they continue to be a leader in not just delivering on the promise of luxury that you would expect from a brand like this - but also their efforts as a leader in sustainable tourism and preserving those environments that you travel to experience.
For instance, here in Waikiki Beach, the Ritz-Carlton Residences has embarked on a seven-year initiative to restore and transform the Ala Wai Canal into a lush natural destination that will allow for swimming, fishing, and other activities. Most people don't know this, but the name Waikiki means "spouting waters" and much of the land where these resorts sit today was actually marshlands that were drained to make way for development.
Since 1928 though, that 1.5-mile long canal has become stagnant with mud, debris, trash, and various pollutants that have collected there. Now though, through the resort's Malama Hawai'i: Genki Ala Wai Project offer, $10 from every night of the guest's stay will go towards funding the development of two genki balls. The resort will also match every night with $10 for a total of $20, or four genki balls, to support the initiative. In return, guests can enjoy a $20 nightly resort credit to use for dining, spa treatments and other services.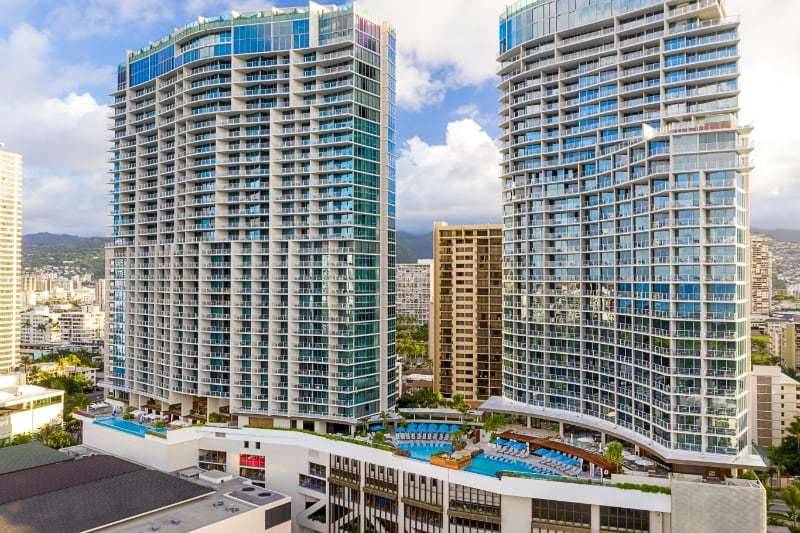 The twin towers of the Ritz rise high over Kalaimoku street, and our adventure begins with an Uber ride from Honolulu airport on Oahu to the beautiful street-level entrance of the Ritz-Carlton towers where the bellmen are quick to offer assistance with getting luggage up to your room or simply onto the elevator.
The open-air valet stand is directly under the building, with a Dean & Deluca shop adjacent. We were welcomed by a purple lei for the lady and a necklace of koko beads for the gentleman. A pair of elevators whisks you up to the lobby on the 8th floor, where a stunning view of Waikiki and the Pacific Ocean awaits. The lobby, and in fact all rooms in the hotel, face west towards the ocean. If you like sunset views, you'll love the Ritz-Carlton Residences Waikiki Beach.
The staff at the check-in desk were prompt and efficient, describing the amenities at the hotel, including the spa, the adult and family pools, fitness center, and three restaurants.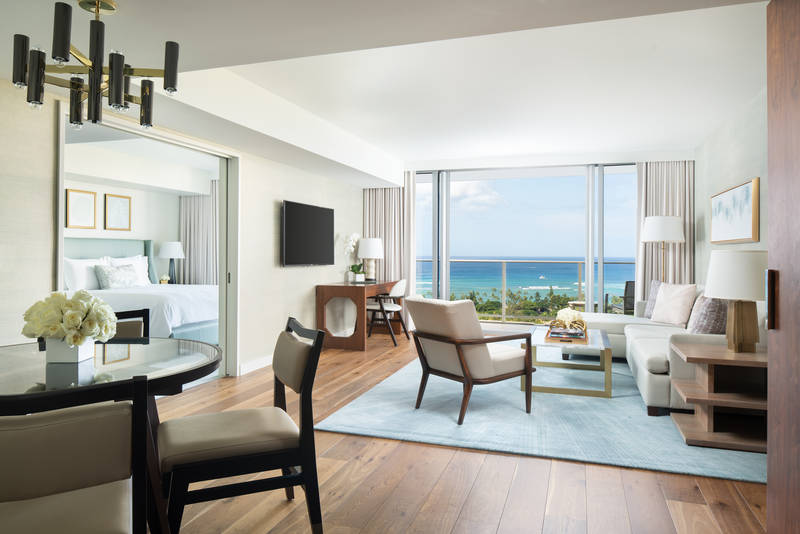 The room
The Ritz-Carlton Residences Waikiki Beach are a bit different from a standard Ritz-Carlton resort. All the rooms are actually condominiums owned by individuals, and they're rented out by the hotel staff. As part of the revenue goes back to the unit owners, there are no upgrades available for Marriot Bonvoy rewards members, either through a complimentary upgrade or Suite Night Upgrades.
I used 280,000 Marriott Bonvoy points to book five nights at the property at 70,000 points per night with the fifth night free. That was good enough for a Grand Ocean View one-bedroom unit that can sleep three adults via an exquisite king-size bed and a fold-out couch.
Our 600 square foot room, on the 23rd floor, was a fully-equipped studio apartment complete with a refrigerator, dishwasher, range, microwave, and washer and dryer. The Residences name is apt, as it would be easy to live here full time. Our unit was spacious for 5 days, but there are multi-bedroom and larger options available as well.
The bathroom had a large walk-in shower, dual vanities, and an enclosed lavatory, though it wasn't possible to get to the (Toto, washlet-equipped) toilet without walking through the rest of the bathroom, so it isn't ideal if you're entertaining guests consistently. There is also an exquisite soaking tub.
All the appliances are tucked into a wall of cabinetry along the left side of the long, narrowish room. The washer and dryer is towards the bathroom, while the kitchen is further down. The room has an open floorplan, divided between the bedroom, living room, and dining room — it ended in a floor-to-ceiling window opening onto a roomy terrace overlooking the ocean, complete with multiple lounge chairs and a table.
A set of sliding glass doors can partition off the bedroom from the rest of the room, which is handy if you have little ones sleeping on the couch but getting to the bathroom does require walking past the bed.
The kitchen has a refrigerator, freezer, dishwasher, two-burner cooktop, convection oven, Nespresso coffee machine, and more. With dishware, pots and pans, utensils, and more, you're ready to make a meal of it. Hardwood cabinets, marble countertops, and modern fixtures bring a very classy air to the room.
Overall, it's a peaceful oasis far above the hustle and bustle of Waikiki, with incredible ocean and sunset views. But there's much more to the Ritz-Carlton Waikiki Beach.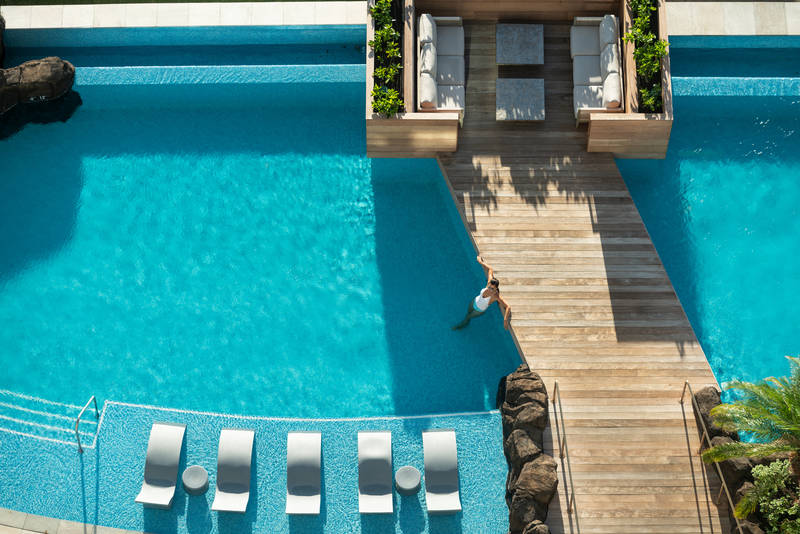 Pools
Though Waikiki Beach is less than 10 minutes away, the 8th-floor lobby level has a pair of large infinity pools (the highest in Waikiki, according to the hotel). The larger pool on the left is the family fun zone, with gentle slopes and plenty of room for kids to spread out and splash. There are plenty of loungers and wonderfully attentive pool attendants ready to keep you stocked with libations and tasty bites. Large cabanas are available for rent, featuring televisions, stocked fridges, and more. And, every afternoon, they roll out a cart featuring complimentary
On the other side of the building is the adults-only pool, a peaceful respite from the action at the family pool. Long enough for casual lap swims, there's also a hot tub and more cabanas for rent. It's worth spending a few hours at the pool for at least one day of your stay.
Spa
Located just steps from the family pool, the Ritz-Carlton Spa offers a variety of massage and facial options, from simple deep tissue treatments to a volcanic mud wrap combined with a Hawaiian lomilomi massage.
I tried the exquisite Endless Escape 105-minute massage, combining CBD oil with warm stones and a scalp and foot massage. It was perhaps the most relaxing moment of an incredibly relaxing week.
A waiting area with light snacks and drinks is your first stop before heading to a well-appointed locker room with hot and dry sauna and steam shower. A long hallway decorated in tasteful and calming earth tones leads to the four treatment rooms, including one couples room.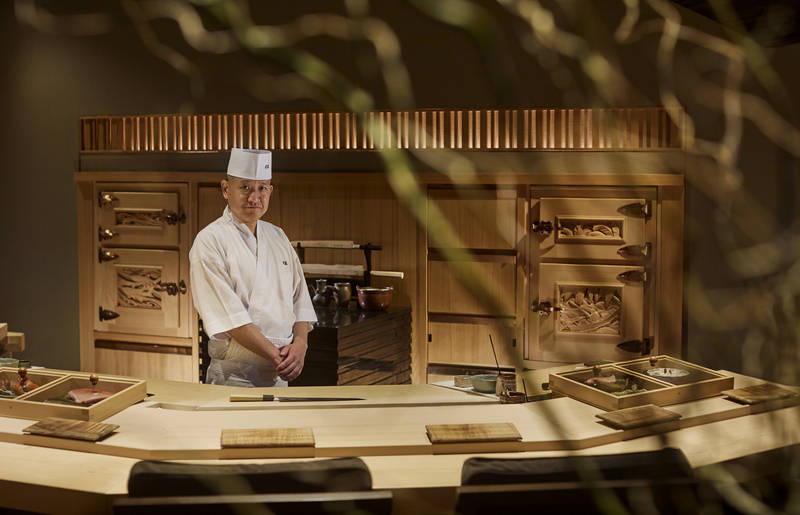 Restaurants
The Ritz-Carlton Waikiki Beach has several options for food, including the first Hawaiian outpost of New York's Dean & Deluca market which is ideal for snacks and a quick lunch. There's also an attached convenience store on the ground level with a surprisingly well-equipped deli and all manner of liquor and food choices.
Taking full advantage of the gorgeous Oahu weather, the open-air Quoira restaurant next to the family pool offers up Italian cuisine for all three mealtimes, while La Vie, off the main lobby, offers multi-course French cuisine with terrific wine pairings and an inventive cocktail list. The non-alcoholic mocktail drink-pairing options for the tasting menu are a nice touch.
Finally, there's Sushi Sho, a 16-seat omakase temple from chef Keiji Nakazawa. With just two seatings each day, getting a table can be tricky if you don't plan ahead, but it's well worth it. With incredibly personalized service and fanatical attention to the craft of sushi making, it's a must-visit for any sushi aficionado — and, if I do say so myself, it's worth the trip to Hawaii all on its own.
Bring a sense of whimsy and a willingness to try new things and you'll be well on your way to bite after bite of sushi bliss.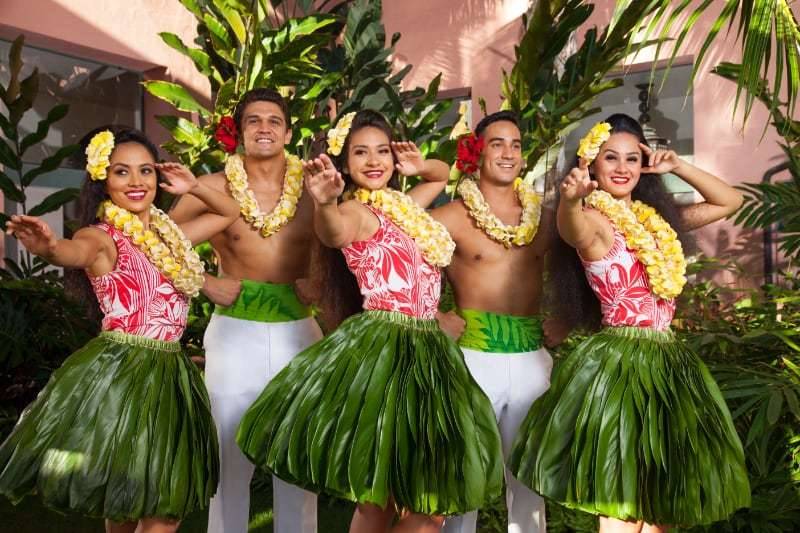 Royal Hawaiian Luau
Finally, we wandered up the street to the coral pink Royal Hawaiian hotel, home to the Aha Aina Luau, for perhaps the most touristy event of our Hawaiian adventure. The Royal Hawaiian Luau uses food, song, hula dance, fire and more to tell the history of Waikiki and Hawaii.
Taking place every Monday and Thursday evening at the Royal Hawaiian, the Aha Aina is an inspiring and delicious three-course history lesson celebrating this unique island and its culture. The fruity blended drinks are pretty wonderful as well.
In all, the Ritz Carlton Residences Waikiki Beach is a five-star luxury oasis combining top-notch services, incredible views, and an unmatched ambiance and atmosphere to deliver a once-in-a-lifetime romantic getaway experience — or a terrific family vacation, depending on what you're after.
photos credit: The Ritz-Carlton Residences, Waikiki Beach