Although it's only 90 miles from Florida, Cuba had severe travel restrictions for more than 60 years and despite moves almost a decade ago to open things back up so that Americans could fully enjoy the diverse music, food, and drinks that this island is known for, it remains off-limits to Americans with United States passports. Canadians, Europeans, and others though can enjoy this relatively unspoiled tropical destination.

5 Things Guys Will Love to Do In Cuba:
There are many things that are available on all Caribbean islands such as wandering around town enjoying the local culture, relaxing at your resort or hanging out on the beach. There's also great golf and fishing here too. However, there are some highlights that make Cuba a special place for guys to visit.
Vintage Car Tours In Havana - Havana is a step back in time to the 1950s as far as the car culture goes. You'll find classic automobiles on every corner here and they are all running. While you can certainly walk around the city and explore on your own, various entrepreneurs are now offering car tours too.
Attend a Baseball Game in Cuba - Cuba is home to some of the best baseball players in the Major Leagues so this is on the bucket list for a lot of you guys I'm sure. Here's a schedule for the 2018/2019 Cuban Baseball National Series that just started last month.
Cigar Tours - Especially in Havana you will find an amazing cigar culture. This includes small shops as well as large factory tours where you can see why the legendary Cuban cigar is so prized around the world.
Rum and Cocktail Tours - If there's something more iconic than the Cuban cigar, it's got to be Cuban rum. Like with cigars, you'll find local bars whipping up classic Cuban mojitos and daiquiris and you'll find tourist destinations like the Museo del Ron Havana Club in Havana.
Explore Cuban History - Regardless of what type of history your group of guys is into, there's something here for you in Cuba. From architecture seemingly stuck in the 1950's to exploring Spanish forts like Morro Castle and Castro-era propaganda murals you are going to have a great time exploring Cuba.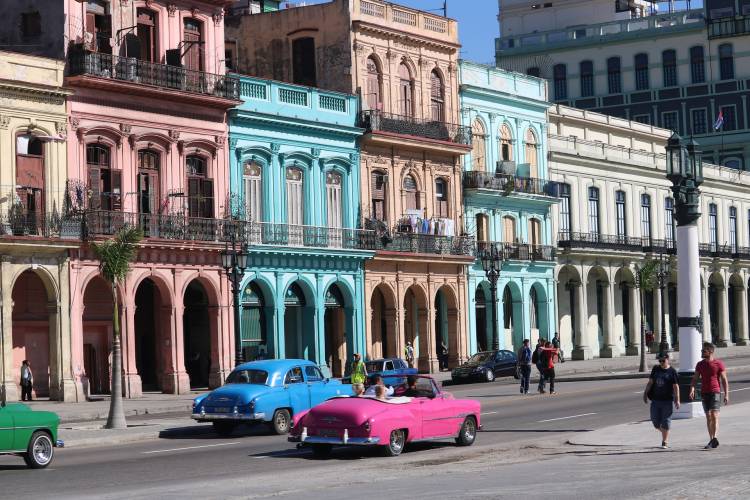 Cuban Cities To Explore:
While Havana is certainly the first to come to mind for most Americans, it is far from the only vacation destination that guys will love to explore in Cuba. That's part of the fun of doing a guys weekend getaway in Cuba - you can do an urban guys getaway, a relaxing beach trip, or anything in between.
Old Havana
Old Havana, which the locals call "Habana Vieja", is a UNESCO World Heritage site that features gorgeous Neoclassical and Baroque buildings. Although renovated for modern times, the original architecture and cobblestone streets make visitors feel as if they are visiting the country 200 years ago.
Many travelers visit Plaza Vieja. One of the most popular spots in the area, Plaza Vieja centers around Casa del Conde Jaruco, an 18th-century building best known for its exquisite stained glass windows. A nearby tower known as the camera obscura stands 35 meters tall and offers the perfect spot to get a bird's eye view of the surrounding scenery. Other attractions in Old Havana include Bodeguita del Medio, known as being a hangout for Ernest Hemingway, and the military fortress Castillo de la Real Fuerza.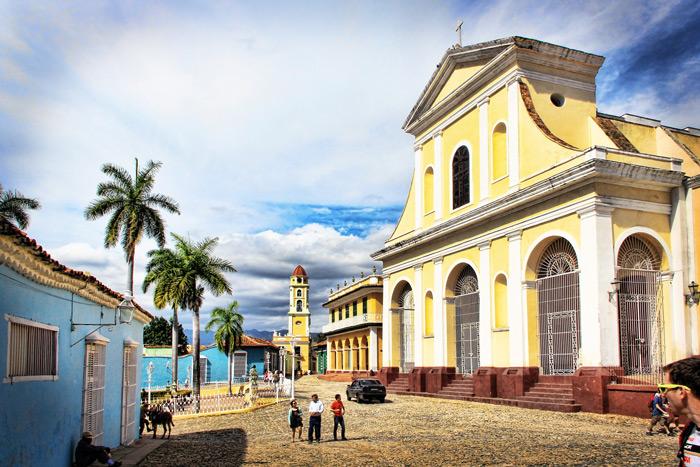 Trinidad
Just a short drive from Havana is Trinidad, a well-preserved colonial town and another UNESCO World Heritage site. If you are in love with old-school architecture, you'll enjoy bringing your camera and taking gorgeous photographs of your surroundings. Despite its authentic beauty, some of the best things to do are actually in the areas surrounding Trinidad.
Nature lovers will enjoy the cool mist of the El Nicho waterfalls or riding horseback through the gorgeous trails of Topes de Collantes, not to mention relaxing on the gorgeous beaches of Playa Ancon. After a long day in the sun, be sure to stop by Disco Ayala, a cave that offers a late-night club scene, or Plaza Mayor, where you can get some of the best mojitos in the city.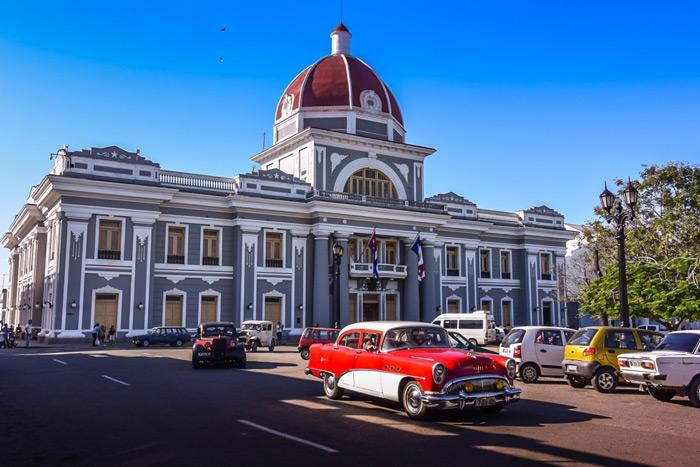 Cienfuegos
Located on the west coast, Cienfuegos is a harbor town known for its art and culture. Additionally, a gorgeous bay has earned the town the nickname of Pearl of the South. Many tourists simply enjoy strolling the gorgeous streets of the town, and the European feel of Cienfuegos offers a unique stop during your tour of Cuba.
When you're done people watching, be sure to visit one of the many art galleries located near Plaza de Armas, or if you prefer historical monuments, the area also houses one for Jose Marti, a Cuban hero. Cienfuegos is home to the last Arch de Triumph in the country, located in Jose Marti Park. After spending the day taking in the beauty of the town, be sure to stop and have a meal at El Tranvia, one of the area's most popular restaurants.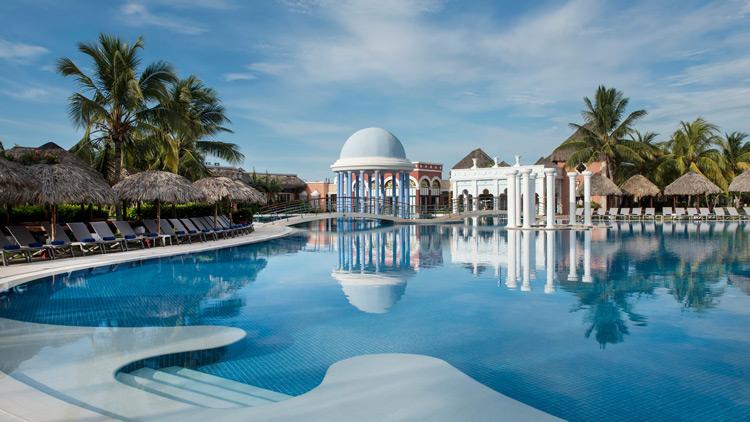 Where To Stay When Visiting Cuba
There are a variety of 4 star all inclusive resorts in Cuba that allow you to relax in style between your day trips, but Iberostar is one of the most established brands. From gorgeous boutique-style hotels in the cities to lovely beachside resorts, Iberostar can help you find the perfect accommodations for your needs. Additionally, since things have thawed between the United States and the Cuban government, you can also use sites like Travelocity and Hotels.com just like you would for booking any other trip.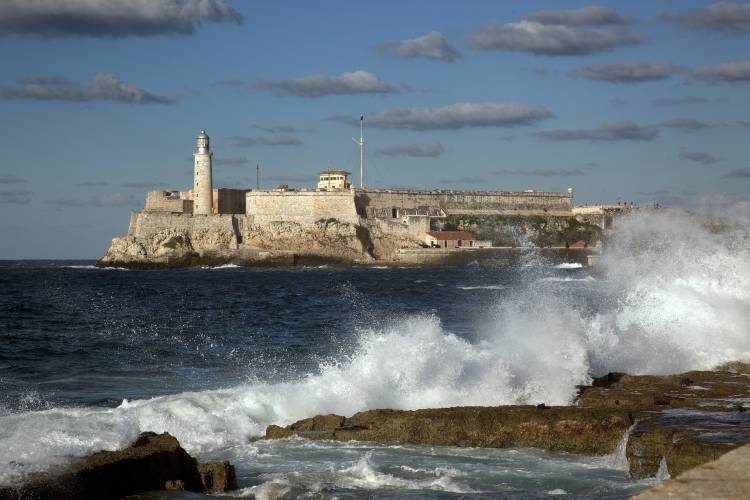 What To Know Before Visiting Cuba
When visiting Cuba, it is important to note that it isn't as simple as getting on a plane and going. Remember that you'll need a passport and valid identification. You should also keep in mind that tourism to the area is limited to some specific reasons. Be sure to research thoroughly to ensure you follow travel guidelines, including understanding what you can and cannot bring back through customs.
6 Things US Citizens Need To Know Before Traveling to Cuba
Take Cash With You - Unlike most other Caribbean destinations where the US Dollar is king, here you are best to take Euros. In fact, with the US Dollar, you will actually have to pay an extra fee to use them. Visa and Mastercard will work in Cuba, but due to antiquated merchant systems at many vendors it shouldn't be the primary source of money during your trip. Also, American credit cards generally require foreign transaction fees. However, most resorts and major hotels will allow you to pay your bill there with a credit card.
Cuba has Two Currencies - Luckily, tourists are only allowed to use CUC "Cuban Convertible Peso" aka the "Cuban Dollar". This is aligned to the US Dollar at $1USD to 1 CUC. In tourist areas, this is the prefered currency and can generally be used for everything from tips to bar bills and taxi rides.
Tourist Travel to Cuba For United States Citizens Remains Prohibited - According to the United States Department of State, tourist travel to Cuba remains prohibited for anyone traveling from the United States to Cuba. However, there are ways around that. There are 12 official reasons why US Citizens are allowed to travel to Cuba. For planning a guys weekend or mancation in Cuba, the most important can include: "Educational Activities", "Public Performances", "Athletic and Other Competitions", "Support For the Cuban People", or "Humanitarian Projects". Depending on what you have planned, this might make taking in a baseball or soccer game as part of your plans, or perhaps working with an NGO to help build homes, a school or some other activity.
Travel Insurance Is Required to Enter Cuba - While we're always a big supporter of making sure you invest in travel insurance, for visiting Cuba it is a requirement. In fact, they will often check at customs to ensure you have official paperwork available and if you don't they have coverage that you are required to buy before passing into the country.
Cuban Internet and Wireless Access Is Not Dependable - Technology continues to improve in Cuba but unlike the United States where you can always depend on your phone for maps and reviews, you are best to download stuff before you leave. While major resorts will generally have good wifi, outside of the cities you will need to have offline maps enabled to help you navigate.
Crime Statistics Are Not Available But Gun Crime is Nonexistent - Various crimes including theft are present in Cuba and police intervention is minimal here. However, gun crime and murders are much lower than other Latin American countries. However, you should always protect yourself and be aware of surroundings to avoid making yourself a target.