Whether desiring to get away with a group of male friends or family members, West Virginia offers a wealth of possibilities for the ideal mancation. Spectacular locations and views provide many different adventure options. Whether desiring home-cooking, fast-food or exotic dishes, cuisine choices also abound.
Accommodations Ready for a West Virginia Mancation!
ATV enthusiasts might consider staying at either the Depot or the Rockhouse Lodge. Both West Virginia locations are family-owned and operated. Both facilities welcome ATV trailers. ATV riding is also allowed in the community when heading out to the trails. Both facilities are within close proximity to the popular Hatfield and McCoy Trail System.
The ACE Adventure Resort in Minden, West Virginia, boasts cabin accommodations and white water rafting excursions. Each cabin contains a fully-equipped kitchen, three bedrooms with queen-sized beds, a living area, front and back porches with fire pits and hot tubs. Located just minutes from the New River Gorge, guided activities might also include cycling or hiking adventures. The New River remains a popular destination for fly fishing fans.
If relaxation is the order of the day, consider the Hillbrook Inn. Situated in Charles Town, the venue provides each male guest with a six-pack of Guinness and a handmade cigar upon arrival. A mancation package might also include specialty coffees, souvenir mugs, a bottle of Hillbrook coffee liqueur and a one-hour aromatherapy massage.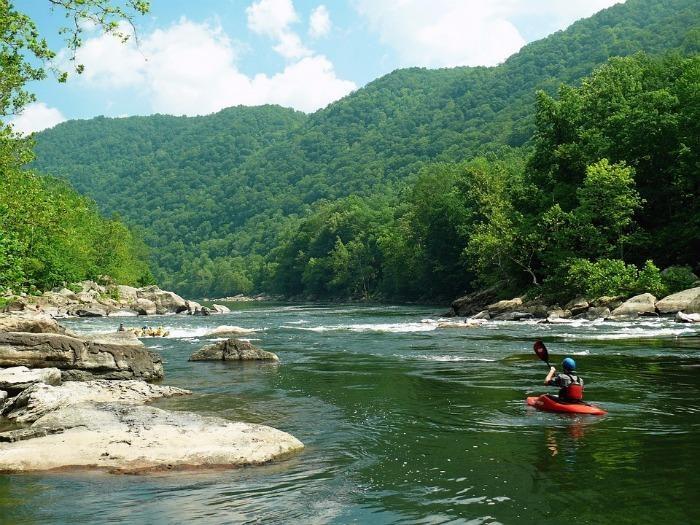 Whitewater Rafting and Kayaking
At the base of virtually every rugged mountain in West Virginia is a torrent of water cascading over rocks creating whirlpools and other challenges for you to navigate. Just the New River offers more than 30 rapids, but of course if you want calms for floating you can find that on the Shenandoah and Potomac too. Thrillseekers will want to test themselves on the Gauley aka "Beast of the East" which is best on fall days when water is being released from the dam upriver.
Biking Enthusiasts
Plan a road trip along the George Washington Highway in West Virginia. Start the journey in Grafton and venture east on Route 50 to Bismarck. The next 100 miles take you and your buddies to the Skyline Drive that travels south through the scenic Shenandoah and the Blue Ridge Mountains. Along the way, enjoy the view while passing through the 50 miles of lush Monongahela National Forest. Consider a fall mancation when the colors are particularly dramatic.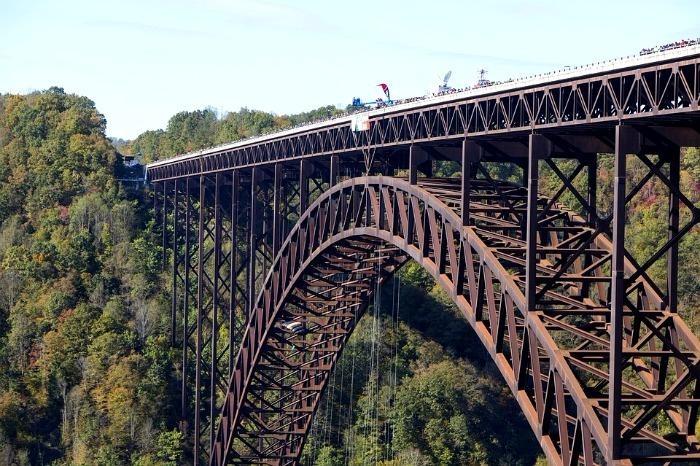 Extreme Sports and Physical Challenges
The Adventure Park in Harper's Ferry, West Virginia provides various mental and physical challenges as guests crawl through tunnels, climb up roped nets and enjoy the thrill of riding a zip line through the treetops. The park encompasses four forested acres complete with five challenging trail courses, which are rated from easy to difficult. Each course features 12 challenges that may include log or rope bridges, vine swings and zip lines.
Others may prefer more extreme sports such as base jumping from the New River Gorge Bridge. This steel arch bridge was once the longest span of it's kind and is still one of the tallest automotive bridges in the world. at 876 feet about the river. This makes it an ideal destination for people seeking to rappel and base jump every year during the Fayette County "Bridge Day" held the third Saturday in October.
Restaurants for Man-Sized Appetites
The Hillbilly Fire Pit in Man is the place to go for mouth-watering, finger-licking good barbecue. The Secret Sandwich Society in Fayettville is another popular hotspot. While the menu features a large selection of regularly made options, customers also have the choice of creating their own specialty sandwich with a choice of bread, meat, sauce and vegetable toppings. The venue additionally serves a variety of 1/3 pound burgers grilled to specifications. Accompany that burger or sandwich with a choice of craft beers or ciders that change seasonally.
Satisfy a fast food craving with a bit of quirky fun at the Hillbilly Hot Dogs in LeSage. The venue prides itself on serving gourmet burgers, hot dogs and salads. The favored hotspot has also been featured on two TV food shows. The restaurant gained fame for its "homewrecker" hot dog, which features a one-pound, all-beef wiener topped with a selection of hot and sweet peppers, onions, cheeses, lettuce and tomatoes on a 15-inch bun.