Breakfast Republic seems to be on the list of every foodie I know in San Diego right now. With lines on weekends that might you second guess stopping by, I know plenty of my friends have simply just passed it by but still wondered what it was like to dine there. Luckily, they continue to expand and now have locations in North Park, Liberty Station, Encinitas and recently opened in East Village San Diego. The menu here is exactly what you'd expect from a California brunch place and in particular one that's growing up in San Diego's modern food scene and we were thrilled to be invited to check it out.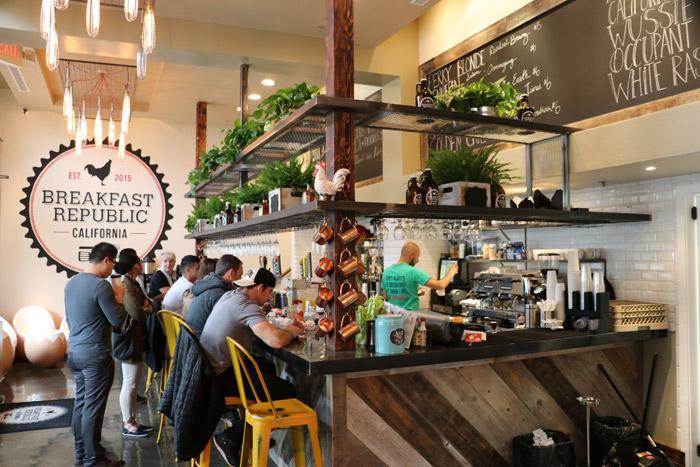 In most other parts of the country, a "breakfast" place probably wouldn't have a bar, beer taps, and a cocktail menu ... but this is San Diego and we love our drinks. The tap list at Breakfast Republic was extremely refreshing that while I saw favorites from Mother Earth, Modern Times, and Stone that you could also find taps from Refuge, Avery, Bitter Brothers, and Resident Brewing (which is right around the corner).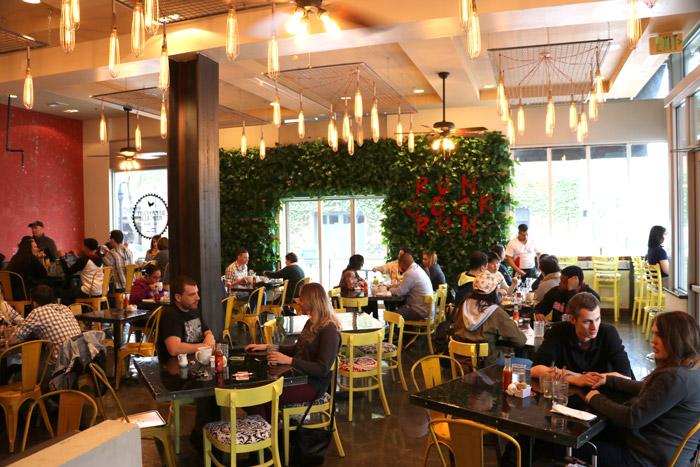 In the dining room area, it's fun and friendly with a playful (and a bit dirty) set of decorations playing on the word "cock". This probably isn't a great place for kids on Sunday morning, but it's fun for adults any day of the week.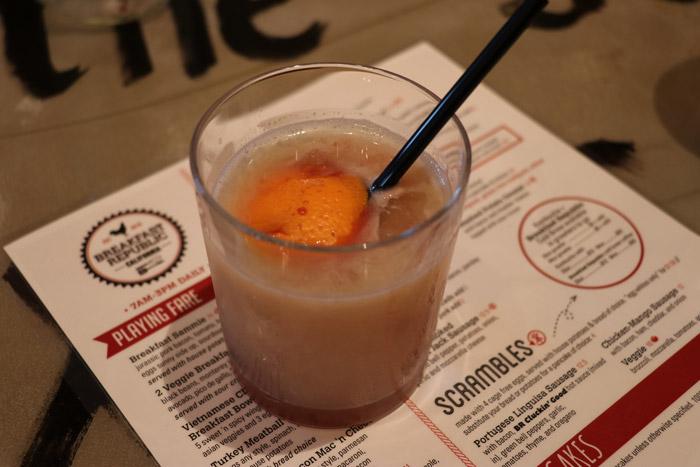 The cocktail list ranges from mimosas and belinis to variations on classics like the Beermosa, Tom Collins' Walk of Shame, Ginger Kombucha Mule, Cluckin Margarita, and Whiskey Sunny Side Up featuring Koval American Oat Whiskey, lemon, cane sugar, red wine, and egg white. Honestly it's not my favorite cocktail but it was perfect as a breakfast cocktail and sometimes it's nice to have more than just coffee and juice for brunch.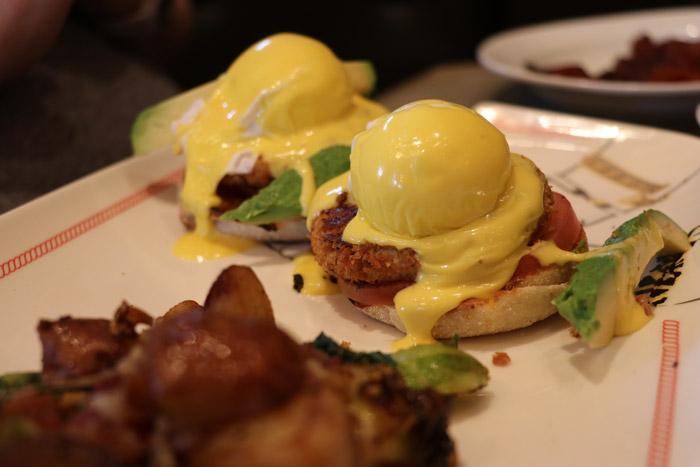 One of the toughest parts of this restaurant visit was that there's a huge diversity of food on the menu. While I normally like to get some diversity across the menu, somehow all three of us ordered eggs benedicts and they were delicious.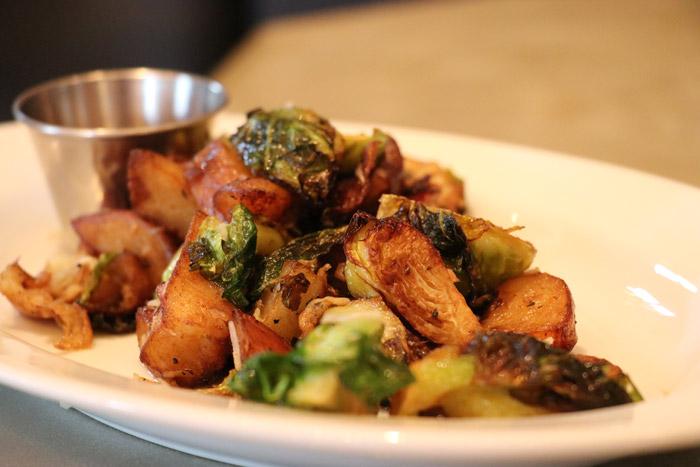 We started with the House Made Crab Cake and since it's San Diego we decided to add avocado to it and upgraded the potatoes to their Bussel sprout roasted potatoes with parmesan cheese, bacon, and onions.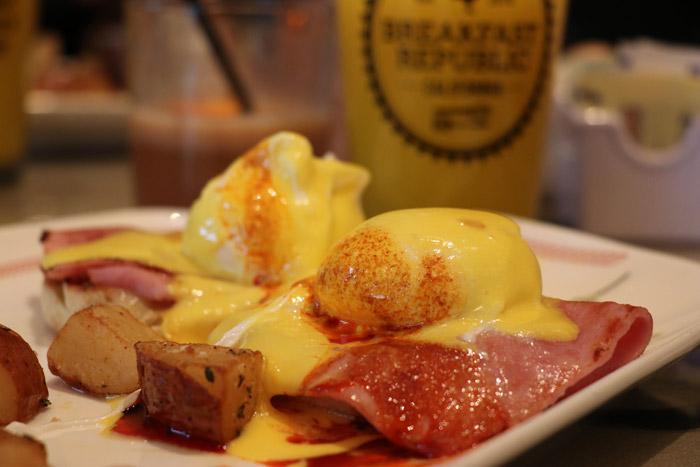 Next up was the Croque Monsier with ham, gruyere cheese, eggs and bechamel sauce served with crispy breakfast potatoes.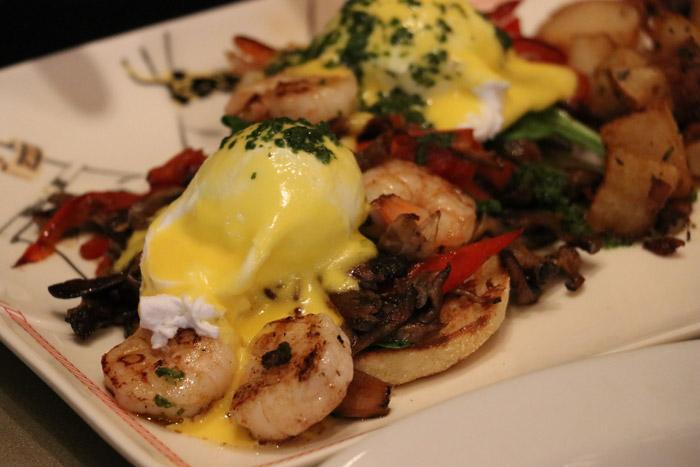 Last on our parade of benedicts was the Mushroom 'n Pesto with Shrimp, which featured button and oyster mushrooms, red bell peppers, spinach, and hollandaise as well as pesto sauce.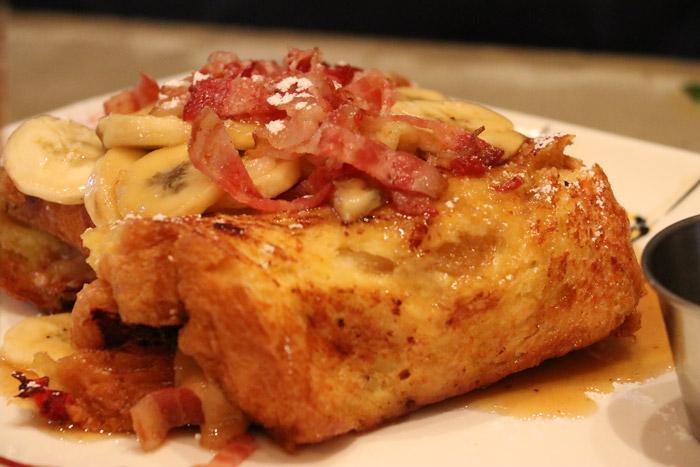 Finally, because there's more to breakfast than eggs, we had to try their famous Mr. Presley french toast. Named after and inspired by the one and only Elvis, this is sure to get you shaking your seat with peanut butter stuffed french toast topped with bananas foster and chopped bacon.
Even though these were all very good choices, before we left I took one last look at the menu and realized that we probably did ourselves a disservice by sticking to the more traditional items available. We missed things like the Breakfast Hot Dogs - bacon wrapped dogs with peppers, onions and cheese sauce with eggs and potatoes as well as the Vietnamese Chicken Wing Breakfast Bowl and Breakfast Mac 'n Cheese.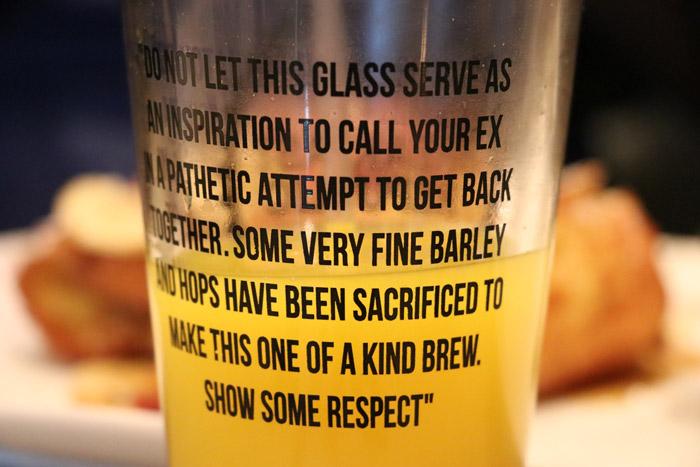 Breakfast should be fun and not just a meal, so on that level, Breakfast Republic nails it. Even though there were some parts of the experience that just didn't mix such as a beer glass quote on the orange juice and a giant plate where half of it is empty instead of at least centering the french toast. If the food wasn't good and the atomsphere wasn't as fun as it is, I might have been more concerned. However, the fresh squeezed orange juice is absolutely delicious and the food is great too so, oh well!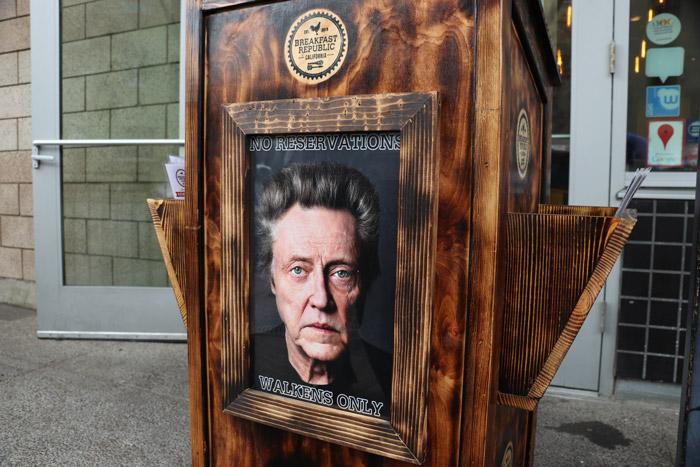 Breakfast Republic East Village San Diego, is located at 707 G Street and open from 7am-3pm. They don't take reservations, so expect long longs on weekends and during prime breakfast hours. If you have flexibility though, try it on a weekday for lunch and you should have no issues with lines.