Every great ballpark deserves an equally great place to go before, after and well ... this is the San Diego Padres here, so during a game where it's better to drown your sorrows in cold pints of craft beer and smoking hot grilled wings. That's what Bub's delivers. It's probably the best sports bar in San Diego and a place we like to frequent even when the Padres aren't playing.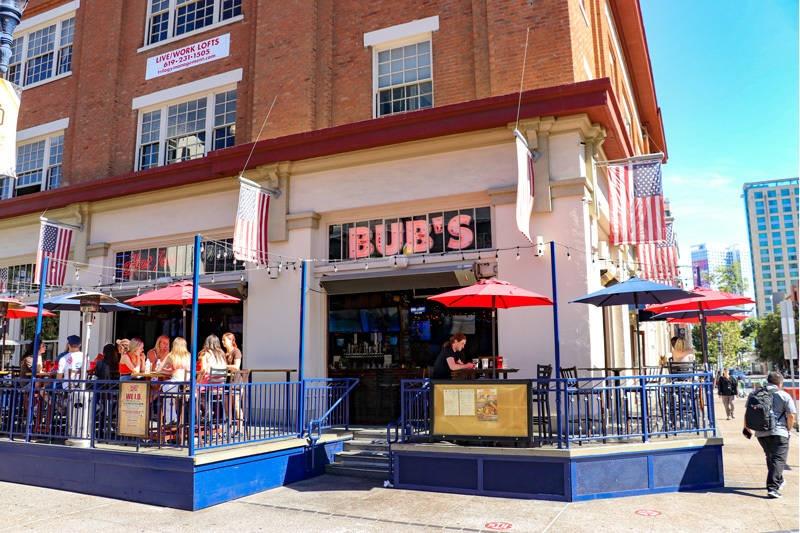 This time however, Bub's invited us over to try some of their other food beyond the wings I knew were already top notch.
One of the challenges with a favorite place to visit is that sometimes you settle into your comfortable favorites since you know it will be good and you don't have that sinking feeling of "WHY DID I ORDER THAT!?!"
So, let's get the wings out of the way first.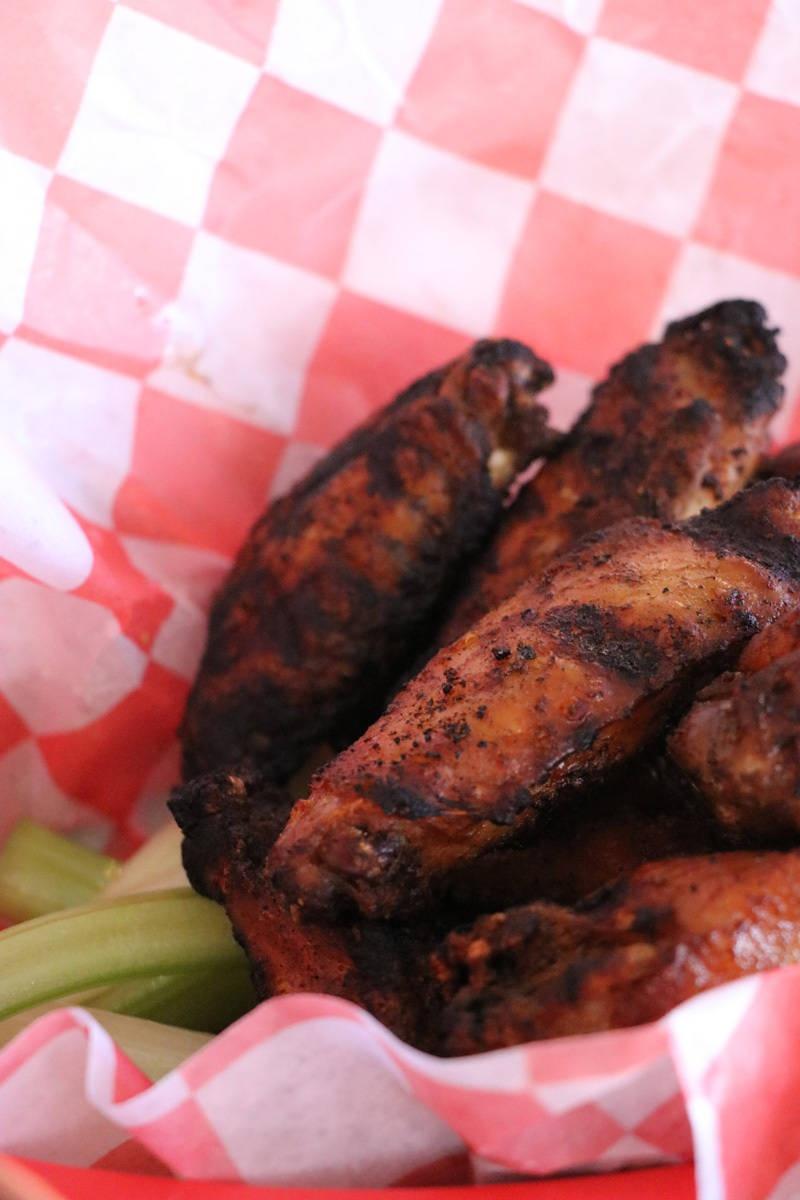 Unlike other places around San Diego and indeed most places around the country, Bub's does their wings grilled. You can get them sauced like traditional wings, dry rub, or naked and get a few different sauces to dip in. This is my absolute favorite way of doing it since depending on my mood, sometimes I just like to have the smoking charred flavor of the freshly grilled wings and other times I just don't know what I'm doing and it's nice to know I could get 5 different sauces for ten wings if that's what I want.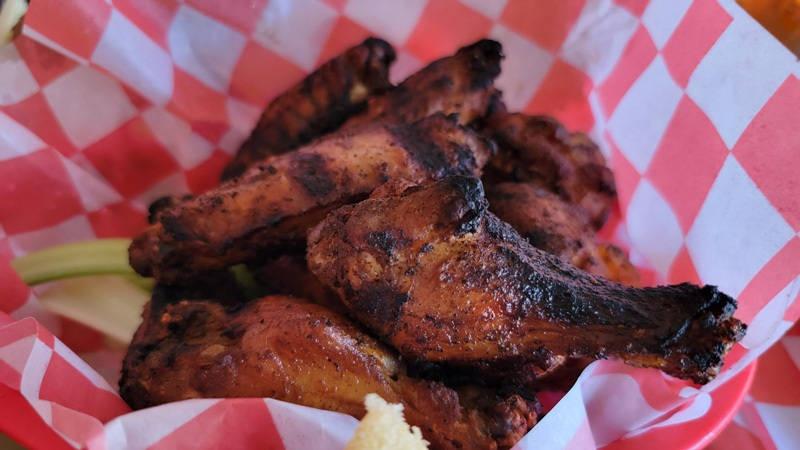 While their sauces are all excellent, our two favorite are Archie Sauce - a blend of honey mustard and buffalo, and Carolina Gold - a blend of honey mustard and BBQ sauce. Other favorites of mine include Korean BBQ and Sweet Chili but you should totally try a variety of sauces to find your favorite.
You can also get Garbage Wings where all the flavors are tossed together and Jambalaya Wings that are served with andouille sausage, shrimp, and a "Jambalaya Buffalo Sauce".
For the risk takers though, you can try an order of Russian Roulette where 9 of the ten wings are just plain Buffalo and one is "REALLY FRIGGIN' SPICY" ... I'm told that this is no joke and you should plan to have some milk handy for the "winner".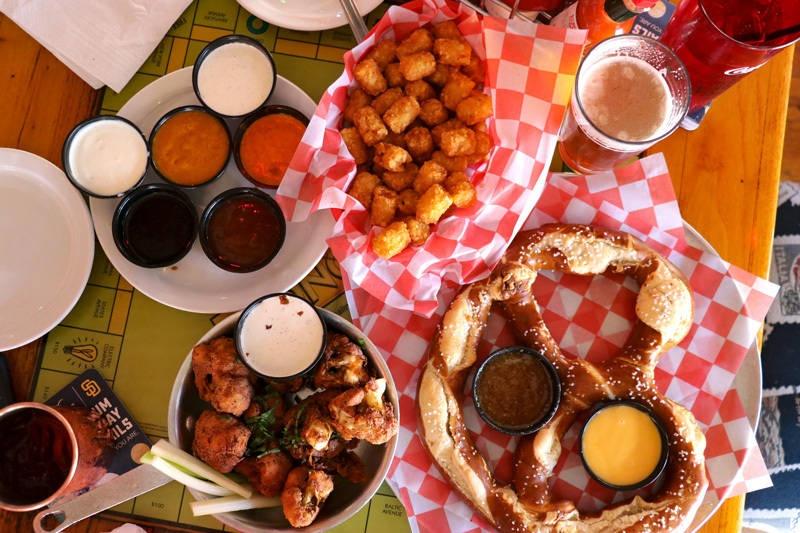 These wings and their famous tots, along with 30+ beers on tap had been what kept us happy but I wanted to expand our horizon a bit this time so we tried their Cauliflower Wings - which for some reason are fried, and also their Montreal Steakums, which I'm just going to refer to as Steak Bites since they bear zero resemblance to the Steak-umm thin-sliced frozen steaks that I grew up with.
Honestly, I'm not sure why they would use that name when Steak Bites describes these perfectly.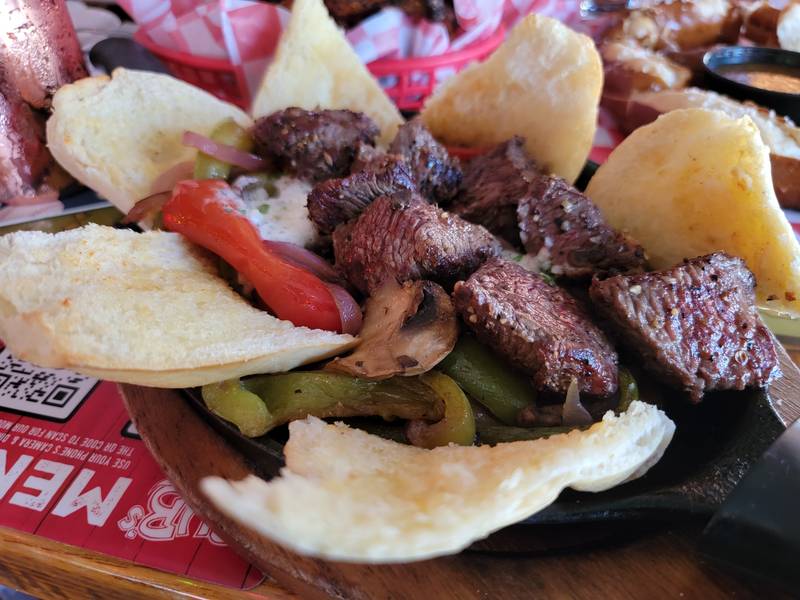 Imagine boneless wings but instead of chicken breast meat you have flame grilled, finger friendly chunks of steak. The Montreal Steak Bites are served with Montreal Steak Seasoning and Garlic Butter served with Garlic Bread on a bed of grilled onions, peppers, and mushrooms. - So good!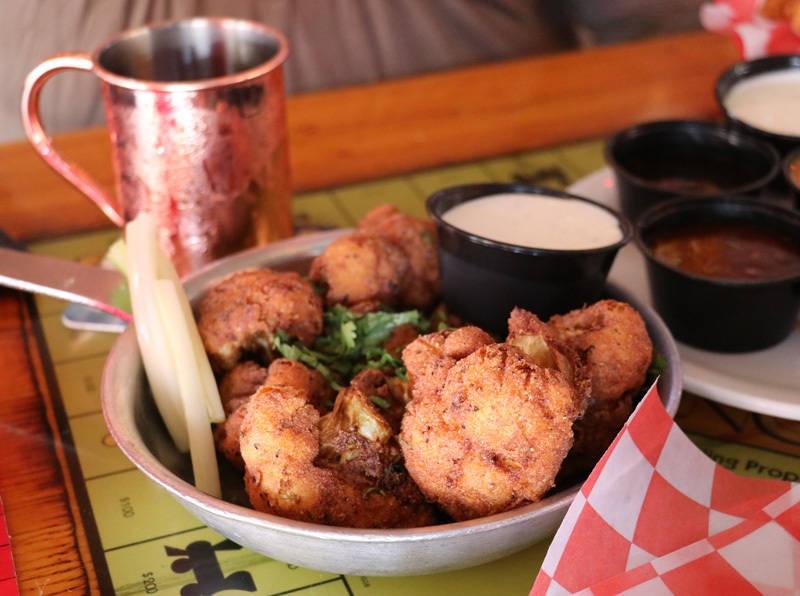 The Cauliflower Wings are delicious but I couldn't help but think they missed an opportunity to make these a bit lighter and stay "on brand" with their grilled wings by making the Cauliflower Wings grilled or baked like I do at home. Instead, they have a very tasty breading and are deep fried.
I have no complaints here because they are excellent and you can order them with the same sauces as you would for the regular wings too.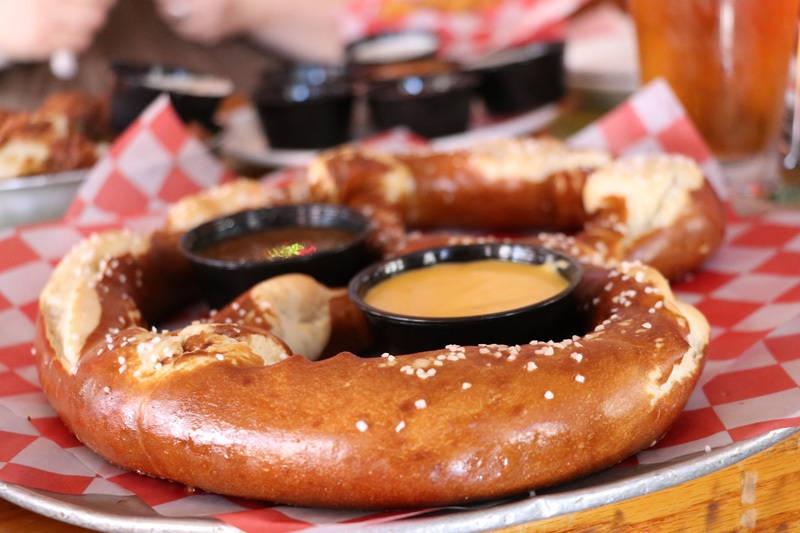 Rounding things out, we ordered their giant, Conan The Bavarian Pretzel and that was excellent as well.
As much as I enjoy their wings and tots here, the opportunity to actually take a look at the menu instead of just ordering from memory made me realize that Bub's has a TON of other creative food options that I frankly wasn't expecting. For instance, I didn't realize they had salads or the Jambalaya Skillet and their "Sammitches" such as The Archie Chicken (chicken cheesteak with archie sauce) as well as the burgers all look great.
Plus, they even have weekend brunch from open till 1pm classics such as cheesy scrambled eggs, gravy and biscuits, avocado toast, or cinnamon swirl french toast.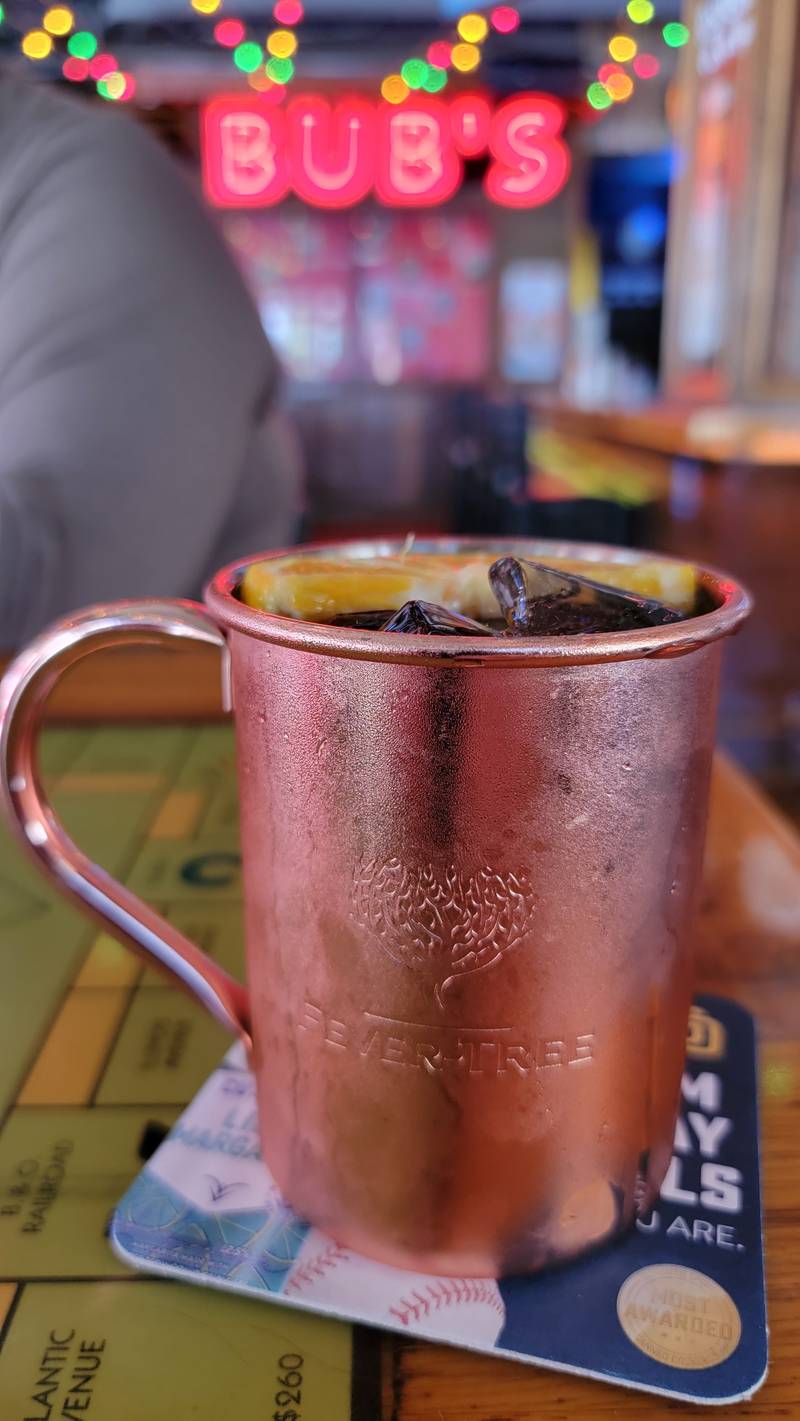 We didn't leave hungry but I did leave curious to try other items on a future visit. Till then though, Bub's at the Ballpark remains one of my favorite places to go grab some grub and drinks with friends in downtown San Diego.