Cauliflower is one of my favorite vegetables since it is so incredibly versatile. From roasting and grilling to ricing and even mashing ... cauliflower has a unique ability to act as a blank canvas for whatever you as the chef ... artist ... can dream up. For me, I love roasting my veggies on the grill. There's that perfect char that comes from grilling that just can't be replicated by an air fryer or convection oven. So, for today's recipe, I'm going to present one inspired by Gobi Curry but far far easier to prepare and dare I say ... a lot less messy too!
This year has been a bit different than most. Instead of traveling from one place to the next, my wings are clipped as Heather and I stay here in Toledo, Ohio taking care of my father-in-law who is THANKFULLY home from the hospital after nearly four months. That means my traveling has to be the virtual kind but that's not so bad since I have the time to create recipes that are inspired by some of my favorite cuisines from around the world.
In this case, it's India and I'm constantly impressed by how good Indian chefs can make their cauliflower taste. It's also inspired by "cauliflower 'wing' bites" a recipe that I shared here a few years ago that is essentially a vegetarian alternative to Buffalo wings.
Today though, we're trying to be even more healthy and avoid extra sodium that is part of the equation when it comes to wing sauce and blue cheese.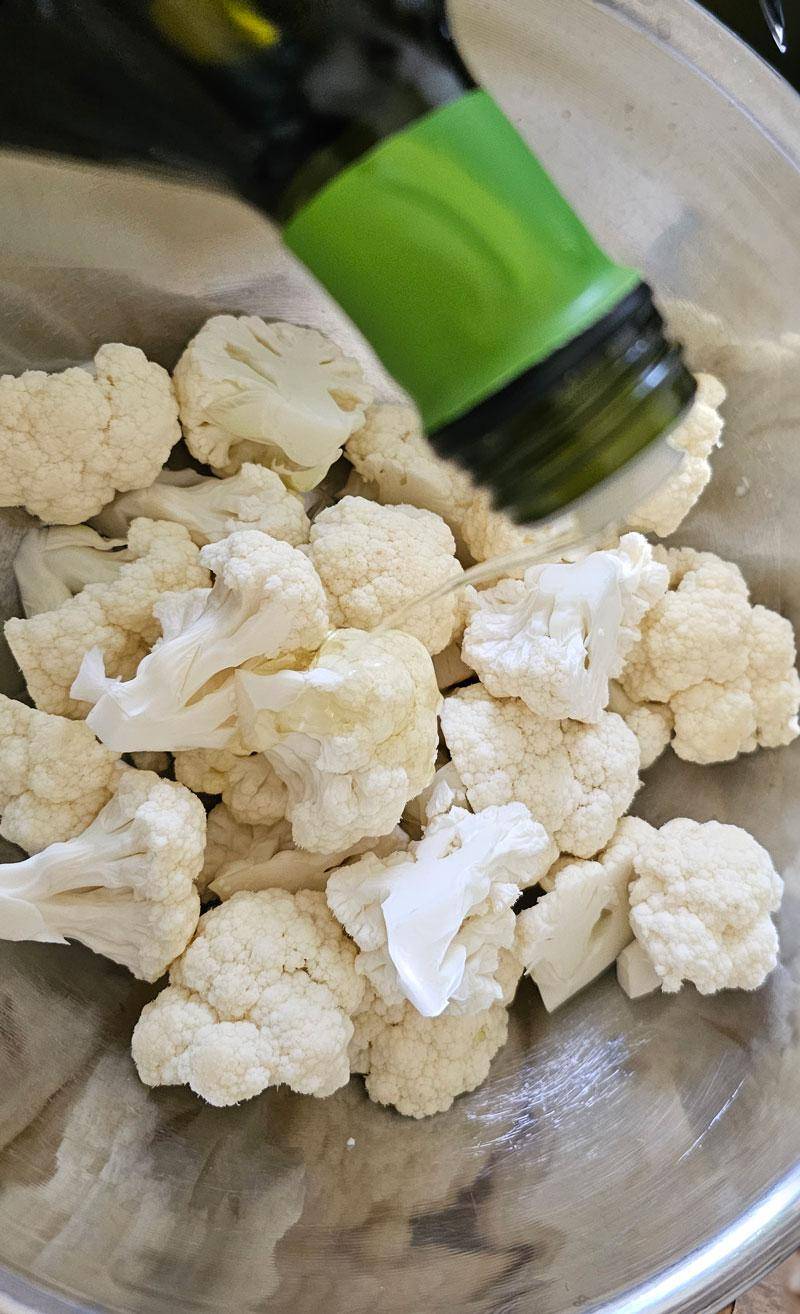 Chosen Foods avocado oil on cauliflower
Ingredients:
1 Head of Cauliflower (you can also buy cauliflower florets that are pre-cut)
3 Tbs Chosen Foods Avocado Oil (I prefer avocado oil since it has a higher smoke point - making this better for grilling than olive oil)
Powdered Curry (add to taste)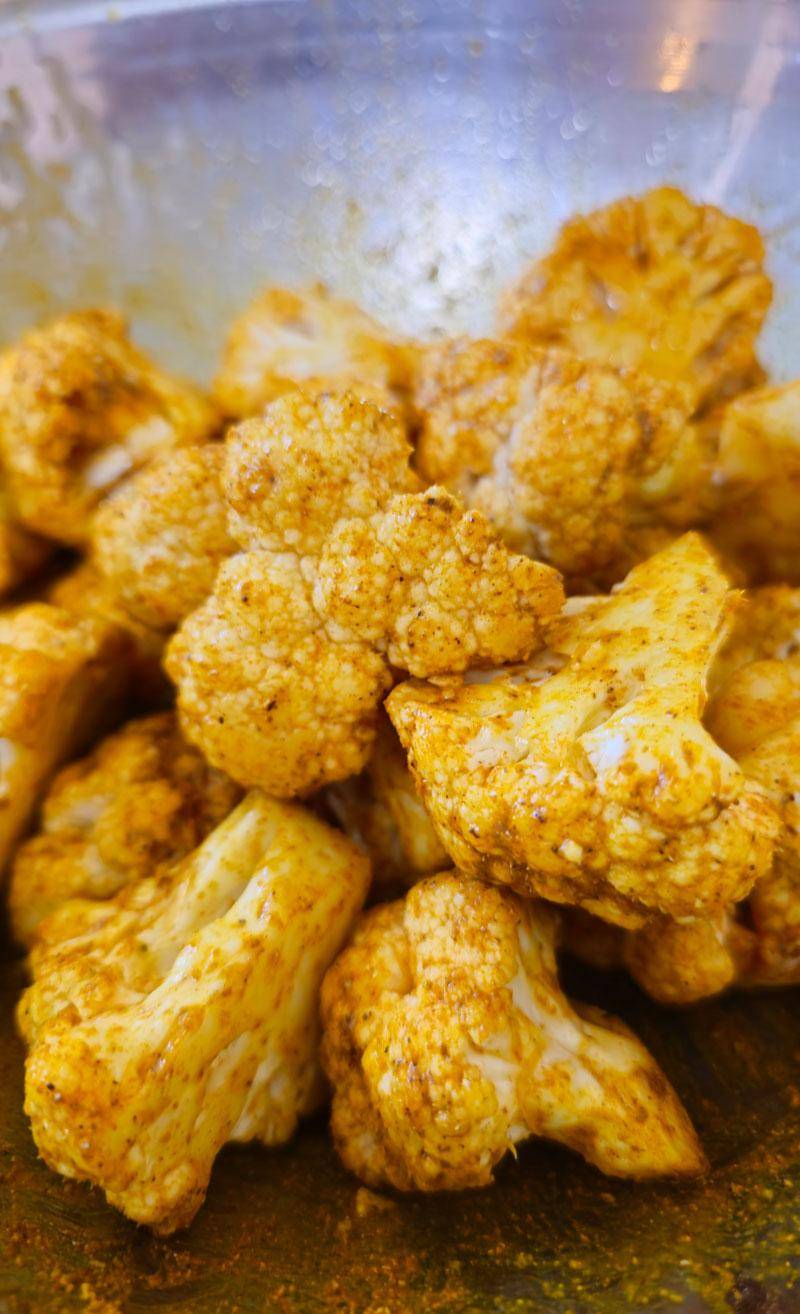 Directions:
Place the florets into a large bowl and drizzle the oil over them, then sprinkle the curry powder over the cauliflower. Toss in the bowl and add more oil and curry powder as needed until covered. Do not overdo the oil - you want to coat the cauliflower pieces but not have them dripping with oil since that will cause flare-ups once you put them on the fire.
Add to your grill basket on the grill under low-medium flame - you want to get things hot enough to give a bit of a char but you want to avoid burning them.
As you roast the curry covered cauliflower pieces, make sure to toss the basket gently or use tongs to rotate the pieces so that everything can get some crispy edges without anything getting burned.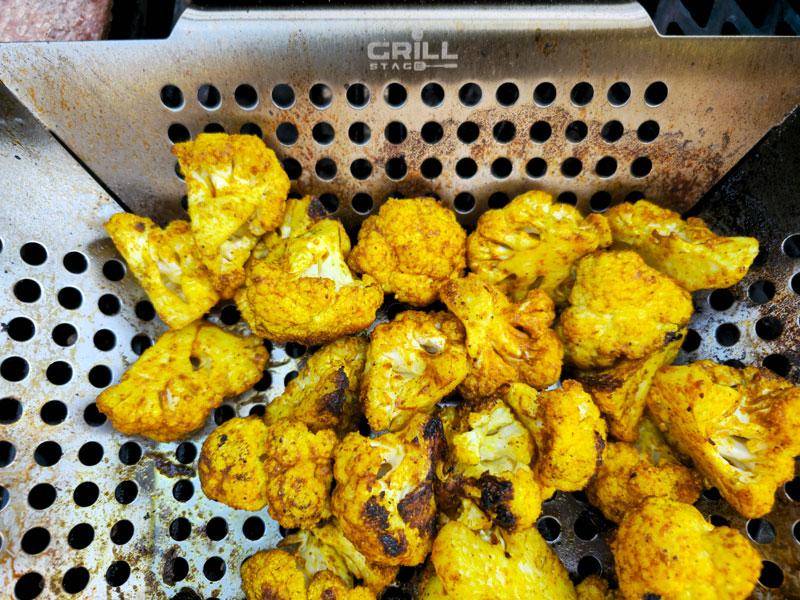 curry grilled cauliflower in Grill Stage grill basket
Continue cooking on the grill until the cauliflower has roasted enough that it is fork tender and has just enough char to add a bit of crispy / smoky flavor.
This makes a fabulous side to any BBQ and is relatively quick and easy to make with minimal cleanup. One note to consider though - since we're using curry (something that has legendary stain power!) I prefer to use glass or metal mixing bowls to prepare and you should also wear an apron when tossing since it is easy for cauliflower pieces to break off and bounce off your shirt. You want to avoid that since those stains will be tough to get out!