One of the greatest things about food in the United States is that the best elements of the cuisine from around the world can mash together here. That's what I found here at Shrimp Heads in San Diego when I visited a few weeks ago. On the surface it looks like a fairly typical Southern California "shrimp tray" seafood shop but when you scratch beneath the surface you discover that it's an awesome blend of Asian and Cajun united by a love of good cooking.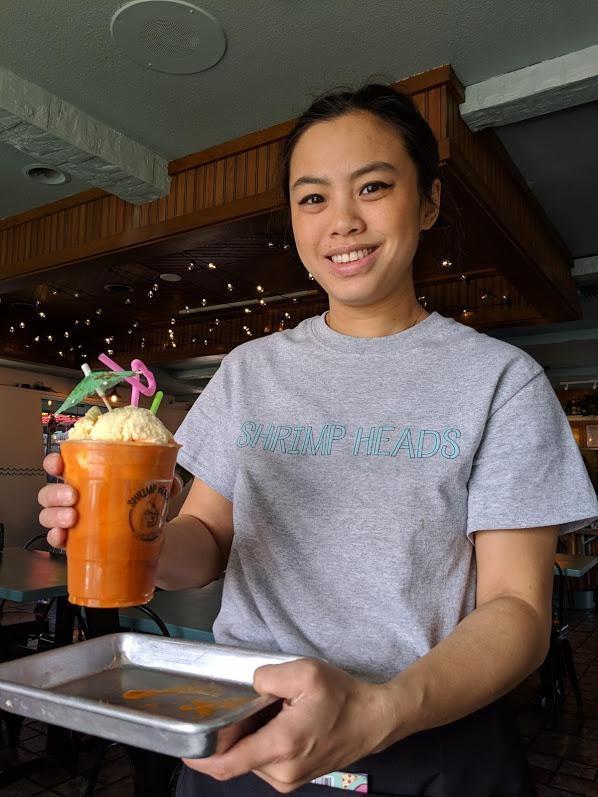 Proprietor Shirley Ng started working in a Cajun restaurant in college and then later opened other restaurants including a taco truck in Germany and a Chinese-American diner in Los Angeles. Now she's here in San Diego serving up visually fabulous and equally incredibly tasting seafood boils at Shrimp Heads on El Cajon Blvd in North Park / University Heights.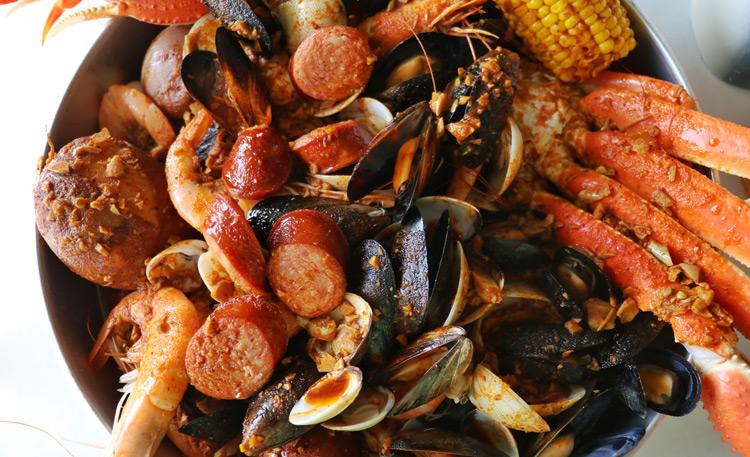 Those of you familiar with southern or Cajun seafood boils will immediately recognize this style of cuisine - shrimp, sausage, crab, clams etc. are all boiled together to blend flavors. This isn't your traditional Cajun food but it's damned good. Here - instead of the spices boiling in from the start, they add an Asian spice sauce at the end. I can't really say which way is better since I absolutely loved my lunch here and I've enjoyed many many Cajun seafood boils too. However, I can say that it tasted amazing and more than satisfied my desire for a big heaping tray of food that is fun to share with friends.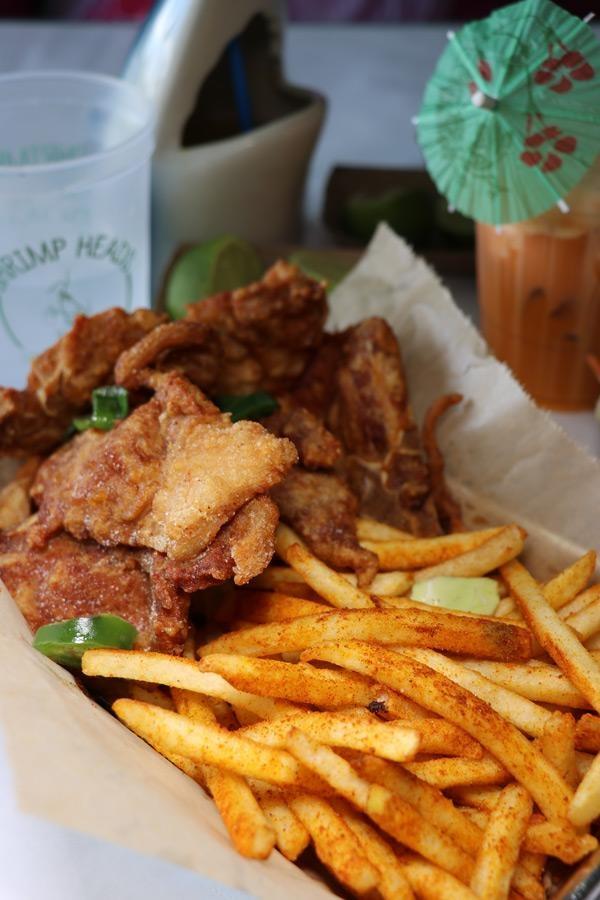 For those not looking for a seafood feast, they also offer smaller baskets as well plenty of options that are non-seafood too. These Spicy Pork Chops were absolutely fantastic at only $10.99 for instance. They also offer Beef Chow Mein and Fried Rice, Garlic Noodles, Wings, and Shrimp and Grits.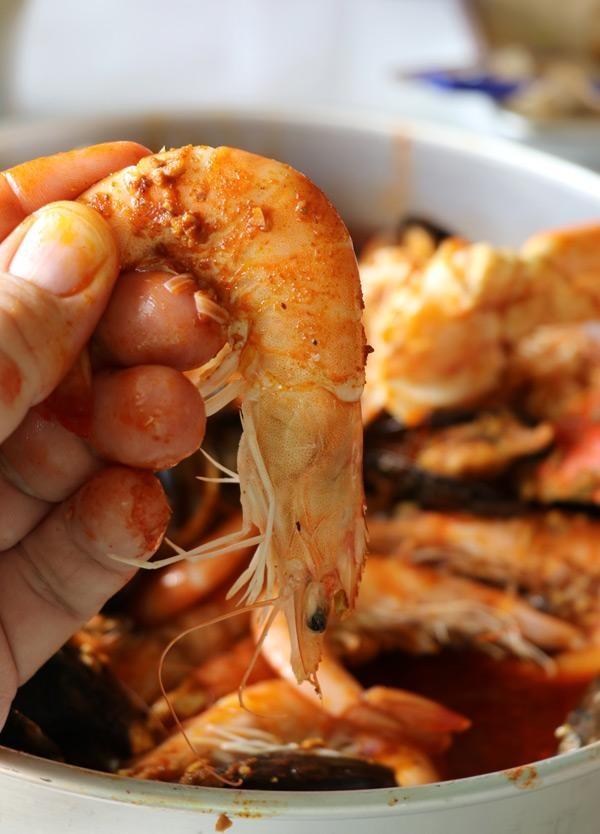 The star of the show though is obviously the seafood boil.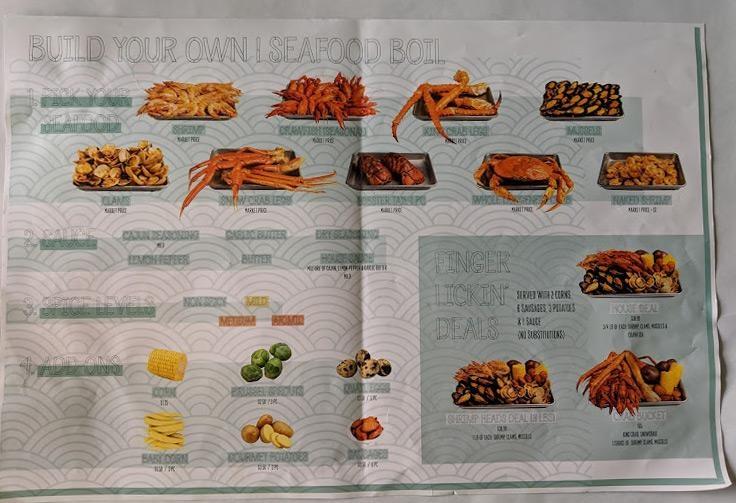 You can start by building your own - simply pick from Shrimp, Crawfish, King Crab, Snow Cab, Dungeness Crab, Lobster Tail, Clams, Mussels, Shrimp, or Oysters. Then choose your seasoning - House Sauce, Cajun, Butter, Garlic Butter, Lemon Pepper, or Dry Seasoning and heat level. Then, to wrap stuff up you choose add-ons including: Corn, Sausages, Potatoes, Brussel Sprouts, and even Quail Eggs.
Or if that's too complicated, just pick one of their pre-made combination deals.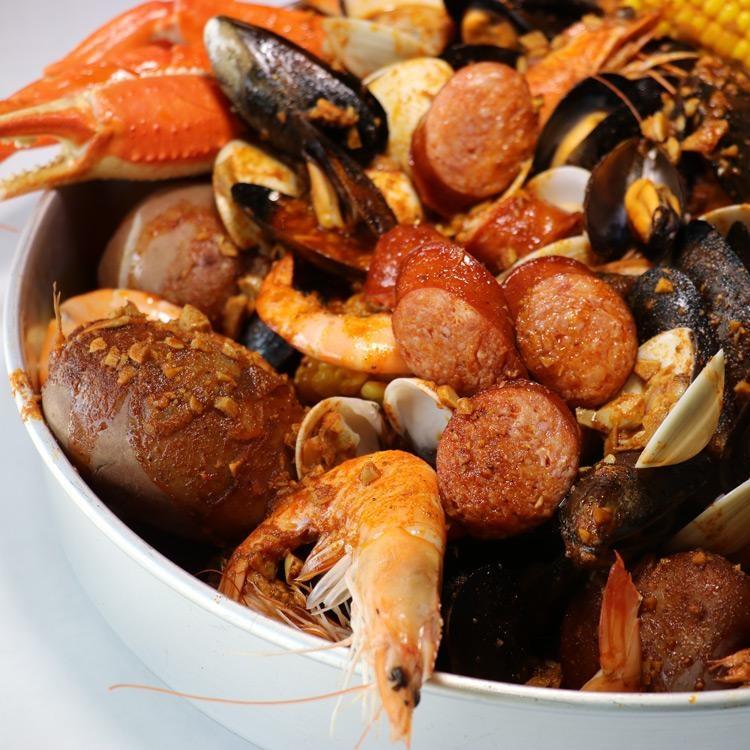 I love seafood but I also understand how difficult it is do get everything cooked right. While most Cajun seafood boils focus just on shrimp, sausage, and potatoes - there's a LOT going on here. Yet somehow they managed to cook everything perfectly. The clams and mussels tasted great and so did the shrimp. Likewise, the fried items were perfect as well.
Shrimp Heads is absolutely a place that you should check out in San Diego and I can't wait to go back here again soon!