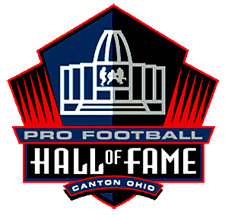 Fathers Day is just around the corner, but like my mom always tells me, "Mothers Day should be Every Day!" so I guess that means Fathers Day is as well? Hardly! Well, that doesn't mean you can't hint that it would be a great idea to take your son or your father out for a nice Father's Day getaway or a mancation this year.
No matter where you are, there are always fun things to do for a Fathers Day mancation but you know that I like to look at some lesser known destinations as well as the popular ones ... so today we are heading off to North East Ohio - Cleveland specifically for an awesome Father and Son Mancation idea.
Pro Football Hall of Fame:
First stop has got to be the
Pro Football Hall of Fame
in Canton, Ohio where you can spend an afternoon (probably more!) bonding with your father, sharing memories of great football heroes of the past and how today's players just don't have the same spirit, or arguing about which players of today will be enshrined next. Admission is $18 per adult, Seniors (62+): $15 Children (5-14): $12, Children under 5 are free.
Click here
for more information about the Pro Football Hall of Fame location, hours, and events. The Pro Football Hall of Fame itself is worthy of a trip to North East Ohio, but we have other great places to go next!
Rock and Roll Hall of Fame:
Cleveland is also home to the
Rock and Roll Hall of Fame
, where you can spend more time bonding with your dad as once again you share memories of the past while comparing yesterday's greatest rock and roll musicians to today's pop artists. Some highlights here include the
Take Me Out: Baseball Rocks!
exhibit celebrating baseball related music and musical tributes to baseball greats. One of the highlights of the exhibit is the original 1911 sheet music for the ever popular "Take Me Out to the Ball Game". Admission is $22 for adults, $18 for Cleveland-area residents, Seniors (65+): $17, Children (9-12): $13.
Click here
for address, hours, and more information about the Rock and Roll Hall of Fame.
Great Lakes Brewing Company:
Next stop is the
Great Lakes Brewing Company
where it is time to learn about mans favorite drink ... BEER! While this isn't a great stop if you are with your kids, certainly for adult father and son mancations this place can't be beat. Even better is that they offer a crash course in beer making. Beer School at the Great Lakes Brewing Company is a 2-hour class where you'll learn about Ingredients, the Brewhouse, Fermentation, Packaging, and various Beer Styles (including tasting of course!). Unfortunately the Beer School dates around Fathers Day are all sold out, but you can still
reserve a session later this year
. Assuming you graduate, participants are given a tee-shirt saying "Beer School Graduate" that you can wear proudly at family gatherings until your wife makes you put it in the closet to be lost forever.
Lola Bistro:
Cleveland isn't normally recognized as a culinary destination, but it is growing and is firmly on the map now that
Michael Symon of Lola
, was selected as the new Iron Chef. Entrees run about $30 for dinner and $10-$20 for lunch. Like any mancation idea, visiting Cleveland and North East
Ohio
can be a quick weekend guys getaway, or an extended
mancation
. If you haven't been to Cleveland in a while you should absolutely check it out and don't miss some of the other great places to visit like Jacob's Field (Progressive Field), which is one of my favorite ballparks and apparently SI.com agrees because they voted it their favorite park in the country too. What are your favorite places to go with the guys in Cleveland?