Thanks to its glamour, glitz and endless entertainment options, Dubai is a favorite vacation spot for all sorts of tourists from all parts of the world. Despite some people's fear of safety for women while exploring the middle east, Dubai is actually relatively western and open in this regard. Here are some of our top picks for how to spend your time on a romantic getaway in Dubai.
Exploring the Local Culture and Cuisine
Dubai is a vibrant city filled with a thriving local population as well as an expat community. From visits to the Dubai Spice Market or "Spice Souk" to sampling from street vendors, it's a good opportunity to try something new. A visit to regions dominated by the locals to catch a feel of their cuisine and culture does offer a thrill to a first time visitor. You could dress like the locals and attempt to fit in (hilariously) and try the local dishes to pamper the taste buds with exotic foods and drinks.
Dhow Cruise in Dubai Marina
This is a dinner cruise service using traditional Dhow boats made of teak wood; it is open to all ages with different price ranges. A dhow cruise dinner in Dubai Marina includes but are not limited to live shows, buffet dinner onboard and many other side attractions. A Dhow cruise is technically a floating restaurant. There are many offerings of these on the Dubai marina e.g. Alexandra Dhow cruise, Dinner cruise in Dubai marina etc.
Yacht Cruising
Yachts provide a "top of the food chain" feeling in everyone and there is absolutely no reason why one can't be pampered like royalty while on a visit to Dubai city. The city has an abundance of yacht cruising services available at hours' notice to cater to the diverse needs of tourists. The luxurious boats offer top of the line boarding, catering and leisure services aimed at maximum comfort while out to sea. You can easily rent a yacht in Dubai and enjoy some relaxing and luxurious hours or days onboard.
Exploring the Burj Khalifa
The tallest building in the world is always a spectacle for both first time visitors and repeat visitors. The Burj Khalifa stands proudly at the heart of Dubai city and offers a glimpse of the city as a whole. Nothing beats watching a sunset while standing at its peak, but you can spice up the romance by watching it with your wife and then heading to a romantic dinner.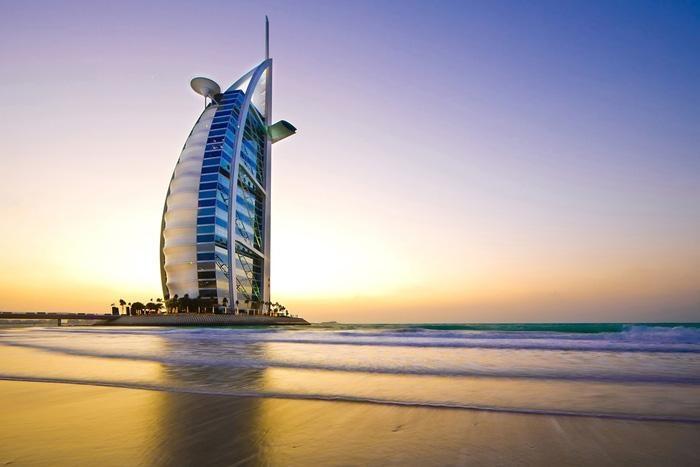 Beach Resorts
A romantic getaway is a perfect opportunity to bond again, renew vows and overall make your love for each other fresh again. Beach side resorts in Dubai offer the amazing view of Arab sea on one side and Dubai's iconic cityscape on the other. After a hot day in the city, you will fall in love with gentle cool breeze coming from the Arabian Gulf. The resorts also offer a lot of beach side sporting activities to keep you fit and healthy.
Taking a Ride on a Camel
Camels have been ridden for centuries by Arabian royalty and traders and a cornerstone of Arabian culture. There are lots of camel riding services available in Dubai with well-trained camels and the city offers you a chance to get a regal feel on a camel's back like the native Arabs. You will love riding them and take pictures with these animals which will make a great memoir to take back after a visit.
Sandboarding in the desert
The sand dunes in the desert offer a smooth platform for kids (and adults too) to practice sand boarding with their regular skate boards. The thrill is always amazing to both new users as well as expert skateboarders. The charming sand dunes create a fast paced ride with a good enough cushion to break a fall. To make matters great the deserts are almost unending and thus a very large playground for the kids and adults alike.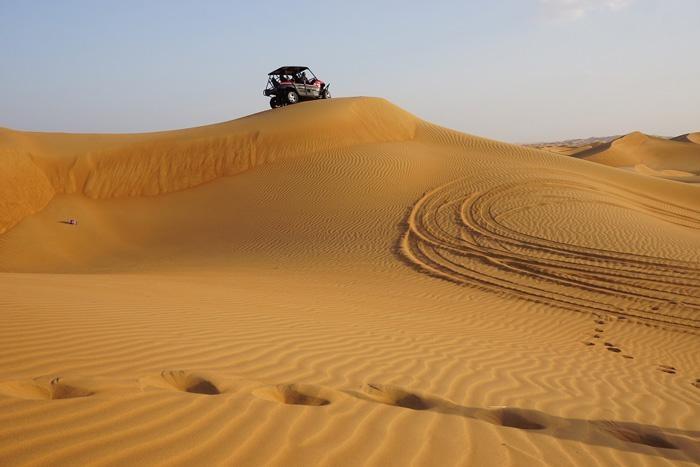 Desert Safari Dubai
Of all the excitement you can find in Dubai, there is nothing that beats the excitement of taking a desert safari. Luckily, there are many options for exploring the dunes! From luxurious rides in Land Rovers that take you to a private Bedouin-style dinner in the dunes, to adrenaline-fueled rides through the dunes in a RZR, there's something for everyone.
Discover Dubai's History and Museums
Dubai's history and culture are preserved in a variety of different museums across the Emirate. They include the Dubai Museum and Al Fahidi Fort where you'll get a better understanding of Dubai's history as a center of global trade - long before oil, and the Hatta Heritage Village where you can learn about the history of Dubai dating back more than 3,000 years. Of course, there are also museums celebrating coins, camels, and horses too!
Malls and Shopping
The Dubai malls offer a great shopping experience for both first timers and repeat visitors. As a trading hub, with a presence of many of the world's best companies, Dubai provides a great opportunity to shop for quality goods at great prices.
Though Dubai Mall is well known for luxurious shopping, it is also a great place other experiences too such as the Emirates A380 Experience, the Dubai Ice Rink, and even a haunted house!
Of course, Dubai Mall isn't the only massive shopping and entertainment complex. Don't miss Ski Dubai located inside the Emirates Mall. Here, you can strap on your skis and slide down a 400 meter long ski run covered in REAL snow, fly down the Snow Bullet sub-zero Zip Line, or even try a bobsled!
Water Parks
Water parks in Dubai offer great indoor fun with sophisticated, exiting and exotic rides. Many parks offer "swimming with dolphins" on their list which is an unmatched experience if you haven't done it already! The water parks offer 24/7 round the clock thrills of the water and various types of aquatic lives are on the show in them.
Our top picks include: Aquaventure Waterpark Dubai - sister property to Atlantis Paradise Island in the Bahamas and Wild Wadi waterpark.
Tasting the Turkish Ice Cream
Well… the exquisite taste and quality of Turkish Ice-creams in Dubai streets is unrivaled! It melts very slowly and there is more chewing involved than licking which is new to any ice cream lover. Hence, it's an affordable delight to wet the taste of your bud while exploring through hot Dubai!
Exploring Dubai Metro Service
Riding on the Dubai Metro is the quickest way to see the entire Dubai city in one day. It is ultra modern with state-of-the-art trains and stations. Plus, for those who love shopping together ... the stations sometimes have malls inside them.
Whatever you are looking for and enjoy doing together, chances are that you'll find a way to celebrate each other on a romantic getaway exploring Dubai.