Luxury car probably isn't what comes to mind when you think about the Kia brand - but I just drove a car that has changed my perception of one of my favorite auto companies. The K900 is their flagship vehicle and while I feel like there were some things I didn't care for, my complaints are sort of like bitching about my ice cream being too creamy or my down pillow being too soft. This is a car that if they are able to continue to evolve it should have everyone from Lexus to Mercedes and BMW concerned. It is a great car that illustrates just how far this "upstart" Korean company has come from one known as creating cheap cars for kids to now a world-class luxury car that fully loaded clocks it at almost $70,000!
Let's get it out of the way up front - the biggest problem with this car is that the brand Kia isn't a brand that screams luxury and most people buying a $60,000+ car are looking to make a statement that "they've arrived and can afford something elite". Kia just doesn't have that brand (yet). However, if they continue to expand the portfolio, I can see current customers such as myself (I love my Soul!) eventually moving up to something as they trust the company and need something bigger, fancier, and more luxurious. It's going to be a tough road, but this is a company that has already gone from making bicycles to making some of the best selling cars in the world so I wouldn't put ANYTHING past them.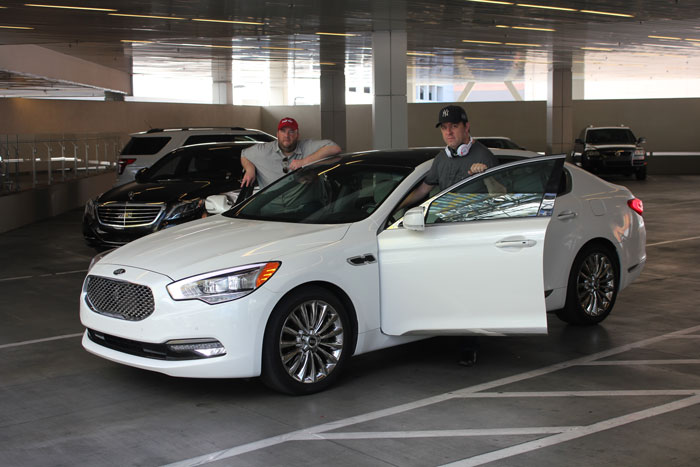 For this drive, I was joined by some of the guys from #MenWhoBlog as we set off on a Vegas adventure. The Kia K900 was the perfect vehicle for this as we sped through the desert and then rolled down the strip eventually parking the car next to Ferrari's, Lamborghinis, and high-end luxury cars double and triple the price. The reaction was unanimous from the valet's we talked with about it, "What's that? It looks great!".
Design wise, it's an interesting mixture of a grill that "almost" looks like a Jaguar, it has a beefy look that makes the car look powerful, and an the exotic headlamps that make you realize that this car is something special.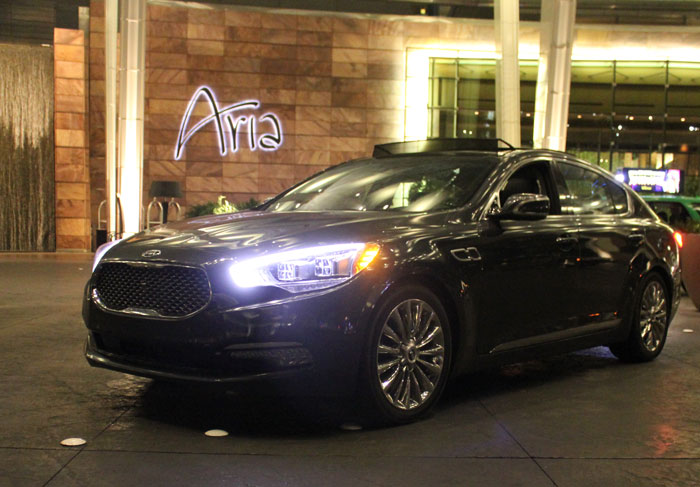 Driving around Vegas, this was definitely a car that would not be out of place pulling up to a private jet or the valet at the fanciest hotel on the strip. Plus, this is where with a little twist the Kia branding almost becomes "cool". Everyone has a mercedes so when that rolls up, it's "just another one". However, this is something that not everyone has seen and so it was cool seeing the expression on people's faces that we were driving something special that they hadn't seen before.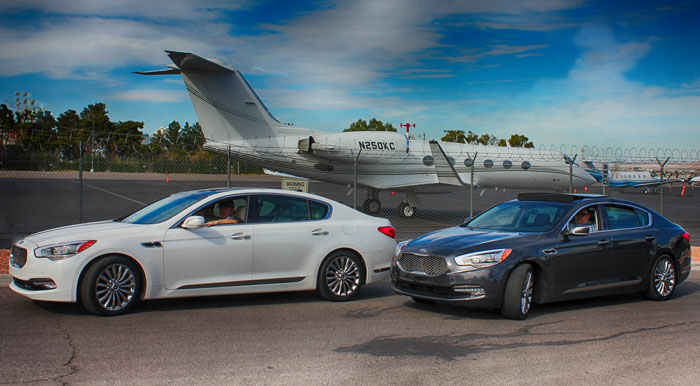 The story goes that when the car was in early development, LeBron James became aware of it and liked it so much that he wanted to be associated with the car and that's where the #FitForAKing slogan comes from. I have to agree that it is absolutely fit for a king. Not only is the styling remarkably luxurious but it is stocked with virtually every high-end feature you could possibly imagine: 8-speed "shift by wire" transmission, fully digital instrument cluster, and a 420 hp V8 engine, as well as tons of electronic gadgets such as adaptive cruise control, blind-spot-detection, land departure warning, and pretty much any other electronic feature you could possibly imagine.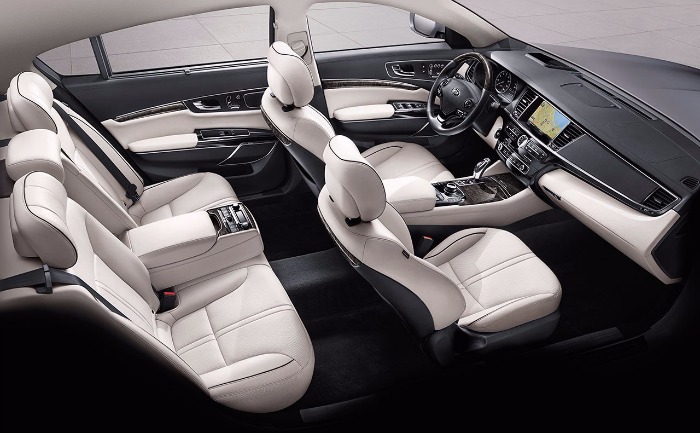 Plus it has ones that you probably didn't expect on a car below $100,000 but now don't want to go without such as heated and cooled rear reclining seats and independent controls for the rear passenger. As we cruised around, the car was remarkably quiet both to road noise as well as outside noise and Kia says that the cabin is quieter and smoother than either the BMW 750i or the Lexus LS 460. Additionally, there are other features such as the dynamic parking guide system and even "hydrophobic glass" in the windshield designed to repel water.
While rolling down the strip like a baller is great for the ego, this car really shines on the open road, so we took it up to Red Rock Canyon before heading home through the desert to San Diego.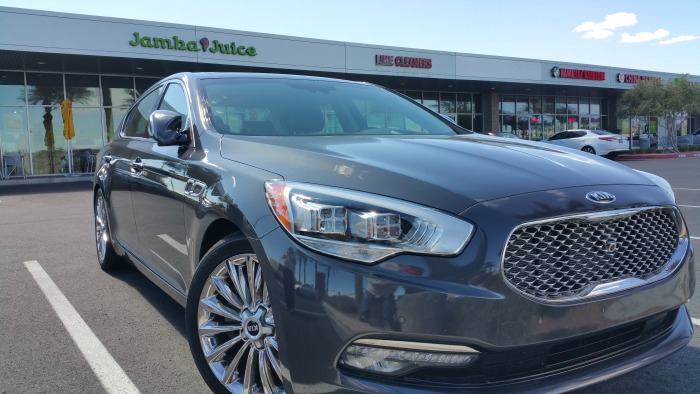 Our first stop though was at Jamba Juice to get some driver fuel and test out the cup holders. :)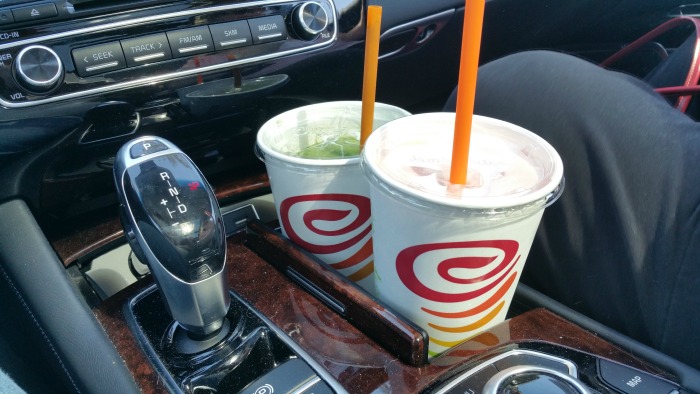 Not only did Red Rock Canyon provide some great visuals to showcase the K900, but it was also good practice for the car on some windy roads with rolling hills to test the suspension.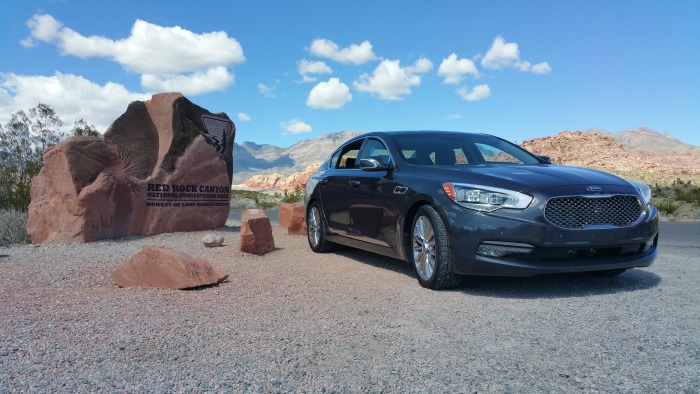 Heading home to San Diego, we took the "back way" through the desert and the K900 was smooth as silk, even on some back roads that were once part of Route 66.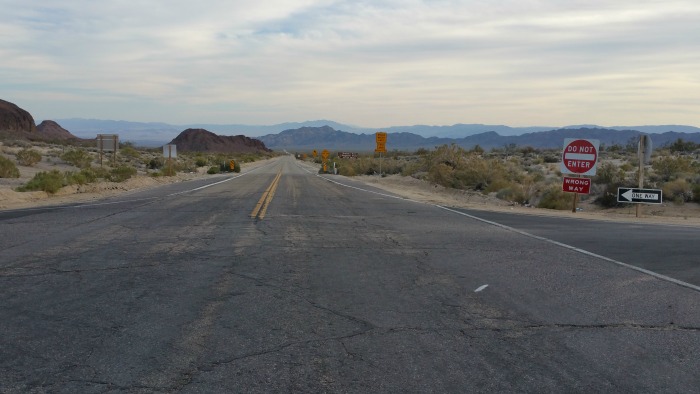 The nature of the K900 really became apparent as we set off through the desert on back roads like this where the power of the engine pulled the car through turns quickly and we sped past tumbleweed, passed mountain goat crossing signs, and evidence that it was not uncommon to have sand blowing across the road.
With not another car in sight for miles, cooled seats, and Kid Rock pumping through the 900-watt, 17-speaker Lexicon sound system, we were truly the kings of the desert!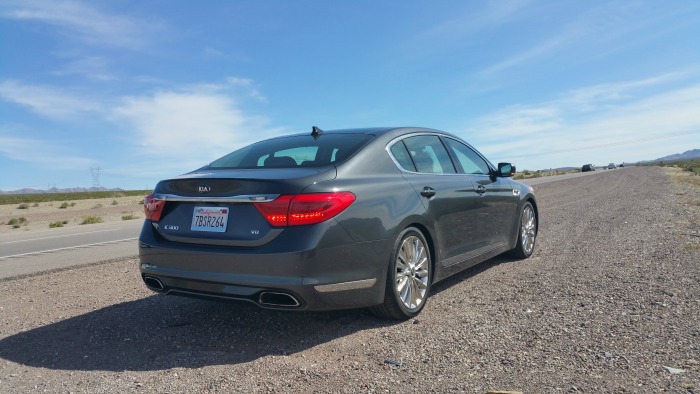 Back on the highway though, we sped home looking forward to heading back out on another adventure soon!