Ducati Introduces The 224 hp Street Legal Superleggera V4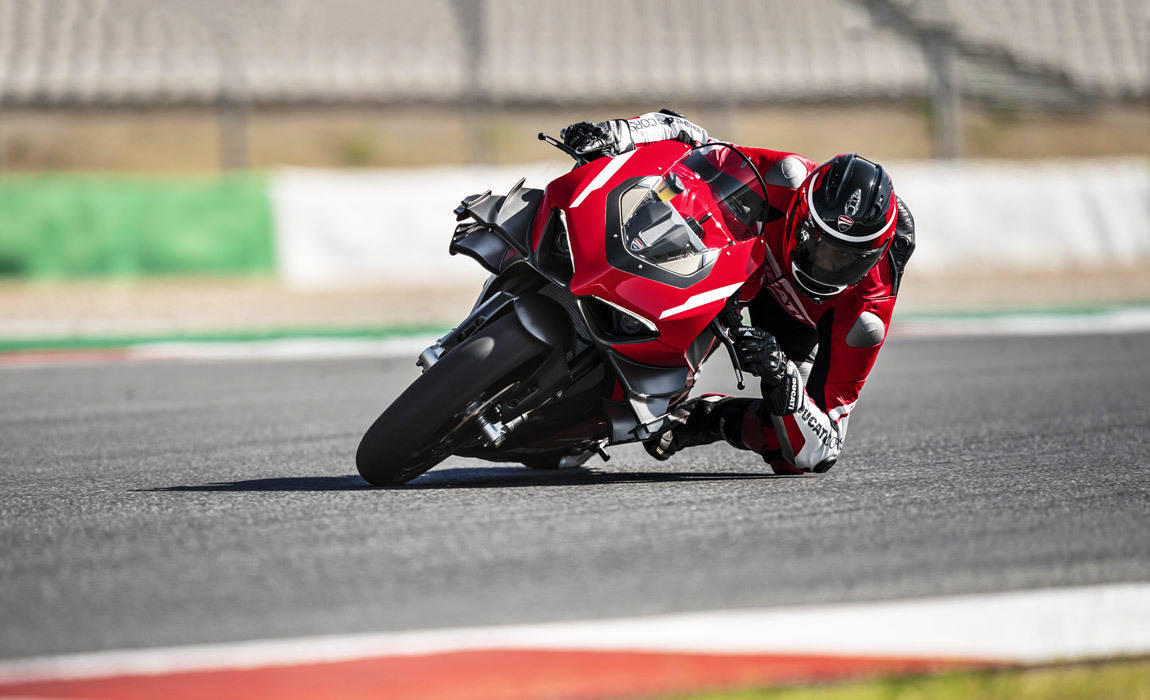 We make money from support by sponsors, advertisers, and affiliate partners. As an Amazon Associate I earn from qualifying purchases.
I like all things fast and while I've never had the chance to actually ride a motorcycle, there's a sense of extreme thrill that they embody and no bike manufacturer is as synonymous with elegance and refinement as Ducati. The level to which the engineers push both style and technology is simply incredible and now they've introduced the Superleggera V4, boasting 224 horsepower (street) and 234 (on track with racing kit) but weighs only 336 pounds. That is an insane seven horses per pound, even better than an F1 car. With a price tag of $100,000 and only 500 being made, I know what some of you are going to have on your letters to Santa this year!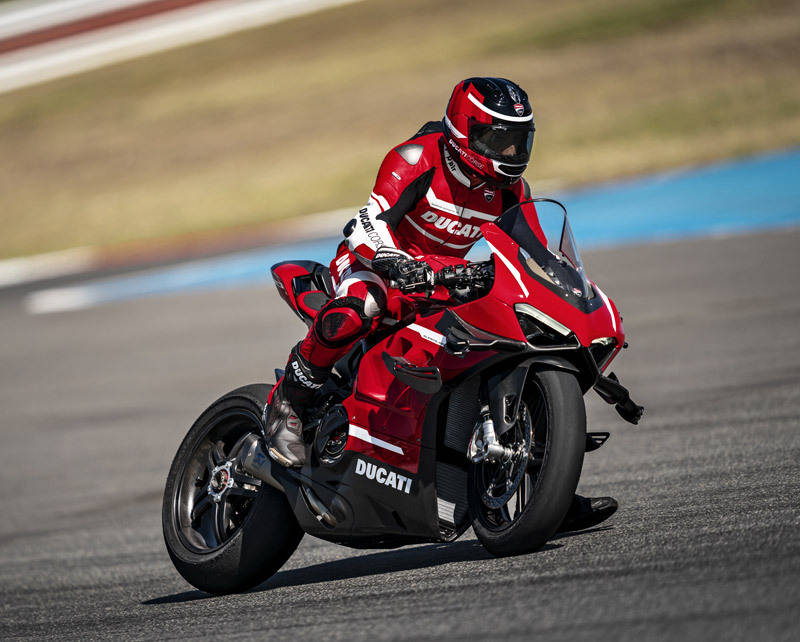 For Ducati, the Superleggera V4 - a limited edition of just 500 individually numbered bikes - represents the pinnacle of engineering, innovation, attention to detail and customer care. The Superleggera V4 is extreme, designed and developed to achieve maximum on-track performance and ensure all the reliability and rider- friendliness of a road-legal sport bike.
Many of the components are in carbon fibre. These include the streamlined fairing, which offers an aerodynamic efficiency that matches and exceeds that of current MotoGP bikes. Desmosedici GP16-derived 'biplane' wings guarantee a downforce of 50 kg at 270 kph, 20 kg more than that generated by the wings on the Panigale V4 MY20 and V4 R.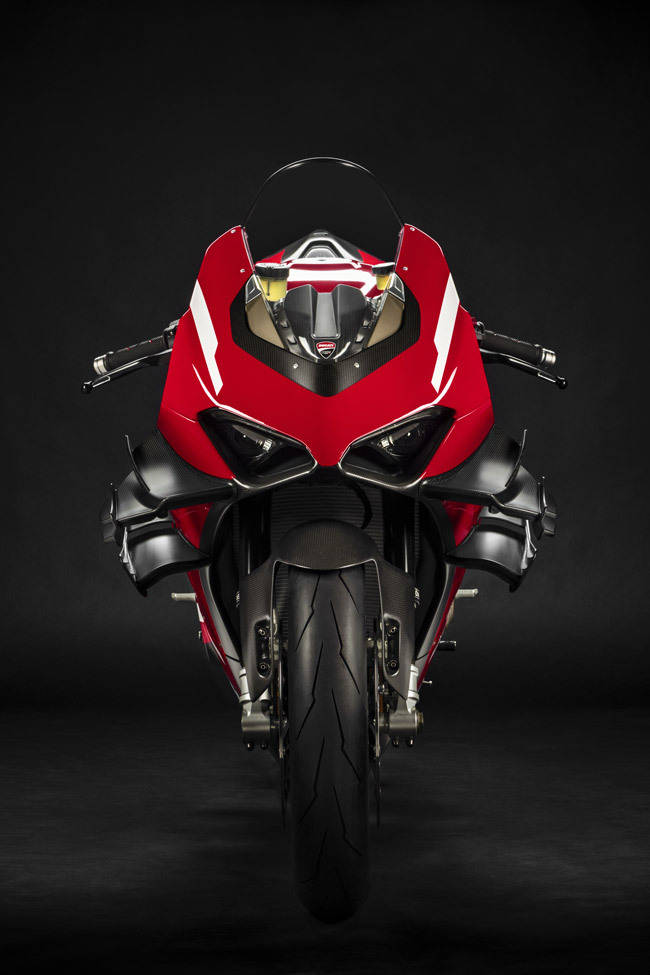 The carbon fibre fairings also sport an eye-catching Desmosedici GP19-inspired livery that juxtaposes the red of the GP19 with a naked carbon that emphasises shapes, materials and technical details.
Beneath the carbon skin lies the Desmosedici Stradale R engine, lighter and more powerful than ever. The 998 cm3 90° V4 that powers the Superleggera V4 weighs, in fact, 2.8 kg less than the 1,103 cm3 V4. Thanks to a type- approved Akrapovič exhaust it puts out, in its road-legal configuration, no less than 224 hp (EU homologation figures). That figure rises to 234 hp when the non-homologated titanium Akrapovič exhaust, included in the Racing Kit supplied with the bike, is fitted.
Available only on the Superleggera V4, a special engine calibration for the Akrapovič racing exhaust gives riders access to a "RaceGP" display. Intended exclusively for track use, the latter - designed with valuable input from Andrea Dovizioso - is a direct offshoot of the instrument panel on the Desmosedici GP20.
Thanks to extensive use of carbon fibre, titanium and machined-from-solid aluminium components, the Superleggera V4 has a dry weight of just 159 kg (16 kg less than the Panigale V4), resulting in a power/weight ratio of 1.41 hp/kg: a record-breaking figure for a road-legal sport bike. Mounting the Racing kit puts the bike in its track configuration, boosting power to 234 hp, dropping the weight to 152.2 kg and raising the power/weight ratio to 1.54 hp/kg.
High aerodynamic efficiency, a specifically tuned suspension set-up and a record-breaking power/weight ratio ensure outstanding stability in acceleration and unmatched cornering agility, giving riders confident control and letting them perform to the highest level.
Other equipment items unique to the Superleggera V4 include a lightened Öhlins suspension system with pressurised fork and a Brembo braking system with Stylema® R calipers. In addition, a latest-generation electronics package includes EVO 2 strategies for the DTC and DQS up/down.
Operational parameters for each control are associated by default with three reprogrammed Riding Modes (Race A, Race B and Sport). There are also - for the very first time - five additional Riding Modes that can be personalised with the rider's preferred settings. Riders can monitor lap times via the upgraded Lap Timer which can record finish line coordinates and intermediate times for five different circuits.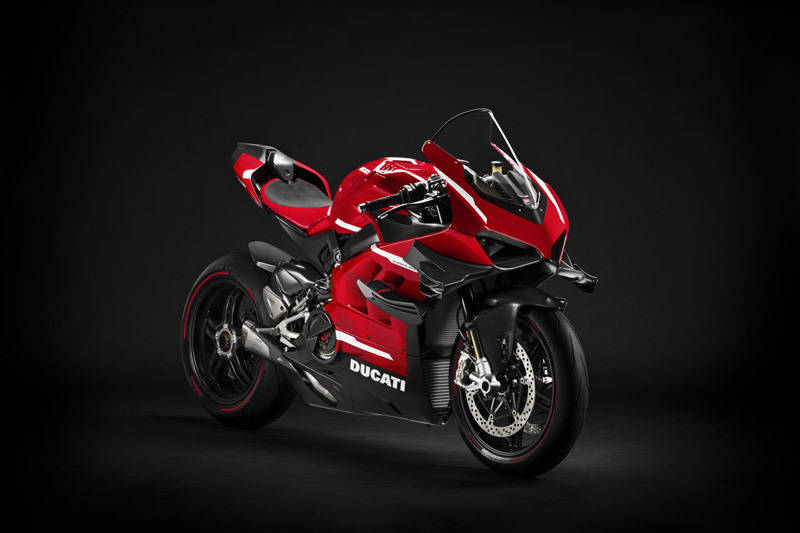 Meticulous attention to detail is also evident in the billet aluminium radiator cap and the dedicated ignition key which has an aluminium insert showing the bike number.
The exclusiveness of the materials and technical solutions is reflected in the limited number of bikes: just 500, all individually numbered and provided with a certificate of authenticity. The bike ID number (XXX/500), which coincides with the VIN, is shown on frame, fork yoke and ignition key.
Equally exclusive is the attention Ducati has reserved for each of its 500 Superleggera V4 customers: during the dedicated SBK Experience event, they'll have the opportunity to test ride the Panigale V4 R that competes in the SBK World Championship. Tip-top exclusivity will, instead, be reserved for the 30 customers who purchase the MotoGP Experience. They'll get the chance to live the dream of every Ducatista racing enthusiast: to experience the thrill of being a MotoGP rider by taking to the track on the Desmosedici GP20 - the bike ridden by Dovizioso and Petrucci - with the close support of Ducati Corse technicians.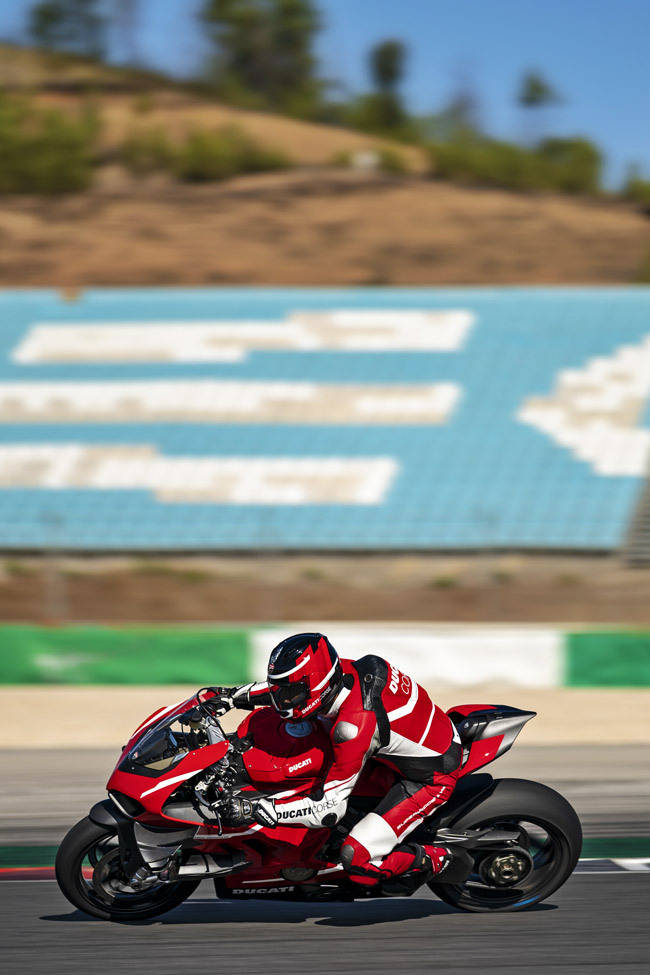 Superleggera V4 inimitability continues with a dedicated premium leather suite, with incorporated airbag, and a carbon fibre helmet, both emblazoned with the bike's distinctive graphics. Produced by Dainese, the leathers combine lightness and strength with the safety of the D-air system. Likewise, the meticulously crafted Arai helmet - which features aeronautical-grade carbon fibre - offers unsurpassed performance. Both apparel items can be personalised with logos and are available in a range of colours.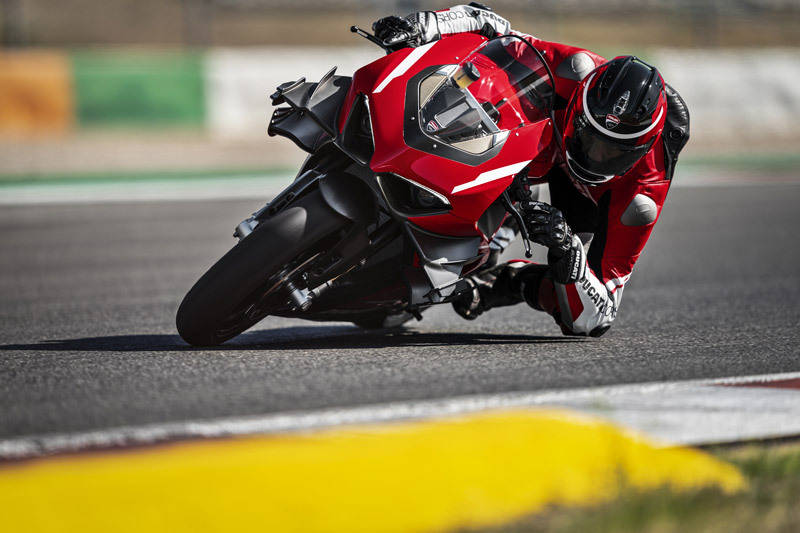 Ducati Superleggera V4: the hallmarks
Fairing
Carbon fibre fairing
Aero Package with Desmosedici GP16-derived 'biplane' aerofoils
Dedicated colour scheme inspired by the Desmosedici GP19
Engine
Desmosedici Stradale R engine, 224 hp at 15,250 rpm and 11.8 kgm at 11,750 rpm (EU homologation figures)
EURO 4 compliant
Titanium exhaust manifolds
Type-approved Akrapovič titanium silencer
Lighter STM EVO-SBK 8-disc clutch
Titanium/aluminium screws and bolts
Oil pump without return stage from heads
Specially machined, lighter camshafts
Gear shift drum, perforated to reduce weight
ORAW2 Regina chain
Metal platelet with signature of technician who completed the Desmodromic system timing
Chassis
Carbon fibre Front Frame
Carbon fibre single-sided swingarm
Carbon fibre wheels with aluminium hubs
Pirelli Diablo Supercorsa SP tyres
Carbon fibre rear subframe
Carbon fibre fairing with Desmosedici GP16-derived biplane aerofoils
Lighter, pressurised Öhlins NPX25/30 upside down 43 mm fork
Öhlins TTX36 shock absorber with titanium spring and GP valves
Stylema® R front brake calipers
Brembo MCS 19.21 radial front pump with remote adjuster
Billet aluminium suspension tie rod
Ergal crown
CNC-machined brake and clutch levers
Seat with carbon fibre base
Billet aluminium footrest plates, rear brake lever and clutch lever
Titanium rear wheel nut
Titanium/aluminium screws and bolts
Billet aluminium radiator cap
Machined-from-solid aluminium fork yoke with stamped number (XXX/500)
Numbered ignition key (XXX/500)
Electronics
Five personalised Riding Modes
Full-TFT 5" colour screen with three displays: Track, Road and RaceGP (the latter is enabled by fitting the Akrapovič racing exhaust)
Latest-generation electronics package with 6-axis inertial platform: ABS Cornering EVO; Ducati Traction Control (DTC) EVO 2; Ducati Slide Control (DSC); Ducati Wheelie Control (DWC) EVO; Ducati Power Launch (DPL); Ducati Quick Shift up/down (DQS) EVO 2; Engine Brake Control (EBC) EVO
On-board electronics: Ducati Lap Timer GPS (DLT GPS) EVO 2; Pit Limiter (PIT); Ducati Data Analyser + GPS (DDA+ GPS); Ducati Multimedia System (DMS) ready
Lithium-ion battery
Main as-standard equipment
Racing kit: complete Akrapovič titanium racing exhaust; open carbon fibre clutch cover; carbon fibre swingarm cover with titanium slider; headlight/tail light replacement kit; plate holder removal kit; kickstand removal kit; billet aluminium mirror replacement plugs; Ducati Data Analyser+ GPS (DDA+ GPS); racing filler cap, brake lever guard, bike
Front and rear paddock stand
Battery charge maintainer
Written by

James Hills

Page Views: 3486