In case you missed it, the 2016 Summer Olympics are coming up soon and that means that it's time to start cheering on Team USA! (and all their awesome sponsors too) This weekend I had the chance to stop by their road show in San Diego and check out some cool stuff from Samsung including their Galaxy Gear VR virtual reality headset.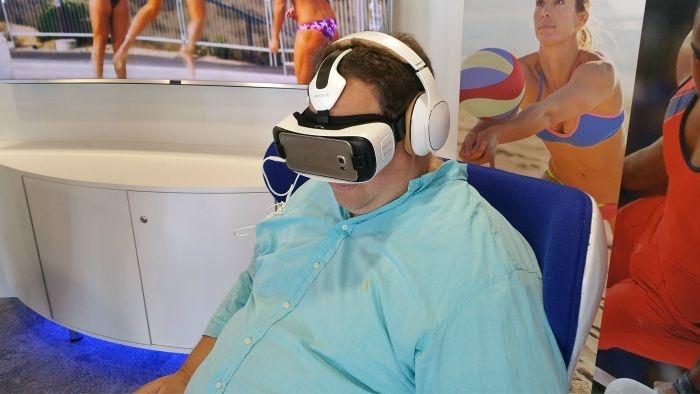 "Virtual Reality" is something that has been explored for as long as I can remember. It's pretty much the holy grail of cinematography and Samsung Gear VR is getting close to a viable mass-market consumer product. The biggest thing for me is that it's still a helmet, but compared to those in past years it's a lot lighter and at only $199 it's a lot cheaper too. They had a variety of demos, but the one I did featured Olympic gold medalist diver David Boudia. This demo was super cool since it allowed me to stand on the platform and look around to see what he sees before jumping off.
The ability to put you into a world that felt "real" and look around was a huge step forward compared to being limited to computer-generated worlds. In terms of better understanding the world of Olympic athletes this was a huge step forward compared to just looking at them from a fixed camera position. Other demons available include women's beach volleyball team members Lauren Fendrick and Brooke Sweat as well as pole vaulter Mary Saxer and gymnast John Orozco.
I can't wait to see what developers are able to create for the home, since I want one of these bad!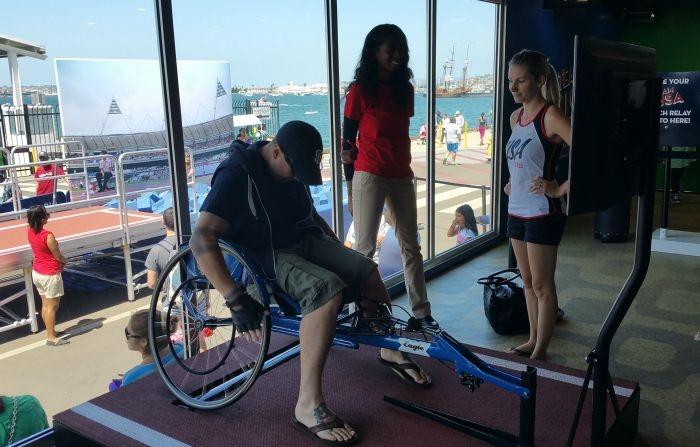 In addition to cool VR experiences to put you in the position of Team USA athletes, they also had some demonstrations to help people better understand the abilities and equipment used by the paralympians such as this racing chair that you could actually use.
Additionally, there was a long jump demonstration by a blind athlete which was also super cool!
Thank you to the team at Samsung for inviting me to check their stuff out!
Incase you missed the event this weekend, road show is coming to a bunch of other cities over the next couple months including:
DATE
CITY
LOCATION
IN CONJUNCTION WITH…
July 4, 2015
Philadelphia, Pa.
Ben Franklin Parkway
Party on the Parkway
Sept. 5-6, 2015
San Diego, Calif.
B Street Pier
US Sand Sculpting Challenge
Oct. 17-18, 2015
Boston, Mass.
Weld Exhibition area
Head of the Charles Regatta
March, 2016
Los Angeles, Calif.
TBD
TBD
April 27, 2016
New York, N.Y.
Times Square
100 Day Countdown to the Rio Games
May 7-8, 2016
Oklahoma City, Okla.
Boathouse and
Bricktown district
Central Youth Rowing Championships &
Oklahoma City Boathouse Opening
June 24-25, 2016
Indianapolis, Ind.
IUPUI campus
U.S. Olympic Team Trials – Diving
July, 2016
Chicago, Ill.
TBD
TBD
Aug. 5, 2016
Boston, Mass.
TBD
Opening Ceremony of the Rio Olympic Games
For more information about the Road to Rio Tour, visit TeamUSA.org/RoadToRio.