The Mazda mx-5 RF was never meant for a guy like me and frankly I can't drive with the top down but that doesn't stop me from enjoying it. It is one hell of a car! The engineers at Mazda did a spectacular job when they created this vehicle. It has everything that the soft top version does and really nothing more than a different top. However, it feels like a totally different car, but with everything that was great about the original. If you are in the market for an affordable roadster but live in a climate where a soft top might not be practical, this is the car for you!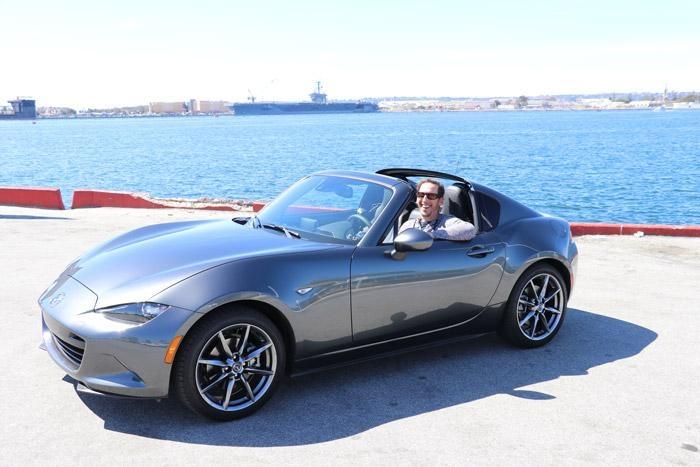 My biggest fear initially with the Mazda MX-5 Miata RF when I first saw photos was that it would feel cramped. After all, one of the great things about the classic Mazda Miata is that it feels so open - but now you have something right behind your head. Once you get in and start driving though you don't feel any different. However, on days where maybe it's wet outside (generally a rare occurrence here in southern California), having a real roof above your head is going to be worth the extra money and a little extra weight too. Plus, unlike everyone else's MX-5, your's is going to look special, so that's worth something too.
The MX-5 handles generally the same as the classic top and trunk space (though limited) is preserved. That likely isn't a purchasing consideration for most people, but considering there is ZERO space in the cockpit to store anything larger than a cellphone and sunglasses, it's nice to have a spot large enough to store a bag of groceries and a laptop bag in the trunk.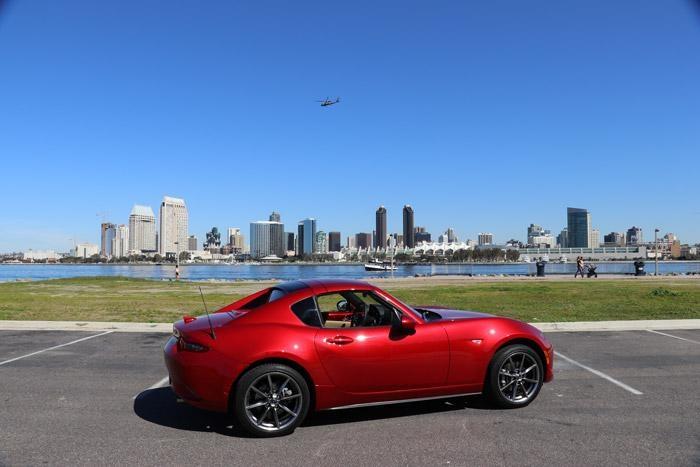 Our friends over at Hot Cars HQ have a great post that talks more about some of the things you might not know about the Mazda MX-5 too. Ultimately, the Mazda MX-5 RF (Retractable Fast Back) is best experienced in person, but here are some photos from our day spent driving it around some San Diego beach communities.
{lightgallery type=local path=images/stories/mazda-mx-5-rf/mx-5-rf-gallery previewWidth=160}Mazda MX-5 RF Photo Gallery{/lightgallery}