Last week I got invited to join Ford for the launch of their all-new Shelby GT500 Mustang, the most powerful street-legal Ford ever made. It's a beast that is trying to be more than just a drag strip king. Ford has worked hard to make this a vehicle that will perform equally well on the street, track, and drag strip. Did they succeed?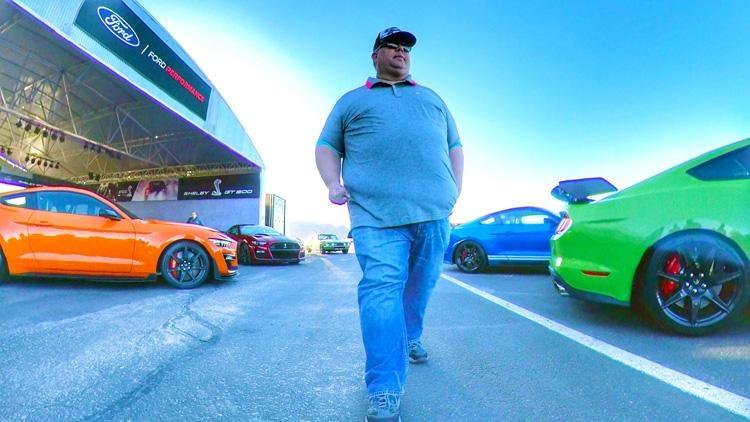 The short answer is yes.
To be completely honest, just as with trucks where more towing capacity is not always aligned with better passenger comfort, the same is true for sports cars. In this case though, Ford did an excellent job of squeezing an insane amount of power while still managing to create a car that handles great on the road. Plus, all of this comes from a factory production car that you can buy from any Ford dealer nationwide.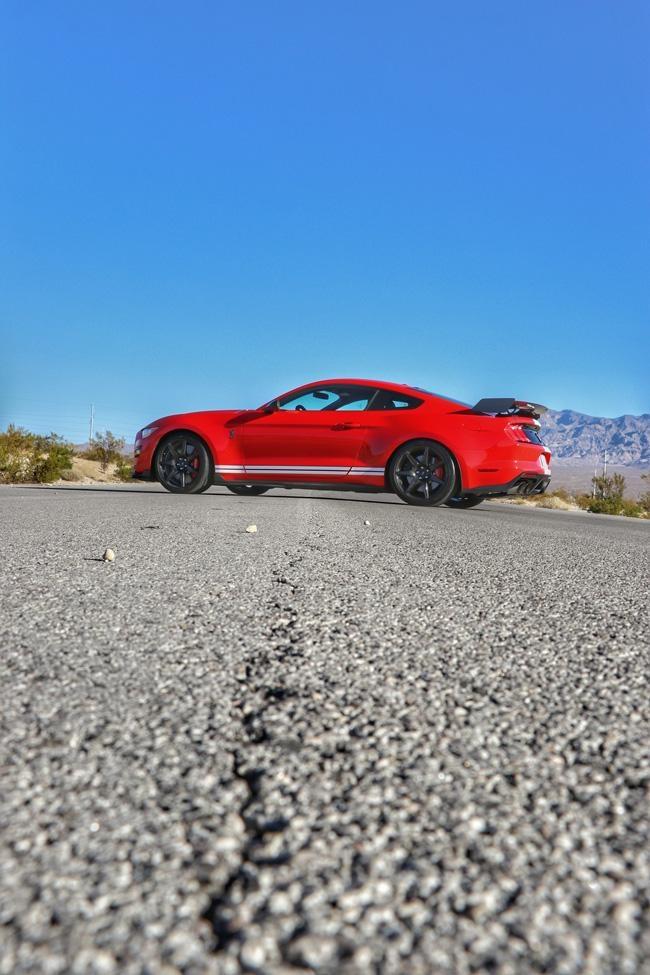 That being said, this is still clearly a car designed for the track and I can't recommend it as your daily driver unless you want to be "That Guy". In that case, the GT500 is perfect since revving the engine next to pretty much anything on the road will be enough to intimidate any wanna-be competitors.
While the GT500 performs great around corners and even better in a straight line. With virtually unlimited acceleration (electronically limited at 180) it is fast though the transmission is rough at low speeds such as driving around town. Plus, with the Recaro racing seat it is extremely uncomfortable for anyone who isn't super thin. Additionally, I discovered that the racing seat also sits you slightly higher and that impacts a tall guy's ability to sit comfortably with a race helmet though I was fine with headroom while driving without a helmet. It does look cool though.
Ultimately, however, I was able to fit comfortably in a car configured with the standard seats and with a smaller helmet so I could test it out on the drag strip. These seats also make it MUCH more comfortable for those considering this as a daily driver.
With those critiques out of the way, this new addition to the Mustang family was an experience that I wish everyone had the opportunity to try. Flying down the lane at up to 130 mph is pretty awesome. My top speed was recorded at 127.4 mph and the speedometer showed no signs of slowing down. Other journalists were getting times in the high 10's and low 11's whereas my best score was mid 11 seconds for the quarter-mile.
Driving the GT500 around town reminded me of how I feel while driving a Raptor. There's something special about knowing you have not just the most powerful vehicle on the road but also the most capable. There's a delicious sense of confidence in knowing that you can beat anyone who tries to challenge you. That is ultimately what this vehicle is all about ... and why it is worth close to $100,000 to have in your garage.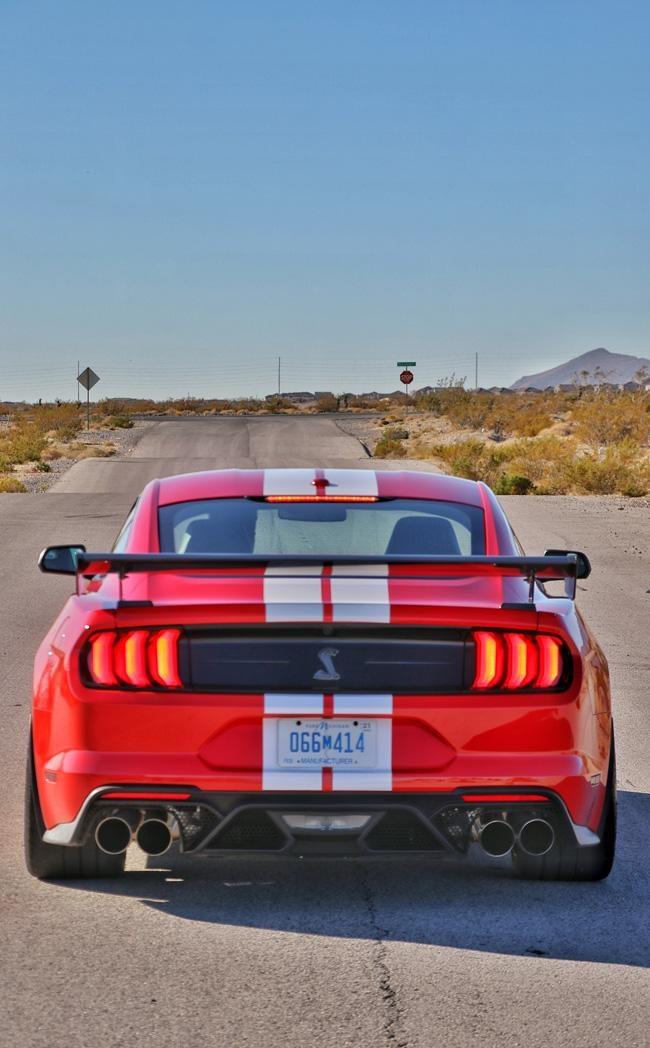 Pricing on the 2020 Shelby GT500 starts at $72,900. The cars we drove though were configured between $95,000-$82,000 and a friend of mine has one on order for $106,000. Powered by a 5.2 liter supercharged V8, it pumps out 760 hp and 625 ft-lbs of torque. An engineer I talked with suggested that this engine has tons of enhancement opportunity though so I wouldn't be surprised to see modified GT500's being produced next year touching 1,000 hp.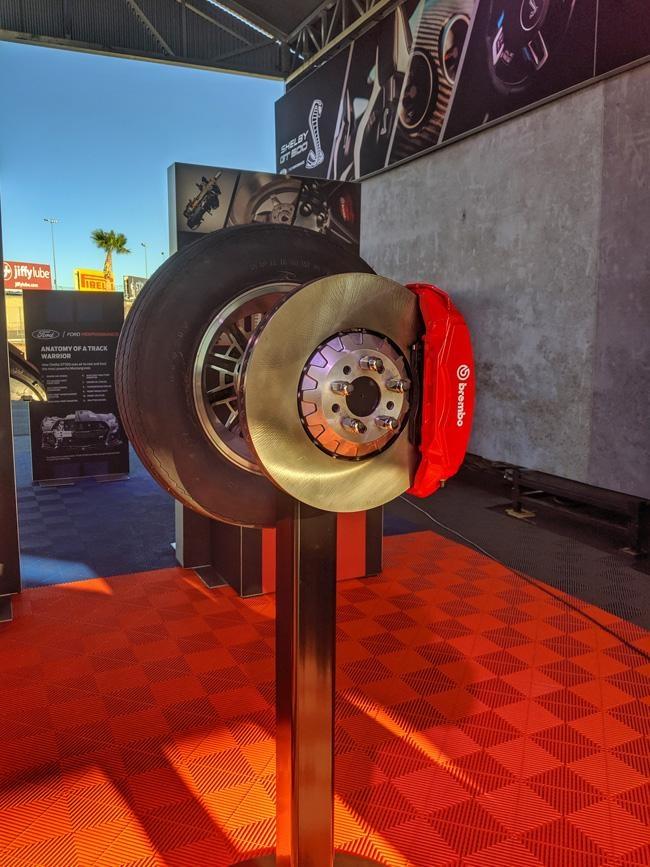 With the Carbon Fiber Track Package, this factory GT500 can do 0-100-0 mph in 10.6 seconds and rides on 20-inch carbon fiber wheels with Michelin Pilot Sport Cup 2 tires and 16.53" Brembo brakes that are even more incredible when placed in comparison to the size of the entire wheel on the original 1967 Shelby GT500.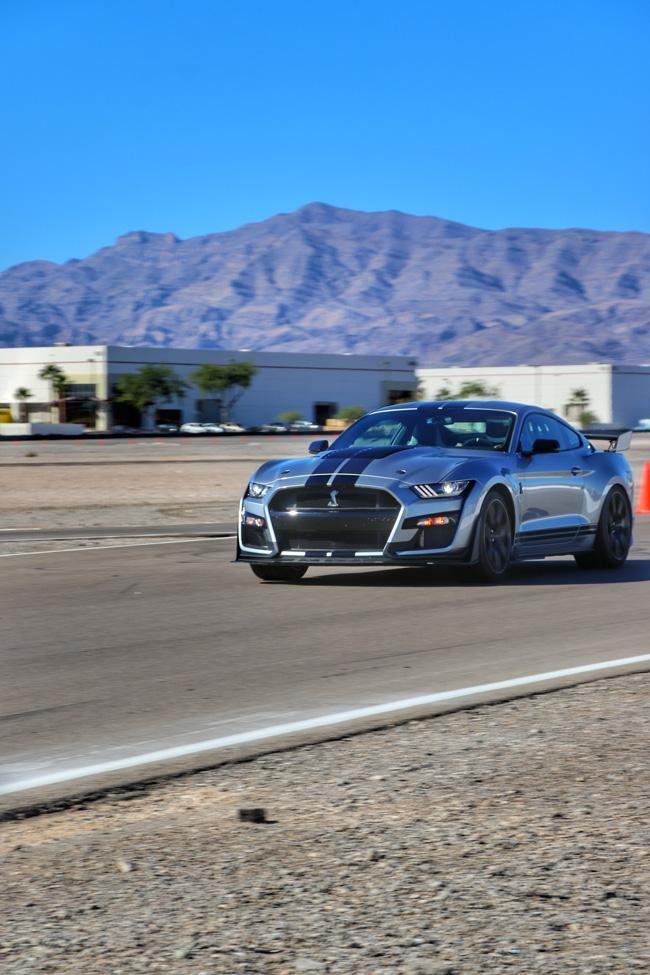 Right now is an amazing time to be a fan of fast cars!
On one hand, we have the Dodge guys doing ridiculous stuff with the Charger and Challenger and the other we have GM re-introducing the Corvette to a new generation looking for a less expensive version of what we see from European supercar manufacturers. With more horsepower plus better handling that the Charger and Challenger SRT (bested by the 840 hp Dodge Demon) and with more power and space than the C8 Corvette Stingray, the GT500 sits between these two extremes with one huge advantage.
This still feels like a Mustang and it still feels distinctly American and tied to the heritage that generations of men have grown up with.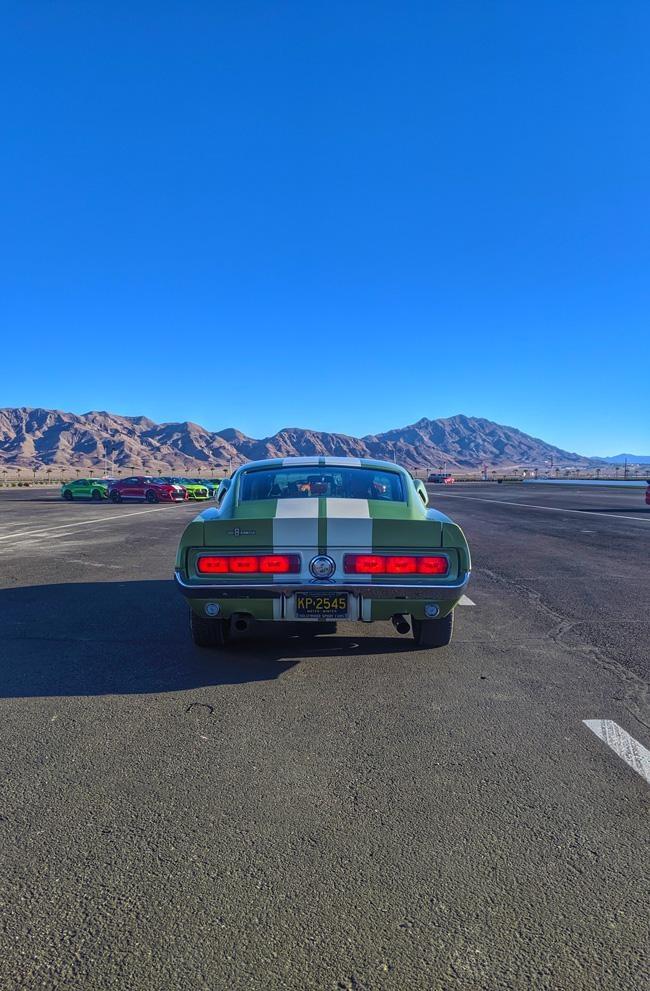 This places the GT500 in a unique spot as the car feels like something that is still part of the 55 years of Mustang heritage vs a departure from it. This is quite literally an American icon and it represents the best of what you can do with a front-engine, rear-wheel-drive vehicle today.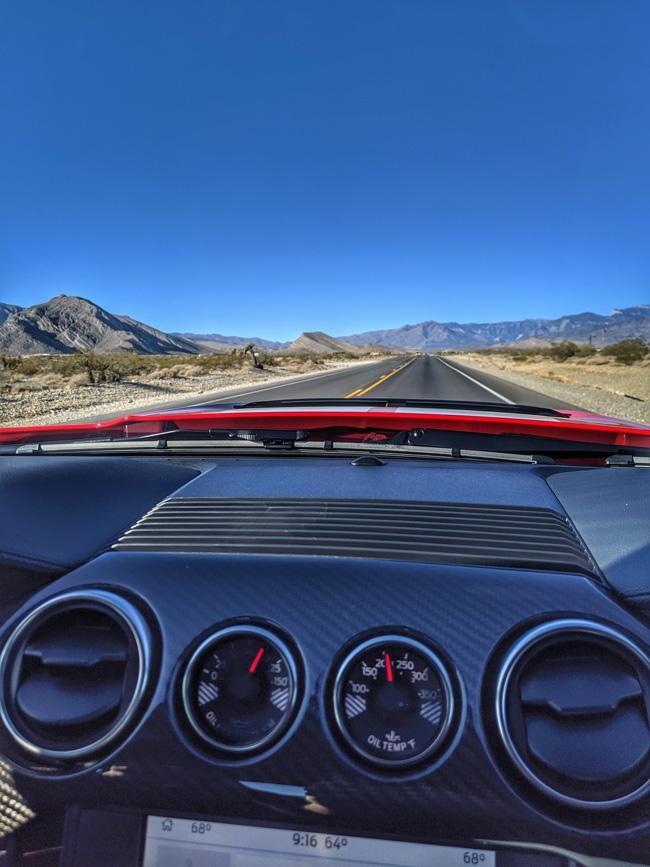 On the road, it handled exactly the way you'd expect it to.
Despite being heavy at 4,171 pounds (figures aren't released for the Carbon Fiber Track Package), the GT500 handled well in corners and on mountain roads. I wasn't able to drive on the track because with helmet and harness, unfortunately, I didn't fit in the car. However, I'm told by fellow writers who attended with me that they were very excited by the track performance.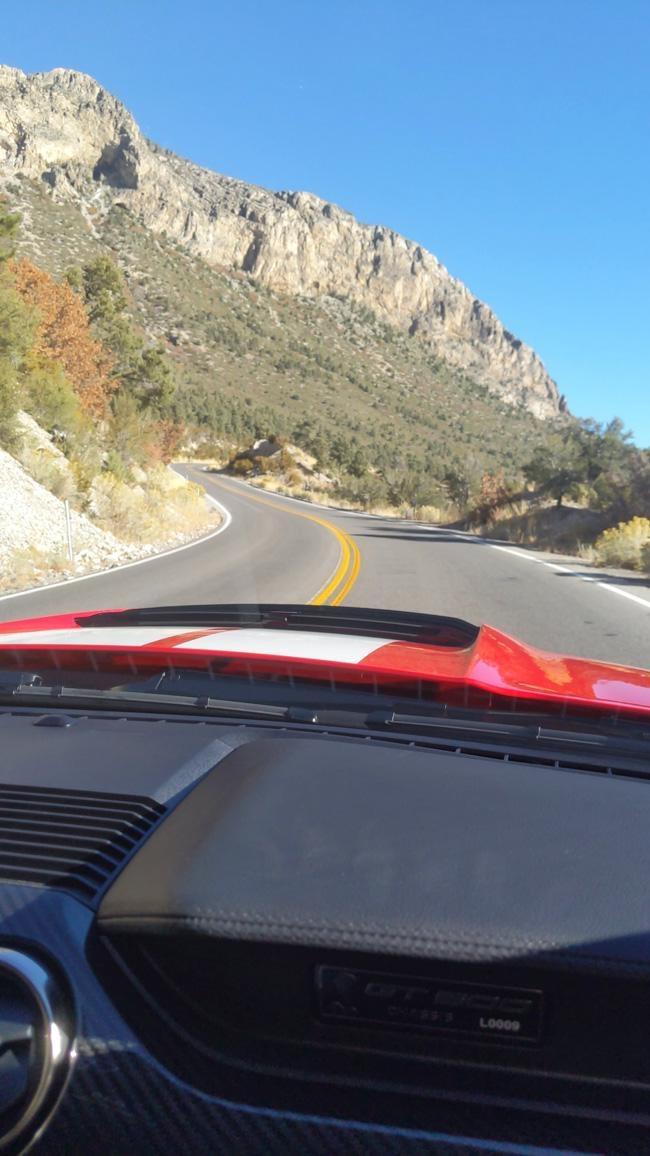 This performance is supported by race-tuned active chassis drive modes and a vehicle designed to add up to 550 pounds of rear downforce at 180 mph as well as a TREMEC 7-speed dual-clutch transmission that can shift as quickly as 80 ms in sport mode.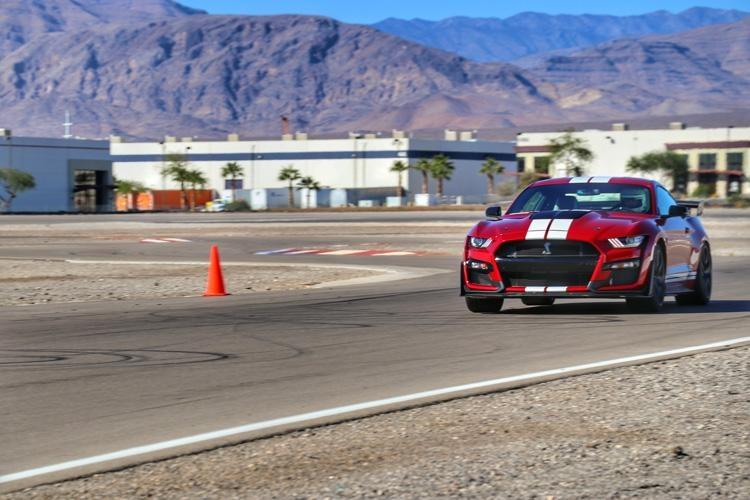 Outside of sport mode, the driver can also select normal, weather, drag, and track modes. Like the Mustang GT, the GT500 also supports Track Apps including Line-Lock and Launch Control. For someone like me that will never be a professional drag racer ... but wants to play one on weekends, this made drag racing insanely simple. I'm far from being an expert but the system is intuitive enough that with just a couple attempts I was able to feel like I knew what I was doing.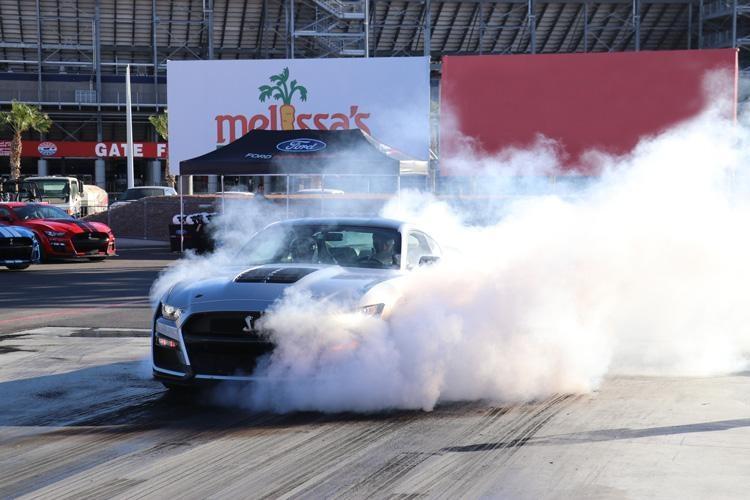 While some such as my friend Austin over at Speed Phenom will certainly be wringing out every last bit of performance ability, being accessible to more casual enthusiasts was just as important according to Ford.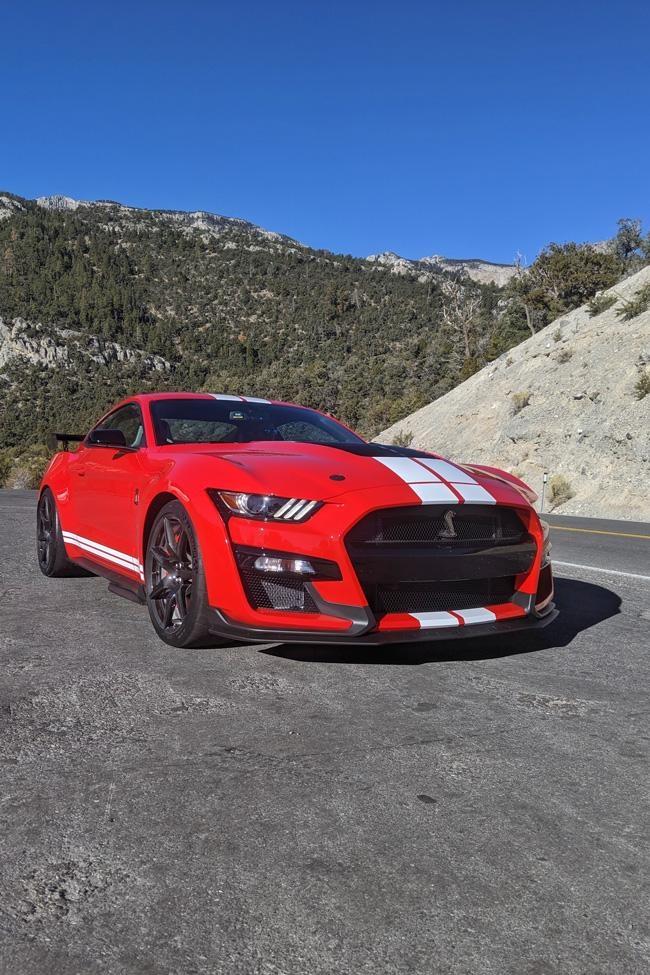 Overall, I'm impressed.
Ford certainly accomplished its objective and created the baddest factory-produced Mustang ever made, while still managing to design something that was enjoyable for non-racers. That last part is critical since the cars that it competes with are frankly dangerous if you don't know what you are doing. However, even when jamming my foot to the floor I still felt like I was in control with minimal torque steer and the car still felt comfortable going around corners despite high speeds that would have caused other vehicles to begin to slip.
For more information about the 2020 Shelby GT500, make sure to visit Ford's site and build your own.
More Photos Of The Shelby GT500
{lightgallery type=local path=images/stories/shelby-gt500-first-drive/gt500-photos previewWidth=160}Shelby GT500 Mustang Photo Gallery{/lightgallery}