We generally don't do phone case reviews here because frankly I haven't spent much time thinking about them and it's more of an afterthought among commodity products. That isn't necessarily true - it's just how I thought of things previously. However, after meeting with the folks at UAG - Urban Armor Gear - during CES I was extremely impressed. Not only were they fun to talk with but their products hit all three things I look for in a great phone case - good quality, nice design, and affordable price. The fourth "wild card" factor though was what really won me over. Having literally just gotten the Huawei Mate 9 the night before I figured I'd stump the guy when he asked, "what phone do you have."
Instead of answering, "oh, we only support Apple or Samsung", without missing a beat he went into a cabinet and grabbed me an awesome case that was a perfect fit!
It wasn't even so much that they made one ... but also that they had it there at the booth. Among the six or so case companies I visited that day they were the only ones that had that sort of reaction to my phone preference. Even better was that the UAG Huawei Mate 9 case fit perfectly and was great quality with protection in all the right places.
Great Mixture of Hard and Soft Protection
On the case being used on my other phone, an LG V20, it's just a soft TPU case that frankly can be a bit slippery. With this phone case though, you'll notice that it has both hard elements to protect against chips and cracks at the edges - but also soft elements to protect the rest of the body. Even better is that this case has a nice textured feel to it that both protects from sliding out of your hand as well as looks cool. This case is designed to meet military drop-test standards (MIL STD 810G 516.6) and it looks like it too!
However, despite this protection, it has been designed to allow for unobstructed NFC communication so that it functions flawlessly with Android Pay and other NFC applications.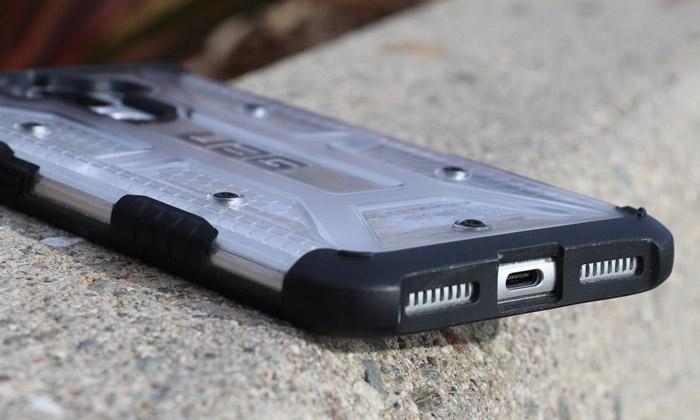 Large Cut Outs for the USB-C Port
I can't tell you the number of cases that I've had over the years that didn't allow me to plug my carger or accessories into the USB port properly. While this issue is somewhat eliminated since USB-C has a much longer plug, I was impressed that the UAG Mate 9 case had a large cut out and that it (as well as others) was well spaced.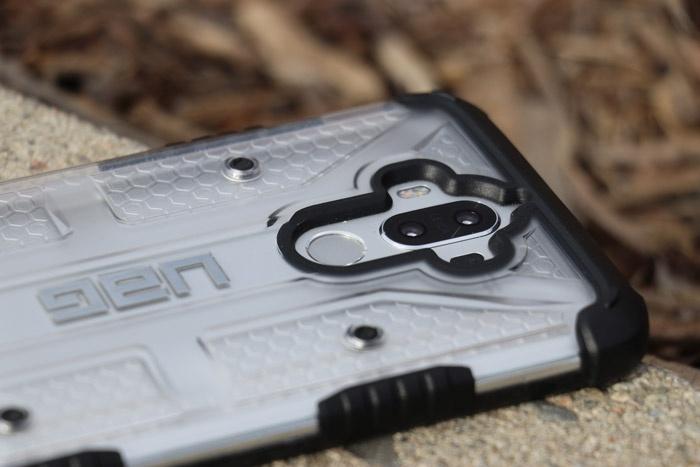 Good Depth for Protection of Front Screen, Fingerprint Reader and Camera Glass
With some of the cheaper cases that I've used over the years, it's been a challenge to get the finger properly over the fingerprint reader. That's not the situation here and the same goes for the space around the dual lens Leica camera too.
Possibly more important than just the fact that the access space is wide enough is that it's also deep enough to provide proper protection to the camera lens. Unless you drop this on a gravel surface with a stone poking up just the right space, you are most likely going to be fine dropping your phone in most situations. Unfortunately, I can't say the same for other cases that I've had over the years.
On the other side of the phone, the big challenge is that you want to have enough of a bumper that it protects the main screen - but not too much that it feels extra bulky. While this is one of these elements that is completely subjective, I feel like it has a near perfect depth that will provide enough of a bounce that should protect the glass from most minor drops. Luckily, the Mate 9 has Gorilla Glass 3, so hopefully that will help should I inadvertently test this too :)
I'm Impressed with Urban Armor Gear's Mate 9 Case!
Priced at an MSRP of $39.95 (lower on Amazon.com), this is a case that impresses me, backed up by a company that I have no hesitation in recommending. While many of you will probably stay in your Apple and Samsung families and be fine because there will always be a dozen manufacturers ready to serve your case needs, that's not the case for those of us who live at the cutting edge and love our Pixel phones from Google, LG phones, and Motorola phones. Luckily, UAG has solutions for all of these brands too and that makes me happy ...