For many people Iowa is one of those states we've only seen from 39,000 feet as we fly over it and notice all those green fields of corn. Despite having family that had once lived there, that was about all I knew of it until I drove through the state a few years ago on my way to California. At the time I was surprised at all the cool stuff in the state but didn't have a chance to explore it more until last week when I was invited to join Travel Iowa on a quick tour.
Unfortunately, I didn't get to see EVERYTHING that I wanted to experience but I saw enough to know that this is a state that most of us completely misunderstand. For instance, while there is a large amount of agriculture - that isn't even the state's largest industry (manufacturing is). While there are rural areas and small towns, there is also urban experiences too in cities like Des Moines.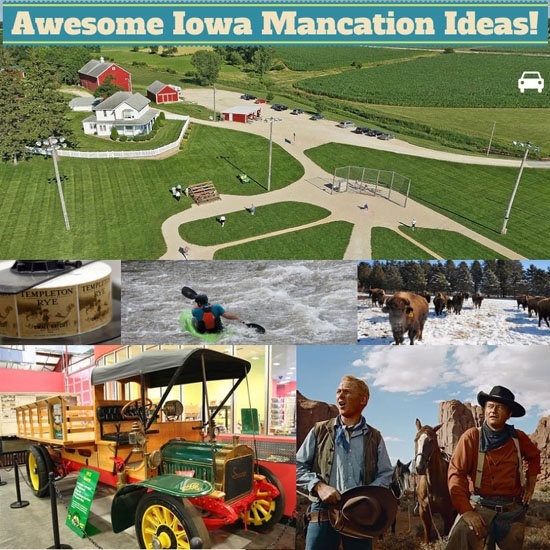 While this article contains some of my top picks, I encourage you to visit Travel Iowa and explore there as well.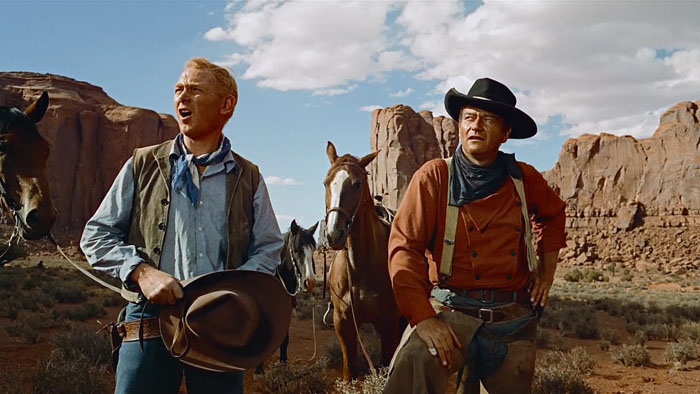 John Wayne Birthplace
The John Wayne (or Marion Robert Morrison as he was born) birthplace is in Winterset, Iowa and the John Wayne Museum there has accumulated one of the largest collections of John Wayne memorabilia in the world. Each May, the museum also hosts the John Wayne Birthday Celebration around his birthday on May 26. The celebration is very much a collection of "western" traditions including a rodeo, western swing dance, and cowboy mounted shooting demonstrations. However there are also historical discussions about The Duke, a marathon of his films, and other activities celebrating his legacy. In addition to the museum, tours of the house are also available year round.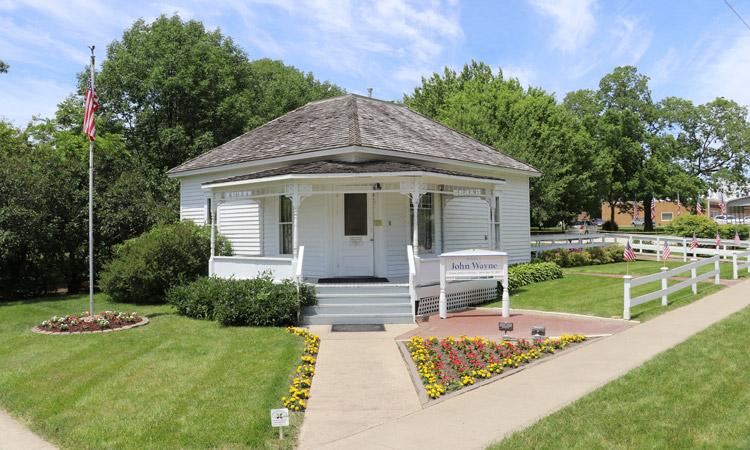 The site also features the fantastic John Wayne museum, complete with movie memorabilia and a chance to watch some of his most famous movies in a screening room featuring seats from Grauman's Chinese Theatre.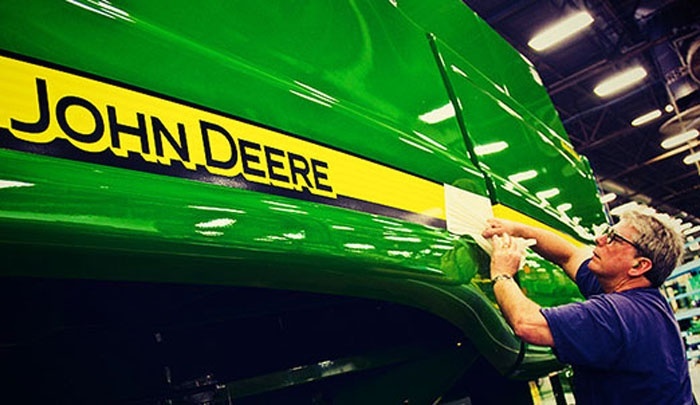 John Deere Factory Tours
John Wayne might have shown us "How the West was Won" but John Deere folks are the ones that did it one farmer at a time. A tour of their factory and visit to their museum is the perfect opportunity to inject your adventure with a bit of extra testosterone as you watch these giant machines come to life or as John Deere says, "See where giants are born". Since these are tours of real working factories the tour schedule is highly subject to manufacturing schedules.
There are actually several John Deere Factory Tours that are available. However, we recommend that you contact them directly for availability: Harvester Works in Moline, IL(309)765-8000, Tractor Cab Assembly Operations in Waterloo, IA (319) 292-7668, Engine Works in Waterlook, IA (319) 292-5347, or the Des Moines Works in Ankeny, IA (800) 450-2670.
Additionally, the John Deere Headquarters in Moline (across the river from Davenport IA) is also open for visitors to their display floor featuring 2,200 pieces of memorabilia across 1,400 acres of land where you can sit in the operator's seat and pretend that you are down on the farm with both antique and modern farming equipment.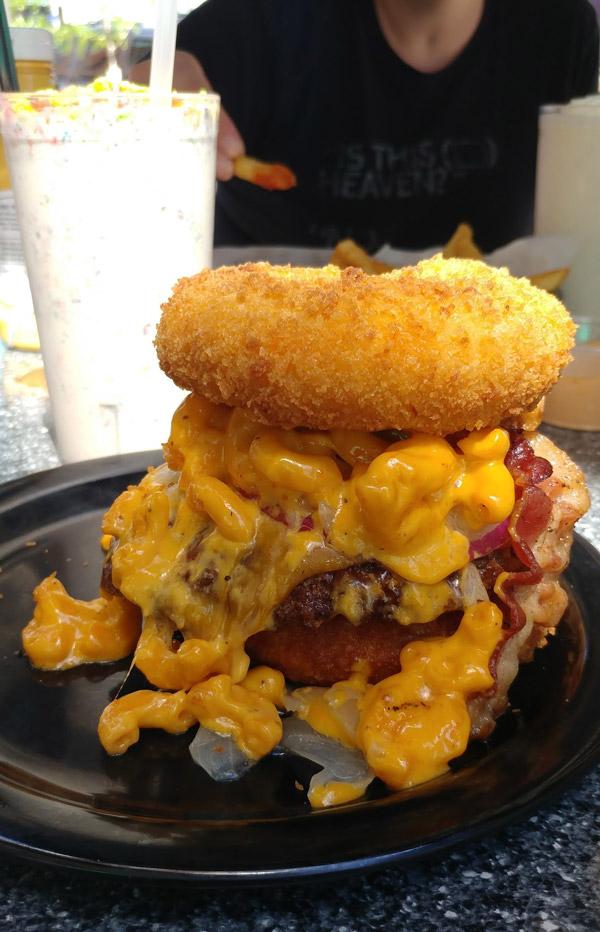 Zombie Burger
What more do I need to say than there's a restaurant group with locations in a couple different Iowa cities that celebrates our undead cousins. With burgers like the "Walking Ched" and fantastic milkshakes, Zombie Burger and Shake Lab is a place you should absolutely visit. I know I'm dying to go back!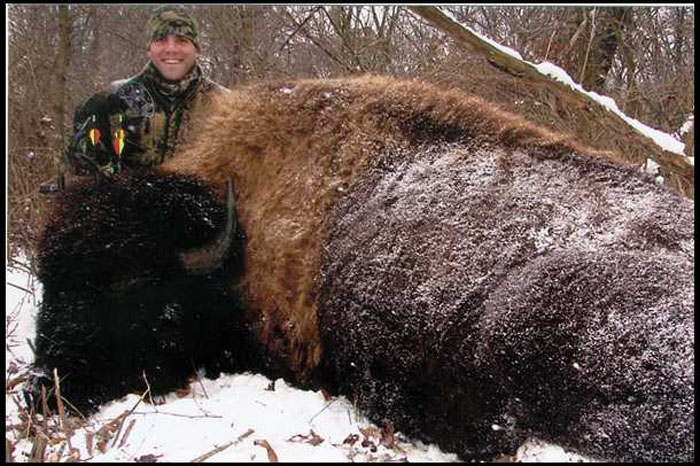 Buffalo Hunting
Anyone can hunt deer but how about going after some big game like actual Buffalo! While this animal may have been hunted to near extinction 100 years ago it is now a carefully managed species that you can hunt in certain places such as the Hawkeye Buffalo Ranch can provide the thrill of hunting these massive animals. Each hunt is preceded by a Sioux "smudge feather" ceremony and after taking your bull guests will perform the "sacred Crow 'tobacco' ceremony" to honor and help guide the animal to the "Great Spirit Herd" and culminates with the blood marking ceremony in which you honor the bull.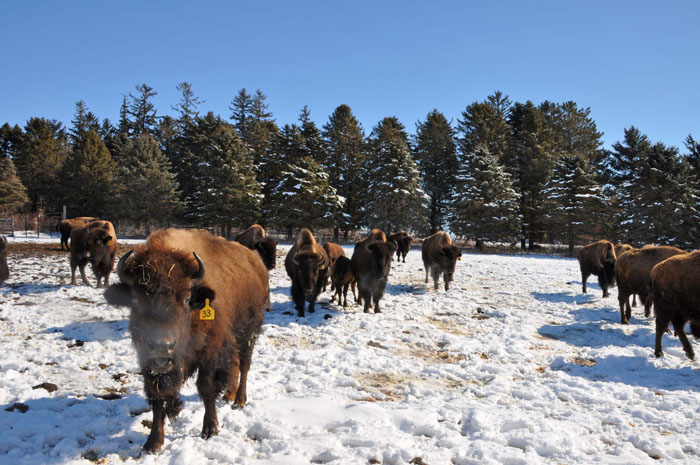 While most of Iowa is open prairie and corn fields, these buffalo hunts take place on foot through heavy, hardwood timber, brush, creeks and some open meadows. Rifle hunters can expect 70-125 yard shots and bowhunters can expect a 25-35 yard shot with time.
Hunts are offered as a complete package including lodging and meals in an 1870 ranch home and take place year round, but prime season is Mid-October through early March.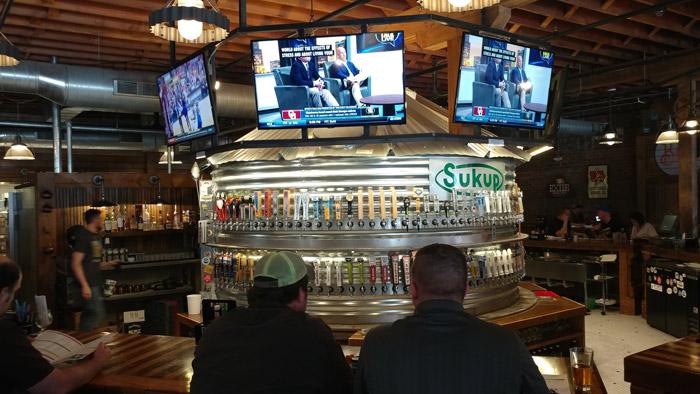 Iowa Taproom
Craft Beer is everywhere and while restaurants we visited in smaller towns were proud to feature $3 cans of Bud, PBR, and Coors on the menu - Des Moines is on trend with a fantastic craft beer bar. With more than 120 Iowa beers on tap, Iowa Taproom is THE PLACE to go if you want to get a taste for Iowa's best beers and ciders.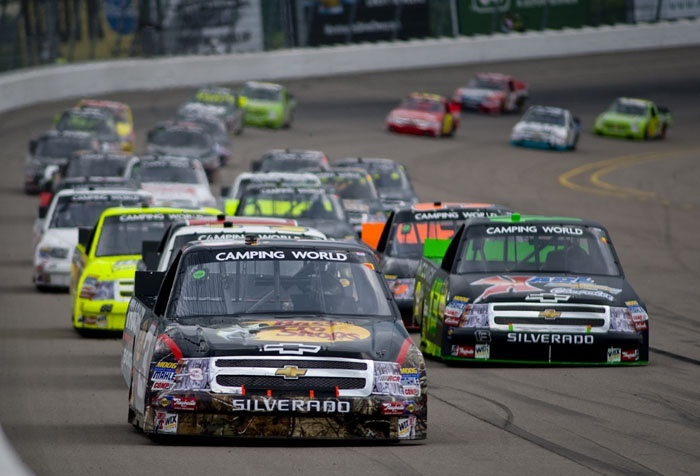 Iowa Speedway
If auto racing is what you need to get your motor running, Iowa Speedway has 3 race weekends this year with Nationwide Series races as well as Indy Car. The speedway 7/8 mile oval track, designed by NASCAR legend Rusty Wallace, is often referred to as "The Fastest Short Track on the Planet". Iowa Speedway is located only 30 miles east of Des Moines. Even outside of race weekends the track plays host to driving schools such as the Richard Petty Driving Experience so it makes a great year-round destination if you have a need for speed!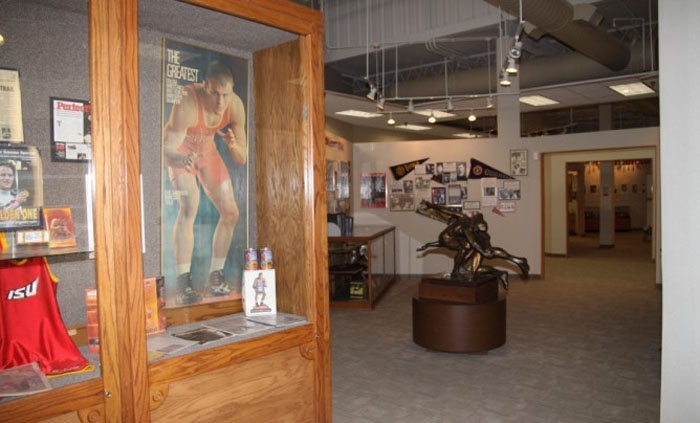 National Wrestling Hall of Fame Waterloo
There are two National Wrestling Hall of Fame locations - one is in Stillwater OK, but the other is in Waterloo Iowa and celebrates the influence of wrestling great, Dan Gable. With exhibits ranging from exploring President Lincoln's influence on wrestling to an exploration of wrestling as part of ancient history, the modern Olympic games, and the NCAA, there is something for any wrestling fan.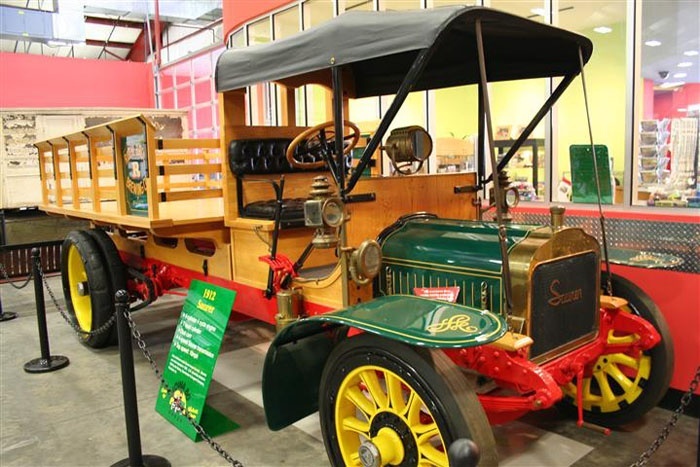 Iowa 80 Trucking Museum
Ever wondered about the history of the trucking industry or wanted to check out some historic "big rigs"? This will be your dream destination. Located at the Iowa 80 Truck Stop in Walcott Iowa, this is the home of the worlds largest truck stop and the dream of it's founder Bill Moon. His passion for collecting antique trucks and trucking memorabilia ultimately spawned the Iowa 80 Trucking Museum.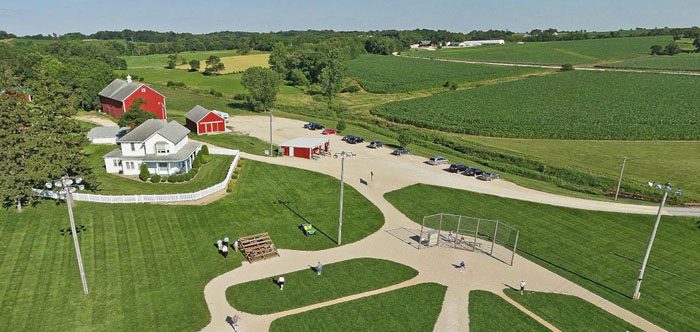 Field of Dreams Movie Site
25 Years ago, Kevin Costner made a small cornfield in Dyersville, Iowa the center of the entertainment world with the release of Field of Dreams. Lucky for us that field is still available to visit - just as it was at the end of the movie. If you can't visit it actually, the site has provided a virtual tour as well. We personally can't think of a better thing to plan a mancation around than playing catch on one of the most famous ball fields in the world though!
If you want the ultimate experience though, you need to visit the site on July 6 this year for the "Ghost Players" event. Still need more Iowa baseball? Don't miss the Bob Feller Museum, the Iowa Baseball Museum of Norway, or stop by the Cedar Rapids Kernels, Class A Affiliate of the Minnesota Twins.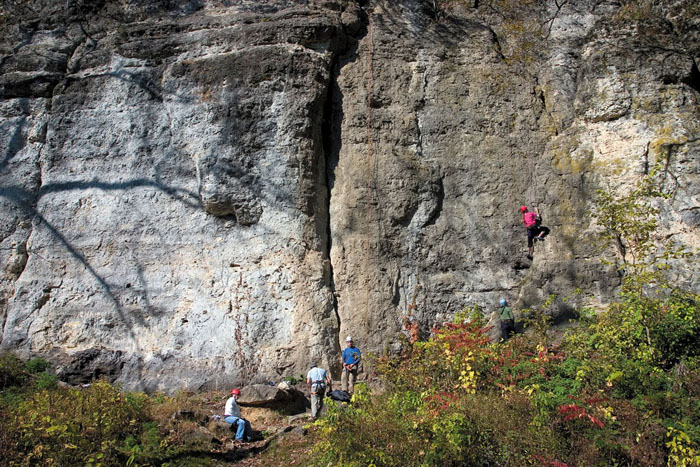 Climbing Up, Crawling Under, and Floating Through
If natural adventure is more of what you are looking for, Iowa also offers plenty to stir your soul. For a state that many assume is simply flat farm land, the topography is surprisingly diverse. The state boasts fantastic public parks with opportunity for adventures including caving at the Maquoketa Caves State Park, rock climbing at Backbone State Park, and even star gazing from the "star fields" at the Whiterock Conservancy set in one of the darkest parts of the state.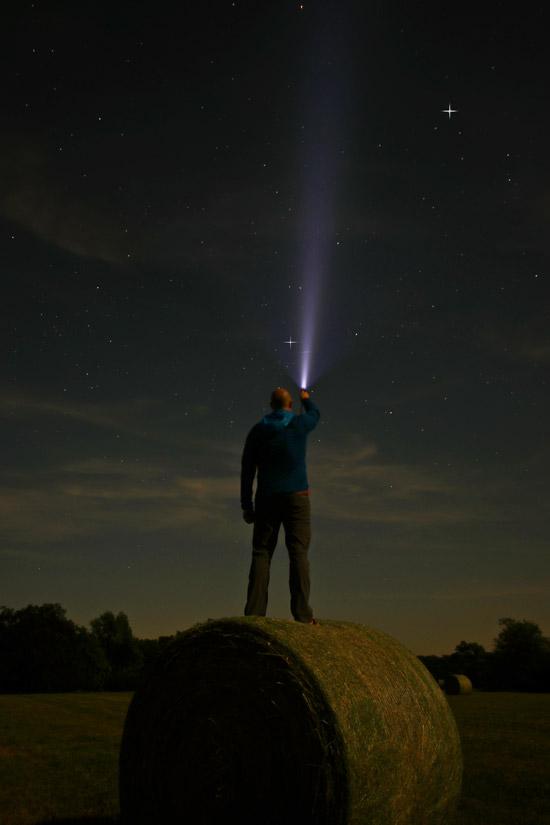 Additionally, there are so many rivers, streams, and lakes in the state to mention. Most of these are perfect for kayaking, canoeing, rafting, or simply floating leisurely down the stream.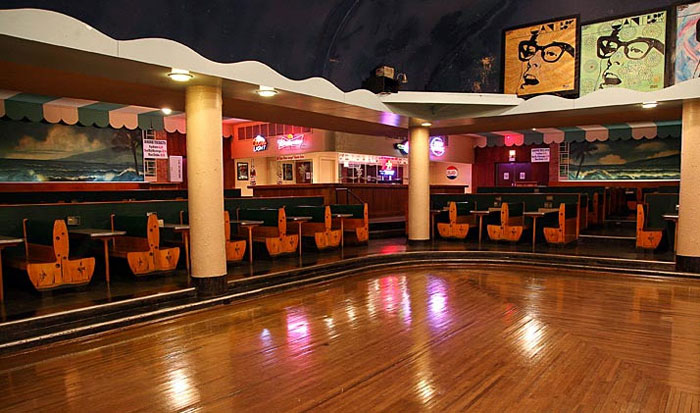 A Visit to the Surf Ballroom
For music fans, the Surf Ballroom and Museum in Clearlake, IA is a "must visit" destination. It is famous as the site of Buddy Holly, Ritchie Valens, and J.P. "The Big Bopper" Richardson's last performance before the tragic plane crash the next day in Feb. 3, 1959, an event inspiring Don McLean's famous "American Pie" lyrics referring to it as "the day the music died".
The Rock and Roll Hall of Fame designated this a historic landmark in 2009 and each year on Feb 2, they host a "Winter Dance Party" tribute commemorating the famous last show, followed by a memorial service the next day.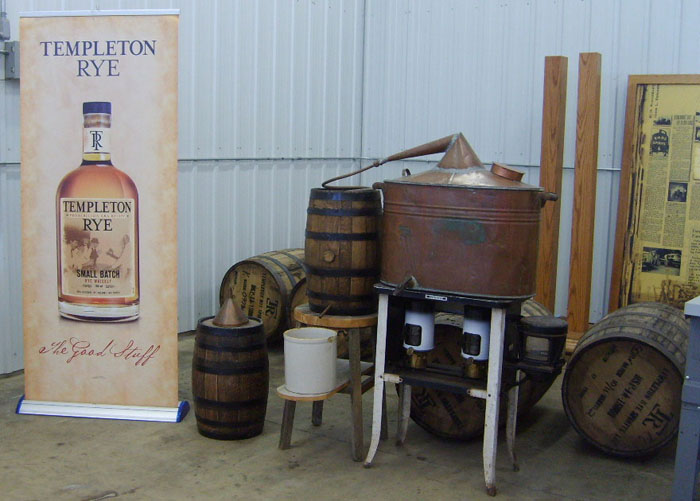 Templeton Rye Distillery
Last but certainly not last - I am sure you are familiar with Templeton Rye, "The Good Stuff", but did you know that it was from Iowa? or that it is considered to be Al Capone's drink of choice during prohibition? Probably not, but you can learn even more when you visit the Templeton Rye Distillery in Templeton, IA.
While modern Templeton Rye was brought to market in 2006, it's history goes back all the way to the 1920's when residents of this small Iowa town (including the founders families) decided to become bootleggers.
"Standard" distillery tours are held Monday-Friday but one Saturday per month, Templeton Rye Co-Founder and Master Distiller, Keith Kerkhoff leads a tour starting at 10 a.m. Reservations are required. Tours cost $5 to reserve a spot and all guests receive a free shot glass to use in the tasting room.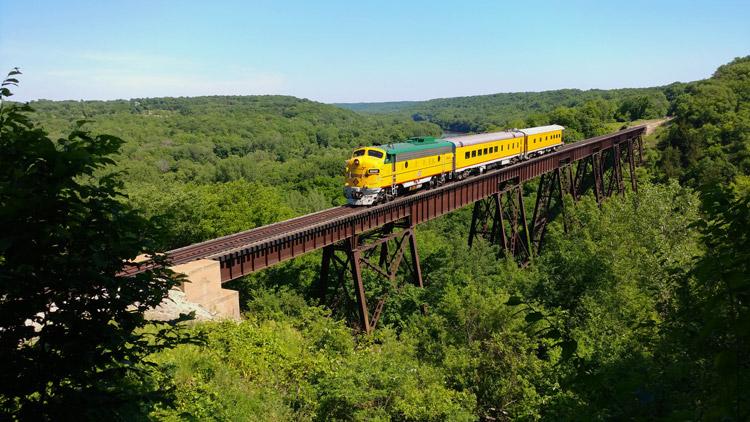 Boone and Scenic Valley Railroad
Last but certainly not last, Iowa has a great train museum and the ride along their 26 mile track is a lot of fun. The Boone & Scenic Valley Railroad is one of the few train museums in the country that has steam, electric, and diesel locomotives that are available for rides. Among the interesting rolling stock here is the steam locomotive that is actually a Chinese model that was in service as recently as the 1950's but now steams along the rails taking passengers past farm fields, through dense woods, and across bridges for some fantastic photo ops. As with any train museum, please make sure to check the schedule or call for exact information on what's running.