Often times, going to a NASCAR race is about the only thing on your agenda. Frankly, most tracks are so far out in the middle of nowhere that it's difficult to plan anything other than an awesome weekend of racing. Chicagoland Speedway is different though and there's a surprising amount of stuff to do at the race and beyond. With that in mind, we set out to the Camping World 400, Monster Energy NASCAR Cup Series race at Chicagoland Speedway followed by some time exploring the surrounding area of Joliet, Illinois.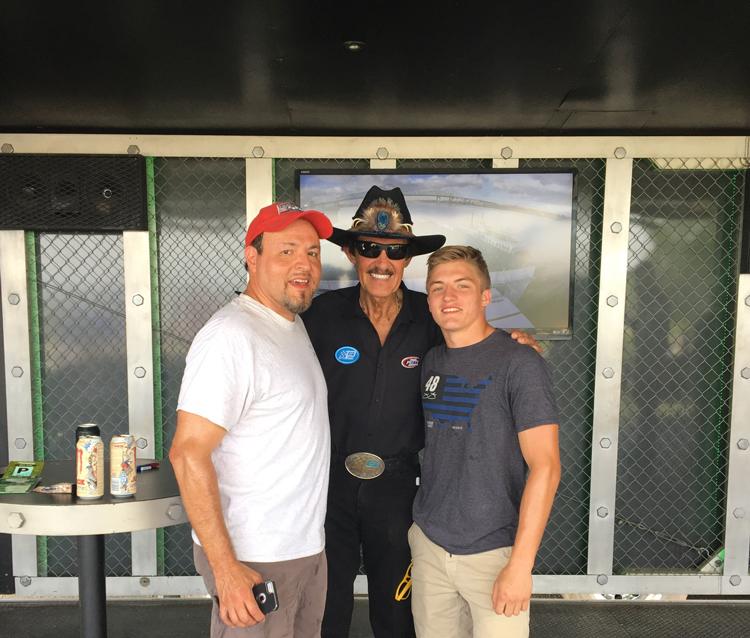 Prior to the race at Chicagoland Speedway we decide to check out the fan zone experience, a carnival-like set up complete with a Ferris wheel, slides, the Oscar Meyer Weiner Mobile, games and the "King". Yes, that King – Richard Petty. Always gracious and accommodating, the King had a conversation with us and a Monster Energy Drink. Spending a few moments with this cultural icon in the middle of a field before the start of a NASCAR race was an unforgettable experience.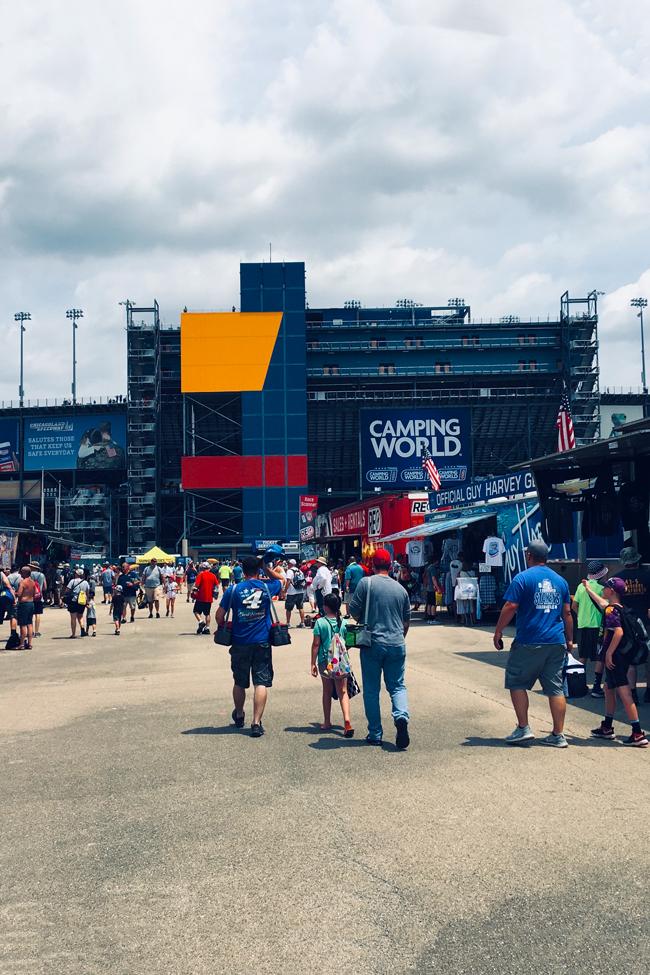 Walking around the garage are and the pits before a Monster Energy NASCAR Cup Series race is an experience not to be missed. You're up close with the mechanics, the team owners and the drivers. During the National Anthem I found myself standing right next to Martin Truex Jr. driver of the #19 Brass Pro Shops Toyota Camry. Then was a Kyle double shot as we took a few shots of Kyle Larson's #42 McDonalds's sponsored Chevy Camaro and Kyle Busch's very colorful Skittles sponsored #18 Toyota Camry as they were get a few adjustments in pit lane. Everyone was primed and ready to fire up the engines.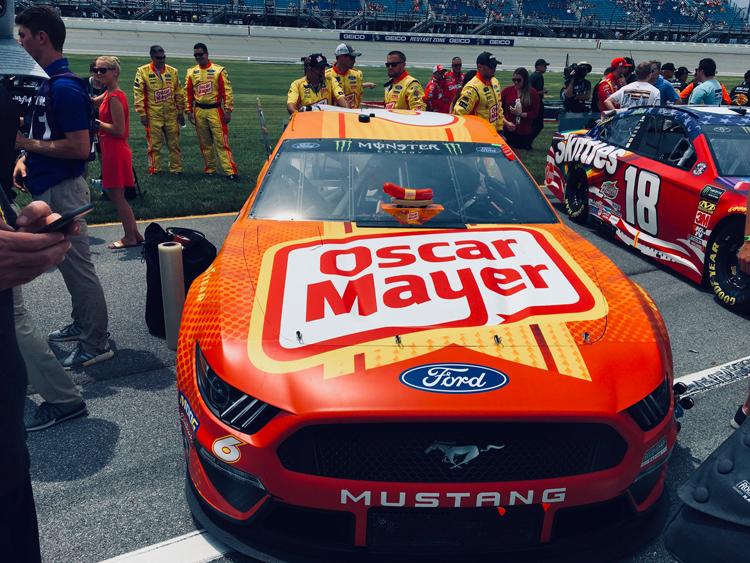 The race
Pole-sitter Austin Dillon led the field to the starting line, but the race only lasted 11 laps before dark clouds, strong winds, thunder and lightning resulted in the race being red-flagged. Then a deluge of intense rainfall caused a 3-hour delay before the track surface was ready for competition. The rain did not dampen Alex Bowman's determination as the 26-year-old from Phoenix, AZ captured his very first Monster Energy NASCAR Cup series win in his 134th start and we were there to witness. Bowman retook the race lead from Kyle Larson with just five laps remaining and held on to earn the Camping World 400 Monster Energy Drink Series victory.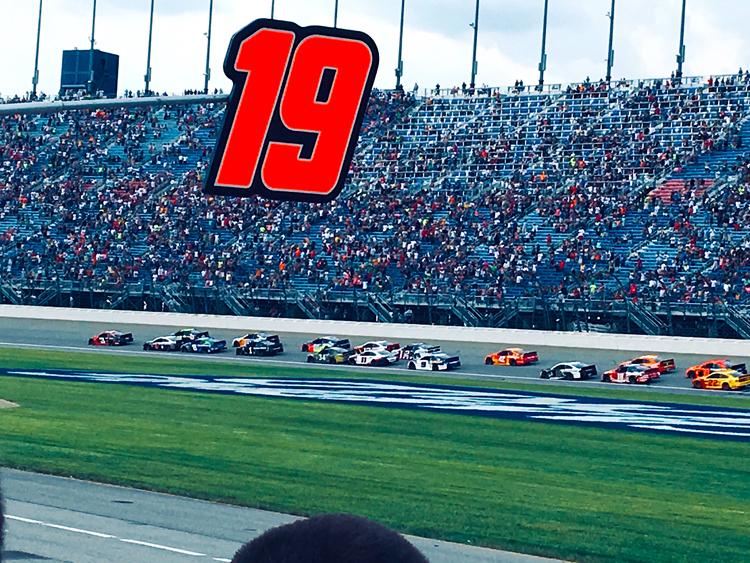 During stage 2 of the race there was some serious action up front as Kevin Harvick in the #4 Jimmy John's Ford Mustang led most of the 2nd stage. Behind Harvick's Mustang lurked Larson, Jimmie Johnson in the #48 Ally Chevy Camaro and Bowman all clawing at each other to see who could retain second place and mount a challenge. Harvick had a strong car, but a tire issue caused him to scrape the wall early in stage 3 triggering a caution. This opened the door for Bowman who grabbed the lead for the first time on lap 179 after the restart.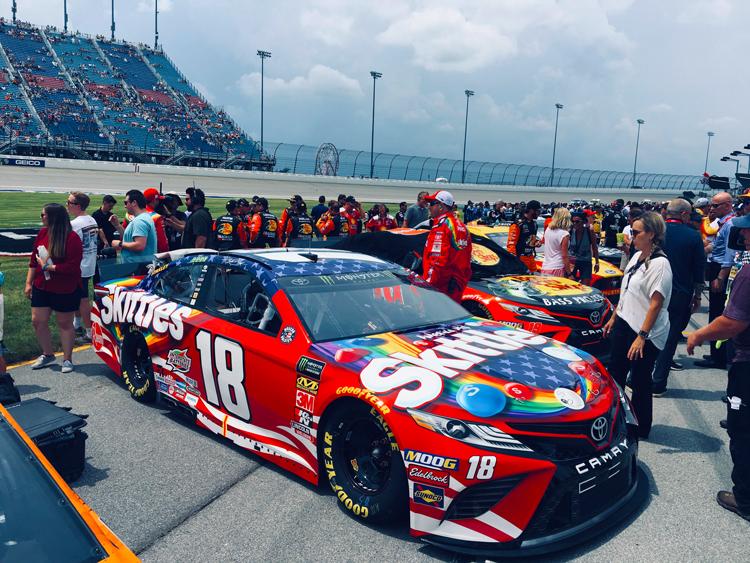 Bowman appeared to be cruising to his very first NASCAR win until Larson began whittling away the 3-second gap he was enjoying. Larson finally wrested the lead away from Bowman with 8 laps to go. However, Bowman would not be denied and reasserted himself, and reestablished himself and his #88 Hendrick Motorsports Chevy Camaro as the leader with five long laps to go.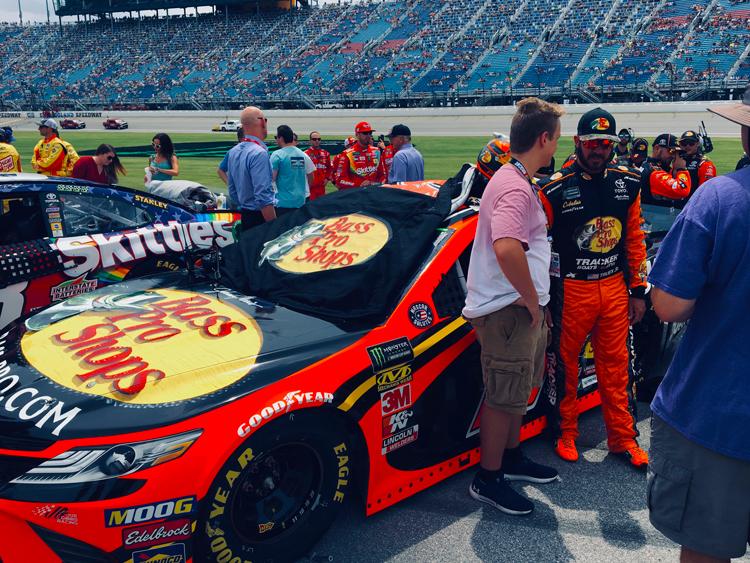 Bowman was able to hold off Larson and take his first win by .546 seconds. He celebrated by doing the traditional start/finish smokey burnout, but mistakenly went for the grass infield where he became stuck in the super-saturated grass and had to be towed out
Larson finished second, Joey Logano came in third. and Jimmie Johnson who led early came home fourth, and Brad Keselowski rounded out the top five.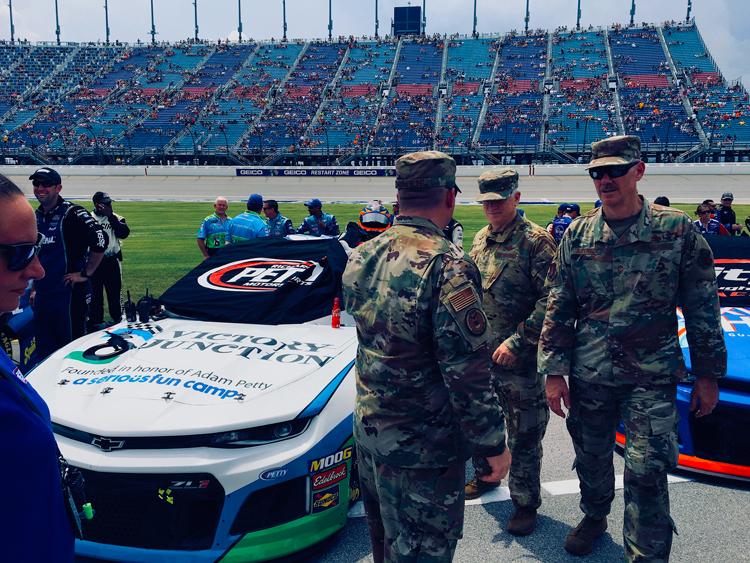 After the 18th stop on the Monster Energy NASCAR Cup Series schedule, Joey Logano and the #22 Pennzoil Mustang still retain the championship lead with an 18-point advantage over second-place Kyle Busch.
More Than Just Auto Racing in Joliet, Illinois!
While we went to Joliet for the race, we discovered there was more to the area than Jake and Elwood. Here are some of the other attractions to catch if you're in town for a NASCAR event or NHRA race at the adjoining Route 66 Raceway.
Explore Route 66, The Mother Road
Joliet is located on historic Route 66, which has spawned everything from movies, a hit 1960s song and several TV series. Starting in 1926, the "Mother Road" originated in the Chicago Loop and ran to the Pacific Ocean. Celebrating this great road, the Joliet Area Historical Museum has "The Route 66 Experience" an interactive activity and interpretation to celebrate the historic road. You can even pose with the Blues Brothers. It's only open by appointment so call ahead.
If you really want to experience some of the "Blues Brothers" check out the Old Joliet Prison. Located at the north end of the city. Members of the Joliet Area Historical Museum lead tours through the limestone prison three days per week April through October. It came to prominence when it was used for filming in "The Blues Brothers" and later for the hit TV series "Prison Break" on the Fox Network. Yes, it is intimidating in person and you can almost hear the ghosts of past prisoners.
Concerts and Performances in a Vintage Theatre
The Rialto Square Theatre is a former silent movie and Vaudeville palace that is now a colorful performing-arts center. The previous stars that have visited this grand hall include the Moody Blues, the Doobie Brothers, Tony Bennett, Taylor Swift, Vince Gill and Jerry Seinfeld.
Swing For the Fences at a Baseball Game
How about a professional baseball game? The Joliet Slammers are a winning minor league team
as they are the defending Frontier League champions. The Slammer's stadium (Joliet Route66 stadium) is located in the heart of the city and is host to a variety of music, food and cultural festivals.
It's Vegas Baby (Almost!)
Well, maybe a scaled down, midwest version as Joliet is the only city in Illinois to host two gaming hotel/casinos. You can take your pick of Harrah's Joliet or Hollywood Casino Joliet. Great food, Vegas-style shows and big-name music and comedians are on the event lists.
Old Joliet Prison Tours
Want to walk in the footsteps of not so great men like John Wayne Gacy as well as Hollywood criminals including Jake Blues and Michael Scoffield? Then here's your chance on this 90-minute tour of one of the most infamous prisons in history.
Have you Been to Joliet
If you're looking to plan a NASCAR or NHRA road trip in the Joliet area visit www.jolietkicks.com and www.visitjoliet.com. Do you have some better places that we missed? Let us know.