A couple years ago, I was invited up to Atlantis as part of a sponsored blog campaign but I wasn't able to make it. Since that time though, I'd been intrigued by the Reno casino scene. In many ways, it reminds me of the way Vegas once was. It's a bit raw and gritty but seemed to have retained the fun, whimsical, and approachable nature that lends itself to relaxing with your buddies and throwing caution to the wind in the interest of a fun guys night out.
That's pretty much exactly what I experienced from the moment I checked in at almost 1 am till the time I checked out about 12 hours later. Unfortunately I didn't have a ton of time to explore the property but what I did see convinced me that it's worth another trip when I can spend more time. Our visit was as part of our #MenWhoBlog Wild West Blogger Mancation, so it obviously helped that I was joined by some of my good friends. However, even when not with the group - everyone seemed friendly and laid back. I love Las Vegas but here, everything was scaled back and more personal without the pressure of feeling like everything was ultra luxury and that you were spending all your money before even hitting the gaming floor.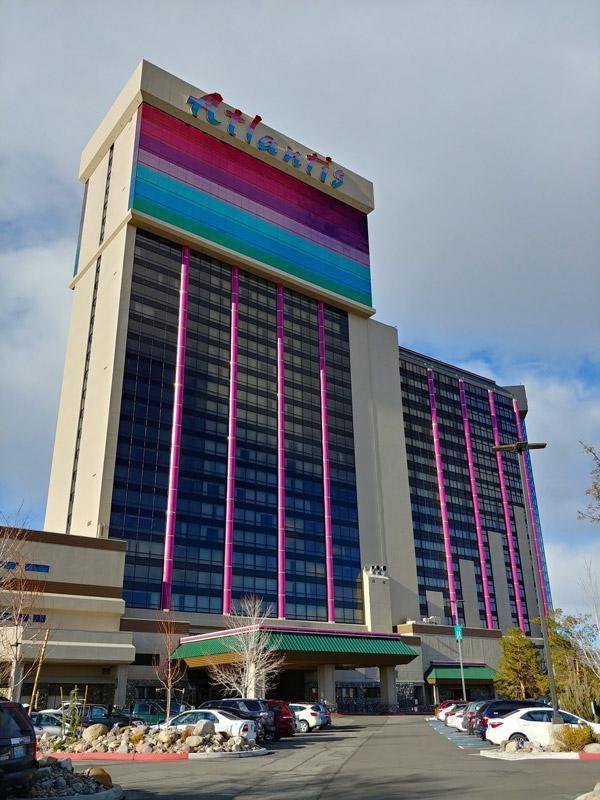 Atlantis Casino Resort has existed in several forms since 1972 but has been in it's current branding since 1996 and underwent a $50 million dollar expansion in 2008 and various other updates since then. In 2012 Atlantis earned the AAA Four Diamond Award and is one of only two resorts in Reno to have received that honor. In 2017 they also received Wine Spectator's Award of Excellence for the food and wine list at Bistro Napa and Atlantis Steakhouse (which serves Allen Brothers meats) and a wine cellar featuring 334 different selections.
While we were there as leisure guests, the hotel is also perfectly situated right next to the Reno Sparks Convention center. This includes a skywalk from Atlantis to the convention center as well as having it's own meeting space for events.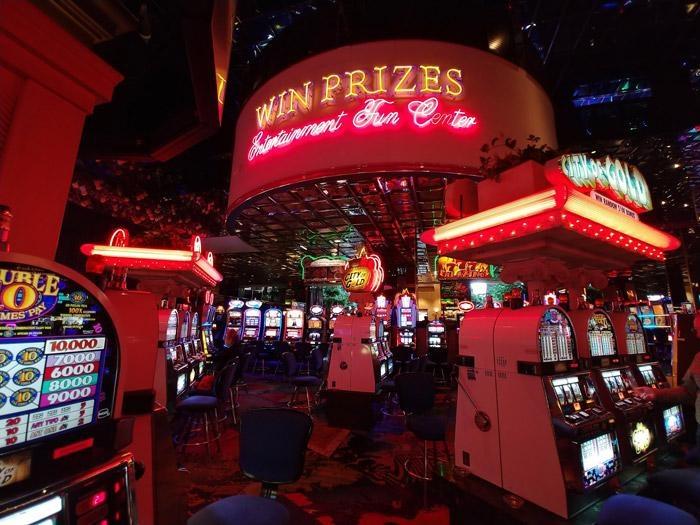 The gaming floor is complete with 1,400 slots and video poker machines including 300 penny slot machines. Table games were also well represented.
The poker room felt modern and comfortable. It is open 24-hours and is 100% non-smoking.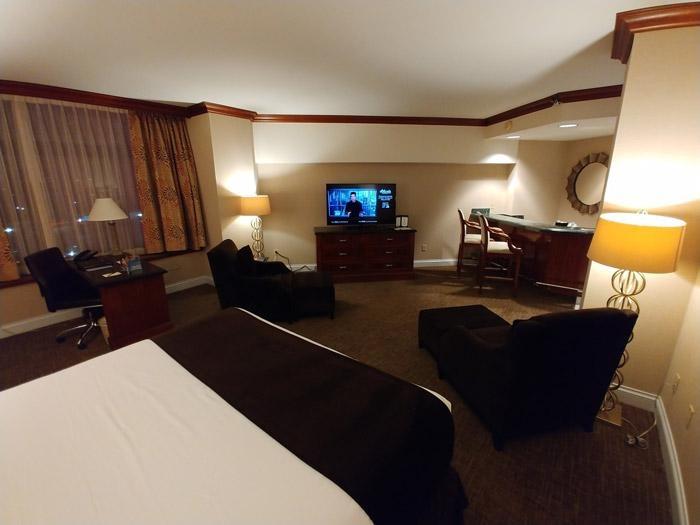 One of the greatest things about this hotel is the amazing views of the mountains. While we were here, the mountains around Lake Tahoe were snow-capped but I suspect that anytime you visit they will still be nearly as gorgeous. There are a variety of room types available here including standard and spa rooms but also Jacuzzi suites including the 1,100 sq ft "Executive Jacuzzi Suite", something that Vegas too once had but has since been removed from most of the on-strip properties.
For us though, I was provided with a Bar Suite complete with a wet bar area that would have been perfect for using with the guys. This would make a great bachelor party suite as well!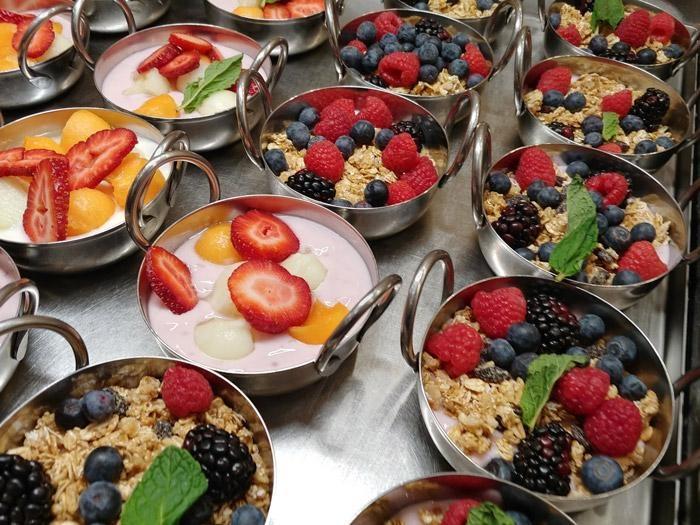 Breakfast was at Toucan Charlies - the buffet at Atlantis. I found it very good for a casino buffet and included all the standard breakfast items that you'd expect plus very nice looking fruit and a huge selection of desserts. The dessert bar included hand-scooped gellato as well as piles of cotton candy that took all of us back in time to when we were young kids.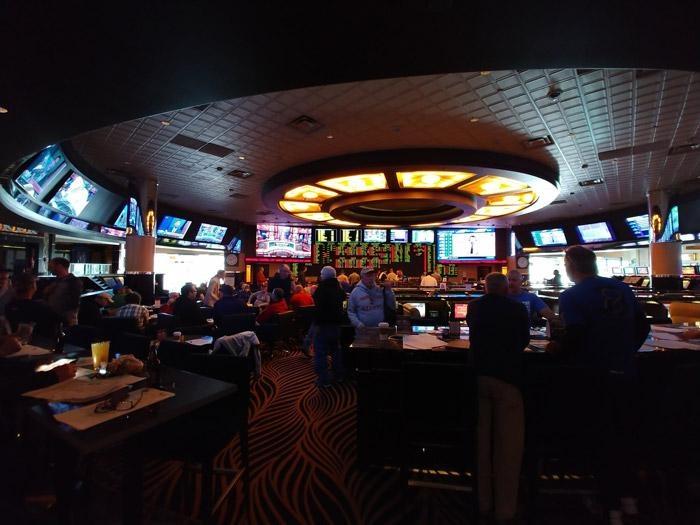 After breakfast, we visited the sports book to watch some March Madness games before being invited to the bar for some post-breakfast whiskey sampling!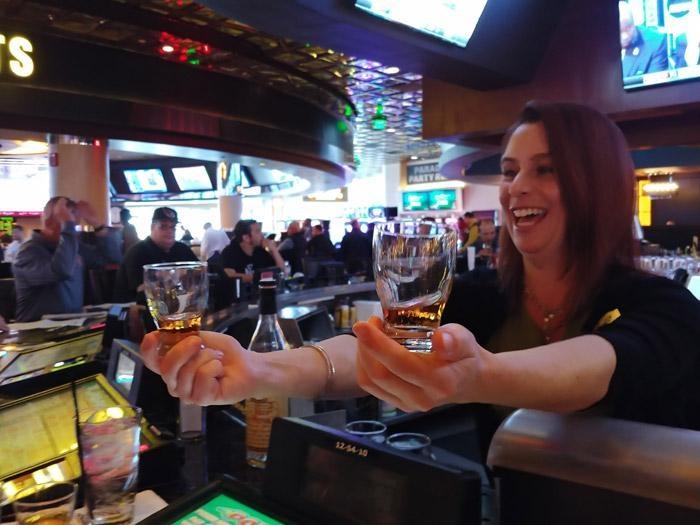 When a host invites us to try some whiskey samples, it would be rude to decline!
Atlantis is working to put together a "Whiskeys of the World" menu and they already have a great selection with common as well as lesser known selections from Scotland, Ireland, Japan, and the United States.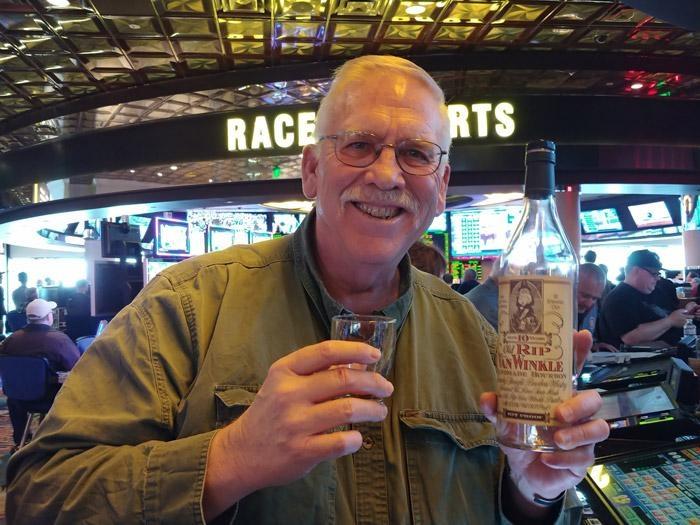 However, the crowning moment was when the sommelier asked if we'd ever tried Old Rip Van Winkle. While several of the guys with me had ... I'm never one to pass up another opportunity. The "Van Winkle" family of bourbons is widely herladed as one of the best out there and while I generally feel that it is overpriced, I can't argue that this wheated bourbon is one of the best out there.
While we were clearly given special preference because it was part of a press trip, it's these special and personal touches that makes or breaks an experience.
Atlantis isn't a mega casino resort and that's a great thing! Instead, it's a small one where you can get personal attention. It almost felt family owned and you could tell that fellow guests were all having a great time as well.