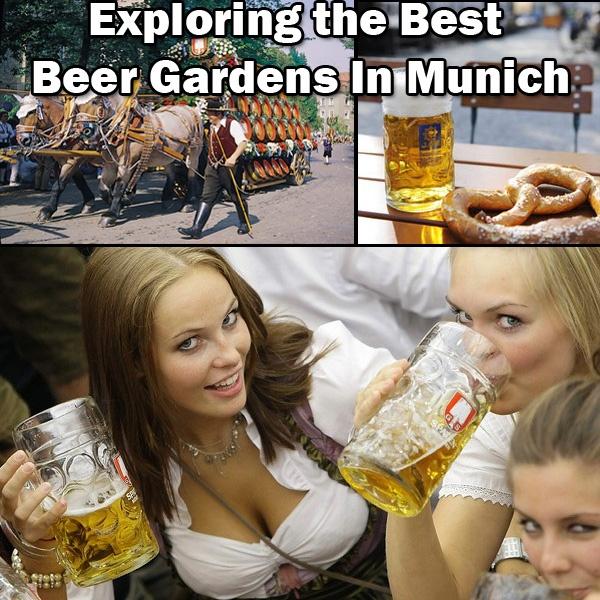 Christianity has Bethlehem. Judaism has Jerusalem. Islam has Mecca…and beer-lovers have Munich. The capital of Bavaria is not only home to some of the oldest breweries in the world, but also some of beer's most important history.
It was Duke Wilhelm IV, the owner of Munich's royal Hofbräuhaus himself, who passed the 1500s-era creed – the Bavarian Purity Law – which defined what beer actually was, and over two hundred years ago, it was Munich that first instituted the beloved and all-holy biergärten.
Today, the city has nearly 200 outdoor beer gardens within its vicinity, giving visitors and longtime residents more rich-carb options than an American food court – but with much happier side effects.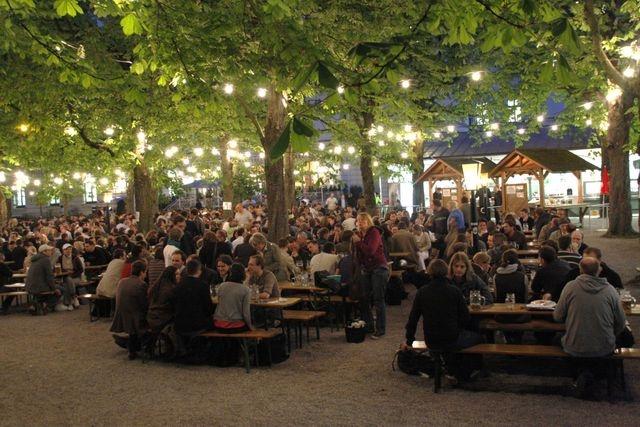 In fact, the origin of the name "Beer Garden" came from the fact that the original beer cellars had chestnut trees planted above them to provide shade in the summer. Benches then joined those rows of trees for patrons to drink the beer while enjoying food - making these venues literally "beer gardens"!
Luckily for those of you who need a little help deciding which to hit first on your german mancation, we dusted off the old lederhosen and have done some homework for you. So here are our favorite beer gardens in Munich, where you can drink a traditional dark lager, sink your teeth into a mouth-watering plate of schnitzel, and sing Ein Prosit to the green Bavarian landscape…and apparently also get arrested for showing up wearing nothing but lederhosen.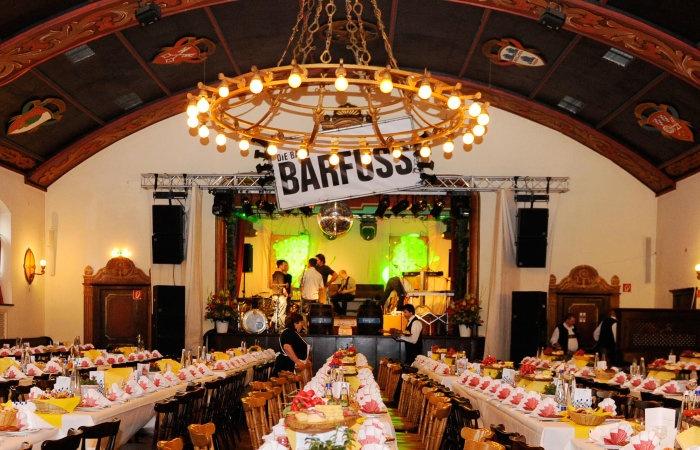 Augustinerkeller
While traditionally known as a beer hall – one of the oldest in the world at that – Augustinerkeller also boasts an adjacent 5,000-seat beer garden that has been slinging massive steins and inducing hops-heavy hangovers since 1812. While people do come here just for the scenery, culture, and live German music, most come for the beer. The Augustine brewery has had 800 years of perfecting its liquid gold product, which is regarded by locals as one of the best beers in the world – and probably why you can find it in nearly all of the bars in Munich. Oh, and the food is pretty outstanding too. Our favorite is using their Obazda cheese spread as dipping sauce for a giant pretzel. And once you sit out in the garden and taste a liter poured straight from the oak barrel, you'll be hoping that the place is around for another 800 years.
Augustinerkeller Arnulfstrasse 52 80335 Munich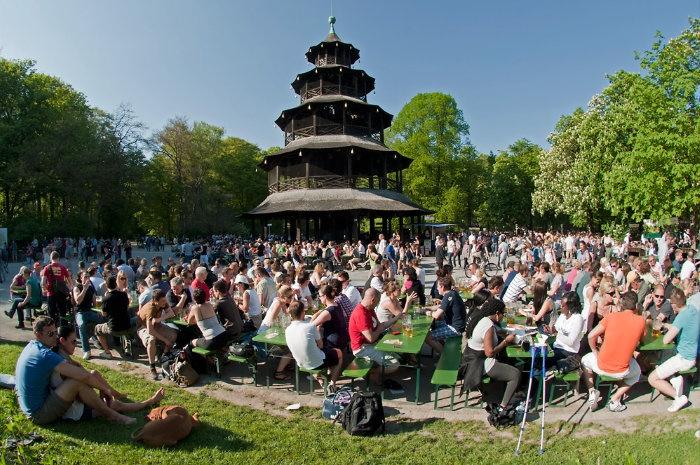 Chinese Tower
With room for over 3,000 customers, the Chinese Tower is the second-largest beer garden in the world. It's situated in the heart of the Englischer Garten – a stunning and expansive park – and named after the two-hundred-year-old pagoda that towers over it. Under the tall evergreen trees are picnic tables and benches, and a stage by the pagoda plays host to regular traditional oompah bands. The crowds here range from local businessmen to students to travelers – pretty much anyone who likes beer and tranquility. And, like most traditional beer gardens, if you don't want to buy any of their world-famous Nuremburg Sausages, you can always bring your own food!
Chinese Tower Inside Englischer Garten 80538 Munich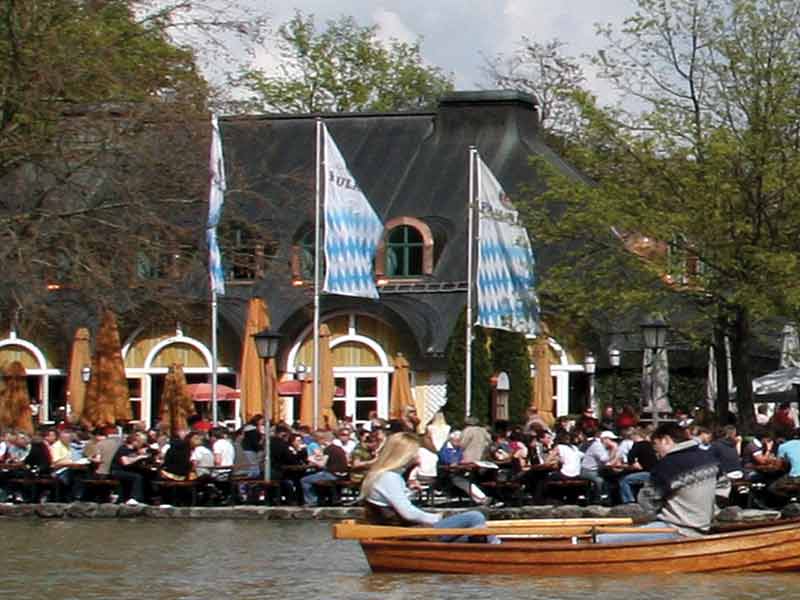 Seehaus im Englischer Garten
Also in the Englischer Garten (we told you the park was huge) and located alongside a placid lake, Seehaus im Englischer Garten gives a Bavarian makeover to the classic beach-laden Corona ad image, minus any bikini-clad models frolicking in the sand…unless your beer goggles are just that good. Enjoy a liter of brew in one of the lawn chairs alongside the water or sit inside the full service restaurant for a bite of traditional grub. The intimate setting attracts a more upscale clientele to Seehaus than your average beer garden, but no matter who you are, there's no better place to sunbathe or catch the sunset over the lake while you take down a couple of tall mugs.
Seehaus im Englischer Garten Kleinhesselohe 3 80802 Munich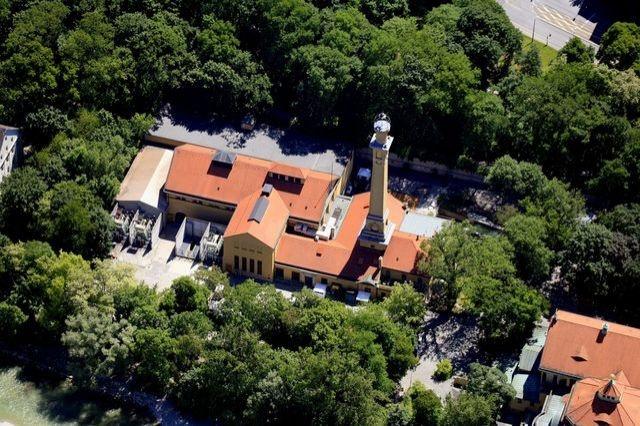 Muffatwerk
Muffatwerk is a one-stop shop for those trying to complement their beer garden experience with an exciting night out. What was once a city power plant has been transformed into a sprawling club/music venue with the added perk of a beer garden right out back. The crowds in the garden are young and ready to party, so it makes for a great place to chat up some potential dance partners before the music gets going inside. And since it's always good to have a backup plan, Muffatwerk is located within easy walking distance to several other top clubs in Munich. So put that taxi fare towards another frothy mug while you prepare for the wild evening ahead.
Muffatwerk Zellstrasse 4 81667 Munich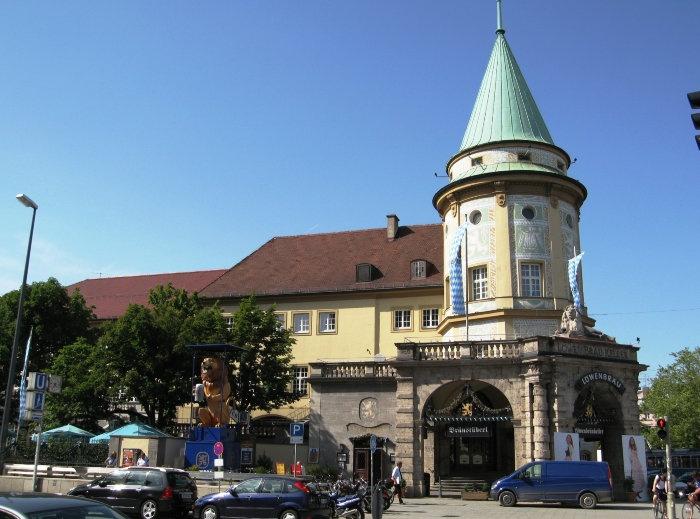 LowenbrauKeller Beer Hall
Another 800-year-old name in Munich, the Löwenbräukeller beer hall and garden is located right next to the historic brewery of the same name. It's a cinch to take the brewery tour, then go drink so much that you inadvertently decide to take the tour again. The exterior of Löwenbräukeller resembles a medieval castle with a tall gothic spire and corner tower, and with beers tapped from barrels fresh from the brewery, you might just feel like royalty once inside the cozy canopy-covered garden. Many of the patrons at Löwenbräukeller show up in the traditional Bavarian wear, including the dirndls, so it's easy to feel transported to another time, regardless of how much beer you consume.
Löwenbräukeller Nymphenburgerstrasse 2 80335 Munich