We were on-board for Carnival Panorama's naming ceremony and to welcome her to Long Beach. This is the first new ship to be homeported on the west coast in more than 20 years and so this is an exciting time for guys looking for an awesome ocean-going getaway without having to sacrifice by flying to Florida or sailing on an older ship. Carnival Panorama will be offering 6, 7 and 8-day cruises year-round from Long Beach to the Mexican Riviera.
The big distinction here between what Carnival is doing and offerings from other cruise lines - most notably Norwegian's Joy, is that this is not a reasonable opportunity. This is a ship that will be sailing year-round from Long Beach cruise terminal. That means that it will be ready for you if you're looking for a Father and Son Guys Getaway in June when other ships have all headed north to Alaska and it will still be there in the fall and spring too.
Carnival Panorama is the most recent in the Vista-class and currently the largest ship in Carnival's fleet at 133,868 GT and 1,059' 9".
What Makes Carnival Panorama a Great Ship For a Guys Weekend?
There's a lot of reasons why Carnival Panorama would be a great ship for a guys weekend and we have an interview coming up with one of our ManTripping contributors who was on the ship already and ready to share his experience. Stay tuned for that, but first - here's some of our favorite parts of the ship for a guys getaway.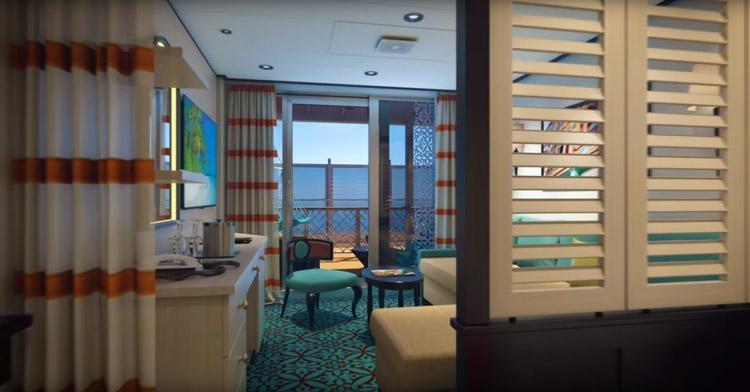 Havana Experience!
The Havana Experience is Carnival's version of ship-in-a-ship elite experience - sorta similar to what you'd find on MSC's Yacht Club or Norwegian's Haven. However, in classic Carnival fashion, it isn't intended as something stuffy and reserved only for those with loads of cash. Instead, it is focused on FUN. For instance, the Havana Bar (one of our favorite places on the ship) is open to anyone. However, there is the private pool area and bar at the end of the ship that includes an infinity-edge pool, hot tubs, and swings that is only available for Havana guests. Even better is there will be no young kids in this area as guests must be 12 years of age or older to be in a Havana Cabin or Suite. While I'd really prefer a 21+ area ... this at least means that you won't have any crying babies, toddlers running around, and you could do a great father-son guys getaway.
To gain access to these private areas, you must book at Havana Stateroom or Suite.
Unlike other lines though, Havana staterooms include a full spectrum of cabin types including interior, balconies, and suites. While the interiors are a great option if you want to avoid kids, the balconies and suites is where things get interesting. This is especially true for the Havana Cabana rooms with a huge patio area on Deck 5 so you can walk right to the pool without worrying about walking through the ship with wet feet. Think of these rooms sorta like a cabana room that you might find facing a pool deck at a Vegas hotel. It's your own private space and would make a perfect "home base" if you are planning a bachelor party since the Groom and best man could stay there and other guys can save money by selecting an interior cabin or other options.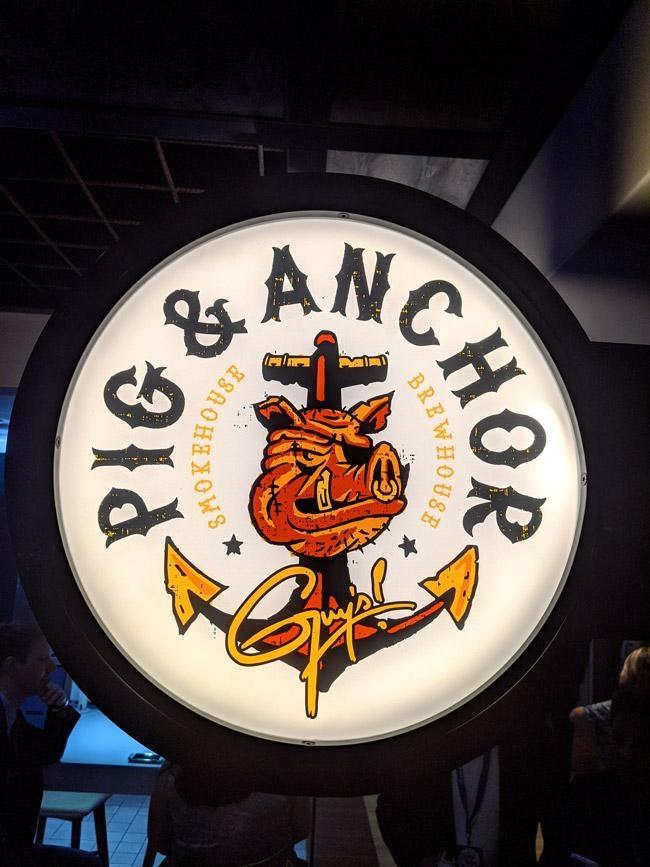 Food and Drinks!
Carnival always has awesome food choices that are geared towards comfort rather than fancy. That's not a dig at all, since I really love Guys Burger Joint and Blue Iguana Cantina, plus Fahrenheit 555 is simply the best mainstream steakhouse at sea. In addition, Carnival Panorama has Jiji Asian Kitchen, Cucina Del Capitano, Pig & Anchor Smokehouse, Seafood Shack, and Bonsai Teppanyaki. Carnival also typically has the best pizza at sea and they also whip up some awesome sandwiches too at their Carnival Deli.
They also have a brewhouse on the ship and a special Heroe's Tribute Bar where they make a donation to Operation Homefront for every pint they pour there. Of course, there's plenty of other places to get a drink there too including pour-your-own beer taps in the buffet area, so that's pretty cool too!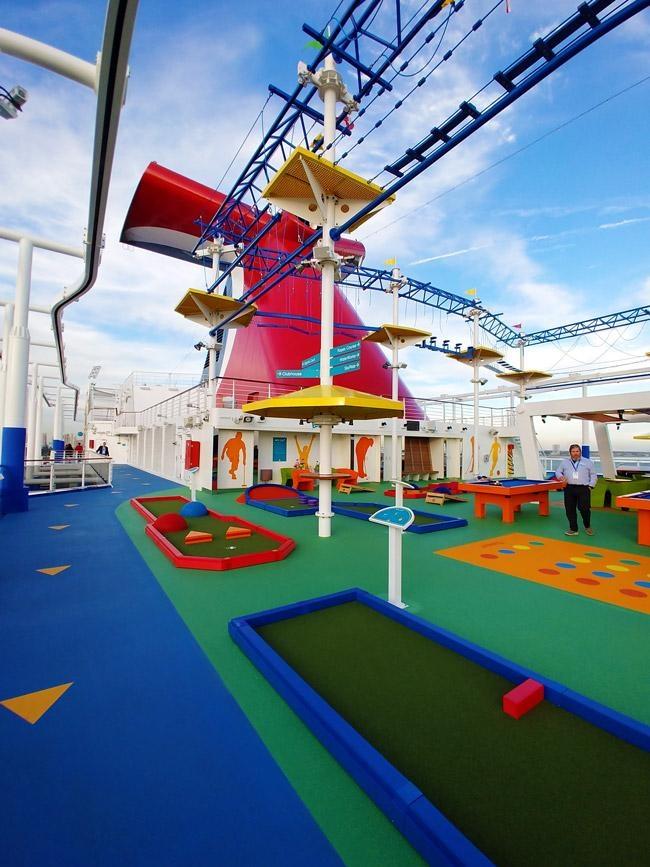 Activities and Entertainment!
Carnival is probably the best out there when it comes to making sure you never bored. For those people I speak with who are afraid that they will be, "stuck on a boat" ... don't worry. Carnival Panorama has the ropes course, Sky Zone (trampoline basketball!), Waterworks waterpark, Skyride ariel bike experience around the Sports Square area, Sports Square that features pool tables, bags, shuffleboard, and mini golf, Serentity Adult-Only Retreat, and Playlist Productions.
I'll admit - I'm generally not a fan of cruise ship shows ... even big broadway-style productions, or gimmicky ice and diving shows. However, what I saw during Carnival's Playlist Productions presentation of Rock Revolution blew me away. It wasn't that the show was particularly amazing but the way they integrated visual design and wrapped it around the audience with performers on platforms and catwalks into the seating area was pretty cool. However, what blew me away was the use of lasers and the 8 drone swarm during Lucy in the Sky With Diamonds. This was something new that I haven't seen in a theatrical production and something I certainly haven't seen on a cruise ship.
I'm hoping to explore more of this ship in the near future but wanted to share this initial preview with you based on the few hours I was able to spend exploring it during the naming ceremony.
What do you guys think? What's most exciting for you on Carnival Panorama?