Ventura California is one of those iconic Southern California "surf towns" that you probably have heard of from classic rock songs like, "Ventura Highway" or seen in countless TV shows and movies. It's essentially the bridge between the laid back country living embodied by Central Coast California and everything you think you know about Los Angeles. Personally, I've driven through here several times on my way to somewhere else but never stopped. Last week I broke that cycle and now I'm wondering why I didn't visit earlier.
Ventura Is A Great Destination For EV Owners
While working on a story to illustrate how far EVs have come, I was looking for a town that was within 200 miles of my home in San Diego and would have a decent charging infrastructure. I wanted to find somewhere fun to show that range anxiety isn't the barrier to weekend getaways that it once was. During this process of researching various destinations I connected with the folks at Ventura who, as a community, have worked hard to embrace sustainability, and shop / eat / drink local trends. Unsurprisingly they have also invested heavily into installing EV charging stations throughout the community.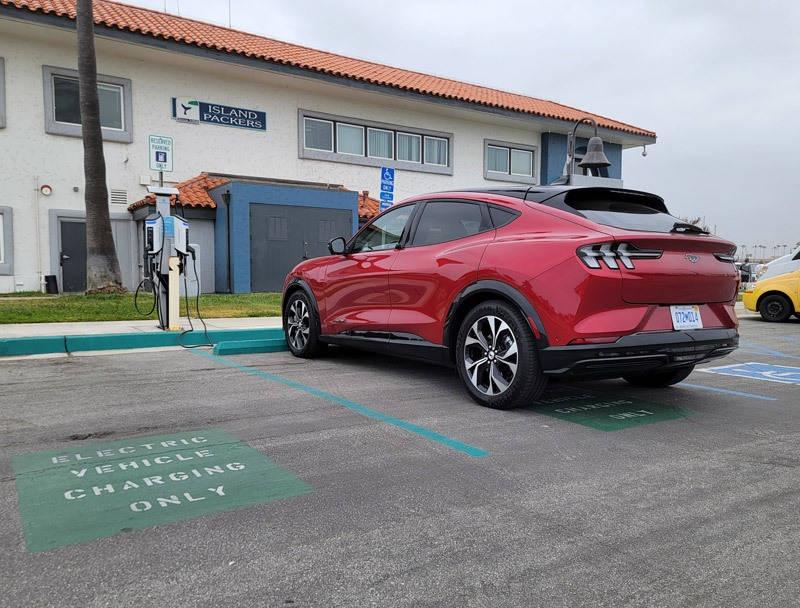 This made our EV road trip in the Mustang Mach-E very easy. For instance, there are fast charging stations at a nearby mall and car dealerships, but downtown the city invested in a pack of four Level-2 SemaConnect charging stations, there's one right on the harbor by Island Packers that is perfect for plugging in before heading out on a whale watching cruise or trip to the Channel Islands. They even have charging across the road from there at the beach. Throughout the city itself there are other places to charge and that made it very easy for us to not feel limited in our options.
We even found a vast number of Level-1 charging ports at Old Creek Ranch, along with a cluster of Tesla chargers. While Level-1 is insanely slow, I was very appreciative of the thought and recognition that a winery is a great place to hang out for a few hours while you enjoy fantastic wines in a beautiful setting and add some range to the car at the same time.
Instead of worrying about not having enough power, we were more concerned with not having enough time to do everything we wanted to do during our weekend getaway to Ventura California.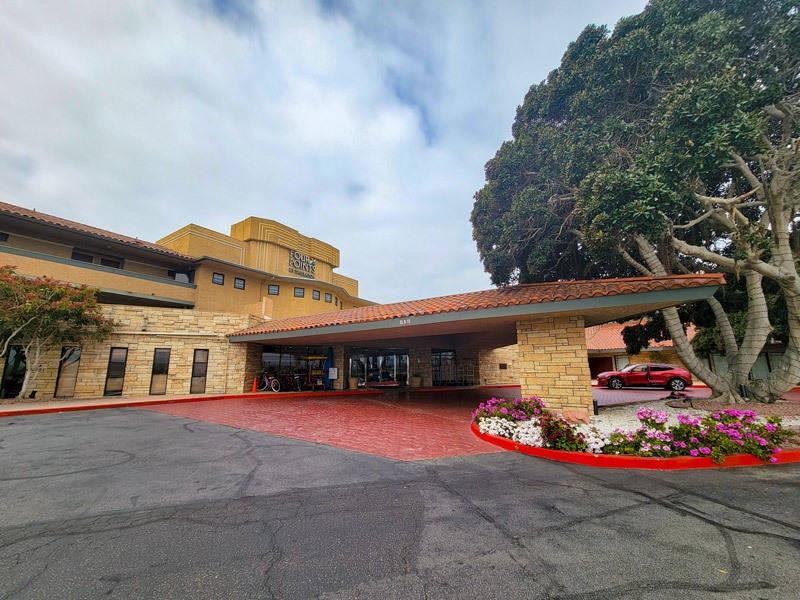 Where To Stay In Ventura
We stayed at the Four Points Sheraton Ventura Harbor and this worked well as a middle ground between activities at the beach and harbor as well as being just a few minutes away from downtown. One thing I really liked about this property is that we had a nice balcony overlooking the harbor (note - it is set back from the water, so this is not on the water) while having an outside door. This allowed us to avoid long hotel hallways and get good ventilation in the room.
There are many other options in Ventura depending on what you are looking for, these include beach front resorts, chains, and boutique hotels. Make sure to check out Visit Ventura for a full list of options that best match what you are looking for.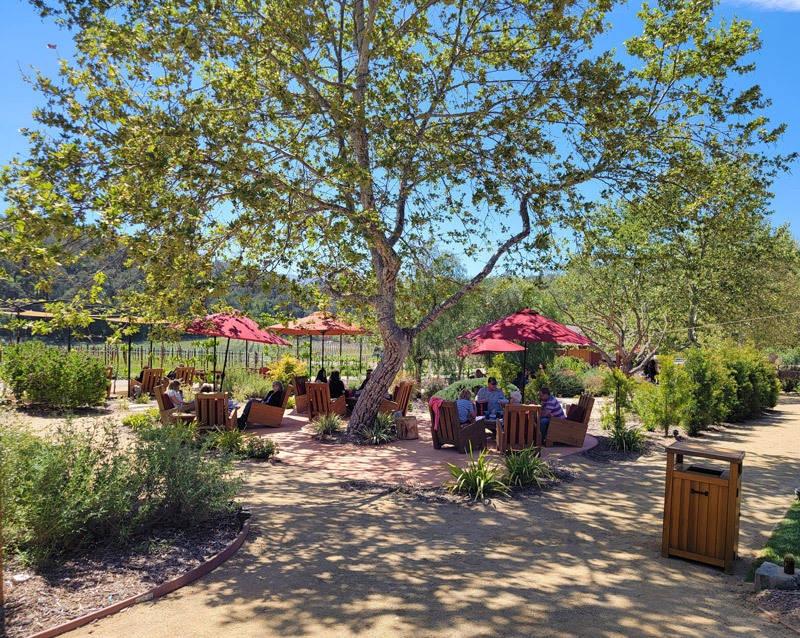 Wineries In Ventura
Ventura is honestly more of a beer town but since it is California ... well, wine is literally everywhere you can imagine. In fact, the land around Ventura would be fantastic for growing grapes but they have chosen to focus more on strawberries, celery, raspberries, lemons, tomatoes, and all sorts of other fruits and vegetables. Despite this, there are some fantastic wineries that we had a chance to visit.
Old Creek Ranch & Winery - This is the area's only winery with a large vineyard in the traditional sense. Tastings here are spread out across a variety of different patio areas and while the vineyards are still maturing, the product that they are producing already is very good. I also appreciate that while the wines were good here at Old Creek Ranch, they also provided not just one or two plugs for EV charging ... by maybe a dozen (I lost count after the first few).
Strey Cellars - This is a non-vineyard winery that focuses on small batches of regionally sourced grapes, predominantly from California's Central Valley as well as Central Coast. If you are looking for something new and innovative, this is the place to go. Along with classics like Merlot, Cabernet Sauvignon, and Syrah, they have created some extra special treats. A few examples include their 2015 Port-Style Syrah that is a 100% Syrah from Lodi that is prepared like a traditional Portuguese Port wine, 2016 Touriga Nacional, and 2019 Lethonomia. While they are located inside an industrial park, it had a great atmosphere that somewhat reminded me of what you'd expect from a craft brewery rather than a winery. Strey Cellars was fun, lighthearted, and innovative ... absolutely a place that I look forward to tasting more from.
Herzog Wine Cellars - This truly was one of the most interesting winery visits that I've had in a while. Herzog Wine Cellars is an industrial wine producer. The scale that they produce wines simple dwarfs anything being produced at most other wineries that you might visit locally here in Ventura or most other places. Despite that, they have managed to maintain a family business feel with a tradition of winemaking heritage stretching across nine generations going back 150 years. While some winemakers have to stretch their history ... Herzog has stories that will put others to shame. For instance, their story begins with Emperor Franz Joseph making Phillip Herzog a baron and had him produce wine for the royal court. Later they fled Europe to escape the Nazis and built a new life as immigrants in the United States where they eventually ended up making wines from the best grapes California could offer.
However, what makes this even more special is that they have maintained their culture tradition of producing Kosher wines. Not only that but the restaurant at Herzog Wine Cellars is also Kosher and they have a division the sources and distributes other Kosher and Israeli wines. If for no other reason but to simply try something new, this is a great place to visit.
Other wineries in Ventura that we didn't get a chance to visit: Panaro Brothers Winery, Four Brix Winery, Squashed Grapes, and Plan B. These are all urban wineries that we look forward to visiting next time.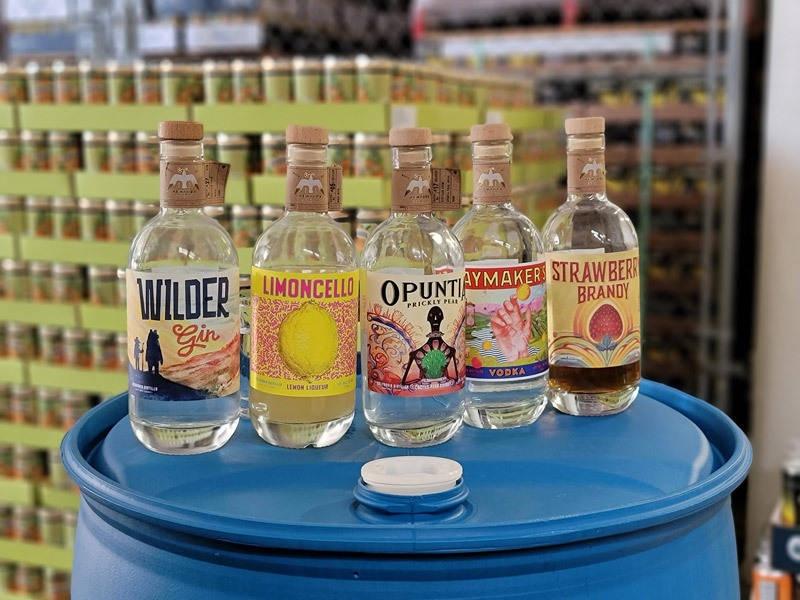 Distilleries in Ventura
If you love innovative spirits then a visit to Ventura Spirits is required. They embody the sense of "drink local" that I don't see as much as I wish I did in the industry. For instance, it seems like everyone today focuses on whiskey, gin, and vodka. While they have theses (whiskey soon), their Gin features wild-harvested botanicals that are native to California including: sagebrush, purple sage, bay, yerba santa, pixie mandarin peel and chuchupate. Even their La Paloma "Agave Spirit' features Blue Agave grown in Goleta, CA (just north / west of Ventura). Other spirits likewise are directly connected to Southern / Central California including a Limoncello, Strawberry Brandy, and Opuntia Prickly Pear Brandy.
We didn't get a chance to visit Channel Islands Distillery but we hear great things about them as well.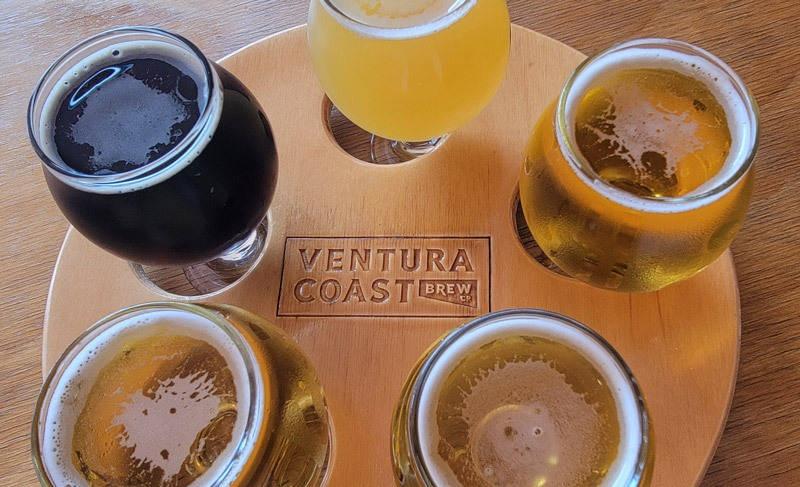 Breweries In Ventura
Above anything else, Ventura is a beer town and hosts more than a dozen breweries. We only got a chance to visit a couple but based on what we tasted on premises as well as local brews at lunch and dinner, here are some highlights to check out. Breweries in California were hit very hard by COVID restrictions but most are able to open back up again and that makes us happy!
Food In Ventura
Everywhere we ate was absolutely fantastic and we were very impressed with how good spacing continues to be with but outdoor as well as indoor dining. Ventura is clearly a town that appreciates quality. One of the challenges we face with a short weekend getaway is that it is impossible to share "the best food" in Ventura. However, these are places that we visited and would recommend that you check out as well.
Andria's Seafood - Big sourdough bread bowls of piping hot clam chowder, fish and chips, fried clams, and even some healthy options if you prefer grilled fish instead. Andria's is your iconic dock-side seafood restaurant and is located right on Ventura harbor.
Lure Fish House - With locations in Westlake Village, Santa Barbara, Thousand Oaks, and Camarillo, as well as downtown Ventura, Lure Fish House is a local favorite. It's location is absolutely perfect and offers a great opportunity to grab some dinner before (or after!) walking around to some of the local breweries and cocktail bars downtown.
Finney's Crafthouse & Kitchen - If you are looking for a great spot to eat some fabulous upscale American bar food while sampling local beers, this is the place to visit. Like Lure, Finney's Crafthouse has other locations in the area and that's not surprising since the food was incredible here. The Smoked Tri-Tip was simply phenomenal - featuring roasted tri-tip, fontina cheese, arugula, cherry peppers, garlic aioli, and served on sourdough bread ... I opted for the tots as my side and these were the best tots I've ever had. The tap list here features selections from popular southern and central California breweries including: MadeWest, Institution, Captain Fatty's, Liquid Gravity, and Modern Times.
Cafe Nouveau - In many ways, I wonder if we left the best for last. Cafe Nouveau was quirky and fun but whipped up one of the best breakfasts that I've had in a LONG TIME. If you loves bananas foster, you'll love their bananas foster waffle. So good!
While they are open for Breakfast, Lunch, and Dinner we visited for a late breakfast though I am sure they would be amazing for any meal. In fact, Wine Spectator gave them a Best Of Award of Excellence so they probably have a pretty good wine program here as well.