When someone says they are going to Myrtle Beach, I automatically think Golf. Wow, was I wrong. Myrtle Beach has so much more to offer than I ever thought. Between paddle boarding, NASCAR, craft beer, sushi, steaks, and shooting lessons, Myrtle Beach is a great place for a mancation.
It is also certainly a lot more than just a great golf destination!
Our first stop was the Mar Vista Grande, located in Myrtle Beach. With not just "views of the water" but views almost over the water, this was absolutely an awesome place to stay if your preference is luxury right on the beach.
I started my trip by attending the Monday after the Masters Celebrity Pro Am Scramble put together by Darius Rucker (Hootie and the Blowfish). Luckily we had a special VIP pass. Unfortunately, this is one of those "press only" things. Each team had a celebrity and a Pro. I spotted Alfonso Ribiero, Mike Golic, Jim McMahon (Bears!), and Hank Haney.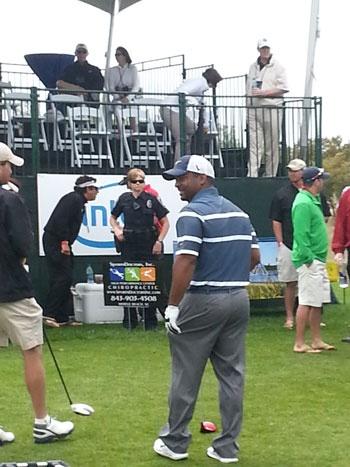 During the event we had access to the clubhouse. I highly recommend trying to find VIP passes if you are ever lucky enough to go. In the clubhouse there was a full open bar and buffet spread. Free food and booze! How can you go wrong there? Not to mention, I have an affinity for golf - needless to say, this event was a dream come true!
The event was followed by the annual concert that takes place at the House of Blues. I say concert loosely. It was basically a giant jam session. If you have ever been to a golf scramble you know that one of the prerequisites is alcohol. I can only assume that all of the musical acts were hanging on by a thread. Drinking all day and golfing is exhausting. Having to entertain a packed house, after that has to be tough but everyone kept it going. The crowd was energized the entire night. I mentioned it was more of a jam session because people from different bands were mixing together and even Joey Fatone from N'sync came out to get in on the action. MAM was only the tip of the iceberg and a great start to my Myrtle Beach trip.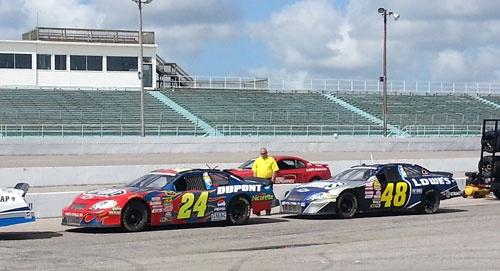 Tuesday we headed out to the Myrtle Beach Speedway to participate in the NASCAR Racing Experience. We got to choose between driving a car (if you knew how to drive manual) or ride shotgun. I choose to ride upfront. Getting in a racecar is definitely something that everyone should have a chance to do. They are coming to Joliet, IL this Summer, I encourage you to check it out.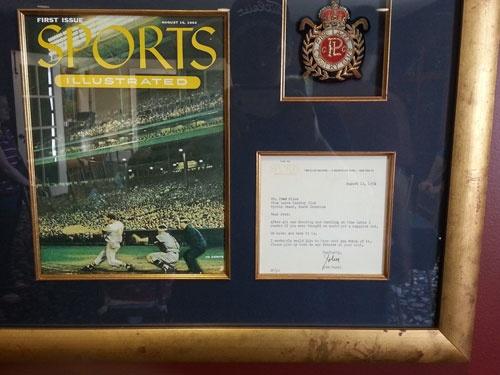 The NASCAR Racing Experience was followed by lunch at Pine Lakes Country Club, a tour of the New South Brewing, a ride on the Sky wheel, and drinks at the Bowery.
The food at Pine Lakes Country Club was great. Lunch is not just hot dogs and chips at the turn. Chowder, Ahi Tuna salads, and great sandwiches are sure to satisfy after a long day in the sun swinging the sticks. Pine Lakes is also the birth place of Sports Illustrated and we had a chance to view Issue #1!
New South Brewery really surprised me. Their beer was amazing and it started with their best seller White Ale. The White Ale really convinced me that there are better things than domestic. As we continued the tour the samples kept getting better and all the guys at the brewery were friendly and accommodating. Definitely a good stop if you are into microbreweries and have some down time during your stay.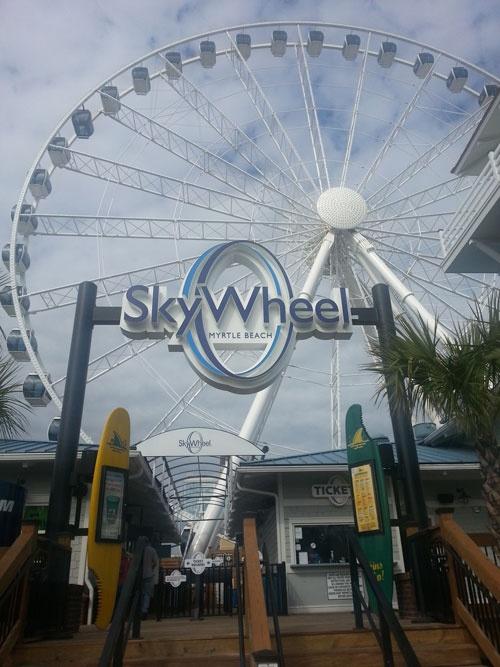 Next stop was the Sky wheel and the Bowery located on the boardwalk. This is a nice area to chill. The Myrtle Beach Sky Wheel provides stunning views of the coastline. The restaurants, gift shops, and bars line the boardwalk. This includes the Bowery. Bowery is a Myrtle Beach Staple since 1944. It is strictly a beer bar and is home to the legendary country band Alabama. There are not many of these institutions left. It is definitely a bar to hit near the boardwalk. You could smell the history when you walked in!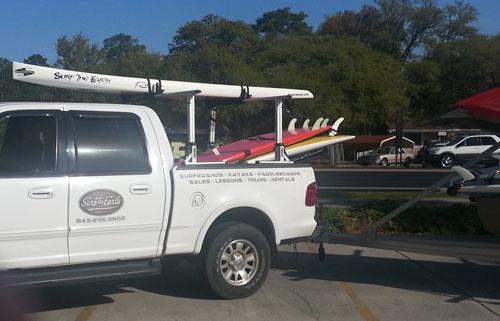 After a long night, we started Thursday early by going paddle boarding with the crew from Surf the Earth in Pawleys Island. I have to say, I wasn't very excited about paddle boarding when I received the itinerary for our trip. Boy was I wrong. Once we returned from our paddleboard adventure it was my favorite thing we did the whole trip. The whole experience was very relaxing and serene. We paddled out to a sandbar just outside the inlet, took a break and walked around before we headed back to our launch point. This could not have been more fun and the experience was added to by the staff at Surf the Earth. They knew all of our names, made you feel comfortable and could not have been more helpful teaching us how to paddle board. Check out their store front. It is a great little surf shop with things from sunglasses to board shorts. I am partial to these shops to begin with, but the customer service is over and above. I did go home with a new pair of sunglasses from Surf the Earth!
Our final activity as a group was a trip out to the Backwoods Quail Club. We were joined by Chad Weatherford. He is an outdoors expert and two time winner of the Field and Stream Total Outdoorsman Challenge. He took us out to the stations in the woods for target shooting. I thought to myself 'how cool is it that I am learning to shoot from Field and Stream's Total Outdoorsman Challenge winner, Chad Weatherford!' The property that the club is on was beautiful, and even with shotguns going off in the distance it was very relaxing.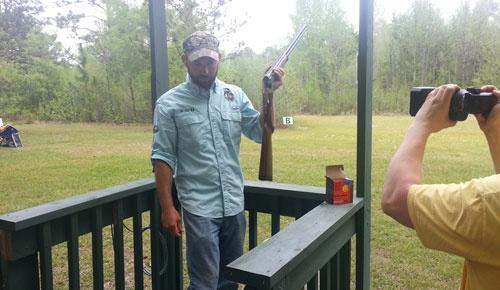 If you get a chance to get to the Backwoods Quail Club or another club in your area please go. It is something you will not regret.
Now to the part everyone wants to know about. Food and lodging are always a deciding factor on choosing a mancation destination. The lodging was fantastic all week. We stayed at the Mar Vista Grande in North Myrtle Beach near the the golf tournament. It is a resort style condo development. The rentals are high end and very homey. I am sure a lot of fun can be had in the two pools and the lazy river that sit on the property. The night we stayed at the Mar Vista Grande it was too cold to enjoy the pools. I do have to note, the staff were very nice and courteous.
The blance of the trip we stayed in at the Inlet Sports Lodge in Murrells Inlet. I will say it again. MURRELLS INLET or the low country. They do not like for people to think that thay are still in Myrtle Beach. The rooms were beautiful and had a studio apartment feel. I do not know if the staff just enjoyed our company but they were the most helpful and entertaining part of the Lodge. No matter what time we came in they had a friendly word or would entertain our crazy antics. It was very peaceful here and had less of a tourist vibe. I really enjoyed that.
I was supposed to return home on Thursday, but due to the weather in Chicago, my flight was canceled. It was not all bad. I can think of plenty of worse places to get stuck for an extra day than Myrtle. The delay was dealt with very swiftly. Hampton Inn was gracious enough to give me lodging at the last minute. They really stepped up to the plate. If their regular customer service is as good as what they showed me, any guest who stays here is in for a treat.
As we were navigating our busy schedule we always made time for great dinners. We sat down for giant, wonderful meals at 21 Main, Bliss, and Gulfstream Café.
21 Main is a steakhouse and Sushi Bar. It is kind of tough to be great at two very different styles but Chef Lou Petrozza runner up on Hell's Kitchen pulls it off amazingly. Everything we had at dinner from the beef carpaccio to the sushi was amazing. Next time I am in Myrtle Beach this will be one of my first stops.
Night two was spent at Bliss which was attached to the Inlet Sports Lodge. What a restaurant! I did not think that another restaurant could come close to the quality that we had the night before at 21 Main but Bliss is definitely on the same level. We choose to go family-style. Everyone choose their own dish and we all passed around our entrees. I recommend this if you have enough people to make it worth it.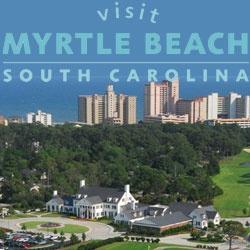 I am from Chicago and because of this I am kind of a food snob, but Myrtle Beach did not disappoint.
Overall, the time I spent in Myrtle Beach was amazing. It is not just a golf destination. It has so many other things to offer. I encourage you to visit - tell them Bob sent you!
You may also be interested in another view, from Ben at Champagne Living on our Myrtle Beach Mancation.