Sometimes it is easy to fall into the trap of thinking we need to go somewhere extravagant on the other side of the country for a guys weekend. Man Tripping's newest writer, Seth shares with us his experience visiting Milwaukee recently for a Chicago Bulls away game - and much more!
With the Chicago Bulls having their best season since the Michael/Scottie/Phil Six-Ring Circus, tickets to home games at the United Center have been hard to come by for anyone not wishing to spend well beyond face value.
So when ticket discounter offered tickets to the Bulls game vs. the Bucks in Milwaukee last Saturday (March 26) for just $20 each (half a normal $28 ticket + $6 in fees), I snagged four for me and three friends.
As a resident of the suburbs north of Chicago, I have long exercised the "Milwaukee option" for catching cheaper, additional and/or more convenient spectator events and attractions. I have attended numerous Cubs/Brewers games at Miller Park, seen Bruce Springsteen, U2, AC/DC and other favorite musical acts at various Milwaukee venues and have gone to Summerfest—a multi-stage, multi-day music fest that I find more comfortable and appealing than Taste of Chicago or Lollapalooza—almost every year over the past 25.
So with the Bulls and their great superstar—and NBA MVP candidate—Derrick Rose boasting the best record in the Eastern Conference, making the roughly 80 minute drive was an easy choice (especially with one of my friends doing the driving). On the second night of back-to-back games, the Bulls seemed lackadaisical for most of the game, but like Michael Jordan—who I also went to see in Milwaukee when tix were tough in Chicago—Rose took over the game during the last 3 minutes and led the Bulls to a 95-87 win.
And I'm not being hyperbolic when I say that the seats we had for $20 including fees were the equal of $100 face value seats at the United Center, and good luck getting those for anywhere near that price these days.
Beer, Hogs, Art, Spies and Gambling – Something for Any Man to Love
Having been to Milwaukee dozens of times, I didn't feel compelled to do too much on Saturday beyond getting to the game at the Bradley Center, except for introducing my friends to a really cool restaurant. I'll tell you about that in a moment, but thought I'd run down some other great options for guys making a game-day trip to Milwaukee—or even couples, families and lone explorers.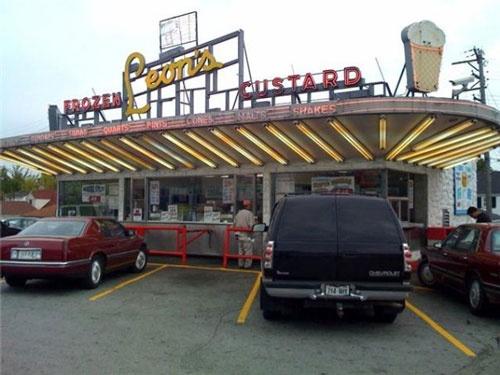 Leon's Frozen Custard
A local landmark since 1942, Leon's was supposedly the inspiration for Al's on Happy Days. Be forewarned that it is an old-style "drive-in" without any interior seating, but it is a great place to enjoy some great custard and a healthy spoonful of nostalgia.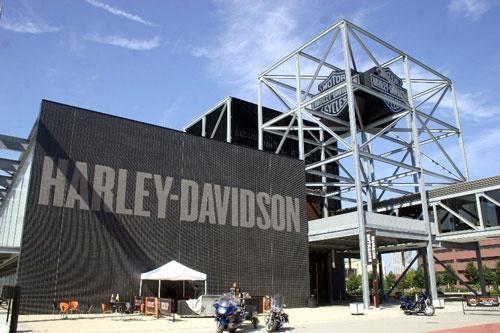 Harley-Davidson Museum
Milwaukee is the home of the Harley and has been for well over 100 years. I've never been a motorcyclist, but found this relatively recent museum to offer a fascinating glimpse into the engineering and iconography that have made "Hogs" so popular. I went last summer when the museum was featuring a special exhibit on '70s daredevil Evel Knievel, which I really enjoyed. But the core museum is well-worth at least a 2-3 hour visit, even without any special attractions.
Miller Brewery Tour
Given the name of its baseball team, Milwaukee is both famous for and proud of its numerous breweries. Miller, now merged with Coors, is the largest and likely the most famous. It's been a few years since I last went on their factory tour in "Miller Valley," but it's something no guy should miss, even if you're not such a beer lover. You'll learn about the company's 150+ year run in Milwaukee and see its packaging center, shipping and distribution warehouse, brewhouse and more. Unless things have changed, you even get free samples at the end of the tour.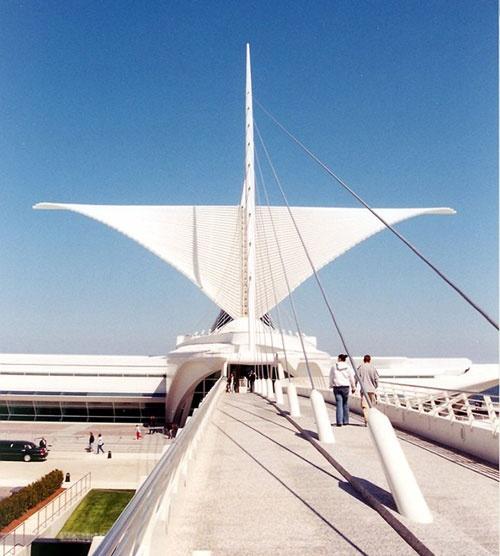 Milwaukee Art Museum
Even if you don't consider yourself an art aficionado, the MAM makes for about as broadly-appealing a cultural excursion as you're likely to find. The Quadracci Pavilion, a 2001 addition to the original museum, was designed by Santiago Calatrava and is a strikingly gorgeous piece of architecture centered around a movable, wing-like brise soleil. While the museum's collection is far shy of the Art Institute of Chicago's, it's quite solid and diverse, with German Expressionism a particular strength. Fine exhibitions are frequent, with one on architect Frank Lloyd Wright running through mid-May. And the museum's setting alongside Lake Michigan makes it an even more sublime place to simply "walk around."
The Safe House Restaurant
Created in 1966, long before "theme restaurants" were in vogue, this spy-themed establishment is one of the most unique eateries you'll ever discover. That is, if you know where to look, as there is no external signage other than a plaque for "International Exports." And yet, in taking my friends here on Saturday before the game, we found that tables were booked all night and could only get appetizers and drinks in the bar area. Still, it was quite fun for all of us—I've been here numerous times but my friends hadn't—to walk around and see the rooms full of spy kitsch. But if you want to eat—and a burger would be my recommendation—reservations are highly recommended.
Three Brothers Bar & Restaurant
It doesn't seem to have a website and is somewhat hard to find, but this old-school restaurant is worth the effort. It serves Serbian specialties, and although I have no ties to the heritage, I love the Bureks, dough-filled pies of spinach, meat and/or cheese.
Potowatomi Casino
I'm not too much of a gambler, so I haven't often frequented this casino run by the Potowatomi Indian tribe, but on a visit some years back found it more comfortable than most of the riverboat casinos I've been to around suburban Chicago and NW Indiana. They have table games including blackjack, plus slots, bingo, poker, off-track betting, five restaurants and a 500-seat theater that regularly gets big-name (if often past their prime) rock and country acts. They also have inexpensive comedy shows and free entertainment on many nights.
Of course, there are many other fine attractions—for families if you are looking to visit this fine city again with them!. The Milwaukee Zoo is very good—as well as myriad restaurants, bars and things to do in Milwaukee. But the above should serve a great starting part for a fun mantrip, whether heading up from Chicago to catch a game or making the journey from just about anywhere. Ideally with some BoDeans or Violent Femmes—two of the best bands to hail from Milwaukee—to accompany your drive.