There is a wide diversity of options when it comes to date night ideas but on New Year's Eve it gets a bit more complicated since way too many businesses look at this as an option to jack the prices up while cutting corners. This has made it quite challenging some years for Heather and I's anniversary but this year she suggested we try a magic show dinner theater that had opened up down the block from our loft in the San Diego Gaslamp. What we experienced last night was an awesomely fun evening of magic, food, and drinks.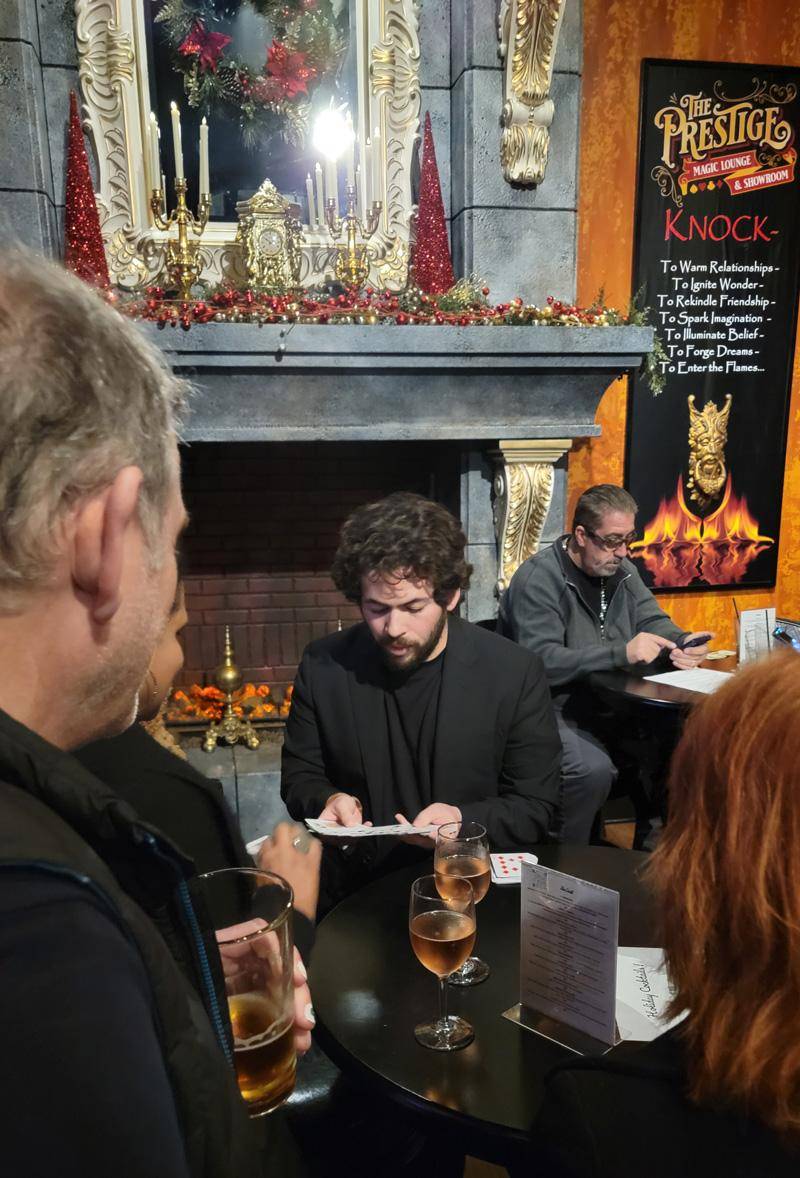 This venue opened a few years ago as Illusions Theatre and Bar in downtown San Diego on 4th Ave between E and F featuring James Kellogg, Jr. He then sold it to Mystique Dining who has since integrated it into their collection of magic show dinner theater locations around the country. Current locations include West Jordan, Utah (Mystique and The Prestige), La Jolla, California (Mystique), Folson, California (Mystique), and The Prestige that we visited last night.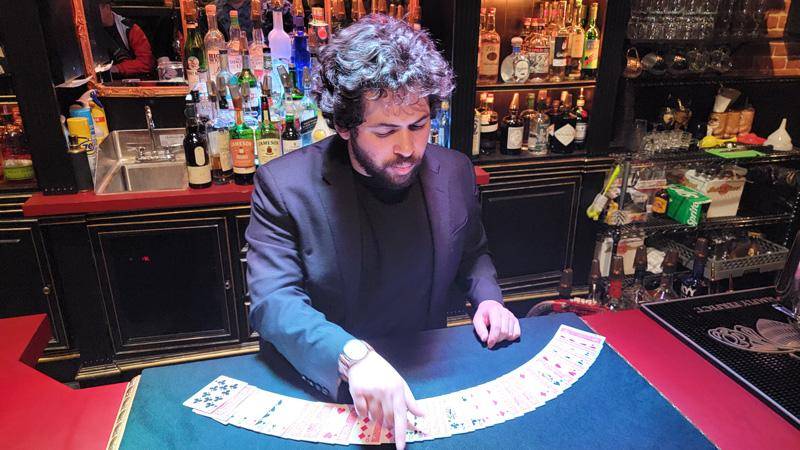 I'm told that each venue is slightly different but they all offer a magic show dinner theater experience that includes a multi-course dinner and bar that you can visit before or after the shows if you just want a drink while enjoying a roving illusionist.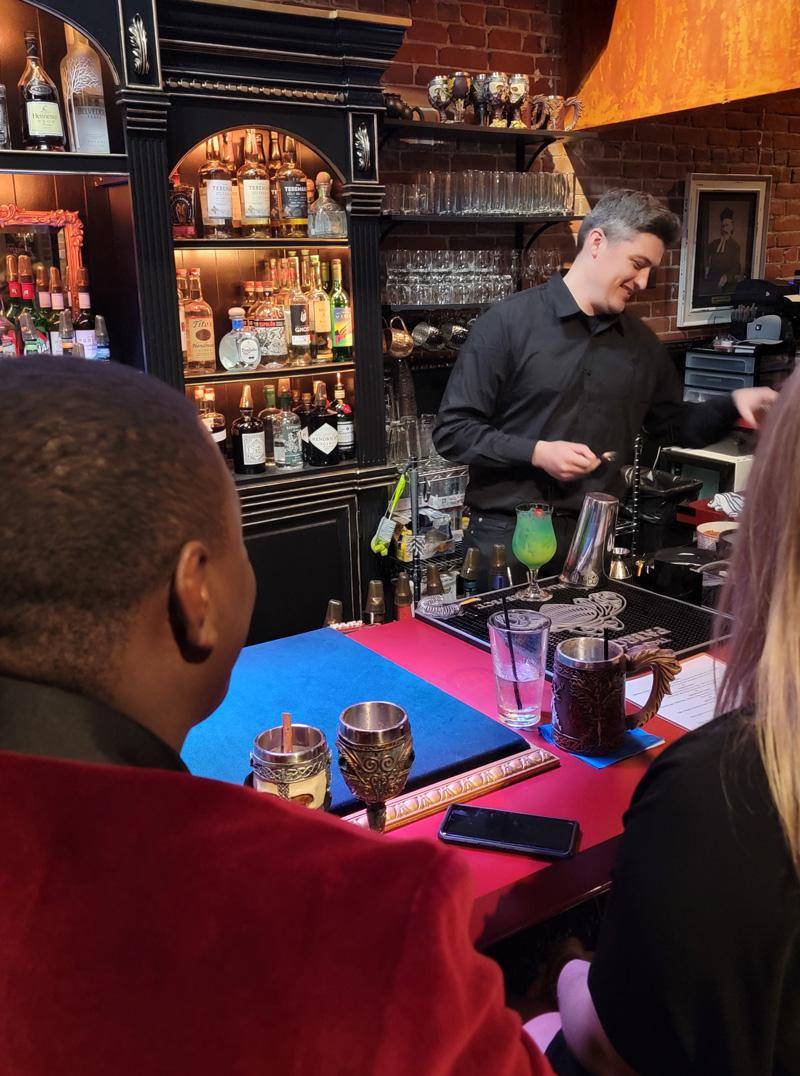 It is recommended to show at least 30 minutes before your scheduled performance so that you can check in and relax and get warmed up with some quick magic tricks. Once the showroom is ready for guests, the secret door is revealed and guests are escorted from the bar area to the back room.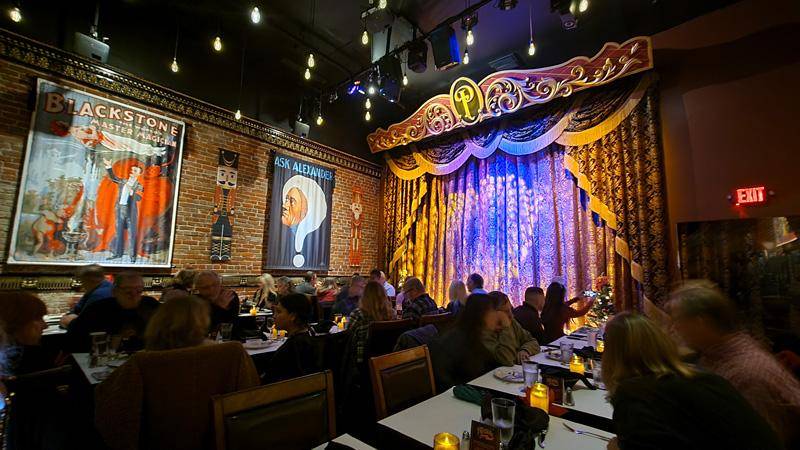 As you can see, there isn't a bad seat in the house. We were in the far corner of the theater but thought our seats were fantastic. You can pay more for seats closer to the stage but I didn't find that necessary.
One important note, though. Like any theater performance, they won't wait for you. The two ladies next to us did show up about 30 min late and the staff did a great job of accommodating them, however, their dinner service was rushed compared to our more leisurely one.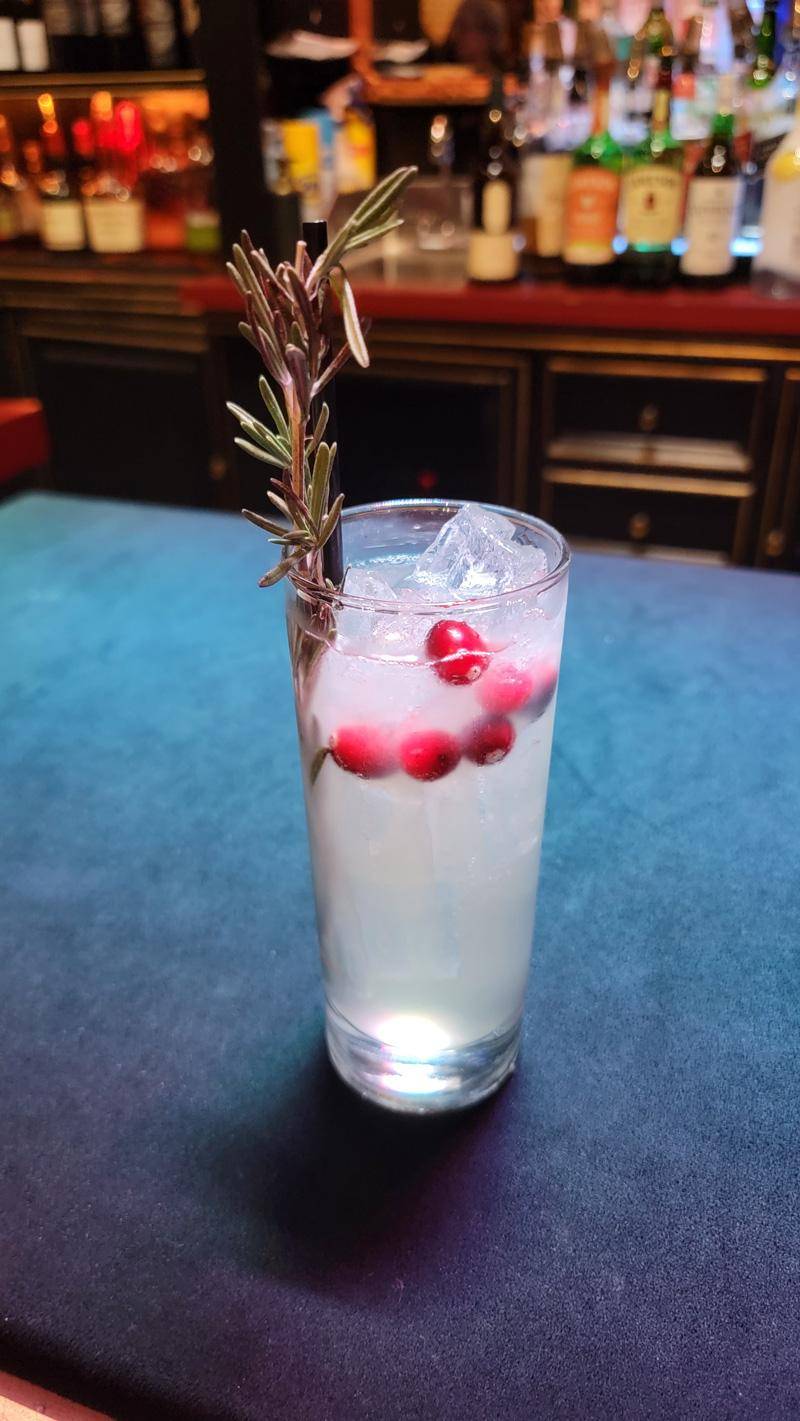 When we made our reservation online, we were asked to select our entree choice. Options for us included prime rib (which both Heather and I selected), Coq au Vin, Gourmet Mac and Cheese, or a Vegetarian option. You could also select add-ons such as a shrimp cocktail.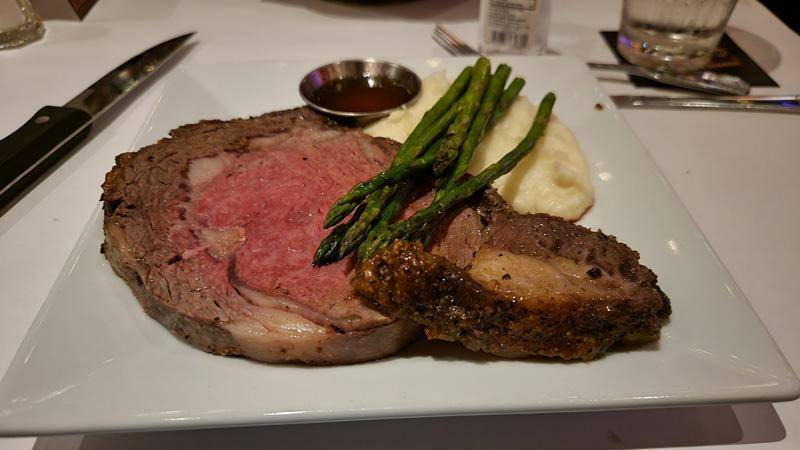 In my experience, dinner theaters are never known for offering good food. Here though, I was very surprised and impressed. Just like our creatively inspired and well-crafted cocktails earlier, our dinner was delicious and offered a large portion of beef.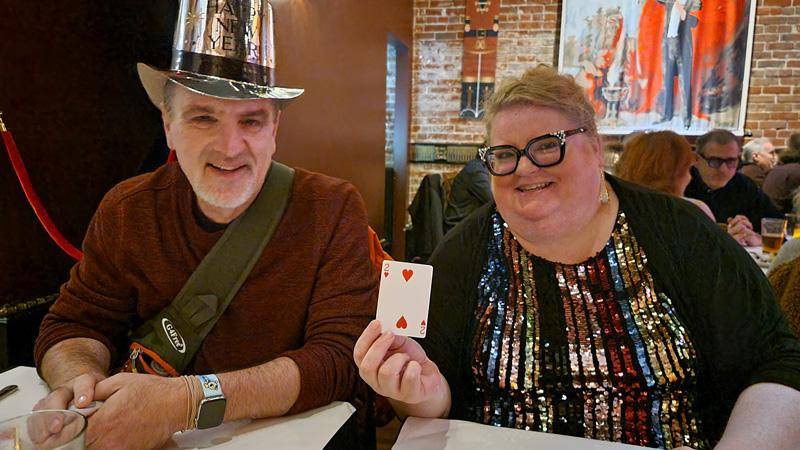 While we enjoyed dinner, the show continued. The gentleman we sat next to was a huge fan of magic and so even brought his own deck of cards to help entertain guests. Then, when it was time for dessert, they did a short version of Le Petit Chef that we'd previously experienced on Celebrity Millenium before bringing an absolutely fabulous cheesecake topped with cherries.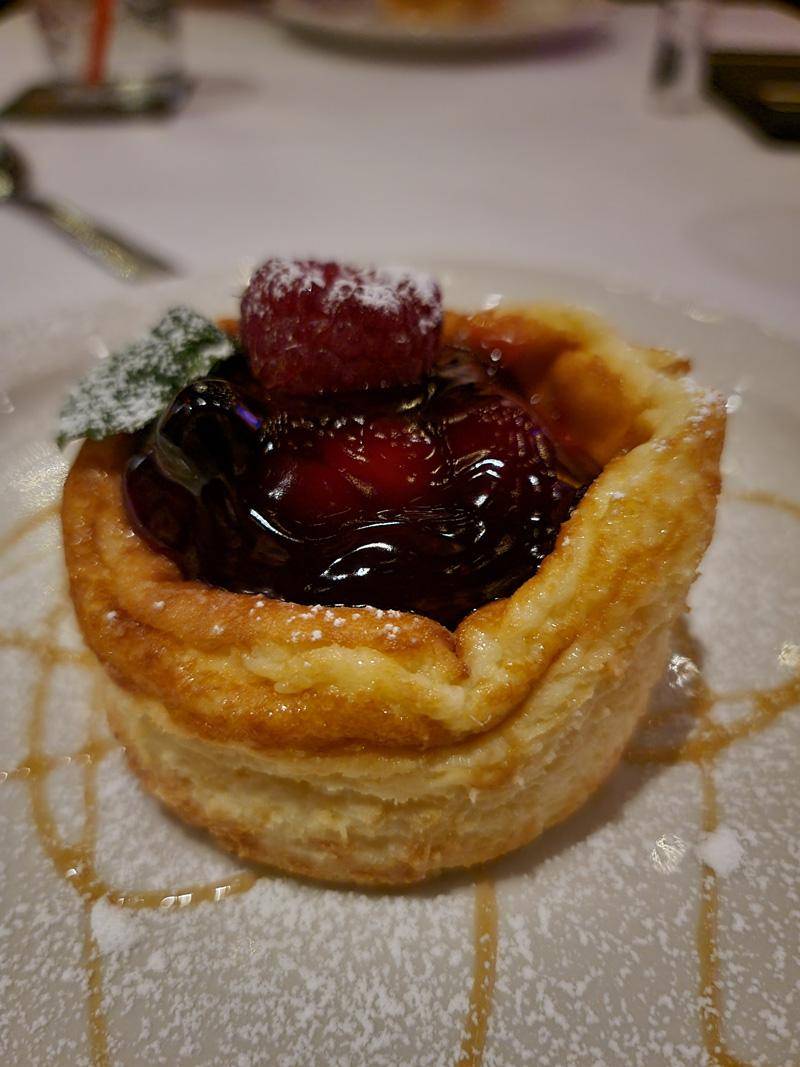 Once dinner service was over, it was time for the show to begin. On this evening, we got a special treat since James Kellog, Jr was the performer. He was the former owner of the original venue and one of the top magician / illusionist performers on the West Coast. He has performance credits at many casinos such as Pechanga Resort in Temecula, amusement parks including Disneyland and Knotts Berry Farm, as well as having appeared on MTV and Who's Line Is It Anyway?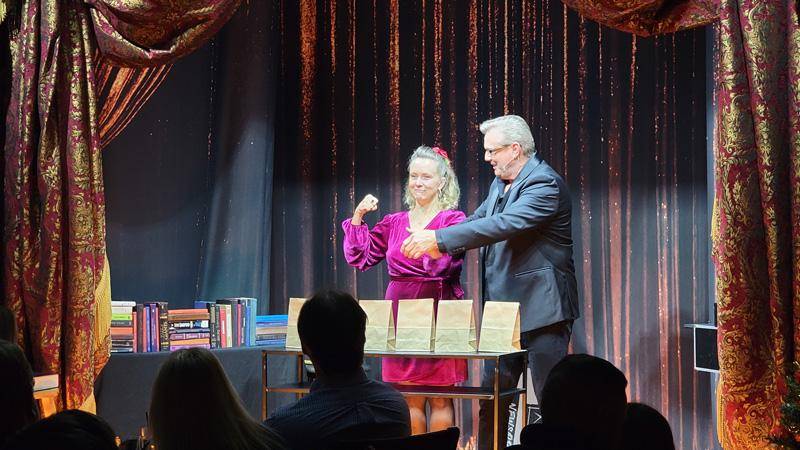 His performance last night had the perfect level of comedy, audience engagement, and "how the heck did he do that?!" moments.
While these shows are not specifically marked as "Adults Only," this isn't a venue for families to bring their children. Regardless - there was a family in the front part of the theater and they had a great time.

James's performance was very PG level. One of the acts did have a slight adult angle though. However, he did an excellent job of pointing the potentially inappropriate part away from the table with kids so that the adults could "get it" and laugh, but the parents wouldn't have an awkward moment trying to explain it to their kids.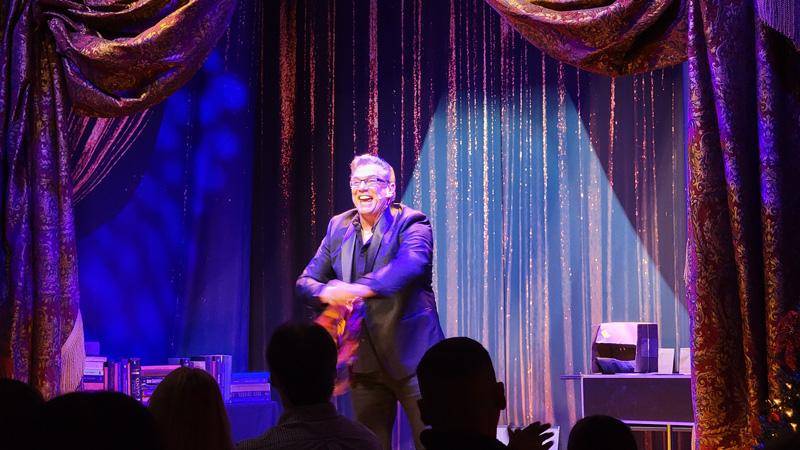 It's been a while since I've been to a true magic show and frankly, I wasn't expecting much more than a relatively affordable New Year's Eve date night outing. However, this experience left me completely impressed. It also made me wonder why this is the first time we've visited here.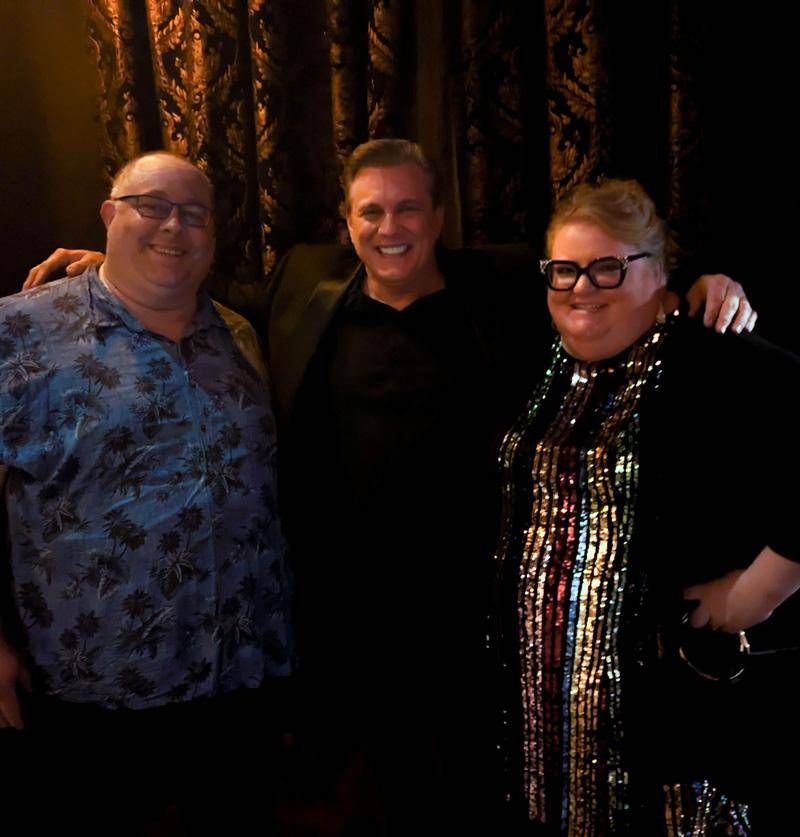 At $50 per person for the dinner and show, this is a fabulous value since just the prime rib dinner would easily run us $25 if we went to a restaurant. However, considering that our total bill was about $150 for the two of us (including some drinks and tip) for a solid three and a half hours of entertainment - that's unbelievable for a place in downtown San Diego.
It is unfortunate that they don't do better marketing and PR but maybe word of mouth is good enough to fill the theater on a nightly basis, so good for them.
Either way, I can't wait to go back and you should check it out too.