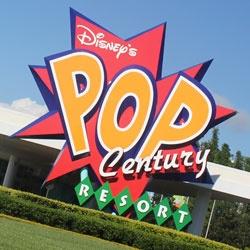 On a recent trip to visit Disney World, I was AMAZED by all the different options for lodging - from cheap hotels just outside of the gates to MEGA LUXE Disney resorts like Grand Floridian. I knew that we wanted to stay at an official Disney resort so we could get in early, stay late, and more importantly, I wanted to be able to forget about my car, traffic, and finding a parking space.
Though I was initially concerned about spending $100+ a night for what was essentially a motel I decided that it couldn't hurt to try it once. That's how I ended up at Disney's Pop Century Resort and it was a great experience!
Though it was absolutely a no-frills experience, Disney's Pop Century Resort provided everything that I needed and was IMPECIBLY clean, fun, well maintained and staffed by extremely friendly staff.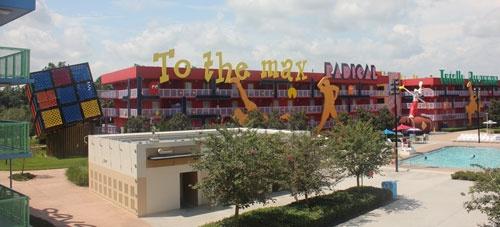 During check-in, we were assigned to the 90's. Disney's Pop Century has different clusters of buildings with themes relating to the 1950's, 60's, 70's, 80's, and 90's.
As you can see, the 90's was a time of bright colors, Rubix Cubes, Pac Man, sayings like "Radical" as well as movies like "Who Framed Roger Rabbit". Each of the decades was similarly appointed and despite the "value" designation, it maintained the fun that people come from all over the world to experience at Disney!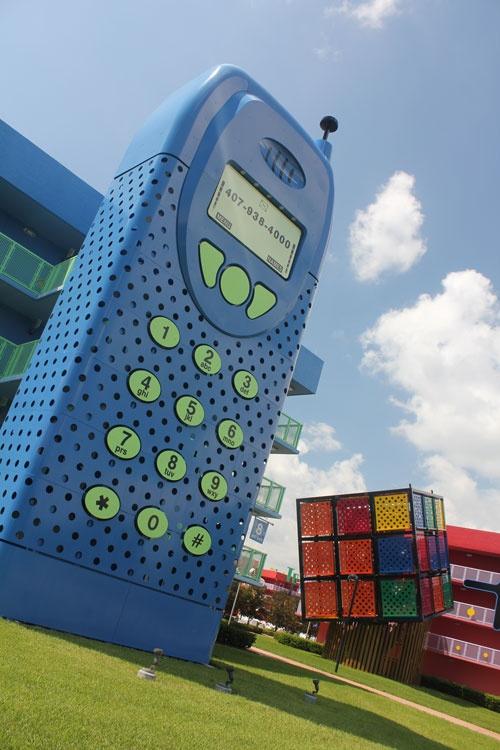 Do you remember when phones had physical buttons and looked like that?
Rooms at Disney's Pop Century: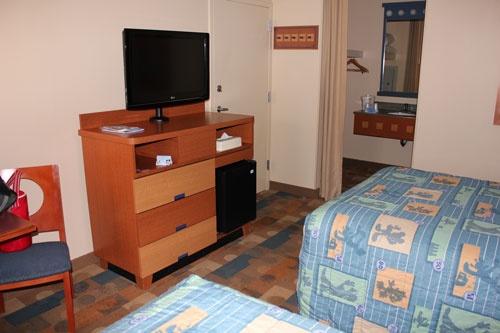 Inside our room, it was absolutely a "value" layout, but surprisingly had a fridge, an excellent TV and frankly was MUCH better than expected.
The Disney attention to detail continued here with branded linens, carpet, and other touches.
Even the TV was distinctly Disney with Disney movies, ESPN, and tons of channels for kids. (yeah, I know, this is your opportunity to get AWAY from the rug-rats :) ).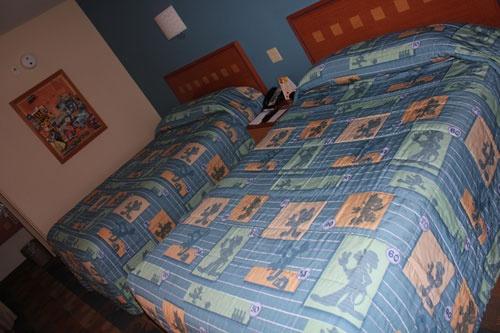 On the wall was a collage of Disney imagery from the 90's - including the Lion King and frankly you could spend half an hour examining the bedspreads and identifying the characters!
Disney didn't stop there - the bathroom was branded too!
While once again, the bath / shower was distinct "value" oriented - they had Disney branded soaps and shampoo, vs the generic stuff you would expect in a value motel.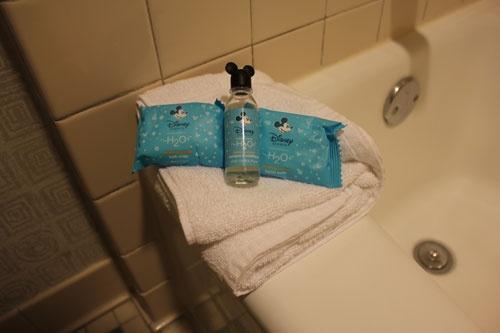 Disney Pop Century Review: Final Thoughts ...
Overall, I was absolutely impressed by the lowest rung (except the campgrounds) of Disney's Resort offerings. It also made me curious to see what the other resorts have to offer next time!
While Pop Century is certainly not a 5-star experience that will have you ooooh and ahhhhh, the staff was excellent, the quality and maintenance was fantastic. More importantly for me though, I could hop on a free bus that ran very frequently and visit any one of the parks or other Disney areas including Downtown Disney, the Boardwalk, Golf etc.
Also, because it is a Disney park, many airlines offer check-in at the hotel for your plane and you can take a Disney bus to/from the Orlando airport. Ultimately that means that while you may be spending $30-$40 more than a "value" motel off-site, you don't need to spend money on a rental car, you'll have more time to check out the parks, golf, watch sporting events at Wide World of Sports, and of course - no stress about finding a parking space in the crowds either!