For those looking for a weekend of gambling, partying, and fun in the sun, look no further than Atlantic City. A closer alternative to Vegas for those on the East Coast; Atlantic City provides fine dining, great nightlife, beach and boardwalk, and of course lots of casinos.
My first experience in Atlantic City was a visit to Showboat Casino more than a decade ago. Since then, Atlantic City has gone through a bit of a transformation but is coming back strong again. Atlantic City has tons to offer guys looking for a great guys weekend since it is super close to NYC, Philadelphia, and the Baltimore / Washington DC areas too.
This, along with the Atlantic City airport makes it a great and easy to get to destination from virtually anywhere on the east coast.
Casino Resorts:
There are many casino resorts in Atlantic City to choose from for a fantastic mancation. Some of the more popular resorts include the Borgata Casino Hotel and Spa, Hard Rock Atlantic City (formerly Trump Taj Mahal), Showboat Casino (host to the House of Blues!) and others including the recently opened opened Ocean Club. All the casinos offer slots, poker, blackjack, roulette, craps, baccarat, keno, race books and specialty table games. Minimum bets vary, but usually increase during the peak times in the evening and during the weekends. If you are looking for $5 tables, you are better off gambling in the early morning. At night, and on the weekends, $15 and $25 minimum bets are what you will encounter.
You Can Even Get a Bit Naughty
While the cliche bachelor party adventure might be to call up some Atlantic City strippers, that's not the only game in town so to speak. Atlantic City - unlike Vegas isn't trying to hide the more titillating forms of entertainment. For instance, Scores is located right inside the Hard Rock casino directly on the boardwalk. Inside, you'll find an awesome outdoor patio overlooking the boardwalk, a sports bar and even a humidor.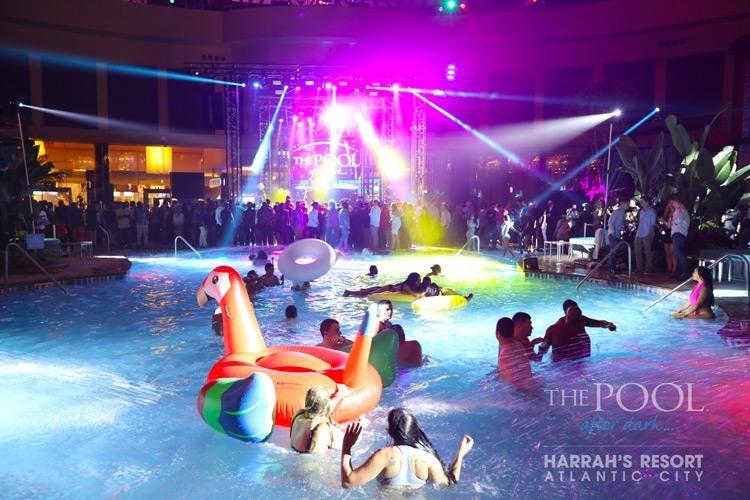 The Pool After Dark at Harrah's Resort in Atlantic City is a great bachelor party destination.
Atlantic City Nightlife!
With regards to nightlife, Atlantic City provides a plethora of options. You can choose from lounges, dance clubs, beach bars, comedy clubs, and more. HQ2 Nightclub and Beach Club at Ocean Club is one of the hottest new places in town. The Pool at Harrah's resort is a year round tropical paradise under a huge glass dome but at night it comes alive for "Late Night Swim" Sunday, Monday, and Thursday and into an incredible pool party night club hybrid on other nights. If you are looking for excitement on the beach, the Bikini Beach Bar at Bally's is just steps from the sand and includes live entertainment from DJ's seven days a week to live bands on the weekends. It's a great place to relax by the ocean while sipping on tropical drinks and other specialty drinks such as a blue martini.
If humor rather than clubbing is more your style, while famous The Comedy Stop at the Tropicana is no longer, they still offer comedy shows at the Anthem Nightclub and KISS KISS Nightclub.
Atlantic City Dining:
As far as dining, Atlantic City has everything from fine dining to famous themed restaurants to boardwalk food such as pretzels, pizza, and hot dogs. If you are in the mood for steak, Morton's Steakhouse provides prime aged Midwestern steak as well as many seafood options such as Ahi Tuna, Smoked Pacific Salmon, Oysters, and much more. For those looking for traditional Italian food, Carmines at the Tropicana provides large platters of home-style antipasti, appetizers, traditional pasta dishes, seafood, chicken, veal and beef favorites.
Mancation Activities:
For a relaxing time outside with the guys, walking the boardwalk or lounging on the beach are great options. Aside from swimming and sunbathing, you can go surfing, kayaking, windsurfing, or play a game of volleyball on the beach. The boardwalk is lined with shops, food stands, restaurants, and many attractions. Such attractions include Ripley's Believe It or Not Museum and Atlantic City Miniature Golf. The Pier Shops at Caesars provide world class shopping from such elite retailers as Gucci, Louis Vuitton, Burberry, and others.