Riding your motorcycle can easily feel like one of the most freeing activities you can engage in. There's nothing quite like hitting the road at the start of a long journey. Society may try and make you feel as if you have to conform to societal norms, but there's a certain freedom that accompanies the nomadic ways of the road.
Take it from one of the most well-circulated books in modern literature, Zen & the Art of Motorcycle Maintenance (affiliate link):
"In a car you're always in a compartment, and because you're used to it you don't realize that through that car window everything you see is just more TV. You're a passive observer and it is all moving by you boringly in a frame. On a cycle the frame is gone. You're completely in contact with it all. You're in the scene, not just watching it anymore, and the sense of presence is overwhelming."
No matter where or how you're crafting your itinerary, it's clear that there's a serene beauty to feeling the tires under you as you traverse roads around the world. But planning a long-distance bike journey requires careful preparation and thoughtful planning. Here's what you should keep in mind:
Check Your Tires
Your tires are literally and figuratively the foundation of your bike. Before you head out on a long-haul trip, have your tires inspected. If you've got Harley tires, take them for a thorough inspection at a dealer experienced and credited to handle Harley Davidson maintenance. You may need to have your tires replaced, or switched to tires that are better suited for the terrain you can expect on your upcoming trip. You should be inspecting your bike in its entirety multiple times a day; in the morning before you head out, when you fill up for gas, and at the end of the day when you've completed your riding.
Ease Yourself In
If this is your first time heading out on a long-haul trip, it's best to ease yourself in. Riding for hours on end and days at a time requires a much higher level of concentration, stability, and sense of caution. If you aren't accustomed to this kind of riding, you might find yourself in over your head. Hours of wind rushing towards you on highways can become dizzying and tiring. Traffic heavy, congested roads can start to become cumbersome after a while. Like any other endeavor, practice before you take the big trip.
Bring the Right Gear
When you ride a long journey, you've got to dress the part. Great bike jackets and shoes will not only help you stay safer, but they'll also be much more comfortable on extended journeys. Never feel too cool to wear full motorcycle safety gear. Enjoying your trip in a safe, cozy way is what's most important.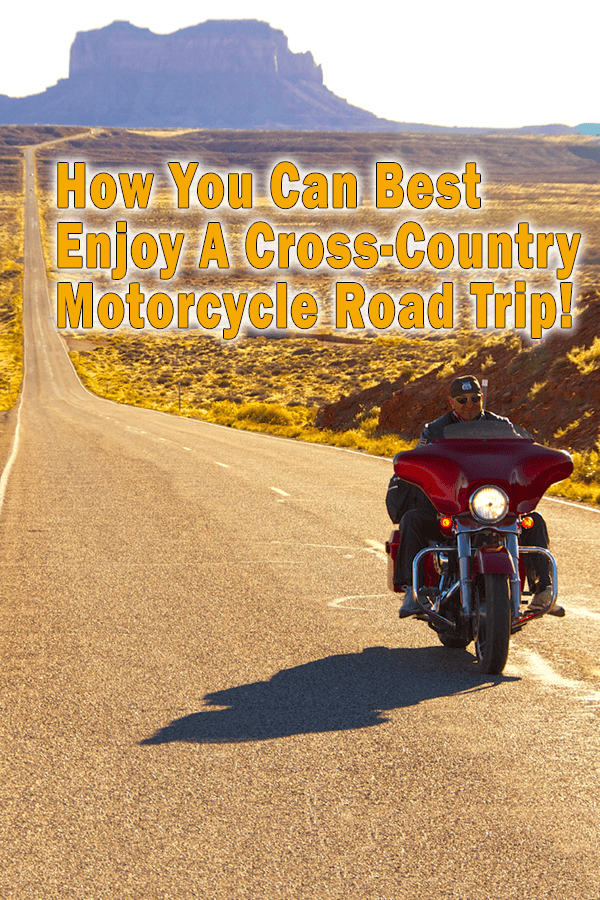 Enjoy the Open Road
Far too often, riders get wrapped up in meeting mileage milestones and forget to enjoy the places they visit. Map your journey in a way that allows you to leverage the trip to your advantage. Do your research, and look into bikers' forums to learn more about where you can meet like-minded bikers along the trip. Being on the road for lengthy amounts of time can be introspective, but it can certainly become isolating, so treat yourself to social gatherings and meetups from time to time.
Map Your Itinerary In Advance
Fumbling with the GPS while on your bike is a big no-no. Always get off your bike to readjust your GPS as needed. However, ideally, you'll plan out the route for your entire trip beforehand, stopping to check out the specific route ahead during each new leg of the trip. It's also best to bring along bigger atlases to get a much fuller picture of the roads and terrain ahead. Consider getting a Bluetooth-equipped helmet, which will allow you to listen to your music and still receive GPS directions without having to remove it. Or, you could also join an organized bike tour through Eagle Rider.
Stop And Enjoy Time With Other Harley Owners
One of the biggest perks of being a Harley owner is that once you become an owner, you're part of an international brotherhood of people who share similar values. While there are clubs across the country that do events, local dealerships like Bert's Black Widow Harley-Davidson that we visited in Punta Gorda, Florida hold events ranging from concerts, bike-wash fundraisers, and you can even stop in to get a free cup of ice-cold beer while walking around the store.
Adjust Your Stance
Your riding stance and form are critical. Your seat should be firm, but comfortable enough to prevent sinkage. Many riders fall for the plush, cushion foam seats in the showroom, and while these may seem comfortable, they won't do for a long trip. A firm, flat seat allows you to move up and down seamlessly, which you'll want to do after you've been riding around for an extended period of time. With this in mind, you might also want to consider an aftermarket seat cushion with a backrest.
Take Frequent Breaks
Unlike vehicles, there's no autopilot when it comes to riding your bike. Riding tired on your bike is never a good idea, and the second you find yourself feeling drowsy, it's time to pull over. But don't think of your breaks and cat naps as interference to your schedule. Instead, think of them as an opportunity. When you find a nice roadside spot, pull over and enjoy a snack while absorbing the view. Or whenever you pull over for gas, give yourself time to rest.