The first time I visited Loreto Mexico, I absolutely fell in love. I had the opportunity to stay at a fabulous resort and virtually the entire experience revolved around that one place. As nice as resorts can be, the amenities, service, and convenience all comes at a price. When I talked with friends that visit Loreto for their annual fishing trips though, it became clear that there's more to visiting Loreto than just luxury hotels. On my most recent trip, I had the chance to visit several properties and all of them would make a great basecamp for a Loreto getaway depending on what you are looking for. Let's take a look ...
This is not a review of hotels in Loreto, you can go to Google or Trip Advisor and look at reviews and hotel ratings to make your own decision. Additionally, I'm not going to rank these properties because while not all of them are right for everyone ... each of them could be perfect depending on what you are looking for.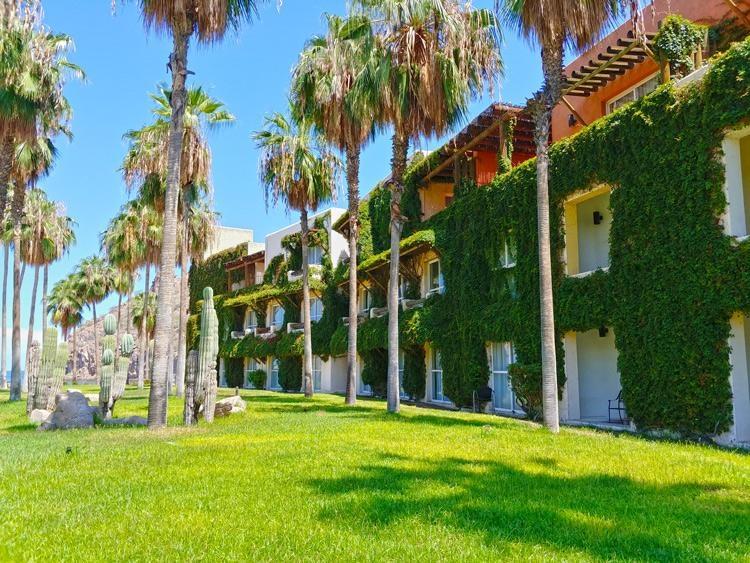 Loreto Bay Golf Resort & Spa
We stayed here for three nights and it was a wonderful experience. Food was excellent and many of the rooms look out across the grass and palm trees with views of the Sea of Cortez. The photo at the top of this article is the view from my room there. Loreto Bay Golf Resort offers a variety of rates starting at about USD $92 for Room Only, and USD $380 for an all-inclusive package. The room was clean and classic Mexico in style but with an excellent air conditioner and a very comfortable bed and large bathroom / shower area.
Loreto Bay Golf Course is wrapped around the resort nestled between the Sierra La Giganta mountains and the shores of the Sea of Cortez. While not the fanciest course in Mexico it was nice and well maintained providing nice visuals though unlike the course at TPC Danzante Bay down the road, there is virtually no elevation changes on this course. Other facilities here were also well maintained and I enjoyed spending time at the swim-up pool bar!
What I liked about Loreto Bay Golf Resort is that it was a perfect blend that sits between the larger (and more expensive) Villa del Palmar resort further south, while being close enough to Loreto itself that you can go to town for dinner and other events. However, if you don't want to - excursions can leave right from the resort itself including fishing, beach, and whale watching trips.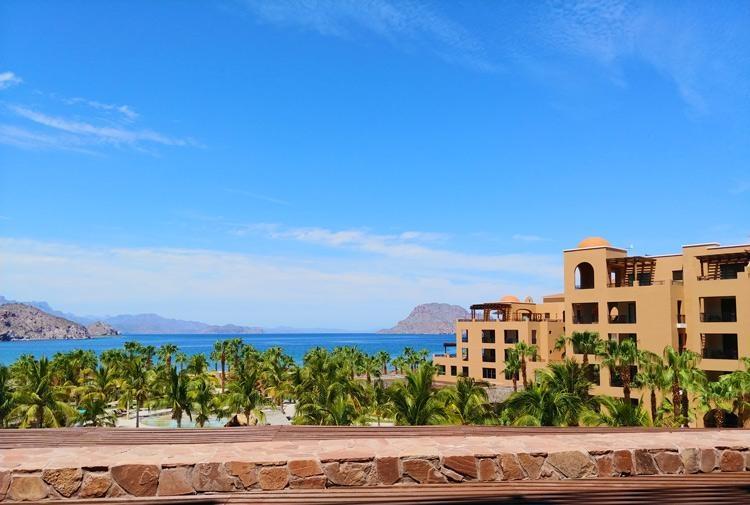 Villa del Palmar at The Islands of Loreto
I absolutely love Villa del Palmar Loreto. If money wasn't an issue, this is the place I'd pick since you can do everything that makes a visit to Loreto awesome - and come back to a true luxury experience. It is as close to the resorts that I've enjoyed in the Caribbean in terms of facilities, service, hospitality, and amenities. It is located about 30-40 minutes south of Loreto and that means that it is quiet and secluded. However, it also means that it is that much farther away from being able to enjoy meals and other activities in town. Rates here start at $243 for Room Only and $380 for All-Inclusive.
If you are a golf guy and that's why you've come to Loreto then this is probably your best place to stay since the TPC Danzante Bay Golf Course is simply stunning. It is one of the finest courses I've ever visited and offers extremely challenging play ... but also plenty of tee-box options so that even someone like me can have a good experience alongside my more experienced buddies. Additionally, the beach here is fabulous. While you aren't going to find "white sand beaches" in Loreto, the one here is as close as I've seen. Compared to Loreto Bay Resort and Hotel Oasis - this beach is much nicer and because of how it is situated the water is extremely calm as well. Perfect for kayaking or SUP.
Food here is absolutely fabulous and they have an excellent wine selection, great cocktails, as well as liquor collection. Additionally, while it is somewhat hokey they also have nightly entertainment ranging from "The Lion King" and "Cats" to a Mexican culture show.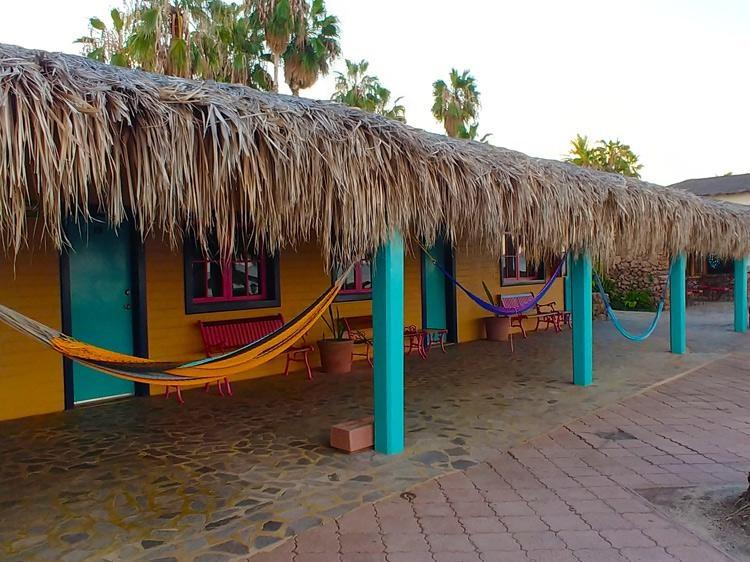 Hotel Oasis Loreto
This is the only hotel right on the beach in Loreto and it is truly a step back in time to "Old Mexico". Without a doubt, Hotel Oasis Loreto is a dated property that reminds me of the 1960s and wouldn't qualify as a modern luxury experience by any measure. However, that's ok. It is charming and a great option if you want something where you can wake up in the morning, lay in the hammock in front of your door and watch the sunrise. On Saturday nights they host an authentic Loreto-style clam bake where you can watch the clams cook under a bonfire and enjoy them while sipping ice-cold beers and margaritas while listening to the water lapping up on the sand and looking up at the stars. This isn't a fancy resort. However, it is fun and one of the few independently owned and operated resorts in Loreto. While the rooms are basic, they were very clean and well maintained. It is also an easy 10-15 minute walk to restaurants in downtown Loreto, so you don't need to rent a car or depend on a shuttle bus like you would at other resorts.
I'm very excited to come back here and stay here at some point in the near future. With flights from San Diego / Tijuana as affordable as they are on Volaris, a place like this is perfect for a quick guys weekend or even a romantic getaway. With rates starting at only $87, including continental breakfast, this place is a great option if your focus is only being able to go out fishing or offroading during the day and you just want a safe and clean place to return to each night. They have ample parking areas available for both cars as well as trailers.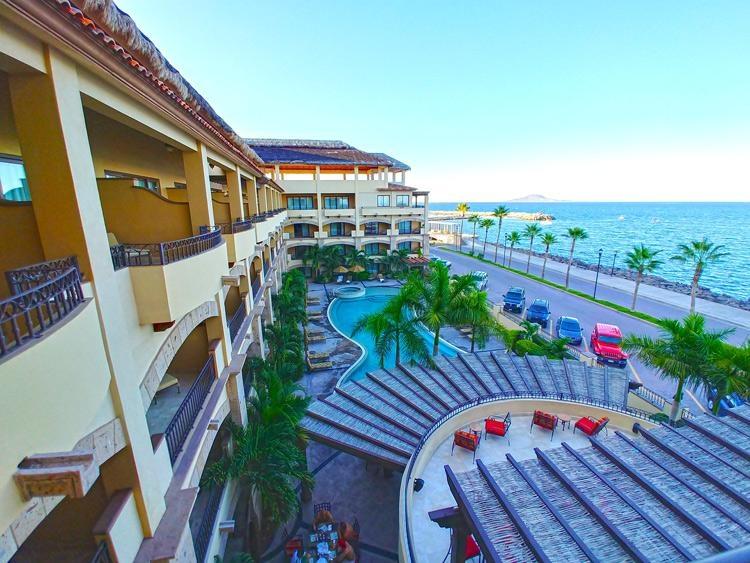 La Mision Loreto
This is perhaps the fanciest Loreto Mexico hotel property in terms of being an American-style luxury that I visited in Loreto. The rooms here at La Mision Loreto were large and decorated in a way that didn't scream "Mexico". The rooms we visited also had enormous balconies that would be perfect for watching the sunrise. For those Americans who simply want a fancy hotel in a great location and are willing to pay for it, this is a great option. However, I felt that it lacked some of the charm compared to others. However, if your goal is to come to Loreto and spend as much time doing water-based excursions including fishing, snorkeling, and whale watches and you want an experience comparable to a nice hotel in San Diego or Los Angeles, then this is the place to be. It is located right on the Malecon and a couple of minutes' walk from the marina. There's plenty of parking space in the back for cars as well as trailers.
Rates here start at $170 and includes breakfast. La Mision also is home to one of the fanciest restaurants that we dined at during our visit and comparable to Danzante Restaurant at Villa del Palmar. Los Olivos featured excellent food with good plating and fresh seafood caught by local fishermen. (To be fair, most seafood here is fresh even at the smallest local restaurant.)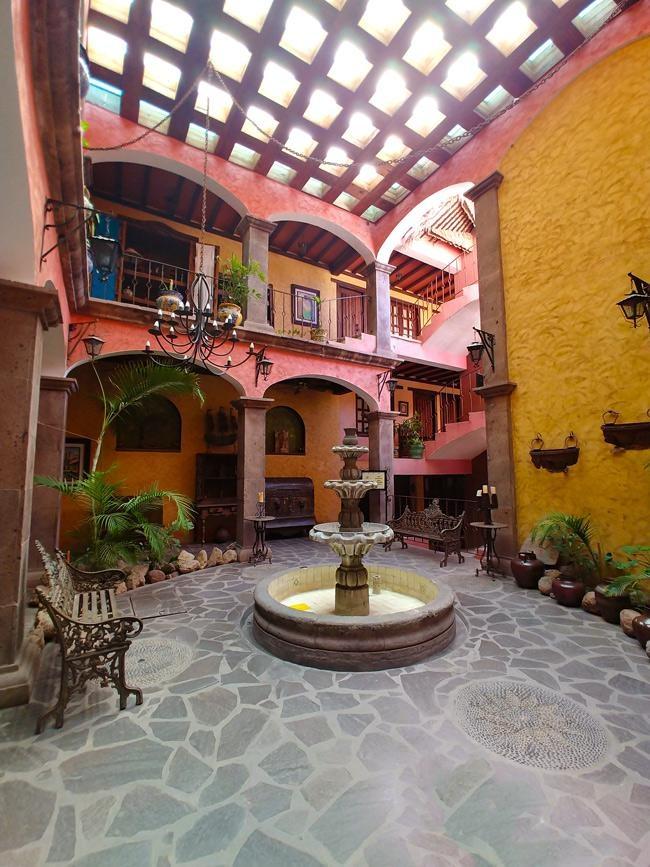 Hotel Posada De Las Flores Loreto
This hotel is in the perfect location to enjoy everything that makes Loreto special. It is a boutique hotel but Hotel Posada De Las Flores Loreto is located right on the main square and a quick walk to restaurants as well as the marina area. Plus, festivals are literally right outside your door when they are going on in the central square. While we didn't have an opportunity to visit rooms here, we did get a chance to tour some of the public spaces and is stunning. While Hotel Oasis is "Old Mexico beach resort" - Hotel Posada De Las Flores Loreto is "Old Mexico luxury". From the wrought iron table and chairs outside on the sidewalk to the interior courtyard area it is the place to go if you are planning a food and culture guys getaway. It is also perfect for a romantic getaway when fishing and offroading are less important than sipping wine and relaxing.
One of the most remarkable features here is the roof-top pool that you can see the bottom of in the photo above. Yes ... that's light streaming through the pool into the courtyard below! Rates here start at $139 for a standard room or $219 for a Junior Suite, breakfast is included.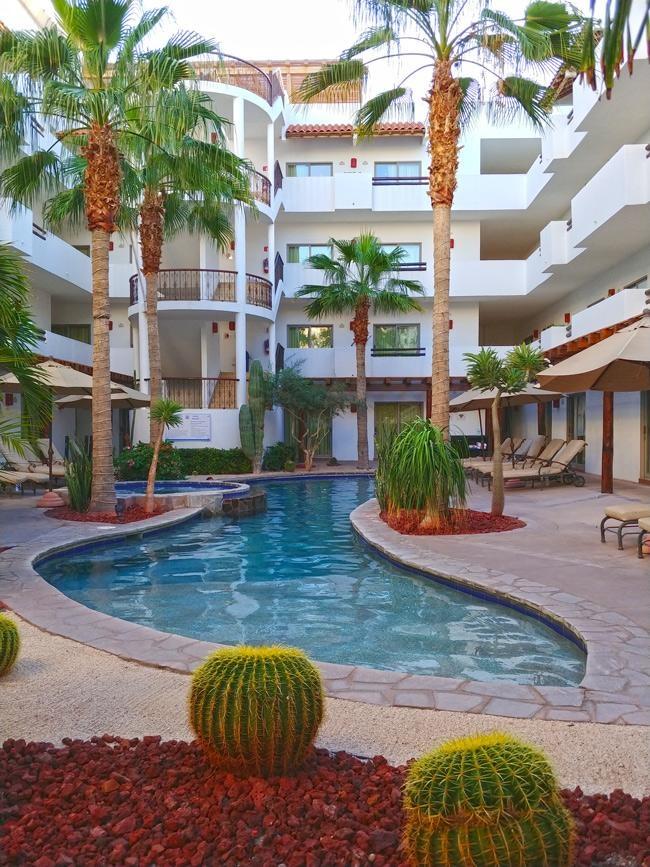 Hotel Santa Fe Loreto
Owned and operated by the same folks as Villa Del Palmar Loreto, this is at the other end of the spectrum from the resort. Compared to any of the other properties we visited, Hotel Santa Fe Loreto is truly a budget property. However, it has a great pool, was very clean, spacious rooms, and excellent hospitality. If you are coming to Loreto and your goal is to be out on the water all day and you just need a safe clean place to come home to each night then this is an excellent option. Hotel Santa Fe Loreto also features a kitchen in all or most of the rooms, so while it is far from most of the restaurants downtown - that's ok. There is a restaurant in the property itself that while a bit rough during the opening promises to be a great place to enjoy a great dinner. With rates for a studio room starting at about $66, $150 for the two-bedroom suite, and only $205 for the 3-bedroom penthouse suite this is a fantastic option for a guys weekend or bachelor party.
While resorts like Loreto Bay and Villa Del Palmar are fancier and more self-contained, saving money by getting a three-bedroom suite here at Hotel Santa Fe Loreto means you can spend one more day fishing and stock up on beer or spring for that expensive bottle of tequila to celebrate an amazing experience in Loreto.
All of these hotels that we visited I could be happy staying at. Each one was well maintained, clean and you could be comfortable at any one of them. While some draw me more than others depending on what experience I'm looking for, it's up to you to figure out what's most important. Loreto is an amazing place and your money goes far in Mexico. The most important thing is being able to enjoy your time away from whatever it is you do back home and just relax and enjoy the natural beauty and bounty available here for you to explore.