It's time to redefine the traditional guys' weekend. Instead of bar-hopping and adrenaline-pumping adventures, why not focus on rest and relaxation? Welcome to a world where men can bond over facials, massages, and mindfulness meditation – welcome to the relaxing guys' spa weekend! In this guide, we'll help you plan an unforgettable wellness getaway designed specifically for men who want to unwind and recharge from their daily grind.
From choosing the perfect location to indulging in revitalizing treatments, your ultimate escape awaits.
Key Takeaways
A guys' spa weekend is a perfect opportunity for stress relief, bonding with friends, and recharging both physically and mentally.
When planning a relaxing guys' spa weekend, consider the location and amenities that will provide rejuvenation experience for both the mind and body. Schedule treatments and activities ahead of time to maximize relaxation while mindful budgeting helps avoid overspending or stressing about money during your getaway.
Top - rated resorts such as The Spa at Sea Island, Lake Austin Spa Resort, Bukit Gantang offer luxurious men's spa treatments designed with serene locations combined with outdoor adventures topped off by breathtaking scenery – providing unforgettable wellness retreats that cater to men's needs for relaxation.
Benefits Of A Guys' Spa Weekend
A guys' spa weekend is not only a chance to pamper yourself but also an opportunity for stress relief, bonding experience and recharging both physically and mentally.
Stress Relief Leads To Healthier Mind And Body
A guys' spa weekend offers a plethora of stress-relieving benefits, making it an ideal getaway for men looking to unwind and recharge. One of the main treatments found at spas is massage therapy, which has been proven to significantly reduce levels of cortisol – the body's primary stress hormone – by up to 50%.
By providing relief from common stress-related symptoms such as muscle tension, headaches, and fatigue, spa weekends enable men to return home feeling refreshed and rejuvenated.
Moreover, participating in self-care activities like yoga or mindfulness exercises during your spa vacation can further enhance both physical and mental well-being. Many resorts also offer unique experiences like outdoor sports or nature walks that complement traditional spa treatments while fostering camaraderie among friends.
A Male Bonding Experience
A guys' spa weekend provides the perfect setting for deepening friendships and creating lasting memories with your closest buddies. This unique bonding experience not only allows you to decompress from daily stress but also encourages genuine connections with those who join you on this rejuvenating retreat.
For example, imagine indulging in a healthy outdoor activity such as hiking or kayaking together before unwinding at Sanctuary Spa in Houston for luxurious facials or soothing hydrotherapy treatments.
Sharing these moments together fosters a deeper sense of camaraderie – one that will undoubtedly strengthen your relationships long after the weekend is over.
Recharging Both Physically And Mentally
Taking the time to recharge both physically and mentally during a guys' spa weekend can do wonders for your overall wellbeing. Not only does it allow you to destress from the daily grind, but it also provides an opportunity for personal growth and self-discovery.
Engaging in wellness activities like yoga, mindful meditation, or even participating in invigorating hikes will help rejuvenate your physical energy.
By prioritizing mental health during this getaway, men have the chance to benefit from improved focus, creativity, and emotional resilience. For example, attending workshops on stress management or exploring various relaxation techniques can be enlightening experiences that provide newfound coping skills for everyday life.
Planning A Relaxing Guys' Spa Weekend
When planning a relaxing guys' spa weekend, consider the location and amenities that will provide a rejuvenating experience for both the mind and body.
Choosing The Perfect Location And Amenities
The location you choose for your spa weekend getaway plays a crucial role in the overall experience. Look for resorts that offer the perfect balance of relaxation and activities such as swimming pools, yoga classes, hiking trails, tennis courts, and dining options.
A destination that combines luxury lodging with outdoor adventures will give you an unforgettable escape from everyday life. To get the most out of your wellness retreat, research different spas' treatment options and pricing beforehand so you can book sessions tailored to your needs and budget.
For instance, The Spa at Sea Island is located on Georgia's coast. It boasts relaxing amenities like private beach access along with golfing opportunities while Lake Austin Spa Resort offers water sports including kayaking at Texas Hill Country lakeside setting. One of our favorite spots is the Sunstone Spa at Agua Caliente and we can't wait to go and visit their latest addition the Spa at Sec-he in downtown Palm Springs.
Scheduling Treatments And Activities
Planning the perfect guys' spa weekend goes beyond choosing a location and booking a room. Scheduling treatments and activities is crucial in ensuring that you make the most out of your trip.
Take some time to browse through the resort's spa menu and choose which services best suit your needs - whether it be a massage therapy session, hydrotherapy treatment or custom aromatherapy journey.
Don't forget to book these sessions ahead of time as they may fill up quickly, especially during peak seasons. Along with scheduling treatments, plan other activities that will help you unwind and recharge such as yoga classes or hiking trails nearby the resort.
Mindful Budget And Logistics Planning
One of the most important aspects of planning a relaxing guys' spa weekend is mindful budget and logistics planning. Before making reservations at a luxury resort with spa amenities, it's essential to create a trip budget that considers all expenses, such as lodging options, transportation, treatments, meals, and activities.
Logistics planning is also crucial in ensuring that everything runs smoothly during your weekend getaway. This includes scheduling treatments and activities ahead of time and choosing the perfect location that offers all the amenities you need for relaxation.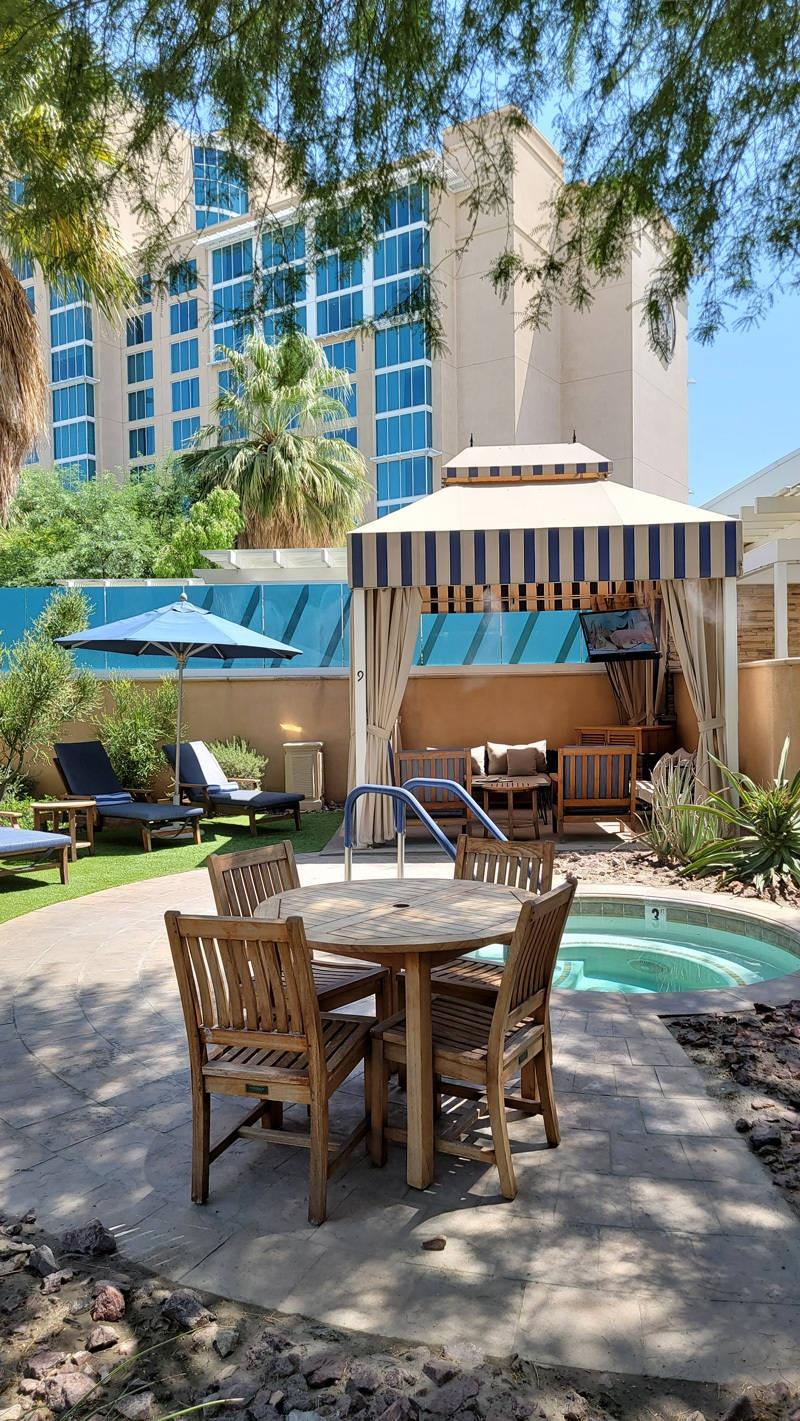 Resorts With Spas Men Will Love
Discover top-notch spas that men will love with this list of spa resorts that offer something special for men. We want to grow this list so let us know if you have a favorite that you'd like to recommend!
The Spa At Sea Island
Sea Island Resort is a destination that offers exquisite accommodations, dining options, and access to championship golf courses. But beyond these amenities lies the perfect haven for men seeking relaxation - The Spa at Sea Island.
The Spa at Sea Island offers an array of treatments tailored to the needs of each guest. From hot stone massages to deep tissue therapies, guests can indulge in various forms of physical rejuvenation.
Additionally, The Lodge at Sea Island provides secluded luxurious accommodations complete with Forbes Five-Star ratings fit for those looking for privacy or intimate hideaways.
With several cottages and 43 rooms available, there's plenty of space on offer.
Lake Austin Spa Resort
Located just 45 minutes away from downtown Austin, Texas, Lake Austin Spa Resort is the perfect destination for a relaxing guys' spa weekend. This wellness retreat offers separate men's and women's wet areas in their spa, featuring hot tubs and saunas with views into a private rock garden.
With a variety of rooms to choose from, guests can enjoy all that this secluded lakefront resort has to offer. Indulge in one of their many men's spa treatments or simply relax by the water and take in the breathtaking scenery.
The Bukit Gantang
The Bukit Gantang is a hidden gem in Malaysia. This hot spring destination offers luxurious spa treatments, meditation and yoga retreats, detox and rejuvenation centers, and health and wellness vacations.
The resort's relaxation getaways are perfect for guys looking to unwind from their busy schedule.
One of the standout experiences at The Bukit Gantang is their hot mineral water therapy that relieves muscle tension, promotes healing, and enhances overall well-being. Whether you're on a solo trip or bonding with friends, the resort has just what you need to disconnect from technology and reconnect with yourself through nature walks along lush greenery or sitting back in one of their comfortable hammocks by the riverbank.
Sundara Inn & Spa
Sundara Inn & Spa is an adults-only destination spa situated in the heart of Wisconsin's picturesque woods. Offering a laid-back atmosphere, Sundara Inn & Spa is known for its wellness retreats and holistic approach to relaxation getaways.
The resort spans over 80 acres, providing guests with a remote and scenic location perfect for disconnecting from technology and recharging both physically and mentally. Featured in our guide to planning a relaxing guys' spa weekend, Sundara Spa caters to both men and women by offering unique spa treatments specifically tailored for men.
Kohler Waters Spa
Kohler Waters Spa is a must-visit destination for any man looking to unwind and recharge. As one of our list of top resorts with spas that men will love, Kohler Waters offers an array of male-focused services such as massages, scrubs, and baths.
What sets this spa apart from others is its emphasis on natural spa experiences through mineral-rich water therapies.
Forbes Travel Guide has awarded Kohler Waters Spa a five-star rating due to its exceptional service, luxurious amenities, and serene atmosphere. One standout treatment at the spa is the hydrotherapy waterfall massage which targets specific areas of tension in your body using powerful water jets.
Another popular option is the Uniquely Yours Contour Wrap which uses warm towels soaked in essential oils to contour and tone your body while promoting relaxation.
Boulders Resort & Spa Scottsdale
Located in the heart of the Arizona desert, Boulders Resort & Spa Scottsdale offers a tranquil oasis for men seeking a relaxing spa weekend. The resort boasts luxurious accommodations, top-notch restaurants, and an array of amenities to rejuvenate your body and mind.
The full-service spa features a 2,000 square-foot fitness center, yoga studio, and a Spa Café with stunning views of ancient boulder piles that date back millions of years.
Additionally, guests can head to the multiple outdoor pools or hit the championship golf course for some friendly competition.
Canyon Ranch Lenox
One of the top ten resorts with spas that men will love to visit is Canyon Ranch Lenox in Massachusetts. It's considered the original Berkshires spa resort and offers a comprehensive range of medical-wellness programs and fitness-oriented services, making it an ideal place to unwind and recharge.
Canyon Ranch's impressive list of offerings includes dozens of rejuvenating skin care treatments like therapeutic bodywork and mud/salt therapy.
Sunstone Spa At Aqua Caliente
This is one of our absolutely favorite resorts for a guys spa weekend since it is located close to LA, OC, and San Diego but also just far enough out that it feels like a true retreat from the hustle and bustle of the city. With a full spa that offers some of the best attendants that I've experienced and who were able to work easily with nervous first timers as well as guys who are spa veterans, this is a place we heartily recomend you check out next time you are in the great Palm Springs area.
Tips For Maximizing Your Spa Weekend
Disconnect from technology, hydrate and nourish your body, embrace all spa offerings, connect with friends, and form new relationships. These tips will ensure that you make the most of your guys' spa weekend.
Disconnect From Technology
It's no secret that technology can be a major source of stress, and it's essential to unplug and disconnect to fully recharge during your spa weekend. Make a conscious effort to turn off your cell phone, avoid checking emails, and resist the urge to constantly scroll through social media.
Try scheduling specific times throughout the day when you allow yourself access to technology rather than having it constantly in hand. You can also opt for activities that don't require screens or gadgets such as meditation or simply enjoying nature walks outside.
To maximize relaxation during your spa weekend, it's important to let go of any distractions associated with technology. In fact, studies reveal that individuals who disconnect from technology during their vacation experience lower levels of stress both mentally and physically.
Hydrate And Nourish Your Body
Staying hydrated and nourishing your body during a spa weekend is essential for maximizing the benefits of your treatments. Drinking plenty of water helps flush out toxins and replenish fluids lost during massages, steam rooms, or saunas.
It's also important to fuel your body with healthy food options that complement your relaxation goals.
For example, at the Bukit Gantang Spa in Bali, they offer Ayurvedic-inspired wellness cuisine made from locally-sourced ingredients to nourish guests' bodies while promoting balance and harmony within.
Likewise, Sundara Inn & Spa in Wisconsin offers a variety of plant-based menu items designed to enhance each guest's overall wellbeing.
Embrace All Spa Offerings
To make the most of your relaxing spa weekend, it's essential to embrace all the spa offerings available. From therapeutic massages and facials to hydrotherapy and full-body treatments, there are a host of services that cater to your wellness needs and preferences.
Moreover, try stepping out of your comfort zone by experiencing new treatments you have never tried before like aromatherapy or detoxification methods. Not only will this enhance the overall experience but also provide an opportunity to explore something different.
Connect With Friends And Form New Relationships
A guys' spa weekend is an opportunity to connect with old friends and bond over relaxation, wellness, and indulgence. It's also a chance to form new relationships and expand your social circle.
While enjoying massages, facials, and other treatments, strike up conversations with fellow guests who share similar interests or hobbies. Take part in group activities such as yoga classes or nature walks to connect on a deeper level.
Remember that the goal of the weekend is not just relaxation but also socializing and networking.
Guest experience management plays an essential role in creating a welcoming environment where men feel comfortable connecting with others. Resorts like The Spa at Sea Island have expertly trained staff who go above and beyond to ensure every guest feels valued and appreciated.
Conclusion
In conclusion, planning a guys' spa weekend can be the perfect opportunity to unwind and recharge. Whether you're looking for stress relief, bonding with friends, or just some time to yourself, a relaxing wellness getaway is an excellent choice.
Remember to choose the right location and amenities that align with your theme, schedule treatments and activities in advance, and prioritize self-care during your stay.