Montana is an extreme state where legends are made by men brave and determined enough to explore the vast open spaces. For those seeking winter adventure there this year, you won't be disappointed (unless you are looking for smog-choked highways and long lift lines!)
One of the beauties of a state as open and free as Montana is that activities you wouldn't (or couldn't) consider elsewhere suddenly become possible if you are brave enough. For instance, many people enjoy parasailing and thousands more people enjoy backcountry skiing - so how about combining them?
While we don't all need to be as extreme as Adam Majors flying off the top of Saddle Peak, there are plenty of other awesome winter adventures waiting for you here in Montana!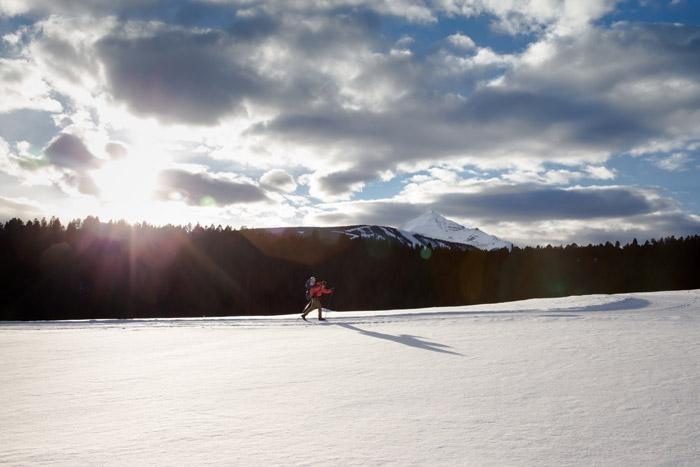 Cross-Country Skiing
Pretty much the entire state of Montana is a haven for cross-country skiing but there are also tons of groomed trails spread throughout the western part of the state.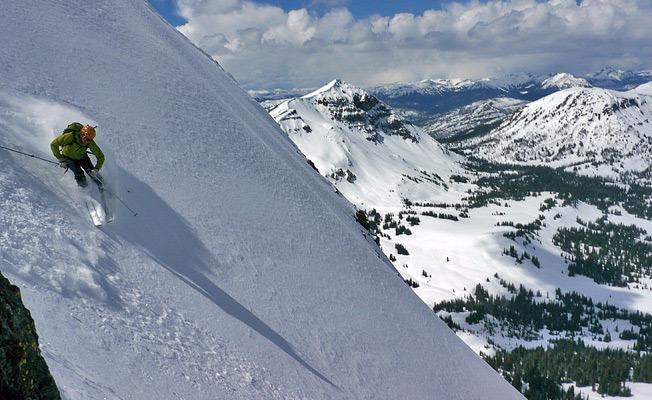 Back Country Skiing
If you're not ready to go flying, you can still enjoy the thousands of acres of unspoiled wilderness in Montana. Guides throughout the state are ready to help you explore terrain including Yellowstone National Park.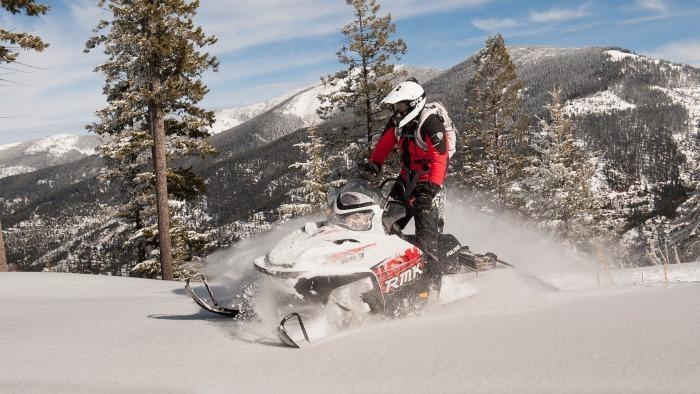 Back Country Snowmobiling
Between Glacier County and Yellowstone area, you've got two of the greatest places on earth to explore from the back of a snowmobile. Whether you are looking for extreme slopes to gentle groomed trails Montana has thousands of miles of snowmobile of trails to choose from. Glacier Country Montana is the place to go for an epic snowmobile adventure with it's combination of frozen lakes and logging and forest service roads that are closed to cars and trucks after the winter snow sets in. There's plenty of adventure here from those just starting out to the experts in your party.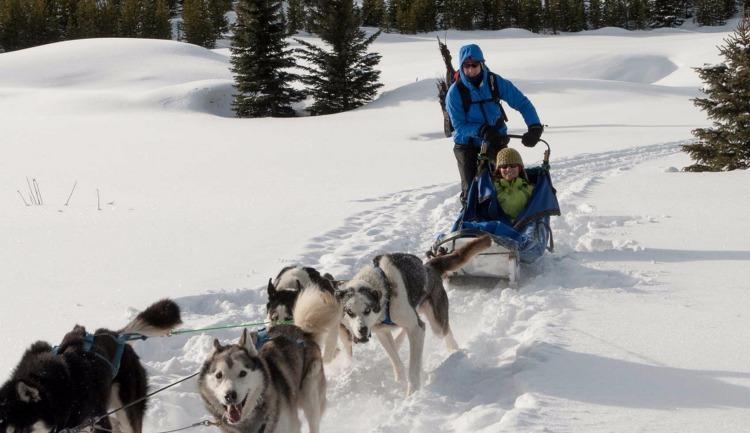 Dog Sledding
While speeding through the wilderness atop the roar of a snowmobile is certain to get your adrenaline running - imagine being pulled silently through the snow covered trails by a pack of dogs instead! Whether your preference is as an observer or a participant Montana has tons of opportunities for people looking to explore dog sledding. This includes Glacier Country Montana's historic 300 mile Race to the Sky held each February. Glacier Country has some of the finest mushers in the lower 48 and they can set you up for everything from a half-day outting to a multi-night adventure that will create memories for a lifetime!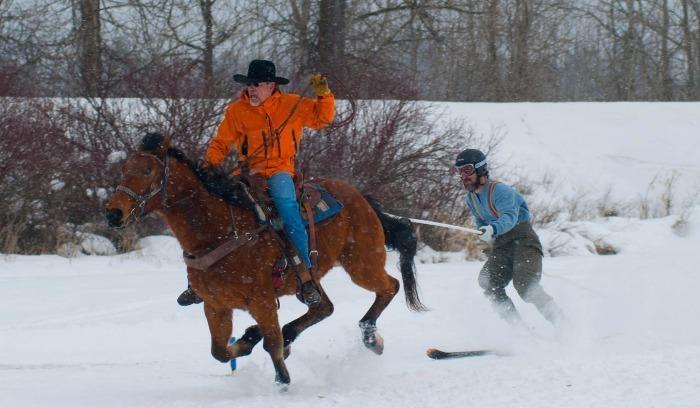 Skijoring
Another sport for people who would prefer animal power instead of mechanical power ... imagine being pulled down the street and over jumps by one of Montana's finest horses? Yes, Skijoring is a real sport!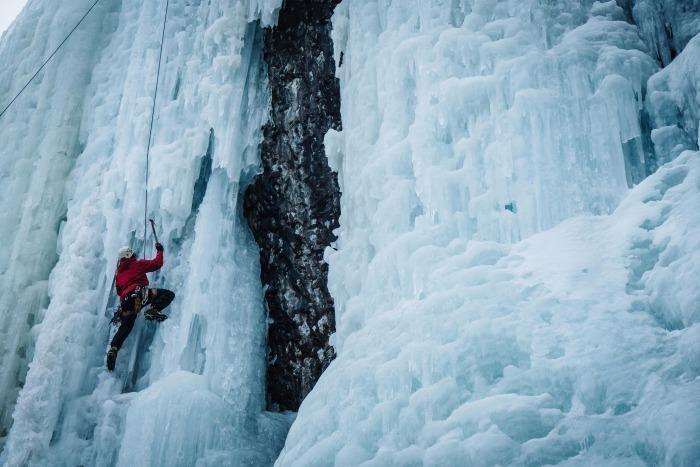 Ice Climbing
Unlike other states, Ice Climbing can be a year-round adventure in Montana. Obviously though, the opportunities to climb frozen waterfalls expands dramatically in the winter months, typically October - April depending on weather. Hyalite Canyon in Yellowstone Country Montana is one of the top ice climbing spots in the country due to it's more than 250 different routes with various difficulties as well as it's sheer beauty. Hyalite Canyon features a mixture of difficulties from moderate climbs to some o the hardest in the United States.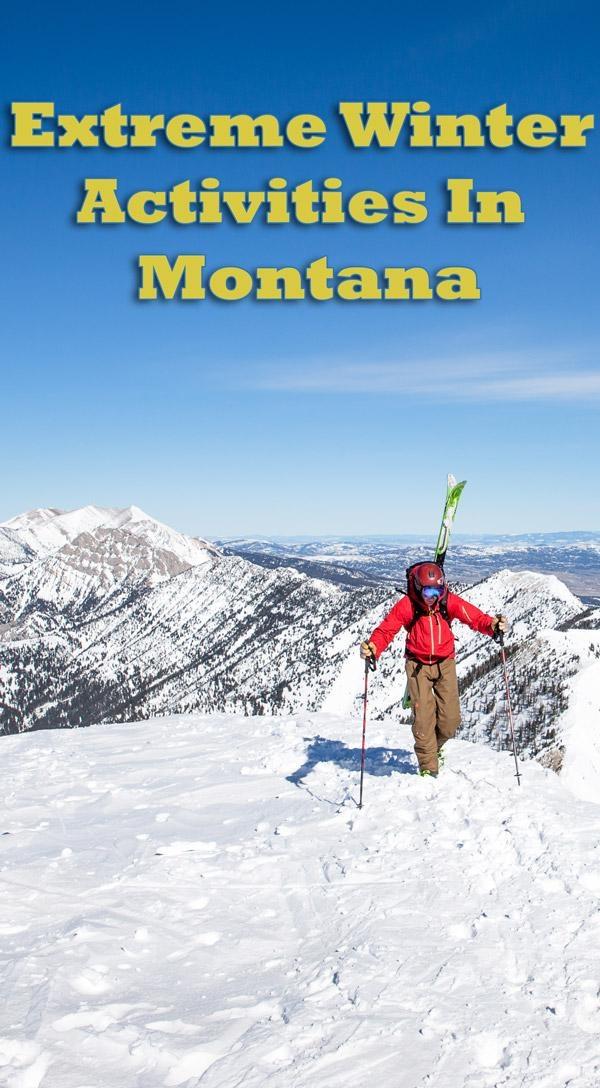 No matter what you seek, if you are looking for extreme winter adventures then Montana has got what you are looking for. Just remember not to let your passion exceed your abilities. Be smart and check out the Visit Montana website for suggestions for guides and other services to ensure that you are able to create amazing memories that will last a lifetime!
Photos courtesy of Montana Office of Tourism and Business Development.