There are many schools of thought with how to pick the right golf resort for your guys getaway and in fact the choice may not even be a single resort - but a golf destination with lots of different options instead. Here's some advice to help you sort things out ahead of time so that everyone is as excited as you are to hit the links.
Know Each Players Skill Level and Play Style
While virtually anyone can play any course, some courses are easier for novices than others. For instance, as much as I absolutely LOVED Circling Raven Golf Course up in Idaho last summer, some of the tees were brutal for someone like me who doesn't have a strong drive. My personal preference is for courses that are scenic with lots of visual interest vs being more technical. Others are quite the opposite though and neither way is wrong. However, if you have a group of guys that all want a tough course with lots of bunkers and water hazards and you pick one with long straight fairways ... someone might be upset.
Ultimately, while the course itself is important - you'll also want to consider time of year and the destination itself. Imagine battling the wind and the elements and changing your game to finish with a low score. While golf in Palm Springs can be amazing - when it's 115 degrees out, things aren't as cool as you might have thought initially. Additionally, while these off-season deals might seem attractive initially, you'll often find that the greens aren't in perfect condition and fairways may need lawn care service to be half playable.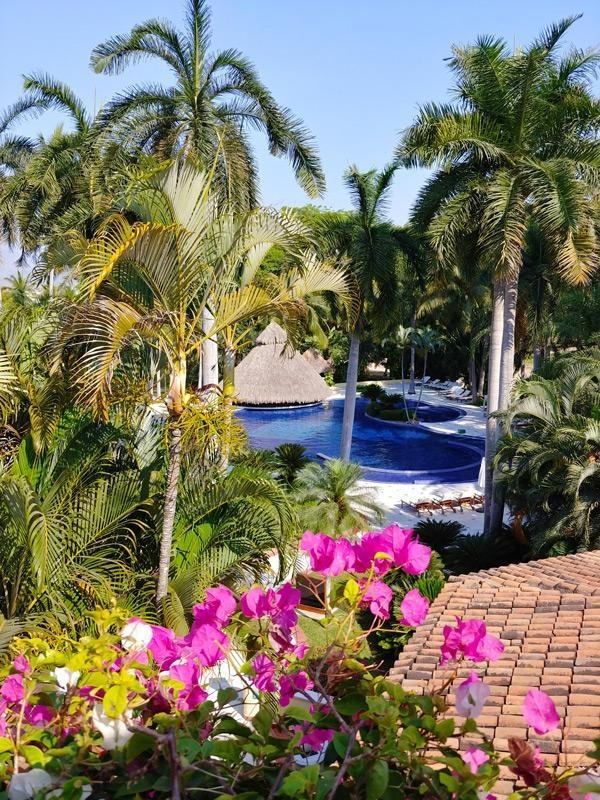 Casa Velas all-inclusive golf resort in Puerto Vallarta offers golf at multiple resorts - yet has a great resort pool and just minutes from bars downtown.
Pick a Golf Resort or Destination That Works For More Than Just Golf
Legitimate golf heads will want to spend as much time as possible next to the course. Enthusiasts will want to play, but they like being in the center of the action in town or on the water fishing. This means you need figure out which your group prefers. If you have a mixed group then look for a resort like Wild Dunes in South Carolina or a destination like Punta Gorda, Florida where there's great golf - but also fishing and plenty of beach bars to hang out at too.
Keep The Group (Relatively) Small
Sometimes golf package offers focus on big groups to get discounts and you'll need twenty or thirty people book the package. The problem with this is the organization required. As the leader, you have to make sure everyone is on the same page and doing the same thing. It's exhausting and not worth the hassle. Instead, it's better to invite between eight and ten golfers and split the difference. You'll find there are lots of promotions for this size of the group, and it won't be impossible to manage either.
Check Out The Course Rules Before Booking Your Golf Getaway
Golf clubs have rules, but they aren't the same worldwide. Some have quirks which are important to understand or they may ruin the trip. For example, lots of resorts require a uniform to play. If you don't have soft spikes, you may not be able to play until you've found a pair. Without a handicap certificate, they may not let you loose on the course whatsoever.