Usually when I talk about wine here it is me traveling to find some or enjoying a glass at a fine restaurant. Today though I am going to share my experience with the NewAir AW-121E wine cooler. I have been thinking about getting something like this for quite a while but it was always one of those things that was "nice to have" but the money would be better spent elsewhere. However about 3 weeks ago I was lucky to have someone from NewAir contact me and ask if I wanted to check a unit out - so I said SURE!
The NewAir AW-121E is a very compact unit that is stylish and for someone like me who doesn't have a huge wine collection the 12-bottle capacity is perfect. In fact, I currently have 6 bottles in there as well as a couple boxes of chocolates and the size is perfect for my loft.
As I mentioned in the review, setup / installation was a breeze though it operates a bit differently than a standard refrigerator. Instead of a compressor and chemical coolant, the unit relies on a thermoelectric cooling system. It's really too complicated for me to relate here (but here is the Wikipedia article on thermoelectric cooling). Instead, the key takeaways are that it allows for a very compact size, no moving parts, no chlorofluorocarbons, precise temperature control / stability and a long life. These aren't necessarily the same for every device but in general that's what thermoelectric cooling offers. However the downside is it isn't as efficient and you aren't going to get the deep chill needed for beer or soda.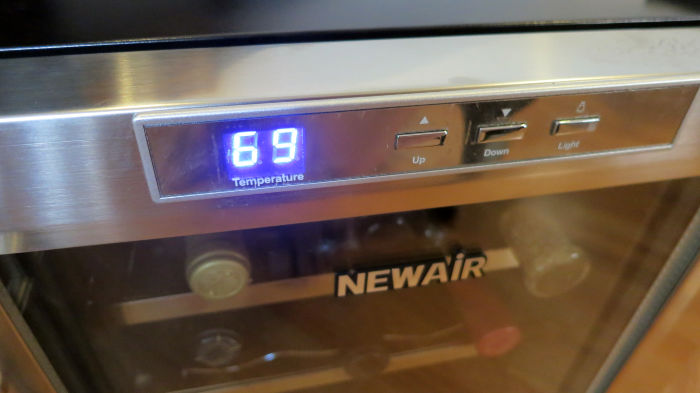 However, with a target range of 50-65 degrees it is perfect for storing wine, chocolate, and cigars.
As you can see from the unit you can adjust the temperature up and down and there is also an LED light to help illuminate the bottles if you can't remember what's inside the wine cooler.
One thing to note though is that it takes a long while to cool down - when it started, my loft was about 84 degrees and in the past 8 hours the temperature has dropped to the mid-50s degrees in the wine cooler. It is disappointing that it didn't cool faster but considering that it is super hot in my loft with no AC I am pretty happy.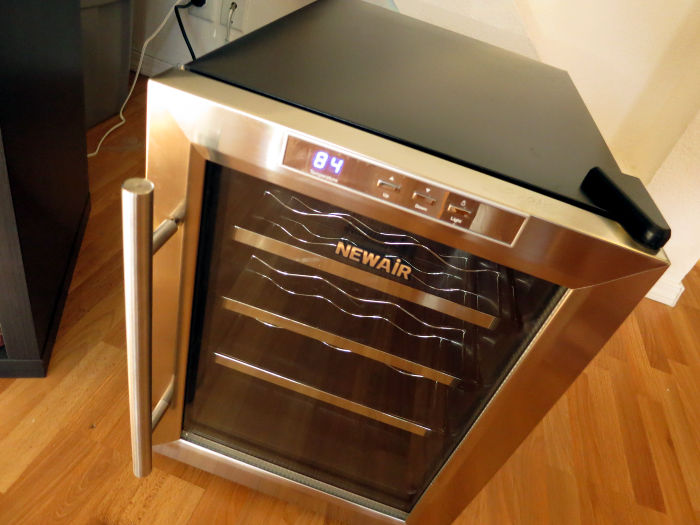 At the end of the day, this is a great addition to my apartment as it allows me to move bottles of wine from the fridge and countertop to it's own unit tucked neatly next to my liquor cabinet. Additionally, since it is warmer than the refrigerator, I can store chocolate here so it won't melt - but also wont be hard and negatively impact the flavors the way it does in the fridge.
The AW-121E that we reviewed is currently available for about $170 at most retailers and at that price I think it is a great accessory for your home or apartment.
I received product for this review, but all opinions are my own.