Sometimes in life you discover great new things completely by accident. That's how we found Viva Bar + Kitchen actually ... we had gone to have dinner at a different place that sadly we left feeling we needed to go somewhere else to eliminate the "bad feeling" left in our belly. When we walked by Viva, the super friendly hostess on the sidewalk told us it was "taco Tuesday" and so we figured, "what the heck" and walked in to check it out.
That taco and that experience was good enough that before the end of our snack that we had already booked our New Year's Eve dinner here the next day.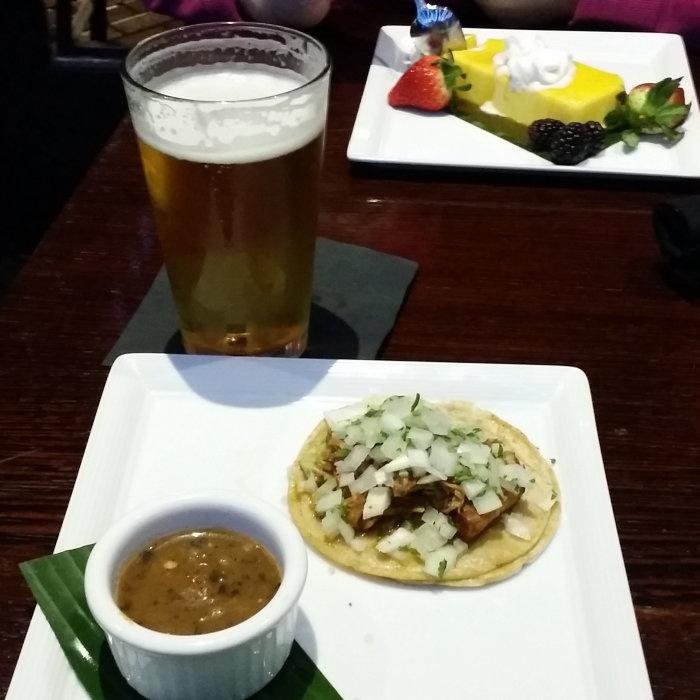 Honestly - how many times do you visit a restaurant and go from a $3 bar snack to a $150+ dinner decision on a whim? Viva's atmosphere, staff, food, and menu did that for us and we were not disappointed!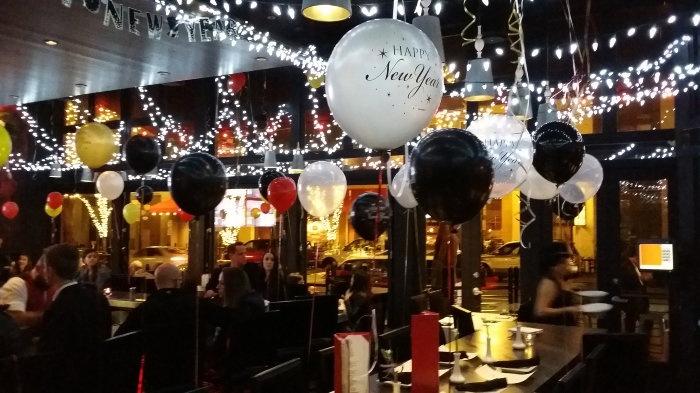 Viva Bar + Kitchen is located at 409 F Street in San Diego's Gaslamp District and their menu is essentially upscale Latin fusion. For those of you in San Diego that are tired of "Mexican", don't worry - Latin here means influenced by continental Spanish cuisine, Cuba, Peru, Puerto Rico and yes ... Mexico too, but not exclusively.
Chef Arnold Vargas Brown - (former executive sous chef of Bertrand at Mister A's) is the head chef here and we were told that his objective is to develop not just innovative dishes that live up to the "Viva!" exclamation, but also a fun and festive environment that surrounds the guests while they dine. From our experience that certainly is something that we enjoyed immensely from music, to service, to menu and decor, this was one of the best dinners that we've had in San Diego recently.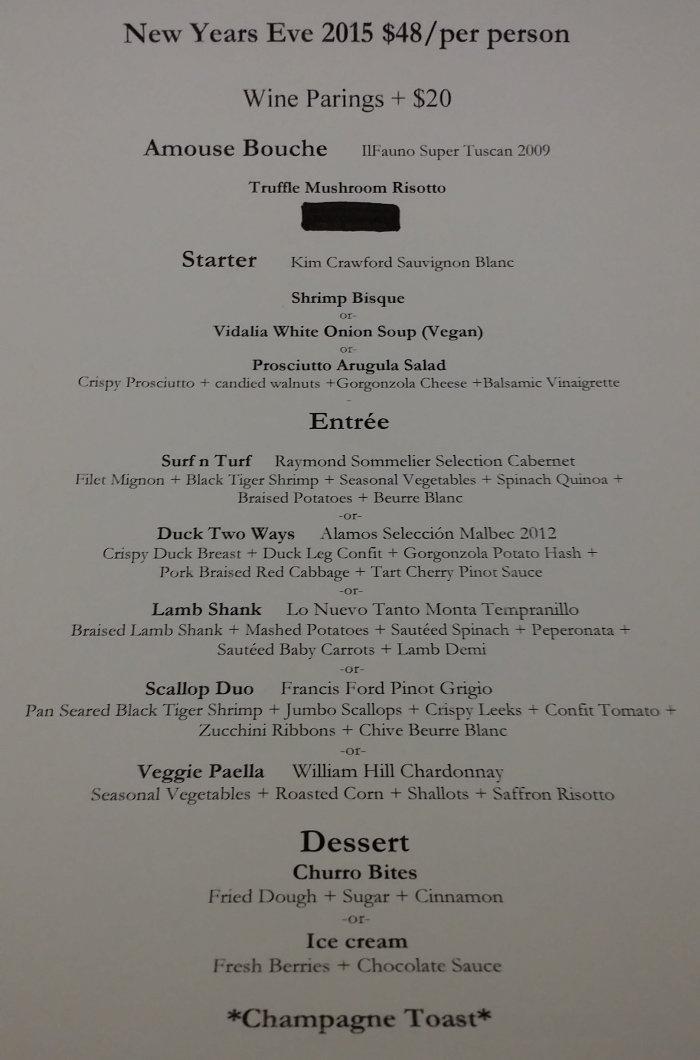 For New Year's Eve, Viva had a set menu and I chose the white onion soup, scallop duo, and finished with the AMAZING churro bites.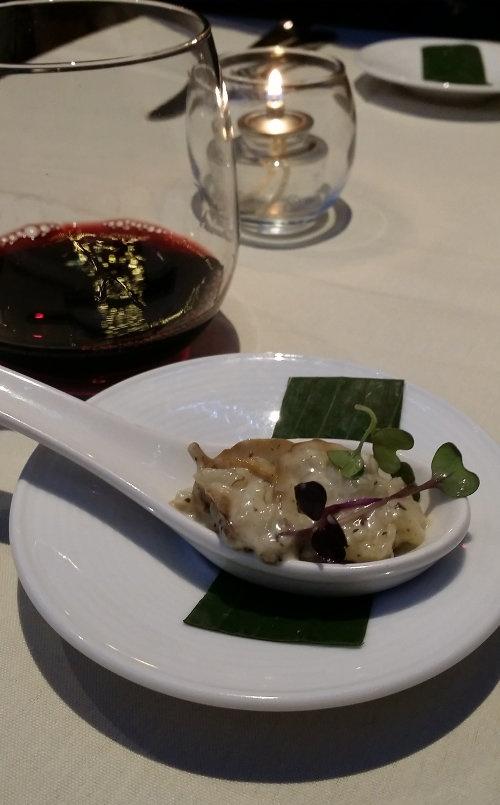 First up was the amuse bouche of truffle mushroom risotto paired with Il Fauno Super Tuscan 2009.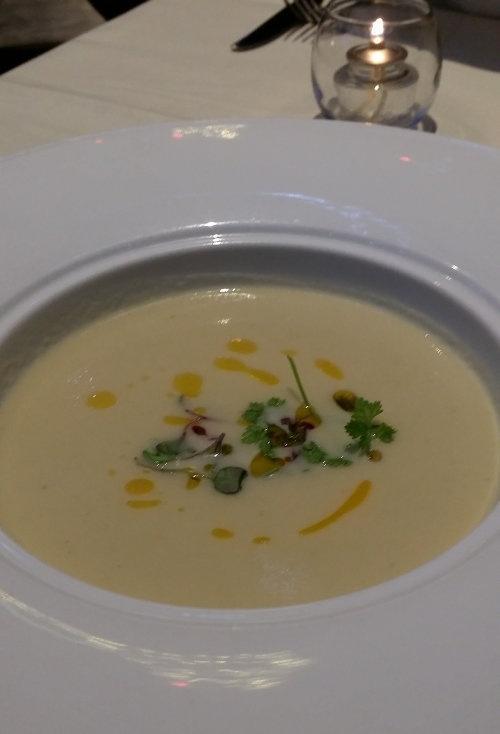 The next course was tough since I LOVE shrimp bisque but am also a fan of stuff I haven't had before and so my culinary curiosity won out here (along with our waiter's recommendation). The Vidalia White Onion Soup was soft and almost creamy despite being vegan and had a fantastic texture and flavor that I look forward to exploring again in the future.
The soup was paired with a Kim Crawford Sauvignon Blanc.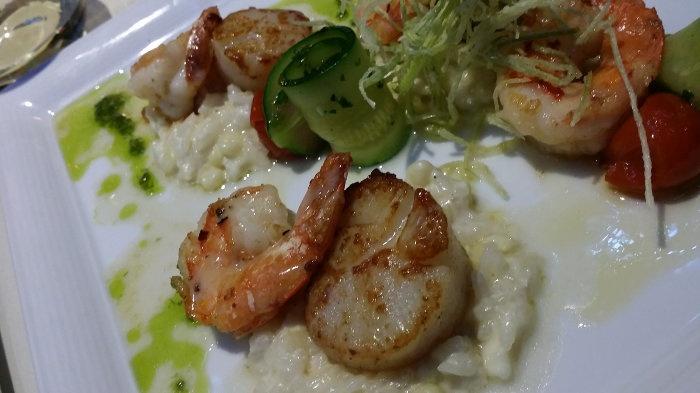 Next up was the Scallop Duo featuring Pan Seared Black Tiger Shrimp, Jumbo Scallops, Crispy Leeks, Confit Tomato, Zucchini Ribbons and their famous Chive Beurre Blanc.
While frankly I was expecting it to be a small serving, but as you can see there was plenty on the plate and it was arranged in a playful manner that while not "Beautiful" did a great job of being fun and combining flavors such as having the acidity from the tomato cut some of the delicious fatty flavor of the shellfish. Similarly, the crispy leeks added another texture that made it a fun experience.
The Scallop Duo was paired with Francis Ford Pinot Grigio.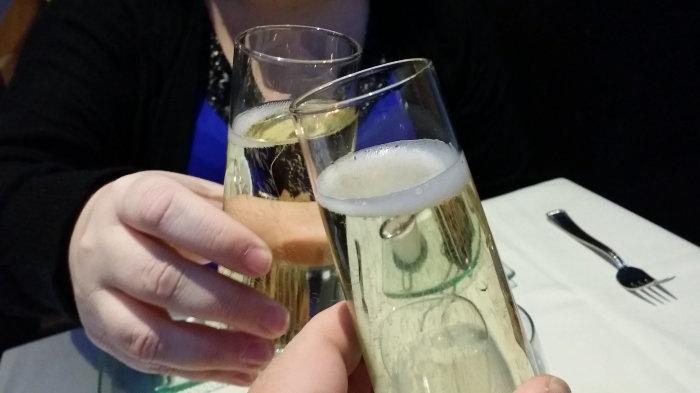 Of course, a New Year's celebration should be topped off with a Champagne Toast!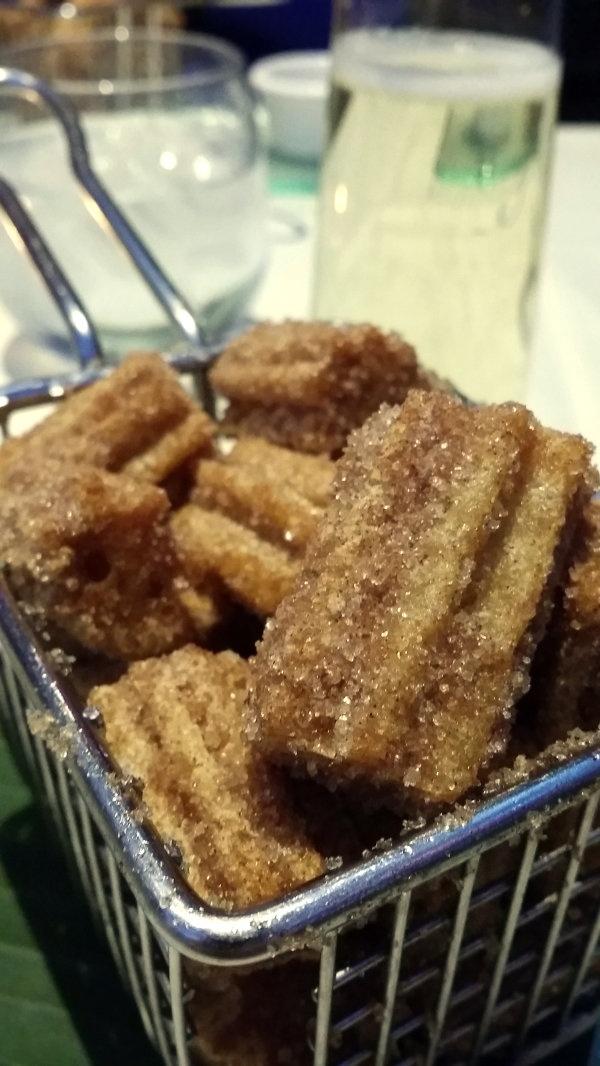 I am a sucker for churros but I was not expecting this. For dessert they brought each of us a fryer basket filled with fresh hot churros and a dulce de leche and chocolate dipping ramekins.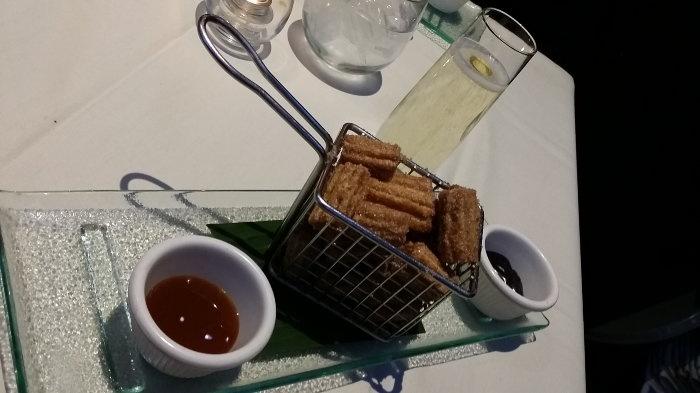 My only complaint here is that frankly, this could have been a "to share" desert that would have extended the romantic dining experience. However that's just silly because these were so good that while it was a substantial portion - certainly large enough to share - Heather and I finished our baskets off just fine by ourselves :)
While our experience was phenomenal on all levels, the final thing that surprised me was that it was so reasonable I can't say for certain what Viva Bar + Kitchen was like before Chef Brown joined the team in June, but this is a restaurant that you will want to visit before it gets "too popular" and looses some of its specialness.