At this year's 110th edition of the Chicago Auto Show, the buzz was all about trucks and SUVs as they continue to rack up record sales. Alternatively, almost every automaker touched on their autonomous vehicle programs, but no one will discuss when day zero will happen, or how autonomous vehicles will affect sales.
While the Chicago Auto Show is the nation's largest (1.1 million square feet), and most attended auto show, there were not many new vehicles introduced during media days. The few newsworthy announcements included a converted cargo van from Ford, some rugged trucks from Toyota, a roadster/snowmobile concept from Nissan and the U.S. debut of a new flagship sedan from VW. Here's a quick spin around the show floor.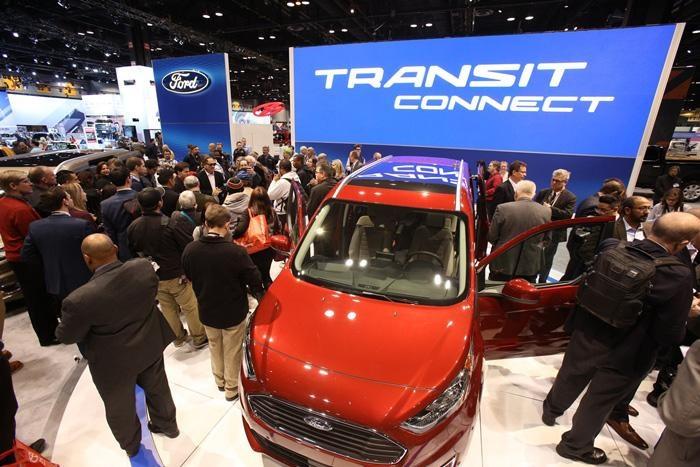 Ford: 2019 Transit Connect Wagon
At Ford display the automaker debuted a revised 2019 Transit Connect Wagon as a less expensive, less luxurious, but capable minivan to complement its already dominant share of the commercial vehicle market. Ford introduced a seven-seat wagon model sporting a freshened nose, more economical powertrain, and new driver-assist features. Transit Connect Wagon comes in two wheelbases and three trim levels: XL, XLT and top line Titanium.
In 2019 Transit Connect will feature a standard 2-liter four-cylinder gas engine backed with an eight-speed transmission. A new 1.5-liter EcoBlue diesel engine is an option that Ford claims will achieve a minimum of 30 mpg.
Ford augments Transit Connect with a new a pre-collision and pedestrian-detection assist package it says is a segment-exclusive.
The interior is fleshed-out with a redesigned instrument panel, new center console with an available, larger 6.5-inch touchscreen. While this van is on the compact side, there is a decent amount of foot and headroom for second and third-row seats. The seats can fold flat, and the low floor will be good for loading and unloading cargo.
For road trips or guy weekend excursions this new professional-based Transit Connect Wagon could be a less-expensive and more durable option. It's scheduled to go on sale this fall.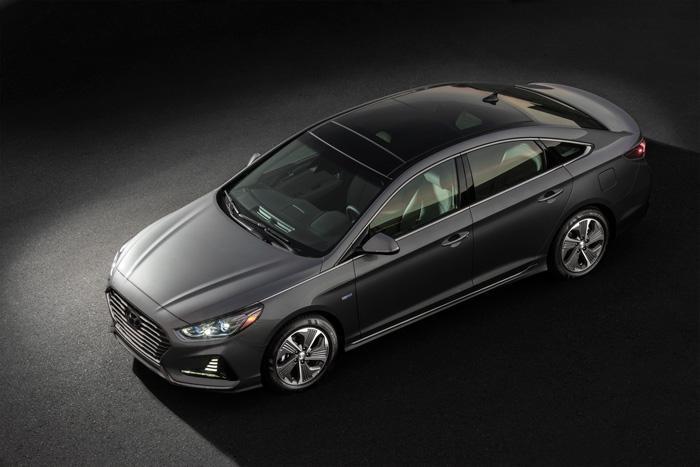 Hyundai: 2019 Sonata Plug-in Hybrid
While hybrid and electric vehicles have their fans, they usually don't generate a great deal of excitement at auto shows. However, as the announcements were lite they received more attention, and there is no denying they are the future destination for most automotive manufacturers. Hyundai brought hybrid and plug-in hybrid models of their revised midsize Sonata sedan.
The basis of the 2018 Sonata Hybrid is a 2.0-liter Nu GDI four-cylinder engine mated to a six-speed automatic transmission that incorporates a 38 kW electric motor and clutch in place of the torque converter. Hyundai states that the Sonata Hybrid could operate solely on electric power at speeds up to 75 mph by decoupling the gasoline engine from the rest of the drivetrain.
The engine used in the Sonata Hybrid produces 154 horsepower and 140 lb. ft. of torque. The electric motor develops 38 kW (51 horsepower) and 151 lb. ft. of torque. Sonata Hybrid SE has preliminary estimates of 39 mpg in the city, 45 mpg on the highway and 42 mpg combined. Not bad, but not great either. The estimated range is about 650 miles combined under ideal driving conditions.
The Sonata Plug-in Hybrid has the additional benefit of extended all-electric range. A 9.8 kWh lithium-ion polymer battery pack, is five times larger than the Sonata Hybrid's battery Sonata Plug-in Hybrid with an EPA-estimated all-electric range of up to 27 miles – under perfect conditions. It can recharge in less than three hours with a level-two charger.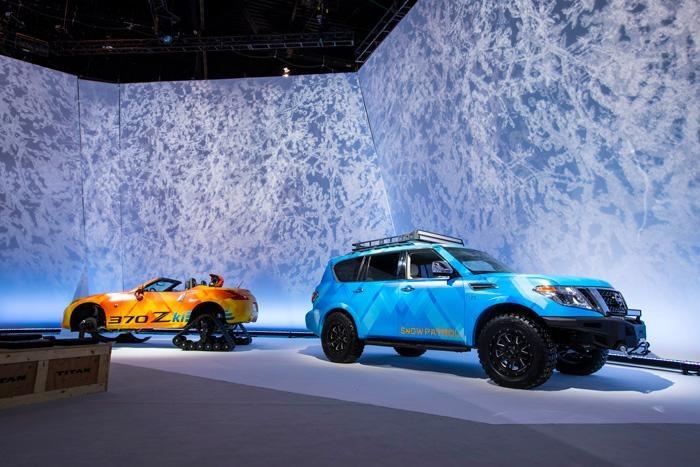 Nissan: Armada Snow Patrol and 370Zki Concepts
Going with a snow theme, Nissan displayed two winter-themed concept vehicles.
The Armada Snow Patrol is an arctic-inspired SUV that ties in the off-road connection of the Nissan Patrol (sold in other countries), as it is the SUV that the current Armada is based on.
Behind the custom, Armada is a 370Zki concept roadster. Nissan lifted the body three inches, swapped the wheels from a 2018 370Z roadster's with skis upfront, and substituted tank-style tracks for the rear wheels. So, in essence, Nissan has created a 332-horsepower snowmobile.
"Every year we try to bring some unique winter show cars and trucks to Chicago, which is the nation's most-attended consumer auto show. This year we've outdone ourselves with the vehicles and the show space itself," said Dan Bedore, director, Nissan Division U.S. Communications, Nissan North America, Inc.
A special wrap graphic and yellow-tinted "ski goggle" headlights finish the concept look. Nissan actually trail-tested the 307Zki on the slopes at Wyoming ski resort.

MOPAR, Wrangler & Ram: New Performance Parts and Customization Options
On display was an eye-catching Jeep Wrangler featuring virtually every new accessory available through the MOPAR products division. Mopar products division held a press conference to discuss their new line of Jeep Performance Parts including lifts kits, beadlock-­capable wheels, off-­road bumpers, LED off-­road lights and rock rails. First-­ever Mopar accessories for the Wrangler include a roof rack for mounting a variety of lifestyle cargo carriers and a tailgate table compatible with the production Trail Rail storage system of the all-new 2018 Wrangler.
"At the Chicago Auto Show, Mopar is showcasing the art of the possible when it comes to accessorizing the all-new Ram1500," said Pietro Gorlier, Head of Parts and Service (Mopar), FCA. "With more than 200 parts and accessories, available at launch, Mopar delivers the largest array of factory-­backed, authentic products to personalize the new Ram 1500 and make it truly one of a kind."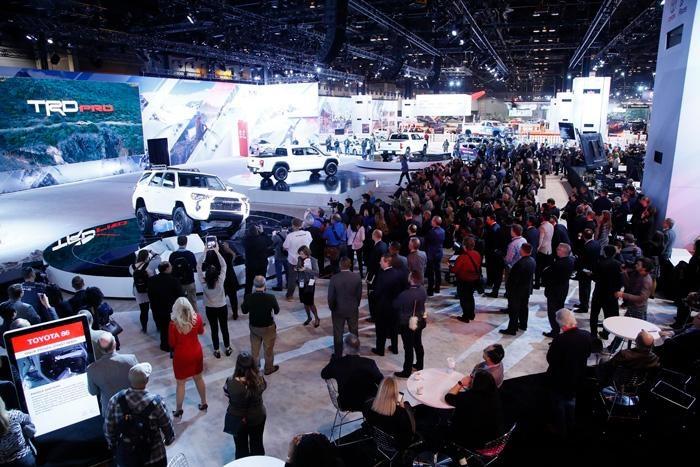 Toyota: Updated TRD Pro Tacoma and 4Runner
Toyota addressed the off-road enthusiasts with three updated TRD trimmed versions of the Tacoma and 4Runner midsize and Tundra full-size pickups.
Toyota indicates the three vehicles come with 2.5-inch TRD Pro-exclusive Fox Internal Bypass shocks, differently tuned to suit the different trucks.
Additional goodies include updated front skid plates a new extended exhaust pipe with a black chrome tip that runs up to the roof for water crossings, more fog lights, projector-style headlights, and TRD Pro badging.
Inside, there's a new more powerful Entune Premium JBL Audio system with subwoofer amplifier and Integrated Navigation and App Suite. New TRD Pro-branded floor mats and leather-trimmed seats finish the dress up.
While these additions will help you venture further off-road they do drive up the window sticker.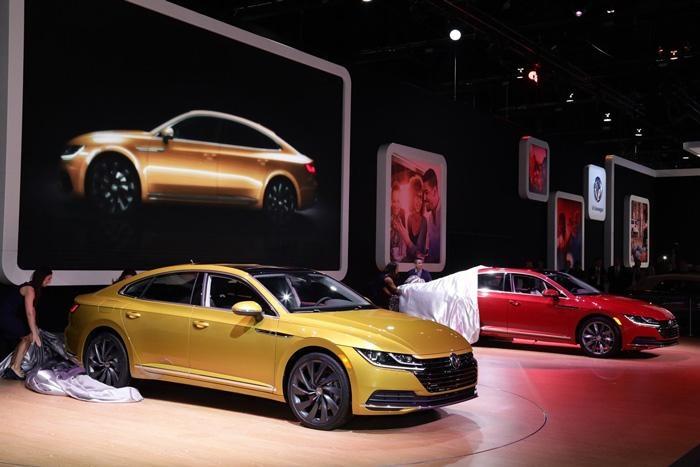 Volkswagen: Arteon Midsized Sedan
Volkswagen brought its new Arteon midsize sedan for its North American introduction. The Arteon is VW's
the replacement for the discontinued CC sedan and will become its top sedan offering.
The exterior has a fastback design with a sloping rear roofline and a low, broad front fascia that introduces you to the ground-hugging stance. Arteon is considerably longer than the departed CC, with an extra 5 inches in the wheelbase. It's also wider.
Standard 18-inch aluminum-alloy wheels shod with performance tires are said to provide a driver's car feel for this new flagship. Larger wheel/tire options will be available when it goes on sale this August.
Volkswagen (www.vw.com) produces some great interior designs and it continues with Arteon. The interior features premium leather, soft-touch surfaces and my premium features including an 8-inch touchscreen entertainment system, keyless access, push-button start, full power functions including multi-adjust seating, heated leather seating and optional premium auto system and huge panoramic roof.
The 2019 Volkswagen Arteon features a 2.0-liter turbocharged four-cylinder engine producing 268 horsepower and 258 lb.-ft. of torque. The engine is backed by an eight-speed, Tiptronic automatic transmission. This combination is available in front- or all-wheel drive.
So, while the Chicago Auto Show is not the newsmaker it once was it does draw the biggest crowds on the show circuit and is the show for automakers to park their latest production vehicles.