When it comes to taking care of your family family, things like good looks and raw speed tend to fall aside and safety features become a primary concern. This is your family care after all and while how fast you can take that corner might be important with your weekend car, there are other more important things when it comes to taking care of your kids and making sure that they can get back and forth to school, errands, and of course the all important summer family road trip.

Good Tires Designed For The Right Terrain
The first step in making sure that your car is equipped properly for safety is tires. Ultimately, well maintained car should last for a decade or longer. During this time, electronics and safety features are going to age dramatically - but tires will always be what's keeping you connected to the road.
For those like me lucky enough to be in a climate that doesn't change throughout the year, you can get away with keeping the same tires year round. However, for the rest of you it's important to consider swapping your All Season tires like the Michelin Premier A/S that the brand send me for something better suited for ice and snow during the winter months. While this tire is rated for "all seasons" your climate may require other considerations. I'm loving these tires though since they have a long tread life rating - 60,000 miles and while difficult to test seem quieter than what they replaced. Ultimately though, it's a question of making sure that your tires are ready for what you might throw at it. For me, I appreciate that this tire uses a silica and sunflower oil enhanced tread to increase traction in wet and cold temperatures. Other tires may use less sophisticated rubber blends and rely just on the tread design and not the rubber itself to improve your performance.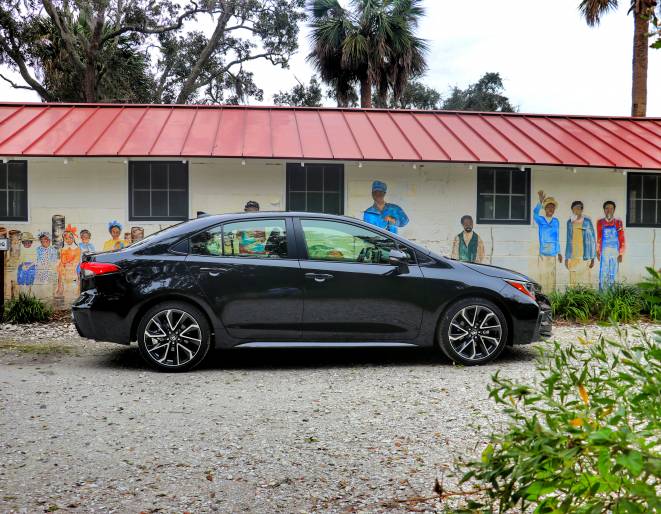 A Trusted and Reliable Car That is Right For The Purpose
When you think of a family car, probably the first thing that comes to mind is a big SUV or maybe a sedan like a Camry but it's just as important to make sure that these features are in smaller cars like a Corolla too. We had a chance to drive the 2020 Corolla around Savannah earlier this year and it was the perfect car for dad's "get to work" car .. but it is also great as a hand me down to a new driver.
Nobody really plans for an accident and so sometimes features seem superfluous. However, think about it like this. While an accident lawyer in Savannah could help us get out of jail - they aren't going to be able to restore our health and convenience if the worst happens. That's why beyond anyone one individual feature it's essential to look for a brand such as Toyota that offers a great suite of safety features standard and not treating them like "upgrades". This is your family that we're talking about!
Electronic Safety Features
Road collisions and crashes are sometimes caused by vehicles that are in each other's blind spots. But under natural circumstances, blind spots are inevitable. There are limits to how much the eyes can see and the degree to which the neck can turn. Because of this, people need assistance from technology so that these limitations will somehow be overcome.
Blindspot Detection
To help drivers become more aware of their surroundings, more recent car releases now feature blind spot detection systems. These systems give off different types of warnings – tactile, audio, and visual – every time it detects that something is in the vehicle's blind spot. And it doesn't just react to other cars; people, large-enough animals, or even immobile objects will be detected. However, it doesn't prevent the car from crashing into these objects and causing damage.
Lane Keeping Systems
Many car crashes in Georgia, and any other state or region in the United States, are caused by drivers who veer away from their lanes, which happens when a car wants to overtake another. Other accidents are caused by the driver's failure to properly signal their turns and changes in direction. These issues are taken care of by systems that are aimed at effectively keeping cars in their proper lanes.
Cross Traffic Alert
Cross Traffic Alert helps to notify you when there is traffic behind you as you are backing up. This is super helpful in parking lots since you can't always tell what's coming by your way.
Camera Systems
From backup cameras to full 360 views of the car, this is a safety system that is essential for keeping your family safe since it can help protect the passengers - but also those around you.
Collectively, Toyota calls this their Toyota Safety Sense 2.0 and includes Pre-Collision with Pedestrian Detection, Lane Departure Alert with Steering Assist, Road Sign Assist, Automatic High Beams, and Dynamic Cruise Control.
These technologies are just tools though. They are designed to help the driver make the experience that much safer.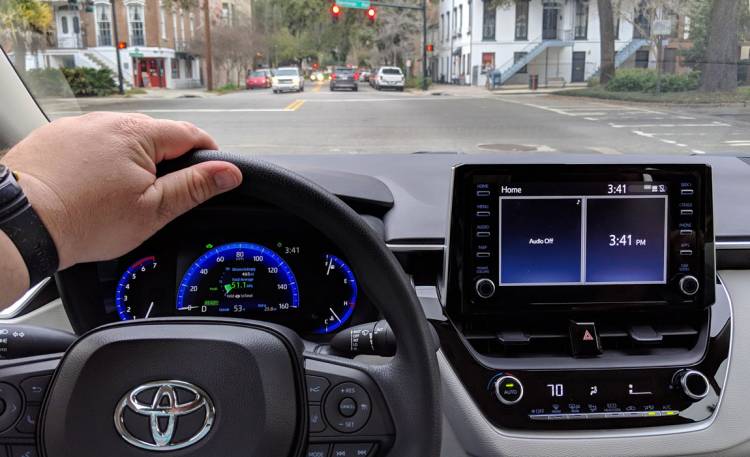 Safety Features You Might Not Think Of
So there's some core safety features that I think are essential in cars today, and we've listed them above. However, there are other things that you might not consider. This includes the following:
Driver Comfort - if you had an accident or a quick deceleration, would heads hit the ceiling or bounce around awkwardly because the seats just don't fit right?
Infotainment Screen Size - to a point, bigger is better when it comes to the infotainment screen since you should be able to easily see the map and other functions easily. Additionally, knobs should be big enough to identify quickly without taking hands off the wheel for too long hunting for the right one.
Steering Wheel, Pedals and Driver Seat Position - Is the driver able to be in a comfortable position with maximum extension and control? There are some cars that I drive where this is simply not the case. Ironically, some smaller cars like the Corolla are more comfortable than some larger SUVs. One thing that particularly drives me crazy is when the gas and brake are too close together for my big feet. That's something that is clearly individual to each driver but it is imperative that you consider that before purchasing a car for your family.
Having the car safety features discussed above might significantly add to the price of the vehicle. However, given the peace of mind that they give, the money spent on them will surely be a good investment. After all, the price of hospitalization and therapy is going to be much higher when crashes happen because of misplaced money-saving strategies.