I'm sure you guys use protection, but if you don't there's a high likelihood of catching a virus or having someone steal your identity. It's not a matter of if, but when today, so we decided to take a look at Webroot's SecureAnywhere Internet Security Complete. It's a suite of security products designed to not just remove viruses and malware but can also protect your privacy and help you recover from ransomware attacks.
Webroot antivirus protection keeps your computer and information safe and secure behind a virtual wall of protection. Webroot antivirus protection is ranked among the best in the industry and features real time protection against all the modern threats that constantly try to assault our systems.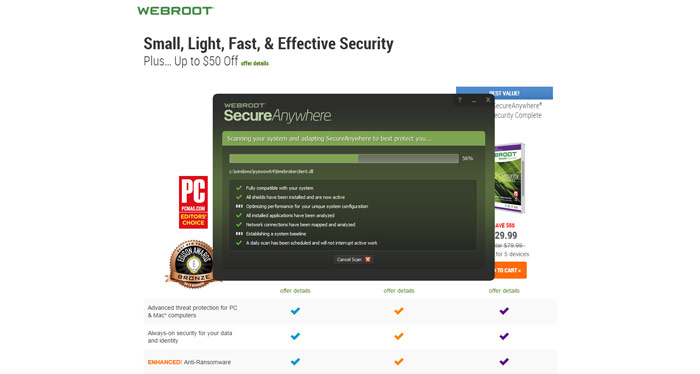 Webroot Antivirus Protection - Big Tech with a Small Footprint
Not all PC protection is created equal. Some software only protects against viruses. Other software only protects against malware. Some that try to protect against both end up not offering enough up to date protection. Webroot is a security suite offering up to date internet and computer security with constant updates and zero-day threat solutions. With Webroot antivirus and anit-phising protection, your information is completely secure behind a virtual wall that is nearly impenetrable. And Webroot won't slow you computer to a crawl while it protects you from everything lurking on the web. It only uses 5 MB of memor while idle - 9 times faster than the next closest software. Webroot also features a small file size. Their installation file is under 750 KB and installs up to 20 times faster than the next closest competitor. Using the cloud, the Webroot antivirus and security suite offers up to date protection to customers without bogging down their computers with a ton of threat definitions, and its unique approach to security allows it to identify and block new threats based on suspicious behavior rather than only searching for known threats like other suites.
Webroot Antivirus Suite Specs
Webroot offers superior protection with less load on your PC.
Lightweight program won't bog down your PC
Tiny installation file
Scored 90 out of 100 on Pass Mark system performance impact test
Scheduled scan times of around 1 minute and 29 seconds - 15 times faster than the average competitor
Leverages the cloud to avoid massive threat definition storage
Analysis engine reads real time feeds from over 37 million devices to deliver near instant protection from new infections
Webroot processes 5 billion daily lookups and protects users from over 12 million malicious IPs
Real time scans protect users from phishing sites by classifying 25,000 new malicious URLs every day
Protects PC, Mac, and mobile devices
Identifies threats based on suspicious behavior instead of stopping at known threats
Protects usernames, accounts, and passwords
Real-time Anti-Phishing
Detects and blocks webcam spying threats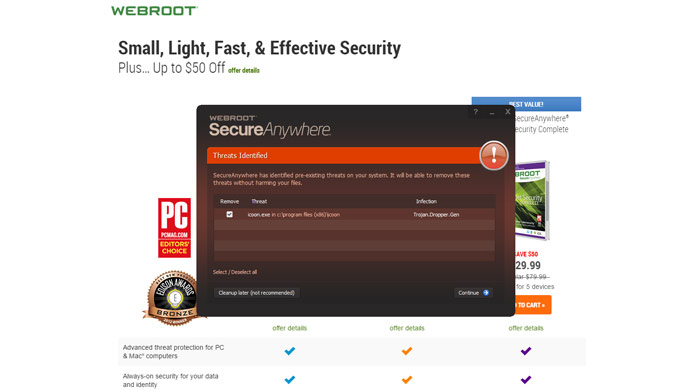 Webroot Antivirus is the Real Deal
Webroot antivirus protection is the real deal. The Webroot antivirus and malware suite offers real-time protection and a unique method of actively searching for new threats based on suspicious behavior. In addition to that, it protects users against the new trend of webcam hacking. It's an all-in-one virtual security system for PC, Mac, Androd, and iOS that can't be beat.