I've been married more than 10 years at this point and I've learned a lot. Heather and I were among the first of our friends to get married and wow things have changed a lot since then. Advertising focuses on how the ring defines the woman or empowers her or shows her your love. Even their websites feature women's rings above men's. So when Heather selected my wedding band it was her choice among very few options. Even if there were options I frankly was never prepared to communicate my desired design the way she was with hers.
Things have changed a bit now with both a massively increased selection to choose from as well as frankly more involvement from the groom. Beyond this, the trend I'm starting to see now is anniversary bands, replacement bands, and sadly second marriages. This gives guys today a chance to be more engaged and choose from some incredible new materials and designs that best illustrate your personalities.
The ring defines the man just as much as it does the woman. A wedding band shows off the sort of guys we are: classic, adventurous, passionate, you name it. I'm going to take a little time to explain just how you (or your woman) can pick out the perfect wedding band for you.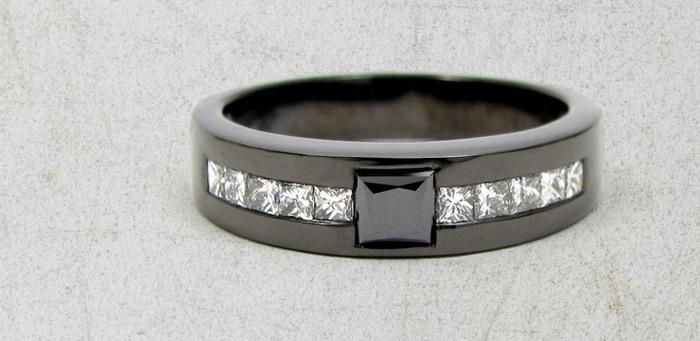 Men's Black & White Princess Cut Diamond Black Gold Band
Men's Wedding Band Styles
Let's kick this conversation off right. We men want a wedding band that reflects our style just as much as women. There are a few things to consider when you think about the right style for you.
Metal: You don't have to have a yellow or white gold band. You can also choose from platinum, titanium, rose gold, and black gold. One of the most popular new trends among men are men's black gold wedding bands. The bands are sleek and durable. Also, black is considered a color of mystery, and who wouldn't want to wear that?
Finish: There are three different types of finish, which can actually be used in combination with each other: high polish, matte, and hammered. Matte finishes are becoming more popular among men because they show less wear.
Detail: I could go on at length about this, but really all you need to know is that you don't have to stick with a plain band. These days there are more different kinds of detail than you can imagine. Take your time browsing through the options to find what's right for you.
Finding the Right Fit for You
Once you know what your style preferences are, you can start looking for the right fit. This is about more than just the size of your finger. Consider the length of your finger and the comfort the ring has on your hand as well. The width of the ring can vary based on the style you select, but that doesn't mean it will feel comfortable on your finger. Try on different widths to find out which one is most comfortable on your hand. You have to wear this ring every day for the rest of your life. Make sure it fits right.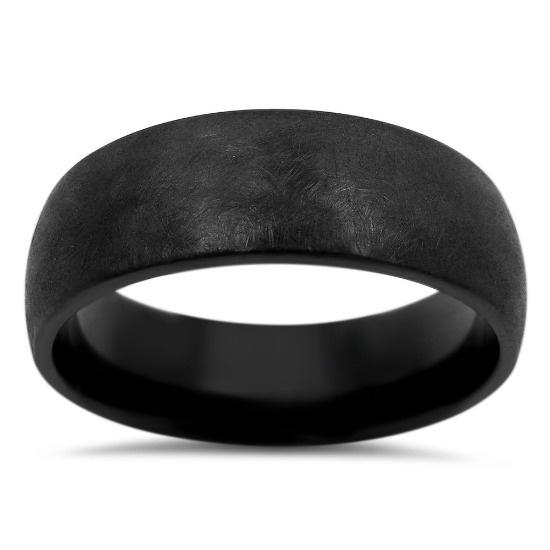 Brushed Men's Black Titanium Wedding Band
Think Long Term
Make sure you choose a ring that will still fit your personality in 30 or 40 years. Stylish trends will come and go, but your ring is a symbol of forever, and you should feel comfortable enough with it to see yourself wearing it in your later years.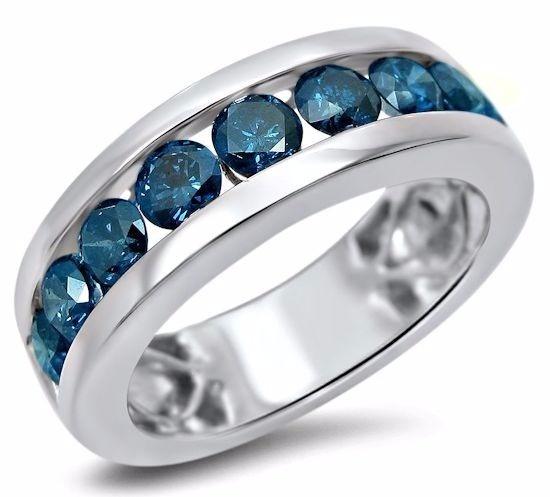 Blue Round Diamond Channel Set Men's Wedding Band
Consider Maintenance
A ring with details like gemstones will require more maintenance than a ring without. If you lead a busy lifestyle or work a job that requires a lot of use of your hands, you will want to consider what sort of maintenance your ring will require. If you consider yourself a low-maintenance kind of guy, you will want a ring to match that. All rings will scuff, but not all rings require regular cleanings and check-ups.
So there you have it, guys. These tips will help you find the perfect ring for you.