Designed for all types of gamers and engineered to conveniently fit in your bedroom or game room, the Project Brooklyn gaming chair concept design transforms from an ergonomic gaming chair into a full-fledged entertainment powerhouse that delivers breathtaking, next-gen immersion for both PC and console gaming.
Project Brooklyn is a cutting-edge gaming chair built with carbon fiber and RGB lighting, transforming easily into a fully immersive gaming station complete with panoramic visuals from a 60" rollout display, riveting tactile feedback built into the seat, and 4D armrests that roll out into adjustable peripheral tables. The existing types of all-in-one chairs that deliver "cockpit" style seating and mounted hardware are typically room-sized and the costs are astronomical.
With design inspiration from the Razer Iskur introduced in October 2020, Project Brooklyn takes leaps forward in user touch points, connecting the gaming chair to the display and its more functional components like armrests, while still delivering on comfort from plush, high-density foam cushions that support your unique body shape. The leather-stitched seat back is constructed in a robust carbon fiber body to maintain perfect posture throughout gaming marathons.
The adjustable platform on which the chair sits is complete with cable-routing and takes design cues from the Razer Raptor monitor. Mounted from the chair's backbone and deployable with the touch of a button is a 60" full surround OLED display for stunning visual detail. Folding into the chair back when not in use, the roll-out display assembly plunges you into the center of the action with crisp detail and a savory panoramic experience.
The fully transformable 4D armrests neatly tuck away collapsible tables with flexible ergonomics, allowing you to switch easily between PC gaming with a mouse and keyboard, and console gaming. There are separate panels in each armrest allowing for different keyboard and mouse ergonomics and each half folds away when not in use.
Building on the success of Razer's audio-driven haptic feedback prototype shown at CES 2019, a new native Razer HyperSense integration has been built around the chair's framework for the ultimate in tactile immersion. The independently activated high-fidelity modules offer feel for the most sensitive vibrations felt during gameplay, such as jumping into water or landing on a platform for truly immersive gameplay.

Razer Chroma RGB have been integrated along the outsides of the seat cushions and stand for personalization using 16.8 million colors, triggered as you game alongside other synchronized peripherals by over 150 integrated game titles.
"Project Brooklyn is an exciting concept developed on the true essence of a fully immersive gaming station," said Min-Liang Tan. "The haptic feedback, visuals and overall functional design with attention to ergonomics will deliver a one-of-a-kind gameplay experience."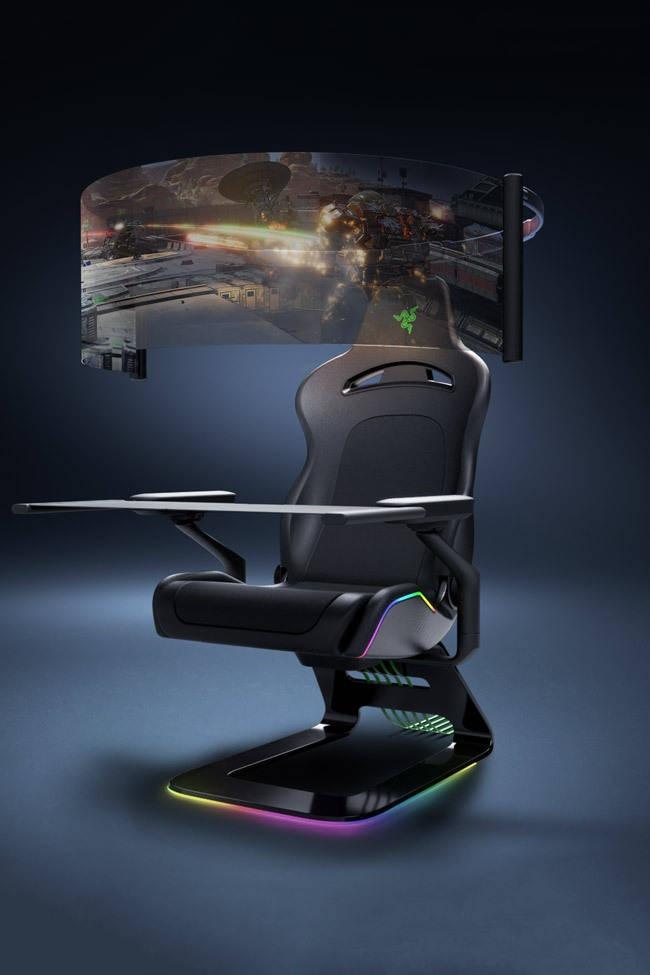 Razer will continue to develop this gaming chair concept, conducting testing with top esports athletes and influencers to benchmark feasibility, comfort and performance. The Project Brooklyn concept is intended to offer insights on how to improve user mechanics and design to deliver a more immersive gameplay experience and inspire Razer's growing portfolio of gaming chairs in the near future.
Razer is constantly strengthened by its passion for taking on new challenges and innovating in categories that gamers appreciate, in ways that address the road ahead.
For more information on the Project Brooklyn and Project Hazel concepts, please visit www.razer.com or tune in to the RazerStore Live broadcast on January 12th at 10am PST via Razer's YouTube, Twitch and Facebook channels.