Many of us men aren't really comfortable with medical stuff in general - and when it comes to testing our sperm there's an extra level of resistance. I don't think anyone really wants to go to a doctor's office and jerk off in a closet and the thought of doing it at home and running across town is even more awkward. On top of this, I think most guys naturally assume that fertility issues are the women's responsibility. That's not fair, but that is how our society generally engages with the topic. With Trak though, it does more than just allow you to run an at-home semen analysis to count up your sperm, but also has guidance on how you can improve your count too.
Kids didn't happen for Heather and I and frankly it's only going to get harder the longer we wait. To her credit, she's done some very intimate medical tests and had some awkward moments but I resisted. It wasn't fair, but honestly the idea of "donating a sample" just wasn't something I wanted to do and I didn't realize that there even was an option. While the odds are stacked against us at this point since we're both around 40 years old, this is something that I'd highly recommend to my younger friends.
I've never wanted to do anything with my semen other than wipe it away with a tissue - much less play with it for a science project. But honestly Trak's at home fertility test is pretty cool and beyond the fact of generating a test result, it was a great way to learn about my own fertility.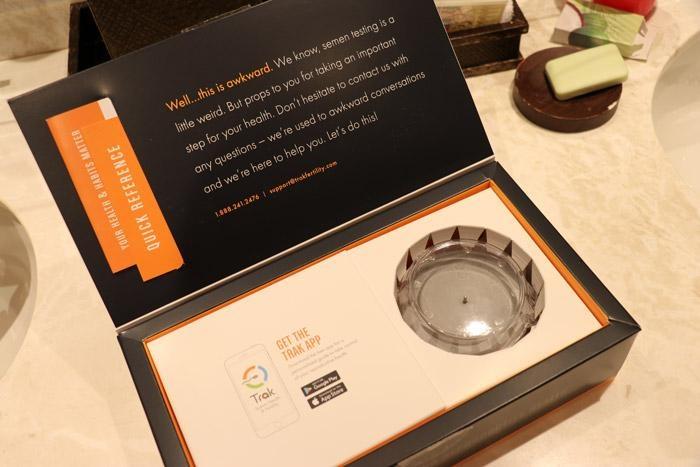 How the Trak At Home Sperm Test Works:
1) "Create a Sample" - you can do this on your own or with a friend, but you need to collect it in the sample cup provided. Luckily, the cup is fairly wide compared to the jar that I was once provided by my doctor years ago.
2) Use the pipette to load a few drops into the "Test Prop" and load it into the "Trak Engine" centrifuge and turn it on.
3) Through centrifugal forces, the prop will isolate and quantify sperm cells.

Understanding the Results of the Trak Sperm Test:
The Trak at home sperm concentration test measures the density of your sperm. Low sperm count is a leading cause of male infertility, and it is very easy to read the results generated here. There are three bands that you will fall into - "Low" (less than 15 M/ml), "Moderate" (15-55 M/ml), and Optimal (55 M/ml). These bands are based on the fact that fertile men typically have more than 15 million sperm per milliliter while higher quantities will lead to high chances of conception.
According to Trak, the results their sperm count test is shown to have 97% accuracy compared to standard laboratory tests, so this is a great way to save the embarrassment of doing it at a doctor's office. Plus, since the package includes multiple test props you can conduct the test multiple times. At $199.99 for four tests, it is a great deal compared to multiple clinic visits. It is also FSA and HSA Eligible. you can also buy a Trak Refill Kit with two additional tests for $49.99.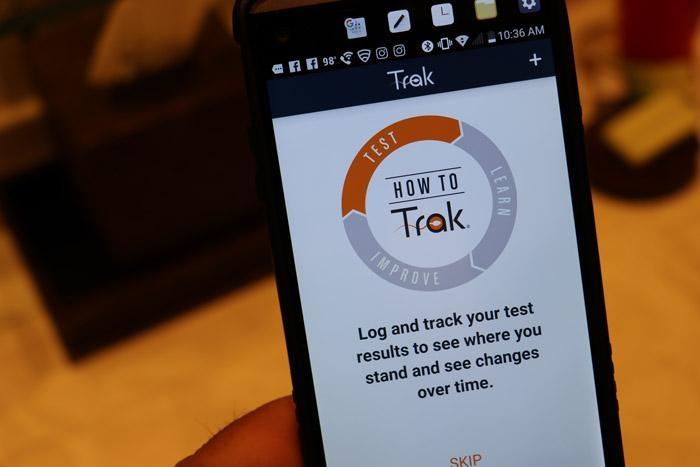 How To Improve Your Sperm Count and Fertility Test Results ...
The thing I really like about Trak is that it isn't just a simple "one and done" type system. While there are other male and of course female causes of infertility, Trak is designed to help men improve their scores. The app has an extensive health survey that creates a profile for you and provides guidance on what you can do to improve your sperm count. This includes obvious suggestions such as losing weight, increasing exercise, and eating better - but also measuring your stress, heat sources, and toxins.
You can also log your Trak sperm count scores into the app and monitor them over time. While nobody can guarantee success, Trak does a great job of giving you hope beyond a simple number.
I really wish a system like this had been available when Heather and I were younger since it could have saved a lot of arguments. Like many men, I resisted going to the doctor myself but now you don't have to for a sperm count test. There are clearly other factors that can cause infertility, but this way you can know where you stand on one of the top factors preventing conception.