Honestly, before the past few months I've never really considered hair loss as something that was a concern. This year however, I've made a change in how I'm engaging online with folks like you and that means that I'm putting myself out there more than I used to. While I've had a lot of fun it's also meant more photos from different angles. This, unfortunately, led me to discover that my hair isn't just receding in front but thinning out on top, back and even a bit on the sides. That's why I was excited to connect with Good Guy Wellness and try out their hair regrowth regimen complete with a 5% minoxidil-based hair regrowth treatment plus a shampoo, conditioner, and gummy vitamins to support healthy hair growth and regrowth.
Over the next several weeks, I'm going to be joined by Mike from TheGentlemanRacer.com and Faisal from UnfinishedMan.com to talk about the process of regrowing hair supported by Good Guy Wellness and I invite you guys to join the conversation too.
I've been approached by other hair care and regrowth companies in the past, but I really liked what Good Guy Wellness was doing. For a start, they have a fun attitude that takes something that others approach clinically and makes it approachable. This includes not just packaging that looks inviting but they also have a blog with authentic stories and the GOOD AF podcast talking with guys just like you and me about topics ranging from how to "Come Back Stronger" after facing a career change to how to "Create Confidence" and achieve success in life.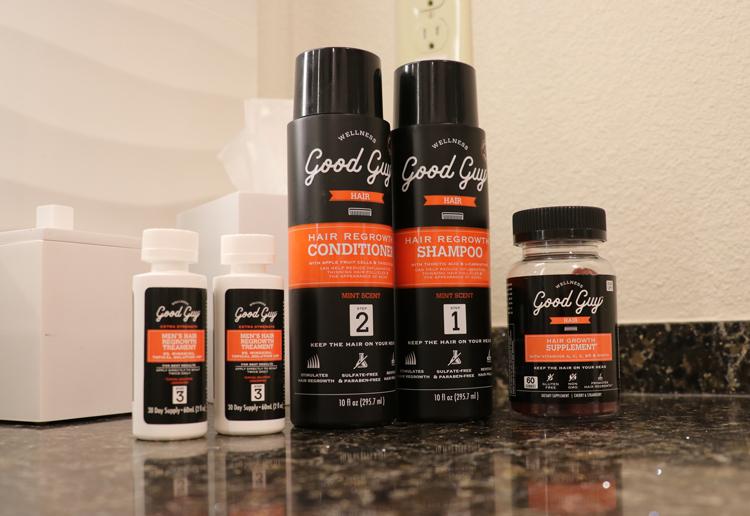 While this helps to create a sense of community, perhaps the most important is that the product is solid. It's a three-step process that is easy to integrate into your daily grooming regimen:
Wash Your Hair With the Specially Formulated Shampoo and Conditioner
The first step in any hair care process is to have a great shampoo. In this case, the shampoo contains Thioctic Acid, L-Carnitine, and Saw Palmeto which can help reduce inflammation of hair follicles and slow thinning hair. It also contains Biotin, an important nutrient for healthy hair and Apple Fruit Cells to help reduce the appearance of aging.
After washing your hair and scalp, make sure to use a good conditioner and this one contains more of those same nutrients while avoiding detergents that can strip away your hair's natural oils and damage your scalp.
Apply The Hair Regrowth Treatment
With your hair and scalp clean and ready to support healthy hair growth, it's time to use the 5% Minoxidil hair treatment. This is a proven formula that has worked for millions of men since it was approved for nonprescription sale by the FDA. Apply the formula to your hairline and comb through so that it reaches your scalp where it can promote growth from your hair follicles.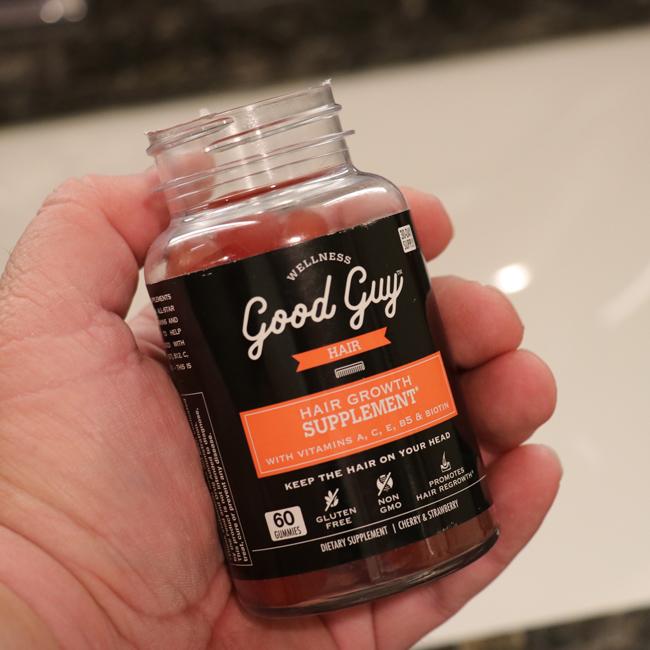 Take The Hair Growth Supplement Gummy Vitamins
The final step is to prepare your body itself and that's why Good Guy Wellness also offers a gummy vitamin. It's a cherry-flavored gummy that provides important support for healthy hair including vitamins A, C, D3, E, B6, B12, Biotin, and Folic Acid.
While nobody is guaranteed to grow hair back immediately, I'm told that in 30 days I should see some results. While the front and sides of my forehead has many dead follicles at this point, areas on the top where hair is thinning should start to come back stronger.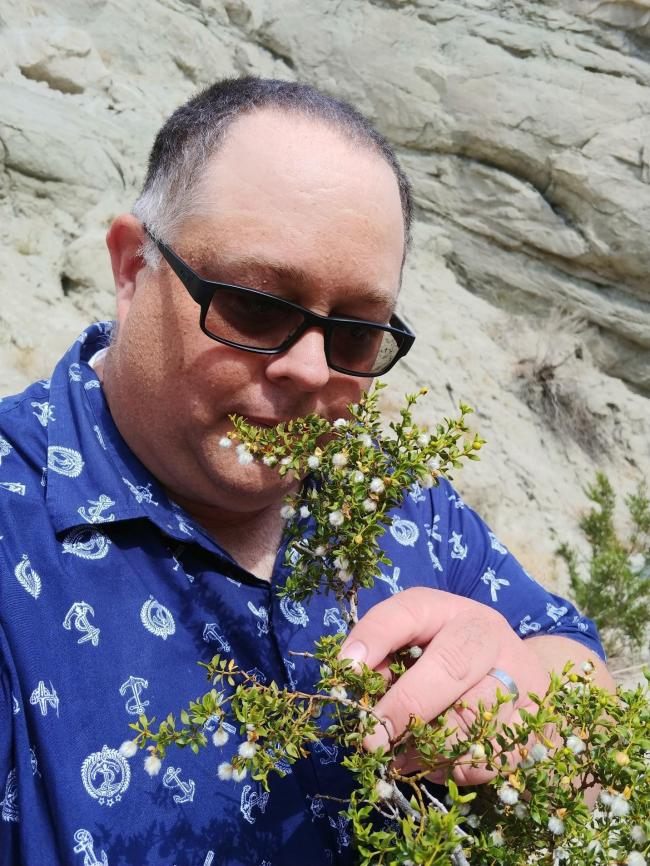 This is something that I didn't realize till I started talking with the guys at Good Guy Wellness, supporting hair growth isn't something that should be a reaction – it's something that should be part of your daily regimen to keep your hair strong and thick.
This includes using a shampoo and conditioner that is less harsh than what we men typically use as well as supporting regrowth through vitamins and even Minoxidil treatment before it's gone.
I'm comfortable with age-related hair loss and I've beat the odds somewhat compared to what I should look like based on my mom's father's early hair loss. However, now that I'm looking at myself more it's time to stop hiding behind a hat and start looking as good as I feel.