Biltmore may be what draws many people to Asheville, NC, but it certainly isn't the only thing down here. Asheville itself is a fantastic destination for guys looking for a fun and unique way to spend a few days - drinking craft brews, listening to fantastic music, and eating some of the country's best food. Seriously, if the beer isn't enough reason to visit, the cuisine certainly is!
Only a few years ago, Asheville was just another decayed American city with cheap, vacant industrial buildings, and dreams of returning to its former glory. Well, it isn't exactly back to its former glory as a thriving gilded age city, but frankly, I think today's Asheville is a lot more fun!
Today, Asheville is essentially one big, awesome artist colony with free-thinking artists, craft brewers, chefs, actors, musicians, hippies, intellectuals, and others that are drawn to this culture. For those planning a mancation, it means that you should get ready to party!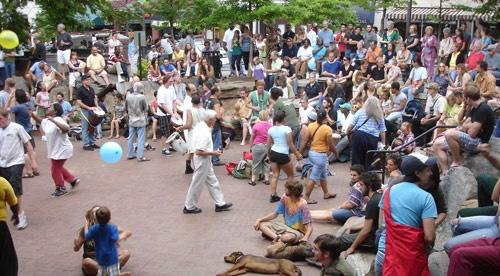 Friday nights in Asheville start with the community drum circle in Pritchard Park. If you are looking to step back in time to the 60's, or simply people watch, this is a great place to visit.
While we were here, I saw guys walking around blowing bubbles, people playing with balloons, couples dancing by themselves to music that only they could see, and lots of people who were simply having a great time.
Even with the rain that turned into a hail storm didn't end the fun - it just made people drum harder.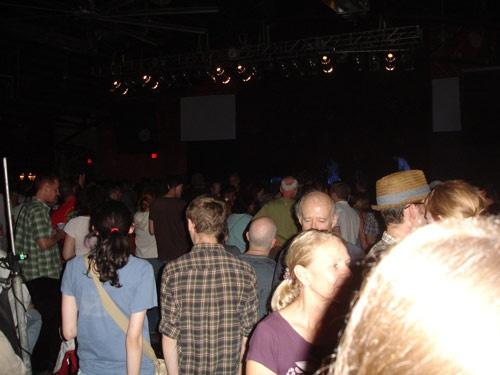 After dinner it was time to head off to the Orange Peel - picked by Rolling Stone as one of the top music venues in the country. The Orange Peel gets a variety of regional and national acts and the night we were there they featured Carolina Chocolate Drops (a roots, Americana type band) and the Firecracker Jazz Band.
Other nights you'll find rock, metal, folk, country, retro, and various other genres. The club is also currently the home to Moog Fest 2010 - a celebration of Robert Moog, father of the modern synthesizer and founder of Asheville based Moog Music.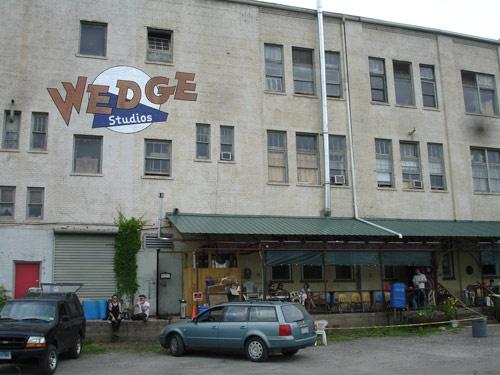 While music is good, doing a tour of the 9 microbreweries in Asheville is also a great way to spend a day or two. If you have your heart set on doing the entire circuit, it is probably a good idea to hire someone to drive you around. Luckily, the Asheville Brews Cruise is here for exactly that purpose and they really know their stuff.
If you are planning to just hit a few breweries, I suggest starting out by checking the Asheville CVB's Foodtopian Society website.
I recommend starting out at Wedge Studios since it is so perfectly Asheville. Located in a formerly abandoned warehouse next to the train tracks and featuring a parking lot that gives you the initial impression that you might not want to be there, Wedge is an art studio and brewery all wrapped in one.
It is a fantastic place to sit and sip your favorite brew while planning the rest of your night.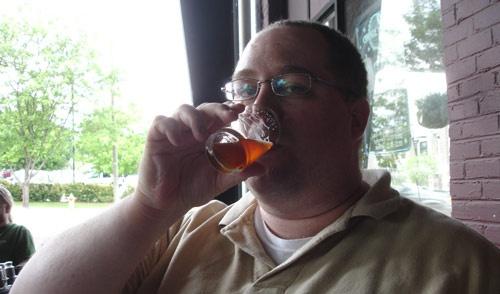 Our next stop was Asheville Pizza and Brewing Company. Once again the unique Asheville love for pushing the edge of the culinary norms reared its wonderful head. While you could certainly order a standard pepperoni pizza, that is just so boring!
Instead, maybe you should try the Moon Pie pizza - Olive oil base, spinach, portobello mushrooms, feta, artichoke hearts and parmesan crust.
Or how about the Woodstock pizza - Almonds, red onions, broccoli and Roma tomatoes?
Either way, you will not be disappointed with the food, entertainment / atmosphere, or beer. Oh yeah, they have great beer here too!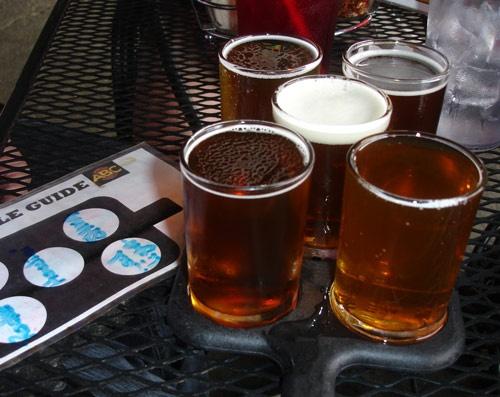 It is a pretty good idea to always start with a sampler unless you know what you want from previous visits. Frankly, I find that my tastes shift from day to day, so a sampler is almost always a great idea.
At Asheville Pizza and Brewing Company their Shiva almost single-handedly turned me into a fan of I.P.A.
Prior to my visit here, I was hitting the two ends of the spectrum - light beer or straight bourbon.
Now I have been converted and am starting to better appreciate a variety of beers.
Thank you Asheville - I can't wait to come back and finish my brewery tour!