Breakfast on the road has never been a great experience for me. Lucky for us though, just as quick-serve restaurants have recently focused a lot of energy on the morning experience, thankfully so has Pilot Flying J. Last week we had the chance to taste test a few of their new PJ Fresh breakfast sandwiches so you could pick the one that matches your palate best.
As you know, when traveling I love to stop at Pilot and Flying J locations since they tend to always have a great selection in the store and perhaps most importantly clean bathrooms. This means that on long road trips I can stop at one place instead of having to get gas, then drive across the street and get something to eat - it's all right there. That now includes not just one or two - but NINE different PF Fresh breakfast sandwiches. (Well, 8 since one of them is a breakfast burrito). The full menu is currently available in 270 Pilot Travel Centers and Flying J Travel Plazas nationwide, with 268 other locations having a limited selection. You can visit the website or check the app to make sure that the locations where you will be traveling have them.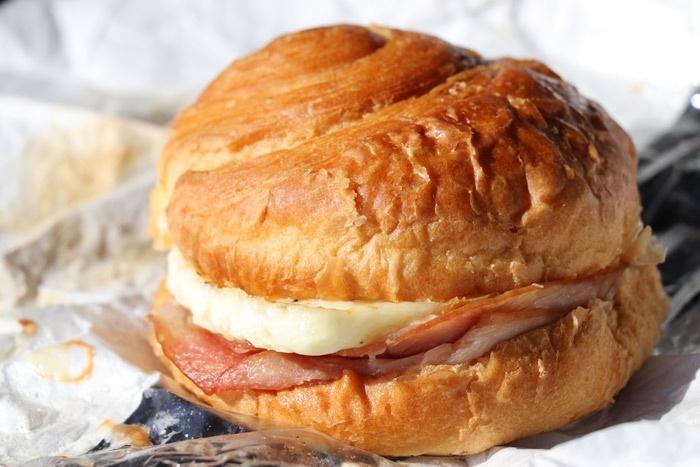 In the case of the store that I visited in San Diego along the Mexican border, "limited" meant they had the options you see pictures of in this article (as well as others). While selection will vary by location, even "limited" is more than you'll find across the street at that other place!
PJ Fresh Breakfast Sandwiches at Pilot Flying J:
Angus Steak, Fried Egg and Pepper Jack Cheese on Asiago Bagel
Bacon, Egg and Cheese on French Toast
Mega Meat Burrito
Sausage, Egg and Cheese on French Toast
Smoked Ham, Fried Egg and Swiss Cheese on Croissant
Sausage, Egg and Cheese Maple Griddle Cake
Chicken Filet and Cheese Biscuit
Sausage, Egg and Cheese Biscuit
Canadian Bacon, Egg and Swiss Cheese English Muffin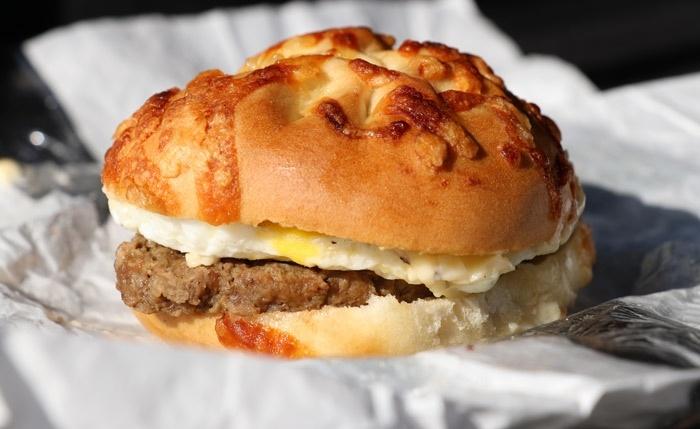 Pricing is pretty good for what you get as well. It's always tough to judge the size of food from photos but I'd say that these are at least 50% larger than your typical "drive-thru" breakfast. The Premium Sandwiches are $3.99 and the "Classic Recipe" was $2.99. Quality was comparable to what you'd find at the competition and each sandwich is hand-assembled by staff on location, so this is not one of those "frozen gas station sandwiches".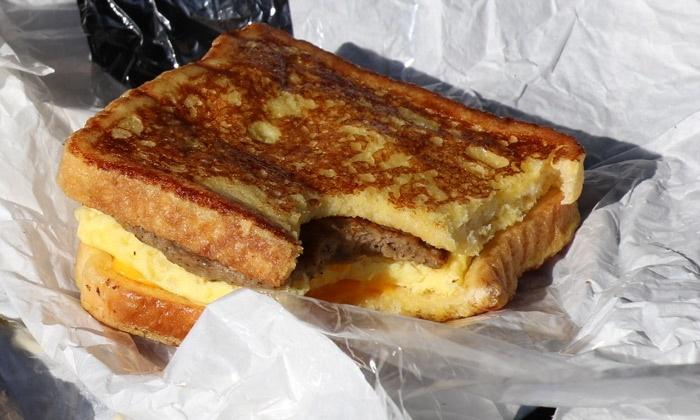 So how do they taste?
Let's just say that if you are hungry, you can't go wrong with any of them. However, the clear favorite for me was the French Toast with Sausage, Egg and American Cheese above. It was the first of the four that I tried and while I tasted the rest - it's the one I ultimately finished.
The thing that I liked about it is that everything tasted fresh, the sausage wasn't overly greasy and the maple and butter flavor of the French Toast was not overpowering. My second favorite was the Canadian Bacon, Egg and Swiss Cheese on English Muffin. While not scientific what-so-ever, Niki Belle chose the Canadian Bacon one as well and so she helped me finish that one off.
We've got a bunch of road trips coming up this fall, so I look forward to visiting other locations and trying more of the Fresh Breakfast options soon!