Quarantine can be tough on all of us and romance can be a big loss when people spend too much time together. I know that initially it was great to spend more time at home but as things drag on ... I can't wait to get some time alone. However, almost equally so I can't wait to get out in the world again and explore, relax, and experience new things again with my amazing wife. It seems like the folks at Temptation and Desire Resorts in Mexico agree so they've sent over two awesome "sexy recipes" to help get us in the mood until we can go visit ...
Original Group, the company behind some of Mexico's most popular adults-only resorts, has released two exclusive recipes to add a bit of zest to quarantine date nights. These are two easy to follow recipes for aphrodisiac fun and healthy dishes that couples can make together to spice up their routine. See below the Sexy Ceviche, created specifically by Temptation's Chef Guido for quarantine, and the Tuna Tataki, a guest favorite at Desire's Suki restaurant.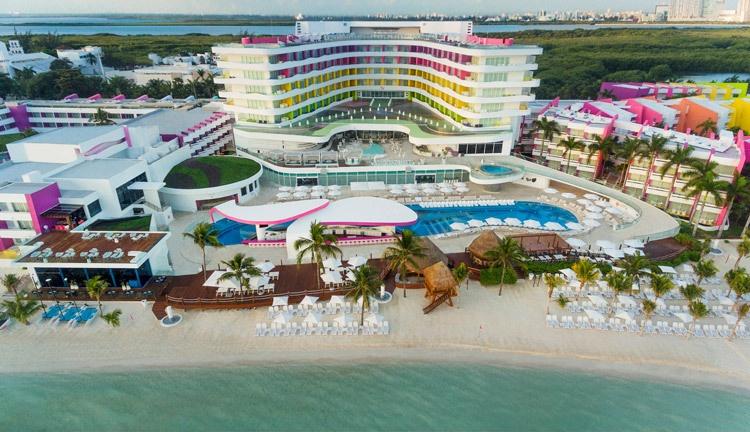 Temptation Cancun Resort is billed as a "Authentic, Adults-Only, All-Inclusive Resort Experience" and a "Playground for Grown-Ups" that includes topless-optional areas and overall fun and adventurous experience. This might be a great spot to convince your partner to bring her Srirachas yoga pants for a bit of extra fun.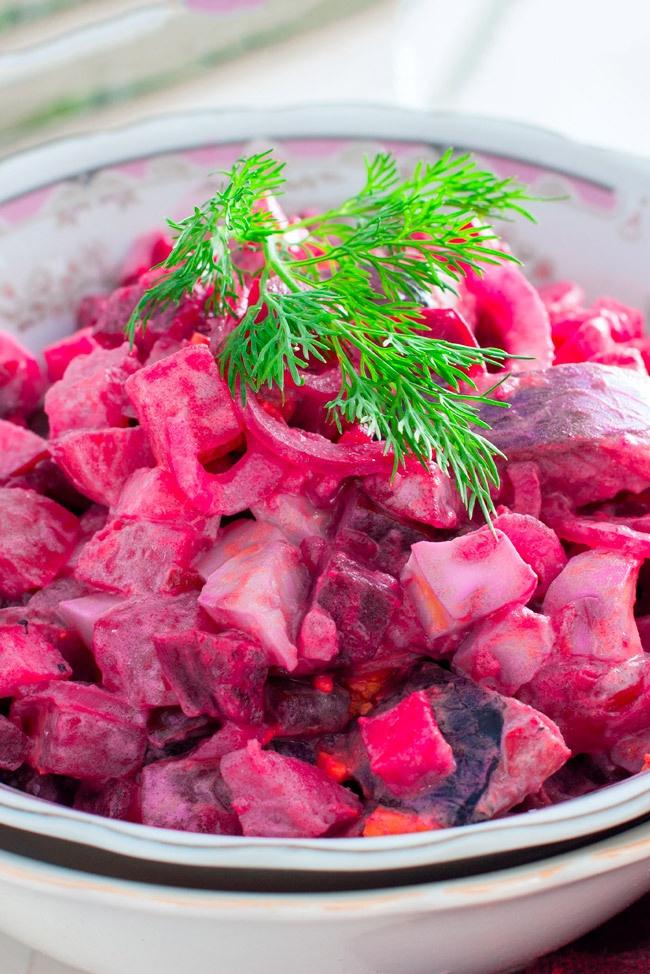 Sexy Ceviche For Two (or more?)
On top of making a tasty combination, all the ingredients in this ceviche have been chosen for their aphrodisiac qualities. Seabass, for example, is an excellent source of omega-3 fatty acids, shown to boost serotonin levels, thus enhancing the mood. Pumpkin seeds are high in zinc, which is needed for testosterone production and essential for the libido in both men and women, and star anise builds stamina and increases sexual desire.
Ingredients:
1 lbs. of seabass, diced
1/3 cups of raw beet juice
1 ¼ cups lime juice
¼ cup finely chopped red onion
¼ cup finely chopped white onion
¼ cup finely chopped cucumber
½ cup finely chopped tomato
¼ cup serrano chile pepper, sliced
¼ cup pumpkin seeds
1 avocado
2 tbsp star anise powder
4 tbsp olive oil
½ cup cilantro finely chopped cilantro (optional)
salt
Recipe:
Marinate the seabass in the lime juice, adding a pinch of salt. After 20 minutes remove the fish and add the beet juice and chopped vegetables to the remaining lime juice. Add fish, diced avocado and minced peppers.
Separately infuse the olive oil by heating it to 175 °F and adding the anise, allow to cool down.
Garnish with pumpkin seed and cilantro, add infused olive oil right before serving.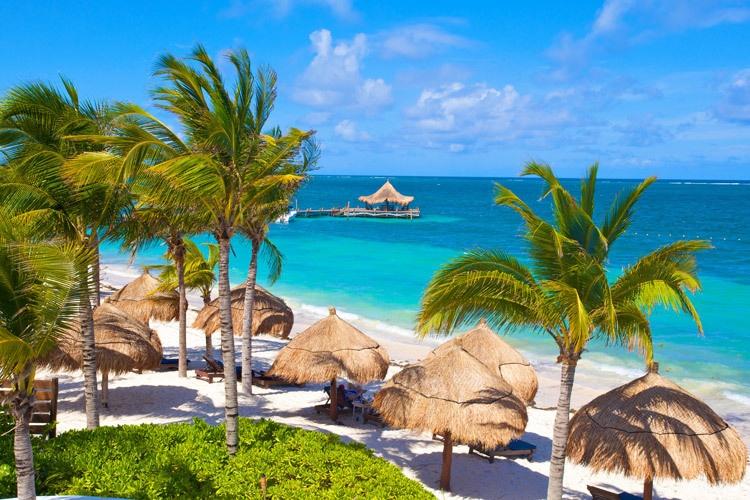 If you are looking for something a bit more exotic then there's Desires Riviera Maya Pearl Resort and sister property Desire Riviera Maya Resort that provide "Adult Entertainment" including couples workshops, and even pole dancing classes, erotic massage, and private playrooms. While Cancun is a great place for high-intensity urban excitement and dancing, Riviera Maya offers a more tranquil and relaxing experience. That's not for everyone but this recipe for Tuna Tataki looks like something we can all appreciate ...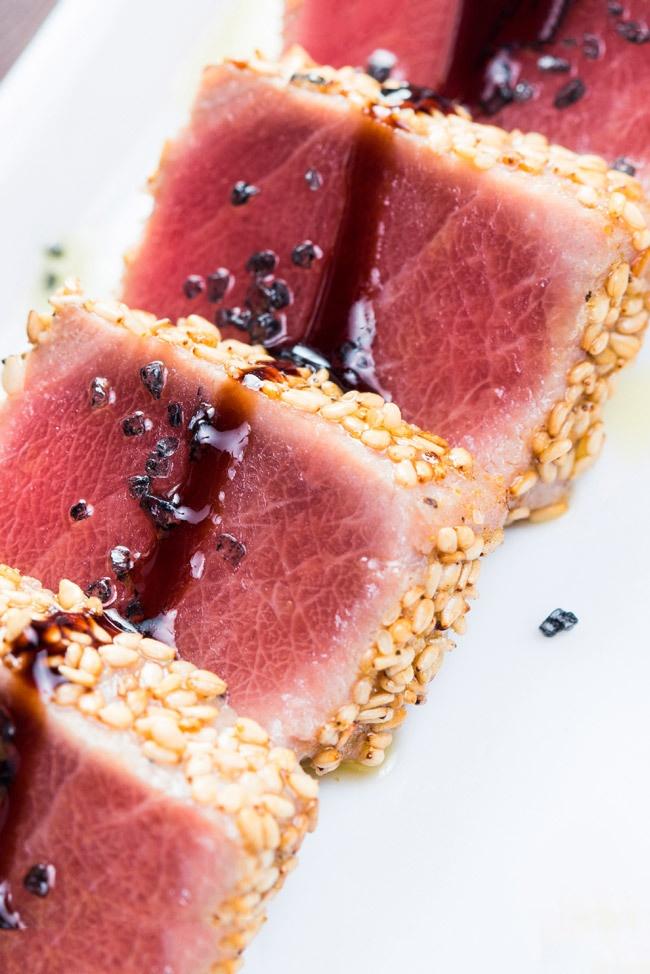 Tuna Tataki with Avocado Cream and Soy Caramel
Tuna is rich in calcium and B vitamins, both valuable in maintaining sexual health. Ginger stimulates the circulatory system and is believed to increase sensitivity in the erogenous zones, while cayenne improves circulation and gets the blood flowing to the sex organs.
Ingredients:
0.5 lbs of fresh tuna
3 tbsp Cayenne pepper powder
1.5 tbsp sesame seeds
1 avocado
1 lime
1 tbsp peanut oil
4 tbsp heavy cream
7 oz soy sauce
4 tbsp granulated sugar
1 slice of ginger
Optional: radish and chives
Recipe:
1. Season tuna with cayenne powder and sesame seeds. Sear in a very hot pan and reserve.
2. In a blender, mix the avocado, the juiced lime, peanut oil and heavy cream until creamy, strain and add salt and pepper to taste.
3. In a pan, mix soy sauce, sugar and ginger on medium heat until caramel texture is achieved.
4. Thinly slice the tuna, serve with avocado cream and top with soy caramel. Garnish with chives and a radish slice.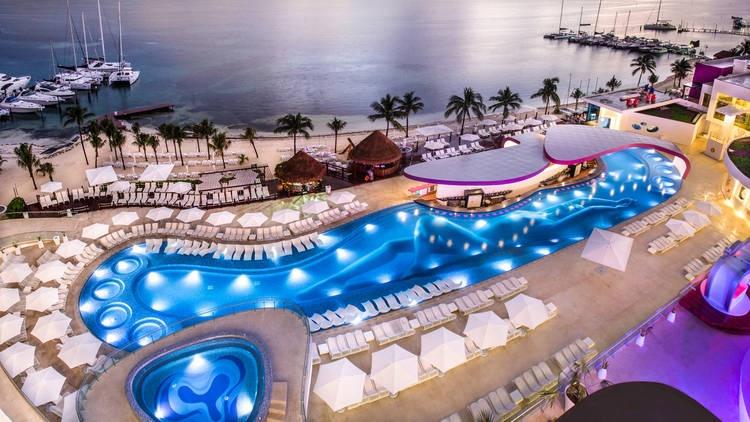 Whatever your style ... cooking up some delicious food is always a great way to show your partner that you still care about them!