Baseball is back and now that tax time is almost over, it's time to celebrate with an awesome party to celebrate. This is my favorite time of year since baseball for me is more than just a game - it's a chance to hang out with friends, enjoy ballpark treats, and cheer for my favorite teams. I'm clearly not alone since there are hundreds of baseball movies and scenes in TV shows as well and that's the inspiration for our ultimate Baseball Movie Party!
Pick the Right Movies for Your Baseball Movie Party!
Let's start by figuring out what movies to pick for our party. This really depends on the guys you are having over, but generally, I find that lighthearted comedies that everyone's seen already make for better baseball movie party picks than something that's more cerebral. This allows people to come in and out of the room, recite their favorite lines, and laugh at the jokes without feeling like they missed something.
VUDU has a great selection of baseball movie choices and it streams great to my ROKU TV as well as my Chromecast, so once you've picked your movies it's time to queue them up.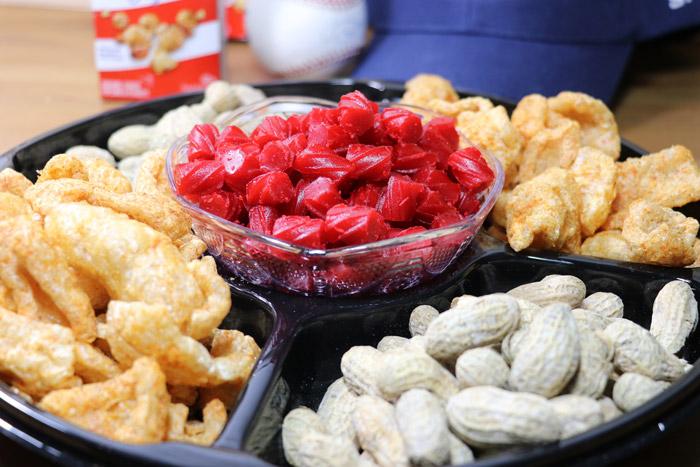 Bring Your Favorite Ballpark Treats Home!
One of the greatest parts of baseball season is the food! Every park I go to seems to have it's own specialties, so feel free to elaborate on my core suggestions here with something that is more fitting to your baseball food favorites. For instance - if you are a Milwaukee fan, you might make some nachos with potato chips in homage to your favorite team.
For our party though, we're going to have a snack tray with pork rinds and peanuts as well as individual boxes of Cracker Jacks. Not only are Cracker Jacks synonymous with baseball but they taste awesome and it's a fun conversation starter as the guests share what prize they got inside.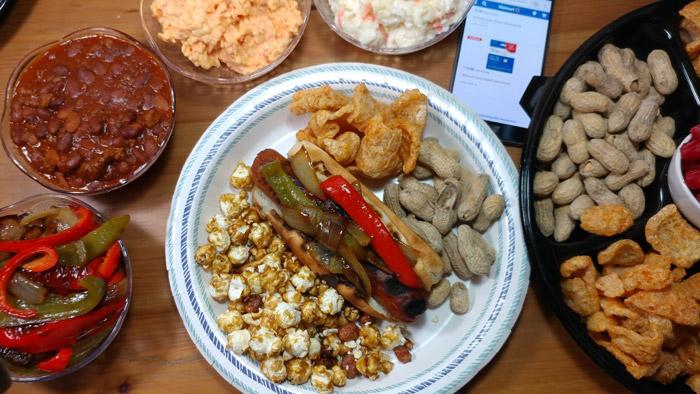 Dress Up Those Dogs!
Hot Dogs are absolutely the quintessential baseball ballpark food. From those nasty dogs that have been sitting in a steam tray since the beginning of the season to gourmet offerings piled high with amazing toppings, this is a MUST HAVE for your baseball party.
Baseball Is About Fans Cheering and Chanting!
Baseball games are honestly sort of boring, but that's OK! Luckily over the past more than 100 years, fans have invented ways to keep the excitement going and so can you. For instance, try starting a wave or even better get your group to stand up and sing the seventh inning stretch song between movies. Honestly that is one of my favorite parts of the game since it is a great song that everyone knows and you get belt it out without worrying about your actual ability to carry a tune.
Dress The Part!
To help set the mood, have your guests wear their favorite jerseys, baseball tees, and baseball caps.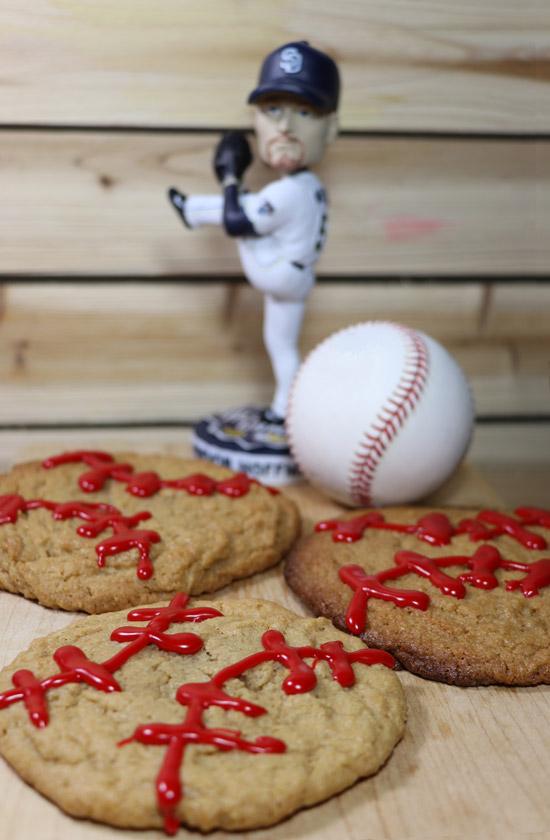 Don't Forget Baseball Themed Deserts!
No party would be complete without desert and we haven't skimped here either. Unfortunately, I don't have a churro machine or a soft serve dispenser so I'm going to create a baseball themed desert here instead of something actually found at the park.
Gluten Free Peanut Butter Baseball Cookies:
Ingredients - 2 cups sugar, 2 cups creamy peanut butter, 2-3 tablespoons vanilla extract, 2 medium eggs.
Process - place the egg in a large mixing bowl and whip it then add the other ingredients and mix together. Preheat the oven to 350 degrees. Place 2" balls of dough on a parchment covered cookie tray and bake for 10 minutes or until the edges are browned.
Once the cookies are cool, ice them with two red curved stripes and cross-hatched pattern like on a baseball.
Make Sure there are Gluten Free Food Options!
One thing I always try to do when creating a food plan for a party is to include options for those who have sensitivities to certain foods. This is especially true in the case of gluten allergies since my wife has chosen to go gluten free and dairy free. I like to support her in that. For instance, the peanut butter cookies are gluten and dairy free, so are the hot dogs and pretty much everything except for the Red Vines and the pimento cheese. I chose to offer gluten free buns for the party as well.
When you invite your friends, make sure to ask if they have any food allergies so you can be prepared.